Written in the Stars: A Q&A With Lisa Rothe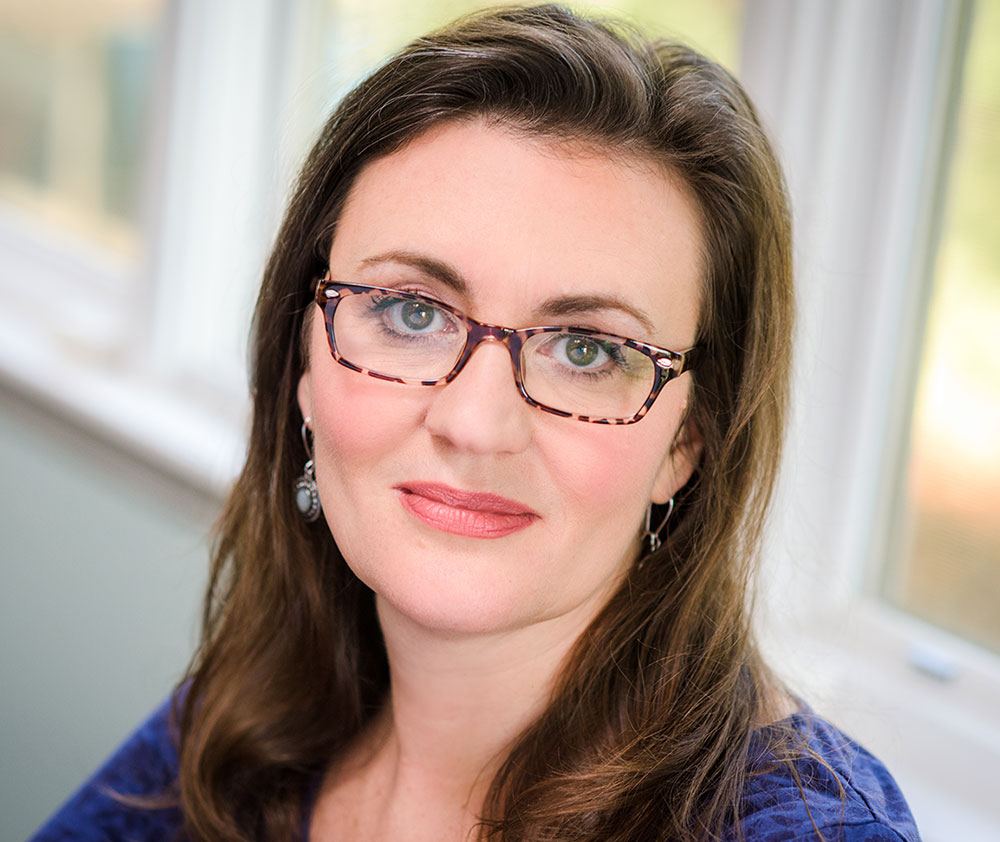 Lisa Rothe directs the world premiere of
Sooner/Later
, a captivating story about romance, marriage and parenting — with a twist.
Lisa's New York credits include
Hold These Truths
(Epic Theatre Ensemble and The Sheen Center) for which she received a nomination for the Stage Directors and Choreographers Society's Joe A. Callaway Award for Direction;
Science Fair
with mezzo soprano Hai-Ting Chinn (HERE Art Center);
A Daughter and Some Sons
by Lucy Thurber (New York University's Graduate Acting Program) and has developed and directed a multitude of new plays with The Lark, as the Director of Global Exchange. Regionally, Lisa has directed for The Guthrie Theater, PlayMakers Repertory Company, TheatreWorks Silicon Valley, People's Light, Two River Theater, A Contemporary Theatre in Seattle and Indiana Repertory Theatre, among others. Future projects include
In My Chair
by Eva DeVirgilis (Virginia Repertory Theatre) and
Colony Collapse
by Stefanie Zadravec (Barnard College). Along with composer Kim Sherman and librettist Margaret Vandenburg, Lisa has been developing a new opera about Ada Byron (
Ada
), which was presented at the Center for Contemporary Opera's Development Series. She received her MFA from New York University, is a Co-President of the League of Professional Theatre Women, a Co-Artistic Director of The Actors Center in New York City, an Usual Suspect at New York Theatre Workshop, an Audrey Fellow with New Georges, a Drama League alum, a Fox Fellow recipient, a member of the National Theatre Conference and a proud member of the Stage Directors and Choreographers Society. Visit
www.lisarothe.com
.
Olivia Cygan (Lexie) and Mary Bacon (Nora) in Sooner/Later; photo by Mikki Schaffner.
Sooner/Later is a written by Allyson Currin. Tell us about your initial thoughts reading the script, and how you and Allyson began your process bringing it to life.
Blake Robison sent me the script and asked me to read it to see if it was something I would be interested in directing. I read it in one sitting in a park near where I live and laughed out loud throughout the first part of the play. By the end of the read, I was openly crying and I thought, yes, I must direct this play. Ally and I then spoke on the phone and although we had never met, it felt as if we had known each other for a very long time. It was just so easy. And she's so open and funny!
This play features elements of magic realism and a few metaphysical twists. How would you describe those elements? What sort of challenges and opportunities did this pose for you as the director?
I love a challenge and this play has some fun ones. I won't say too much, since it will give everything away. But I will say that this play is in two parts and you might think it's one thing in the first part and then it becomes something else in the second part. And what you think is happening, may or may not really be happening. How do you stage serendipity and coincidence? How do you stage a story that exists outside the linear realms of time and space? We are lucky to be working with some fabulous designers who really got inside of the story and worked together meticulously to discover and explore the subtle ways of blending the quotidian and the sublime. There are many clues sprinkled throughout the play that might give you an indication of what is or is not really happening. And then I would suggest coming back to see it a second time, because once you see it once and understand, you can come back and see it again and realize the clues were there all along!
Mary Bacon (Nora), Olivia Cygan (Lexie) and Todd Cerveris (Griff) in Sooner/Later; photo by Mikki Schaffner.
This play revolves around three characters: Lexie, Nora and Griff. How do you describe them? What does each of them long for?
Well, we see various aspects and sides of all the characters. We see the idealized versions of them as well as their real and very human versions. Lexie is a teenager, with all her teenage passion and angst. Nora and Griff are in their forties and are exploring what it means to be single and if partnership is something they even want or need at this stage of their lives.
Sooner/Later explores different types of relationships — dating, romance, family, parenting. What were some of the most important concepts you had in mind when directing the actors?

I think the most important concept was telling the truth. And the truth isn't always nice or easy. It's complicated. When working on a play that has humor, we have to constantly remind ourselves that humor comes out of telling the truth. And of being very human. We can then identify with the characters and what they are going through. And only after we have laughed at and with them (and therefore at ourselves), we find that we are heartbroken when they are heartbroken. And we feel pain when they feel pain.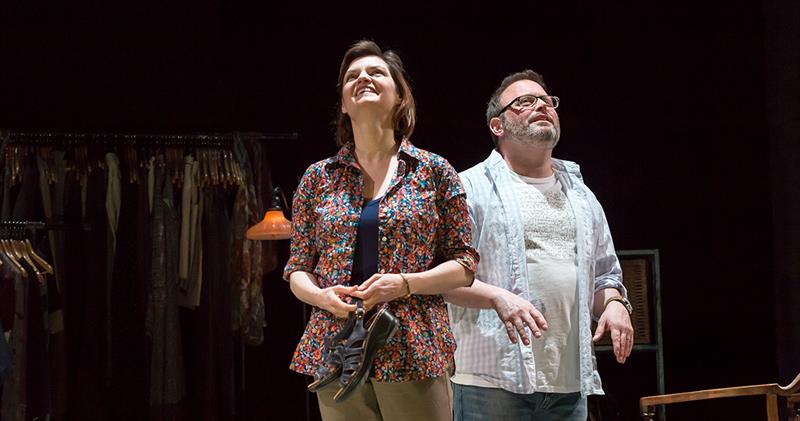 Mary Bacon (Nora) and Todd Cerveris (Griff) in Sooner/Later; photo by Mikki Schaffner.
With this play, you make your Playhouse directorial debut. How does Sooner/Later fit into your overall body of work? What has your experience been like working with the theatre and with Blake Robison?
I love intimate stories about ordinary people who experience extraordinary things. Stories that deeply explore the human experience. Stories that make people laugh. Stories about people discovering their voices during various stages of their lives. I also tend to be drawn to stories by and about women. I am encouraged and inspired by the strong and extraordinary women in my life and want to share their stories with the world. We have so much to learn from their wisdom, perseverance, love and strength.
Working at the Playhouse has been pretty dreamy. The staff has been very generous and welcoming to this outsider. And they have a wonderful leader in Blake. The fact that he is producing two world premieres, written and directed by women, is a testament to his inclusive and expansive vision. I am thrilled to be here working with him and the entire staff.
To learn more about the Playhouse's production of
Sooner/Later
, visit our
production detail page
.