5 Questions With George Naha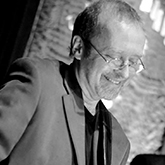 George Naha is the guitarist in
Marie and Rosetta
, presented by Leading Ladies.
George has gigged with Aretha Franklin, Donald Fagen, Steve Cropper, Duck Dunn, Roy Orbison, Melissa Manchester, Willie Dixon, Wilson Pickett, Junior Walker, Sam & Dave and countless others. He has recorded with Bill Doggett, Livingston Taylor, Bernard Purdie, Jack DeJohnette, Gerald Albright and Cornell Dupree, among others. He worked for three years as house guitarist at the world-famous Apollo Theater for its Wednesday night Amateur Show. He has done jingles, television and movie work; played on Broadway; produced records; arranged for live dates and recordings; and worked as Musical Director for many artists. He has also kept up a teaching practice for over 35 years.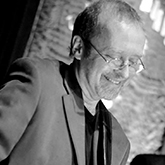 How long have you been a musician, and where did you receive your training?
I got my first guitar for Christmas when I was 15. It was a very inexpensive electric, a Hi-Lo, and came with a little amp. It also came with a chord book, the
E-Z Guitar Method
. I started learning the chords and then started trying to learn the guitar parts off of records by ear. I scratched up a lot of records this way but did make some headway. About a year later, I bought a Gibson electric from a high school friend and joined my older brother's band. I practiced a lot and learned from the older guys in the band. I wanted to be a music major, but since I had never had a lesson or learned to read music, that wasn't possible. I went to Cooper Union, majoring in Architecture, but my heart wasn't in it. I started studying with the late Harry Leahey, a great jazz guitarist, and learned enough to get into a state college as a classical guitar major. My heart wasn't in that either, so I took a year off, kept studying with Harry and wound up at Livingston College, Rutgers University. It was there that I studied with the late, great Ted Dunbar, who I think of as my mentor. So, after seven years and three colleges, I earned a B.A. in Jazz Performance. Of course, my education has never stopped — I'm always trying to learn more.
When did you know you wanted to be a musician, and what's your favorite part of the job?
In the summer of 1970, a friend called me. He was up in the Catskills and a rock band playing in a local hotel needed a guitar player for the season. I bought a brand-new Twin Reverb amp (I still have it!) and my dad drove me up there. I didn't know any of the guys in the band, I'd only been playing for two or three years, and suddenly I'm working six nights a week in the hotel's teen night club. I was nervous for the first night or two and then it happened: I fell in love what I was doing and wanted to keep doing it for the rest of my life.
The favorite part of doing what I do? I'd say it's the variety of experiences I get to have: playing live, recording, teaching, arranging, writing, practicing, touring, etc. Having such an irregular schedule sometimes wreaks havoc with my internal clock, but I wouldn't trade what I'm doing for anything else.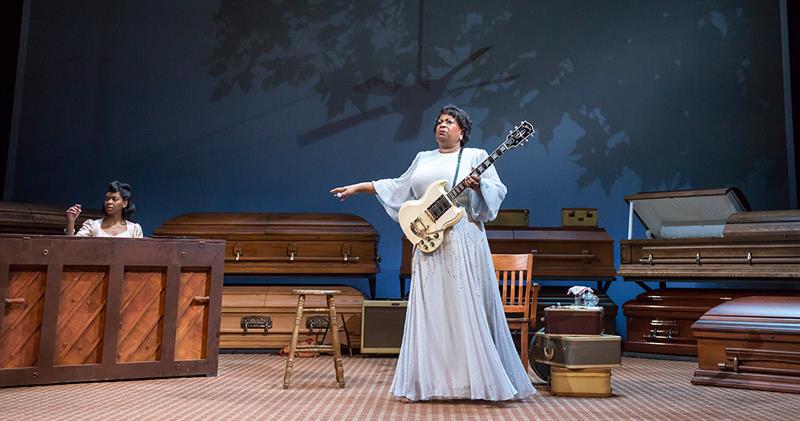 Chaz Hodges and Miche Braden in Marie and Rosetta; photo by Mikki Schaffner.
What is your all-time favorite project you've worked on, and why?
Oh boy, that's a tough one! I think I'll pick two things that happened a few years back. I played with Aretha Franklin and a band of greats on
The Letterman Show
when her last CD was released, then played with my old friend Sam Moore at Jimmy Scott's memorial celebration at the Abyssinian Baptist Church in Harlem. Playing with the Queen of Soul was an honor, and doing it on
Letterman
was an added bonus. Sam Moore and I go back to my days with Sam and Dave, and to reunite with him and pay tribute to Jimmy Scott in such a sacred place was a very special experience.
What project have you always wanted to work on, and why?
Another tough question! Maybe I'll paraphrase Duke Ellington and say the project I've always wanted to work on is the one I'm currently working on. As I grow older, I find myself getting more Zen about things — just curious about seeing what life brings my way. Every new project brings new challenges and I'm happy to meet them and grow through them. A project I'm really looking forward to diving in to is developing an online teaching platform. I love to teach and love to learn, and I have a lot to learn before setting the launch date!
Chaz Hodges and Miche Braden in Marie and Rosetta; photo by Mikki Schaffner.
What has been the most interesting part of working on Marie and Rosetta so far?
Being involved in Marie and Rosetta has been great. It's a wonderful play about two gifted artists, and having the chance to pitch in and honor their legacy is a thrill. Working with Miche, Chaz and [pianist] Katreese, three consummate pros, is wonderful. All the folks at the Playhouse are so professional and so nice — I can't imagine a nicer working environment. I can't thank musical director Seth Farber enough for bringing me aboard.
To learn more about the Playhouse's production of
Marie and Rosetta
, presented by Leading Ladies, visit our
production detail page
.