5 Questions With Emily Kratter
Emily is thrilled to be making her Cincinnati Playhouse in the Park debut!
Select New York and regional credits include
Dead End, The Groundling
and
Evening 1910
(Axis Theatre Company),
The Physicists
(Williamstown Theatre Festival),
The Holy Ghostly
(Williamstown Theatre Festival workshop),
Death For Sydney Black
(terraNOVA Collective),
Confederates
(LAByrinth Theater Company, The Lark workshop),
Be More Chill
(Two River Theater workshop),
Progress In Flying
(The New Group/New Works),
Five Second Chances
(The Playwrights Realm/INK'D Festival),
The Austerity of Hope
(The Barrow Group),
Greenwood The Musical
(New York Musical Theatre Festival) and
The Children's Hour
(Astoria Performing Arts Center). On television, she has appeared on
Unforgettable
. Film credits include
Half Brother, Adelaide
and
The Night Before She Walked Down the Aisle
. Please visit
www.emilykratter.com
.
@emkratter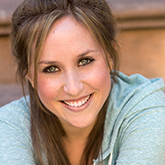 How long have you been acting, and where did you receive your training?
I started acting when I was pretty little actually. There was a local community theatre that became my second home, and I grew up taking classes and doing musicals. When I was in high school, I auditioned for a summer intensive at NYU and that experience solidified my desire to study drama in college and pursue acting professionally. I decided to apply to NYU's Tisch School of the Arts, and while there, I trained at the Lee Strasburg Institute, CAP21 and Stonestreet Studio for television and film. I remember when I was applying, my Grandpa asked if there would be an option for me to double major in case I wanted to go to law school after college. I told him that I thought I'd rather be on
Law and Order
... He never asked again. Once I graduated I was introduced to an incredible acting coach, Walker Clark, who changed my whole world. I still work with him today, and imagine I will forever.
When did you know you wanted to be an actor, and what's your favorite part of the job?
I can't remember exactly when I knew I wanted to be an actor because I fell so deeply in love with this art form at such an early age. I have this vague memory of seeing
Peter Pan
when I was very young. Peter took off and started flying and it was absolute magic to me. Perhaps I just wanted to fly? I was always watching VHS tapes of musicals on repeat —
The Sound of Music, Annie, Gypsy
— and I was fortunate that I grew up just outside of Manhattan and my parents would take me and my sister into the city to see Broadway shows often. It wasn't really until I did that summer program at NYU that I realized I could study acting and do this thing I love so much for the rest of my life.
Oh, my goodness... my favorite part of the job? GETTING THE JOB! (kidding) I tend to really love being in rehearsal, especially when working on a new play with the playwright in the room. There is nothing more creatively fulfilling to me than originating a role and having the opportunity to explore and bring something to life that previously had only existed on the page. But then I equally love sharing what we have created with an audience. Particularly with this play, and I suppose comedies in general, the audience becomes another character in the piece. We can take on the energy of those who are sharing the space with us and it's a privilege to have the chance to move people, to give them some questions to think about or, at the very least, offer an escape for a few hours.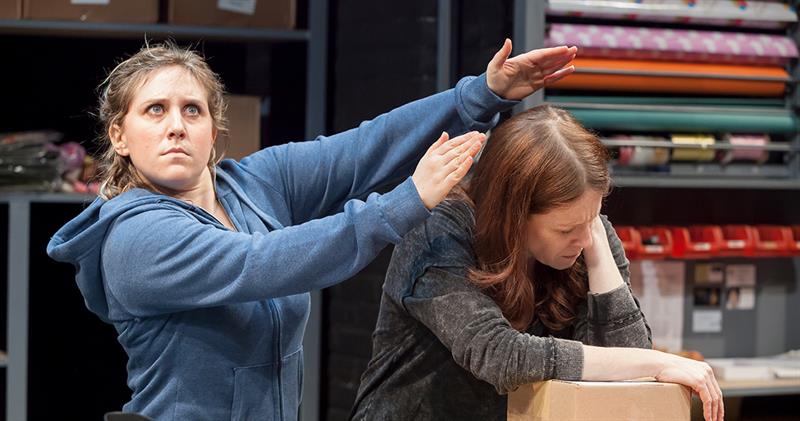 Emily Kratter and Eva Kaminsky in Be Here Now; photo by Mikki Schaffner.
What is your all-time favorite role you've performed, and why?
Another impossible question! I tend to just dive head-first into whatever I am currently working on and fall in love with whomever I am playing. With that said, I do think, thanks to Deb and Portia, playing Luanne has offered me some of the most fun I have ever had onstage. She's exuberant and full of life and positivity, but more than that, I get to work opposite Eva and Michele and Tor who are some of the most gifted actors I've ever met.
What role have you been dying to play, and why?
There are so many fantastic roles that I would love to take a stab at one day, but I'd have to say the role I am dying to play hasn't been written yet. And what I mean by that is that my greatest joy is originating roles and working with playwrights and directors on new plays. I spend a lot of time in NYC on the development of shows through readings and workshops with companies that foster new work. I am so inspired by writers and storytelling in general that to get involved with a piece from the beginning and have a hand in shaping it in even the smallest way is what I long for most of all.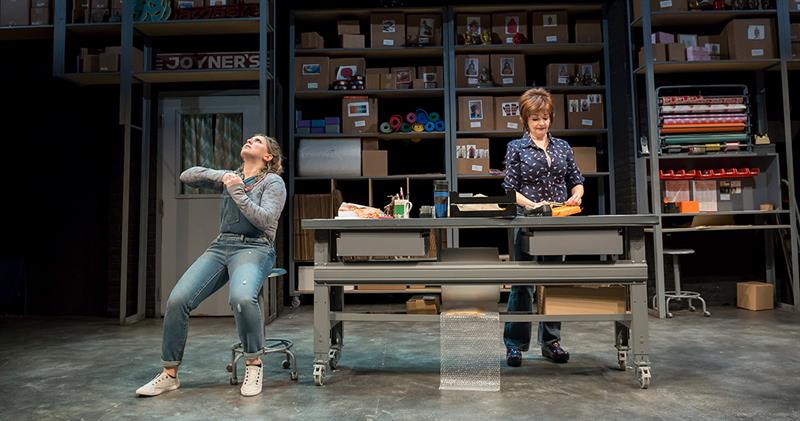 Emily Kratter and Michel Ragusa in Be Here Now; photo by Mikki Schaffner.
What has been the most interesting part of working on Be Here Now so far?
This play has crawled under my skin and latched onto my heart because of the questions it poses and how Deb manages to answer these profound questions about the meaning of life, fulfillment and happiness with more questions. I grew up in the self-help generation with Oprah,
The Secret
, vision boards and Tony Robbins — and all of these people mention at some point that when you ask any one person what they want, 99% of the time they say, "to be happy." This is a universal truth that connects people of all ages, races, sexualities, etc., but what does that really mean? Everyone is just trying to find purpose in their lives and live to their potential, but everyone goes about it in a different way. Our discussions, as well as my own discoveries around happiness and gratitude and "being here now," has been one of the most interesting and affecting parts of working on this beautiful production.
To learn more about the Playhouse's production of
Be Here Now
, visit our
production detail page
.