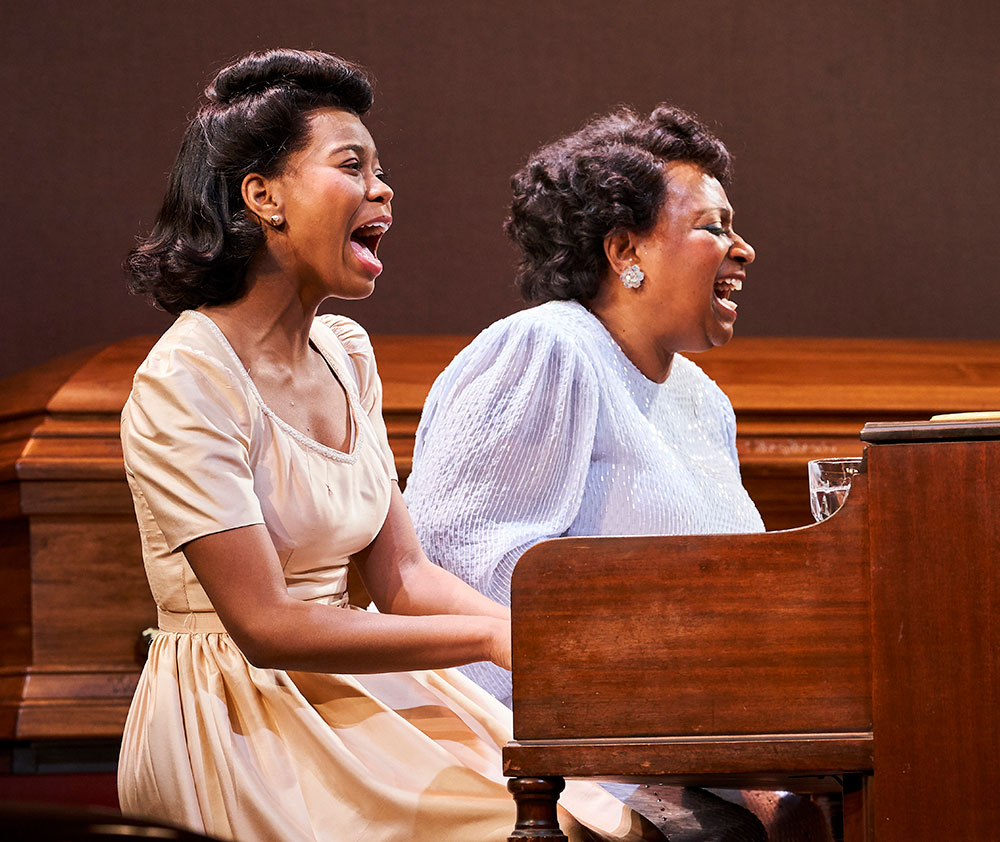 In April, the Rock and Roll Hall of Fame will hold its 33rd annual induction ceremony. Among its 2018 inductees is the legendary, guitar playing gospel singer Sister Rosetta Tharpe, who will also be recognized with the Award for Early Influence. It is an honor bestowed upon artists whose profound impact on music paved the way for the birth of rock 'n' roll.
"She is the founding mother who gave rock's founding fathers the ideas," writes The Rock and Roll Hall of Fame. Indeed, such artists as Elvis Presley, Chuck Berry and Little Richard have cited her as their own inspiration for her swinging gospel music and nuanced blend of gospel, jazz and rhythm and blues.
One month before the induction ceremony, the Playhouse will also celebrate Tharpe in
Marie and Rosetta
, a play with music about the founding mother of rock 'n' roll and her young protegee, Marie Knight.
"If much of the world has forgotten Sister Rosetta Tharpe and Marie Knight — and, certainly, a lot of us have — playwright George Brant makes an intimate yet spectacular case for correcting that wrong,"
Newsday
wrote in a review of the show's world premiere at New York City's Atlantic Theater Company in 2016.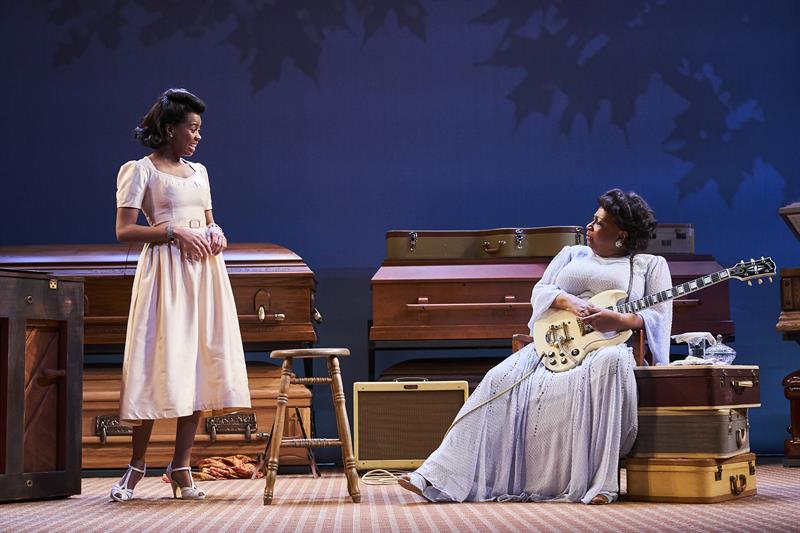 Chaz Hodges (Marie Knight) and Miche Braden (Sister Rosetta Tharpe) in Marie and Rosetta; photo by Roger Mastroianni.
Marie and Rosetta
chronicles Tharpe and Knight's first rehearsal as they prepare for a tour that would establish them as one of the great duet teams in music history. Between soulful musical numbers, the singers share their own memories of childhood, family, music and faith to develop a moving performance style that praises God and entertains the masses.
"Marie played piano and Rosetta guitar, and the two of them went out into the world and toured together — just these two women, who had both been divorced at this point and had some hard events happen in their lives, and I think they found some solace with each other," says Brant in an interview with the Playwrights' Center.
The show opens on the gospel duo at the start of their tour in 1946 in the Deep South — a region that was all but accommodating for two female African-American singers. Tharpe has just lured Knight away from being a back-up singer for gospel music star Mahalia Jackson in favor of performing with her as a duet. Their musical relationship gets off to a rather precarious start: the singers' only available rehearsal space (and sleeping arrangements) is a funeral home where they practice in a room full of caskets. Punctuating the realities of the time, Tharpe says to Knight, "Down here we depend on the Good Samaritan Circuit for a bed 'cause God knows there ain't no room at the inn."
Even more precarious, Tharpe insists that the prim and proper Knight infuse her "high church" sound with an edgier R&B style to match her guitar and vocals. At the time, gospel audiences were split between traditional spirituals (like Jackson's) and Tharpe's trademark fusion of gospel and R&B. As Knight worries if their music is "right with God," Tharpe insists that "it's all joy is what it is. … Whether it's suffering or celebration, it's all about joy."
Chaz Hodges (Marie Knight) and Miche Braden (Sister Rosetta Tharpe) in Marie and Rosetta; photo by Roger Mastroianni.
The Playhouse's production of
Marie and Rosetta
is directed by Neil Pepe, Artistic Director of Atlantic Theater Company, who directed the off-Broadway world premiere as well. This production also features the same artistic staff of designers. Pepe's award-winning, musical work with Atlantic includes the original production of
Spring Awakening
in 2006,
Hands on a Hardbody
in 2013 and
The Band's Visit
, currently on Broadway. He also directed the Broadway productions
Speed-the-Plow
in 2008,
A Life in Theatre
in 2010 and
Hands on a Hardbody
.
Cincinnati audiences may be familiar with Brant's most recent play,
Grounded
, after it made its regional premiere under the direction of Michael Evan Haney at Ensemble Theatre in 2016. The solo play follows a fighter pilot who's reassigned to operating military drones outside after she becomes unexpectedly pregnant.
Similar to
Grounded
,
Marie and Rosetta
explores themes of femininity, motherhood and pursuing ambition in the face of cultural forces — a fusion of themes that Tharpe embodied.
"She was playing with gospel music in the way that Ray Charles did decades later, really pushing gospel music to a different place by adding this swing to it," says Brant. "They even called it, eventually, Swinging Spirituals. She pushed the boundaries of what's acceptable musically."
Marie and Rosetta celebrates and honors the legacy of these legendary women. Their compelling life stories mixed with roof-raising musical numbers is, as
Theatermania
writes, "enough to make the theater faithful stand up and shout HALLELUJAH!"
To learn more about the Playhouse's production of
Marie and Rosetta
, visit our
production detail page
.