5 Questions With Zach Cossman
Zach is excited to return to his home town to make his debut at Cincinnati Playhouse in the Park! Previous off-Broadway credits include the world premiere of
Revolution in the Elbow…
(as Mr. Elbow) and
Blue Man Group
(as Blue Man). His regional credits include
Striking 12
(as Drums and Everyone Else) at TUTS Underground;
Million Dollar Quartet
(as Fluke Holland) at the Repertory Theatre of St. Louis and Casa Mañana Theatre;
Buddy – The Buddy Holly Story
(as Jerry Allison) at Bucks County Playhouse, Kimmel Center, North Carolina Theatre and Casa Mañana Theatre; the regional and west coast premieres of
Band Geeks
(as Jake) at The Human Race Theatre Company;
Guys and Dolls
(as Harry the Horse) at Great Lakes Theater Festival;
Anything Goes
(as Evelyn Oakleigh) and
9 to 5
(as Dwayne) at West Virginia Public Theatre. Thanks to MC, RC, CS and AG. Visit
www.ZachCossman.com
. @ZachCossman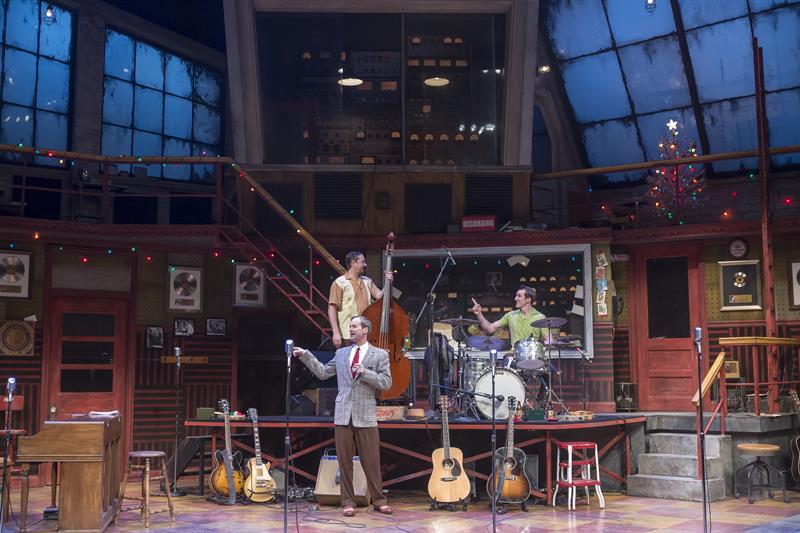 Eric Scott Anthony, James Ludwig and Zach Cossman in Million Dollar Quartet; photo by Mikki Schaffner.
1. How long have you been acting, and where did you receive your training?
I have been acting since 2007, when I did my first musical at Fairfield High School just a little bit north of Cincinnati. I started working professionally during college by performing gigs in the summer, and my first professional theatre job was playing Jake in the regional premiere of
Band Geeks: The Musical
at the Human Race Theatre Company in Dayton, Ohio.
I received my BFA in Acting with an emphasis in Musical Theatre from Wright State University in Dayton. They have a great program full of passionate, caring and talented professors, and I learned a lot during my time there.
2. When did you know you wanted to be an actor, and what's your favorite part of the job?
My high school participated in a theatre awards program in the greater Cincinnati area that ended the year with a Tony Awards-esque show with performances from each nominated show. I had played Action in
West Side Story
and my song, "Gee, Officer Krupke," had been nominated for Best Song. So, I had the privilege of getting to perform it onstage at the Aronoff Center's Proctor & Gamble Hall. Looking off the stage into a house that seats 2,700+ people was a feeling of excitement I had never experienced before and will never forget. I think soon after that I realized that I could keep having that feeling and someone might even pay me to do it and let me call it my profession.
My favorite part of the job is the ability to share stories with people. I think storytelling and sharing experiences is a such a vital part of our lives, and it's a privilege to get in front of an audience and tell them a story that they're allowed to interpret for themselves and take what they want to take from it.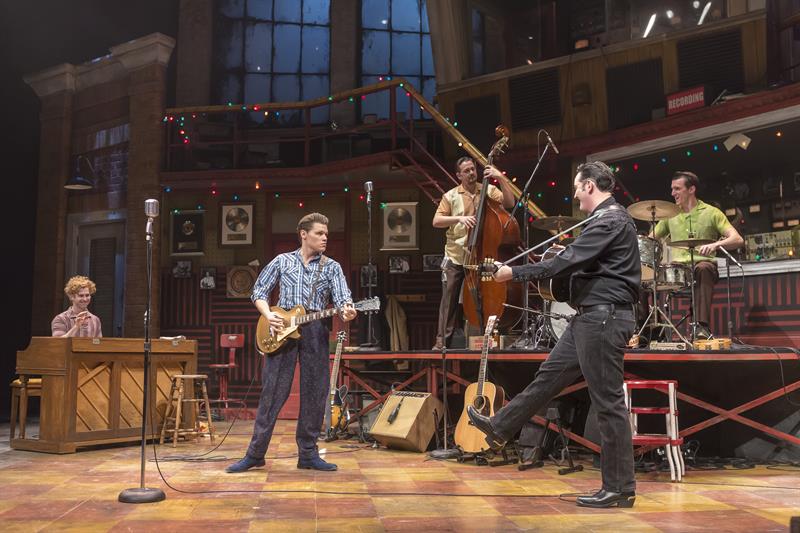 The cast of Million Dollar Quartet; photo by Mikki Schaffner.
3. What is your all-time favorite role you've performed and why?
That's a tough question, but I'd probably say Harold Bride from
Titanic
. For one reason, Maury Yeston's score to the show is absolutely gorgeous. To be a part of a large cast singing such a beautiful score was a real treat. It was also the first time I had done a show that was based on a historical event where I was playing a real person that I could research and learn about. I loved being able to incorporate little things from the research to pay homage to the people who either lost their lives or survived that great tragedy. Being able to "zoom in" on an event most people know about to illuminate individual people, I think, allows the audience to connect and experience that love and loss more intimately than reading about it from a history book.
4. What role have you been dying to play and why?
Although there's a lot of roles I'd love to play, I think I'd love to work on something completely new. I would love the opportunity to build something from the ground up and be part of the creation of new works and help a writer get their work off the page and on to the stage.
The cast of Million Dollar Quartet; photo by Mikki Schaffner.

5. What has been the most interesting part of working on Million Dollar Quartet so far?
I think it's definitely the unique 'family' nature of the show. Since there's a relatively small group of us that are able to do the show, you find yourself working with different combinations of people for each theatre we do the show at. Since we've all had the opportunity to do multiple iterations of the show, it's cool to see how each character varies slightly to fit the performer that's playing it and what choices they've made for the character.
To learn more about the Playhouse's production of
Million Dollar Quartet
, visit our
production detail page
.