5 Questions with Michael Rothhaar
Michael Rothhaar returns to the Playhouse, where he most recently appeared in the 2006 production of Witness for the Prosecution. He now takes the stage as William H. Mumler in the world premiere production of
Summerland
.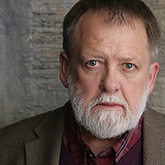 His credits include Broadway (
The Front Page
and
The Corn Is Green
), off-Broadway (
Frankenstein
and
Brand
), the San Francisco company of The Foreigner, as well as appearances in various regional theatres (Mark Taper Forum, Geffen Playhouse, The Repertory Theatre of St. Louis, Arrow Rock Lyceum Theatre, La Mirada Theatre and Olney Theatre, among many others). His film and television appearances include
Bones, Modern Family, True Blood, Longmire, Murder In The First, Shooter, Star Trek-TNG, The Nutty Professor
and
Space Jam
, to name a few. A director as well, Michael served as the artistic director of Pennsylvania's Allenberry Playhouse from 1987 to 1992. A proud member of AEA, SAG-AFTRA and SDC, he is also a visiting lecturer at UCLA's School of Theatre, Film and Television. Michael is married to Debbie Rothhaar. They have four children and two grandchildren.
How long have you been acting, and where did you receive your training?
I have been a member of Actors' Equity since 1975. I acted throughout high school, college and graduate school but my first union job was in June 1975. I earned a BA in Speech and Drama from Catholic University in Washington, D.C., in 1975. I was in the MFA Acting program at Wayne State University in Detroit (as a member of the Hilberry Repertory Company) from 1975 to 1977.
When did you know you wanted to be an actor, and what's your favorite part of the job?
I developed a passion for the theatre at the age of 10, courtesy of my fifth-grade teacher who would play Broadway cast albums on lazy Friday afternoons. She would explain the story as she played each number for us.
My Fair Lady, South Pacific, The Sound of Music
and
The Music Man
were headliners. I was completely hooked, and I owe her my career. I never thought that I would actually become an actor, but by my senior year in high school I had shifted my view and made the commitment to actually be one. I have never looked back.
My favorite part of the job is mining the character for his objectives and intentions. Once I have that, everything else comes easily — unless I have to dance. In that case, duck and cover! Another favorite part of it all is
finding the laughs
, especially in a serious play. If it is a good play, the humor is always there. You just have to find it and be sure it is honest and genuine.
What is your all-time favorite role you've performed, and why?
My favorite role is Charles in Simon Gray's
Dog Days.
It is a brittle and caustic domestic comic-drama. It concerns two brothers creeping into middle age. One, a drunken carouser and the other, a permanent
good son
, who have competed all of their lives. It plays against the backdrop of the dissolution of the carouser's marriage.
I had the pleasure of doing the American professional premiere of the play in Dallas in 1986. The production was co-directed by Simon Gray as well. I loved the play's submerged tensions and the comic moments that would ambush you so often. Charles has five children with twins on the way. He is in a constant struggle to retain his public school assistant headmastership in face of his wife's boisterous fertility. On top of all of it, he is desperately and hopelessly in love with his brother's wife. It was a true honor to be directed by Simon and to have his guidance in finding the center of Charles.
What role have you been dying to play, and why?
Martin Dysart in
Equus
. I saw it on Broadway in 1974, with Anthony Hopkins turning an electric performance. I love the passionate lyricism of the play's language and the tension in its argument. I saw it first at age 21 and oddly, I identified with Dysart, an emotionally trapped middle-aged man, and not with Alan, the teenaged boy so tortured by his obsessions. Also, I long to play the show with my son, Will Rothhaar. If we are ever going to do it, we best get on with it before we are both too old!
What has been the most interesting part of working on Summerland so far?
Without question, the most interesting part was the rehearsal process of
Summerland
. Arlitia Jones' stunning play was in fine shape from day one. But over the weeks, under Michael Haney's confident and creative leadership, we managed to refine and clarify it further. Billy Finn and Whitney Maris Brown are both very talented and sharp actors. It was a real thrill to be in the room with all of these terrific talents and help make it come together. Collaboration can be tough on a new play; not so with this one. Everyone shared the same goal: make the play as good as it can be. I am honored to be a part of it and proud to serve with such talented and generous professionals.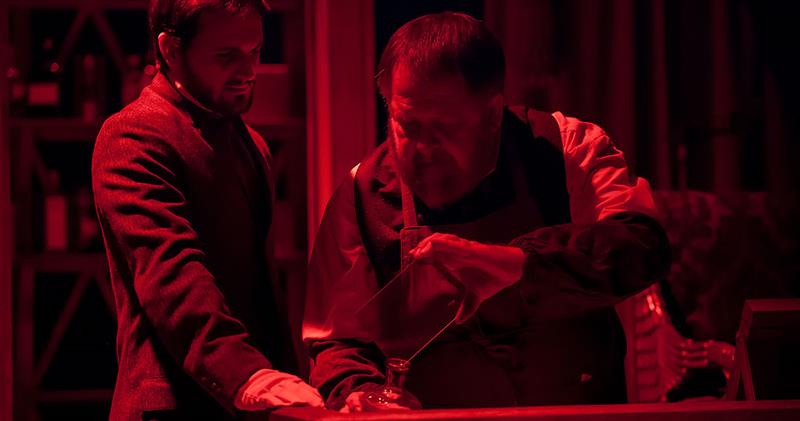 To learn more about the Playhouse's world premiere production of
Summerland
, visit the
production detail page
.
Billy Finn and Michael Rothhaar in Summerland by Arlitia Jones. Production photos by Mikki Schaffner.