5 Questions with Libby Winters
Meet Libby Winters, who makes her Cincinnati Playhouse in the Park debut in the world premiere production of Jen Silverman's
All the Roads Home
.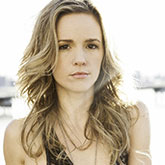 Her Broadway credits include
American Idiot
(original Broadway cast) and
Mamma Mia!
(Las Vegas company). Off-Broadway, she starred in
Big Love
at Signature Theatre. Other New York appearances include
Uniforms
(Samuel French Festival),
Evelyn
(Incubator Arts),
End of Days
(New York International Fringe Festival) and
White Noise
(New York Musical Theater Festival). Regionally, she played leading roles in
Bright Star
at the Old Globe in San Diego and
American Idiot
at Berkeley Repertory Theatre. On TV, she has appeared in
Billions
(Showtime),
Olive Kitteredge
(HBO),
Smash
(NBC) and
Champs
(ABC). She fronts the band LAKES which has played numerous venues around NYC and Brooklyn and will release their debut ep this spring.
How long have you been acting, and where did you receive your training?
I have been acting since I was seven, when I started doing professional theatre in Minneapolis—where I grew up. I trained at Children's Theater Company in Minneapolis when I was a kid. Then, I studied acting and Shakespeare at The William Esper Studio in NYC; comedy and improv at UCB in NYC; and for voice, I studied with Liz Kaplan. I went to Whitman College for undergrad and took some acting classes there but majored in English, just in case I wanted to do something besides acting once I got out of college. I didn't.
When did you know you wanted to be an actor, and what's your favorite part of the job?
I knew I wanted to be an actor from when I was a kid. I still remember my mom asking me if I wanted to audition for a play. I was sitting at the kitchen table, and I remember the excitement and joy rising inside me at the thought of getting the chance to be onstage. My favorite part of the job is auditioning and getting rejected over and over again. It's so fun and never gets tiring!
What is your all-time favorite role you've performed, and why?
My favorite role was playing Extraordinary Girl in
American Idiot
on Broadway because I got to fly. How cool is that? Singing Green Day while flying and wearing a pink bikini and a huge long fake ponytail? Thirteen-year-old Libby was exploding with joy over that.
What role have you been dying to play, and why?
I really want to play Stevie Nicks! Someone write the Fleetwood Mac musical and let me play Stevie! Just secreting that out into the world. Maybe the fact that my character's name in
All the Roads Home
is Nix is a premonition. I am coming for you, Stevie ...
What has been the most interesting part of working on All the Roads Home so far?
I love working on new plays. It's so exciting to be there while the playwright is figuring out how best to tell this story and to be a part of that process. The most interesting part of this process has been to see how we keep stripping things down to let the text and the character work tell the story. We used to have more furniture and props and text, but we keep taking things away because the words we are saying and the interaction between the humans on stage is telling the story already.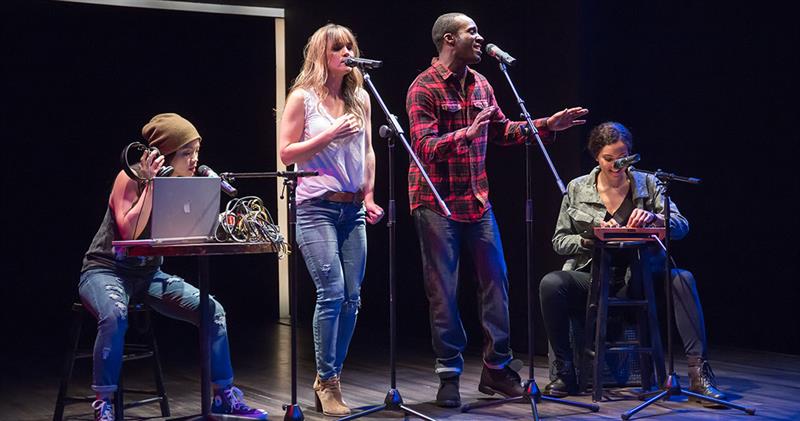 To learn more about Libby, follow her on Twitter @libberation and @lakestheband and on Instagram @libby.winters. To learn more about the Playhouse production of
All the Roads Home
, visit the
production detail page
.
Libby Winters in All the Roads Home; Tina Chilip, Libby Winters, Tramell Tillman and Rebecca S'manga Frank in All the Roads Home. Photos by Mikki Schafnner.