5 Questions with Amin El Gamal
Amin El Gamal makes his Playhouse debut as Abe in the timely Pulitzer Prize-winning play
Disgraced
. Meet Amin, and find out what he enjoys most about being an actor, his all-time favorite roles and what excites him about working on
Disgraced
.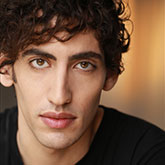 Amin's theatre work includes productions and workshops at South Coast Repertory, The Public Theater, Pasadena Playhouse, A Noise Within Theatre, Musical Theatre West and the Los Angeles Philharmonic. On television, he has guest starred on
The Newsroom
(HBO),
Shameless
(Showtime) and
The Librarians
(TNT), and he will play a major character on Fox's highly anticipated
Prison Break
sequel. Amin's film credits include the upcoming film
Message from the King
(opposite Alfred Molina) and the 2016 L.A. Film Festival Jury Prize winner
Namour
. He received his MFA from the University of Southern California. Amin dedicates his performance in
Disgraced
to his favorite Muslim immigrants, his parents.
How long have you been acting, and where did you receive your training?
I've been acting on some level my entire life. I remember putting on an insane one-man puppet show for my kindergarten class. It was really elaborate and involved water guns, a boom box and a stage that I built out of PVC pipes and hideous animal print curtains. I was a nutjob of a kid. But I really started acting professionally five years ago after I completed my MFA training at the University of Southern California (USC).
When did you know you wanted to be an actor, and what's your favorite part of the job?
I spent a lot of time trying to convince myself not to be an actor. My immigrant parents were not thrilled about it, and I always thought I was too weird looking or too "ethnic" to ever succeed. Somehow, though, I just kept being drawn to the stage. In some essential way I needed it. I think I finally committed to pursuing acting professionally during my junior year of college.
My favorite part of the job is the opportunity to dive into different worlds and experiences. With every role, you're given a new opportunity to explore and the exploration itself is different with every project. You also learn a little more about yourself in the process, which is always a gift, I think.
Also, acting has taken me to so many places I never thought I'd be. This year, I've traveled to Morocco, Vancouver, Portland and now Cincinnati. It's a real privilege, and I'm grateful for it.
What is your all-time favorite role you've performed, and why?
Ooh this is hard, but I think Baron Tuzenbach in Chekhov's
Three Sisters
is my favorite. I was in a production in grad school that was directed by Kate Burton. It's not necessarily a big part, but there's a real buoyancy in Tuzenbach and a huge capacity to love that really resonated with me. Chekhov doesn't really seem to be "in" right now, and I hope that changes soon because I am dying to play that role again.
I am also really fond of the character I played on
The Newsroom
a while back. It was my first TV job, and I was excited to play an Arab character who was not a raging stereotype, but a bit of a hero.
What role have you been dying to play, and why?
I'm not sure I have one to be honest, but I'm currently reading Salman Rushdie's
The Satanic Verses
. If that's ever adapted into a play, I'd fight so hard to be a part of that. Oh and I would love to play Freddie Mercury at some point. That's definitely on my bucket list.
What has been the most interesting part of working on Disgraced so far?
I was most struck by how the play seems even more relevant now than when it was written in 2011. Given that the election is raging on and Ohio is a swing state, I look forward to seeing what kind of post-show conversations it sparks.
To learn more about Amin, you can follow him on Twitter @AminElGamal. To learn more about the Playhouse production of
Disgraced
, visit the
production detail page
.
Photo of Barzin Akhavan, Bethany Jillard and Amin El Gamal in Disgraced by Mikki Schaffner.