Committed and Scrappy: The Legacy of Roger Corman and His Impact on the Arts
The King of the B's. The Godfather of Indie Filmmaking. The Schlock Mogul. These are just a few titles associated with cult filmmaker Roger Corman. As a true Hollywood heavyweight, he has produced more than 400 films and directed more than 50 throughout his 60+-year career, including the original film production of
The Little Shop of Horrors
in 1960. He has experimented in horror, sci-fi and socially conscious melodramas and his production style has shaped American cinema at large.
Corman moved to Hollywood after abandoning his original career path in engineering. At 20th Century Fox Studios, he worked his way up the chain from being a low-level runner to script reader and story editor. Eventually, he diverged from the traditional studio system in order to helm his own productions. He directed his first film,
Five Guns West
, in 1955. Throughout, he kept a keen eye on the political and cultural changes occurring within the country – particularly, changes related to who would become his most loyal demographic: the rebellious teenager and youthful outcast.
Corman hit his stride in the mid-50s and throughout the 60s by featuring characters in an uncertain world and speaking to a population of Americans who felt disconnected from a system that didn't serve them.
Teenage Doll
(1957) follows the trials of a delinquent girl gang.
Machine Gun Kelly
(1958) profiles a real life bank robber in stylish fashion. His characters were loners, strained by traditions and institutions, and his story lines broke away from norms in several ways. He dropped these characters into strange worlds, whether it was a Southern California town terrorized by aliens in
Not of This Earth
(1957), or an island full of giant, murderous crabs in
Attack of the Crab Monsters
(1957). Corman took audiences to unusual places and kept them entertained, year after year for decades.
As a hallmark of truly independent cinema, Corman also had a knack for low-budget, guerilla style filmmaking which afforded him quick, creative turnover and steady profits. He constructed his earliest film sets using the scraps of other productions. He plucked extras from the locales where he shot and he rarely sought out city permits for his locations, opting instead to flee from the police rather than negotiate with the city. His unique approach to production was incredibly influential and it helped to usher in the rebellious cinematic landscape of the 1960s.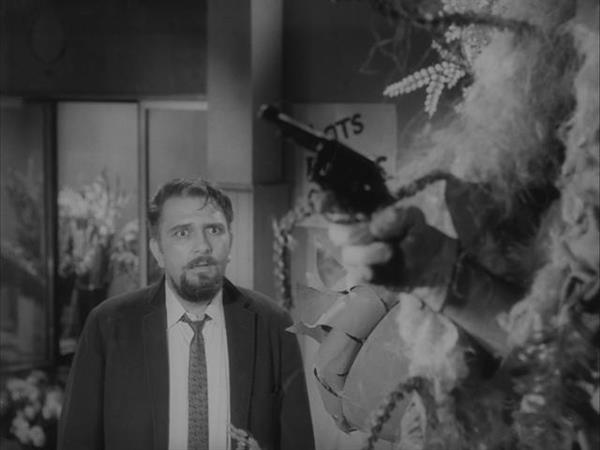 Film still from The Little Shop of Horrors (1960).
Corman also became infamous for how short his productions were – another quality born out of financial necessity. Principal photography for his productions typically ranged between five and ten days (which is astonishingly brief for a feature film) and as legend goes, Corman shot
The Little Shop of Horrors
(1960) in two days and one night. (It turns out this legend is accurate.)
The Little Shop of Horrors
was intended to go the route of Corman's previous productions: perhaps it would get some plays in downtown Los Angeles or a couple of drive-ins down South for a weekend. But the outlandish story about a down-on-his-luck florist who makes a Faustian deal with a man-eating plant garnered an unlikely cult following. The movie popped up in film schools and late-night TV programming so frequently that it turned an annual profit for the following 25 years. Broadway eventually picked up the story and crafted it into a musical in 1982, featuring the theatrical brilliance of legends Howard Ashman and Alan Menken. Hollywood picked it up again in 1986 for a musical remake starring Rick Moranis, and countless performers from high school to community stages have put on their own productions.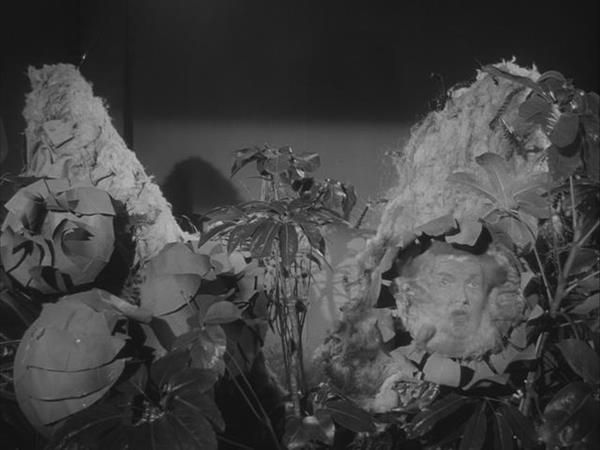 Film still from The Little Shop of Horrors (1960).
Little Shop of Horrors
– in all of its beloved forms – is a true cult classic that's been enjoyed by generations of fans. It's dark, strange and hugely entertaining. It is also purely Corman-esque: a scrappy film set, outfitted in the leftovers of high-budget studio productions, has endured in unexpected glory for more than 50 years, spawning creative lifeforms across the country and abroad. Corman is a living legend and testament to artistic commitment and mavericks everywhere.
To learn more about the Playhouse production of
Little Shop of Horrors
, visit the
production detail page
.