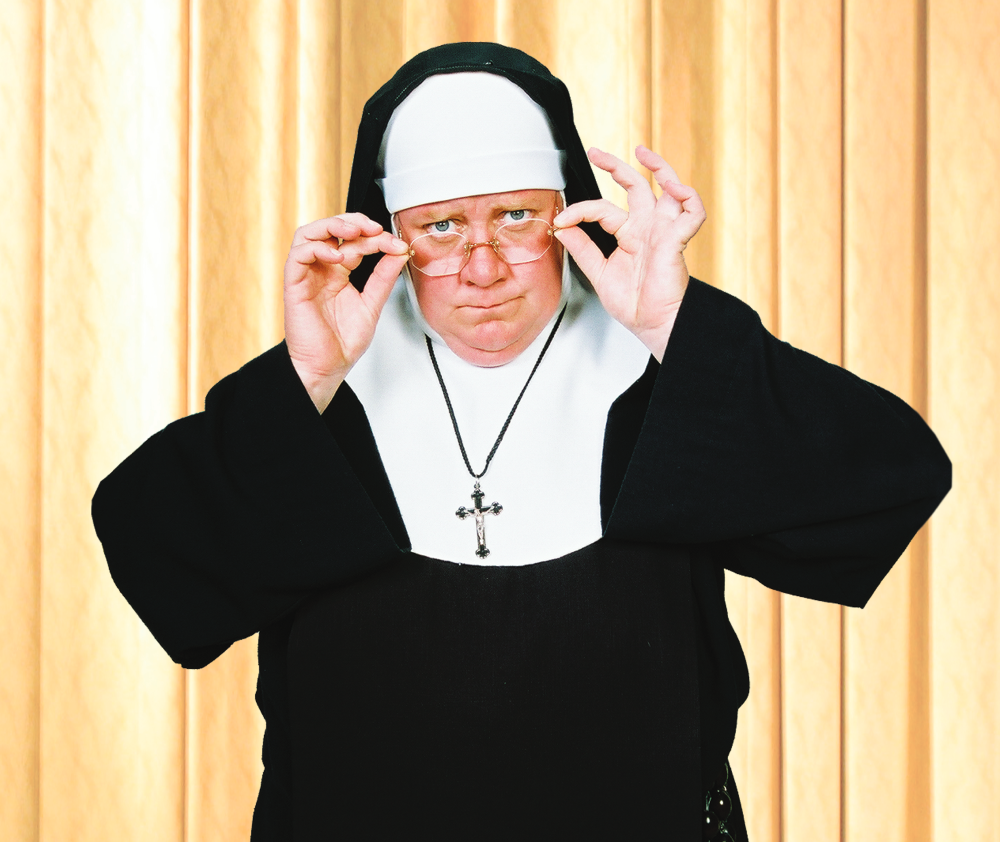 Late Nite Catechism promises a boisterous jaunt through Catholic culture in a one-woman show – part stand-up comedy and part improvisational theatre – that will be enjoyable for all. For anyone who grew up going to Catholic school, the show is a nostalgic, eccentric, yet heartfelt romp. For those less familiar with the nuances of Catholicism, the show is still a guaranteed evening of fun. And hey, you might even learn something new.
This is not the first time Playhouse has hosted a comedy show from Chicago, The Second City visited three times in the 2010s with three different comedy reviews, including an original show written to spoof Cincinnati. Fans of The Second City will love Late Nite Catechism's active comedy that blends audience participation with an airtight and witty script.
Vicki Quade and Maripat Donovan developed the show in 1993 after years of working in the Chicago comedy scene. They both have backgrounds in Catholic grammar school and high school, and Late Nite Catechism as we know it today began as a stand-up routine about Catholic saints. As Donovan and Quade started working, Quade realized that the story they were trying to tell was not with the saints, but rather with the nuns who they grew up admiring. The show premiered in May 1993 at the Live Bait Theatre in Chicago. Thirty years later, Late Nite Catechism has now been produced in every U.S. state (as well as London, Dublin and Toronto) and has been running in Chicago longer than Broadway titan The Lion King has been running in New York.
"A strong nun is a strong teacher," Quade told Loyola Press. "Women will say that by example, nuns showed them how to be a strong woman, how to be in charge, that it's not a man's world. You can do whatever you want to do in life. Many women saw nuns as positive influences in their life."
In Late Nite Catechism, the audience acts as the "students" in Sister's adult catechism class, pulling everyone into the action of the story. Sister rules the classroom with an iron fist. Don't get caught chewing gum, checking your phone or arriving late – you'll risk being called out by Sister for your misdoings. But you may get off easier if you have a biblically inspired name. Sister loves those. The show combines witty stand-up comedy and improvisational crowd work, ensuring that each performance is unique and equally enjoyable. Sister educates the audience on Catholic doctrine, such as the true definition of the Immaculate Conception, how Saint Joseph can help you sell your home and the truth about the four stages of the afterlife. The script educates while simultaneously, and with a sharp lens, finds lighthearted fun in Catholic culture. However, through all the humorous observations, puns and stories, at the core of this show is a love for growing up Catholic and all that comes with it.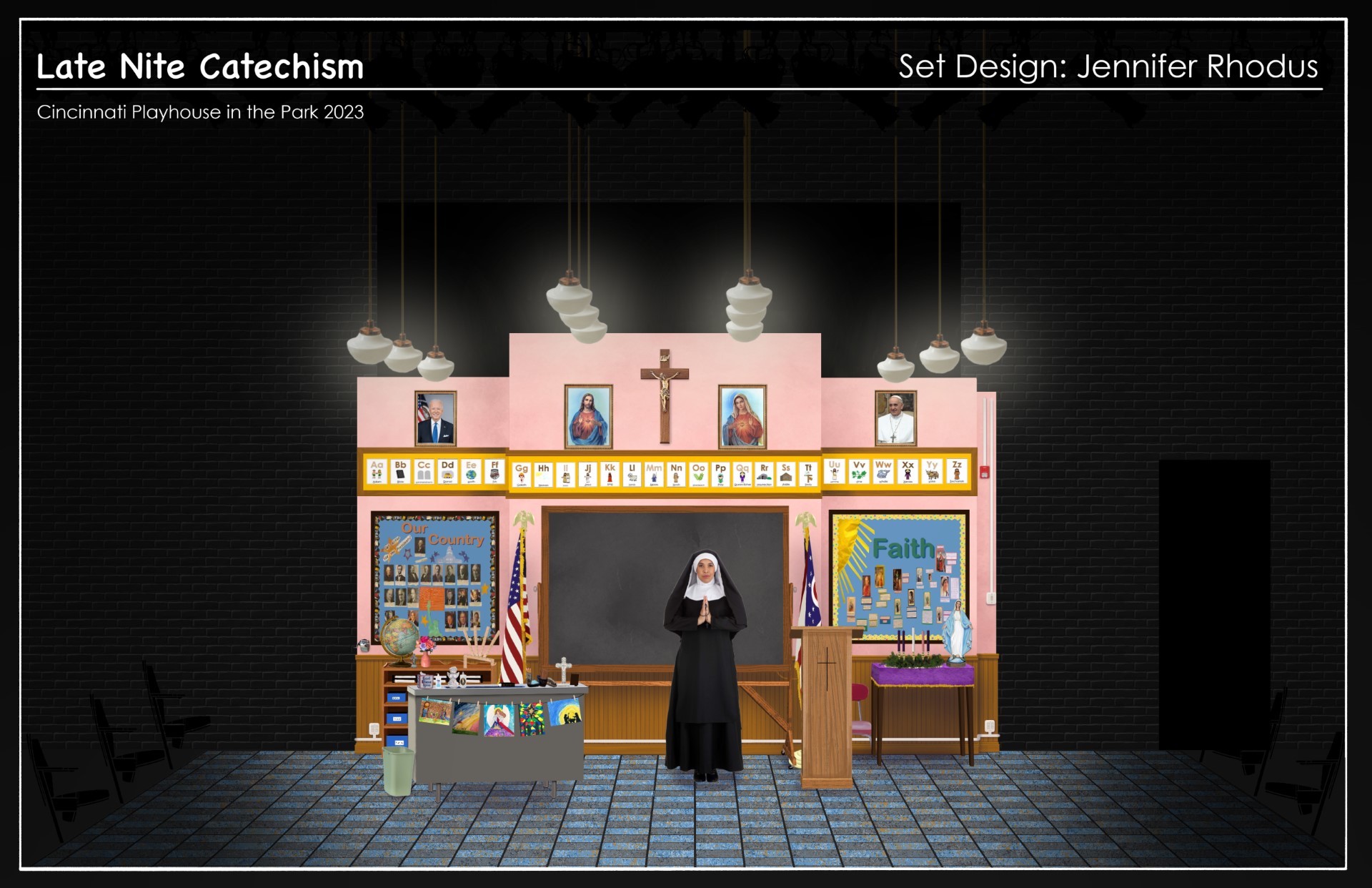 Set rendering for Late Nite Catechism. Design by Playhouse charge scenic artist Jennifer Rhodus.
It is evident that Quade and Donovan created this show to memorialize their Catholic upbringing as well as lovingly find the funny side of faith. While researching the show, Donovan learned that the Catholic Church opted out of Social Security for nuns. Past performances have raised money to support retired Sisters and, to date, have collected over $2 million from their 10 million audience members – a number that is sure to grow.
Late Nite Catechism will run in the Rosenthal Shelterhouse Theatre from Nov. 4 – Dec. 17. It is the perfect show for a friends' night out, or a class reunion activity for your Catholic high school and promises a good time for all crowds of all different backgrounds.