A Story As Soulful As Its Music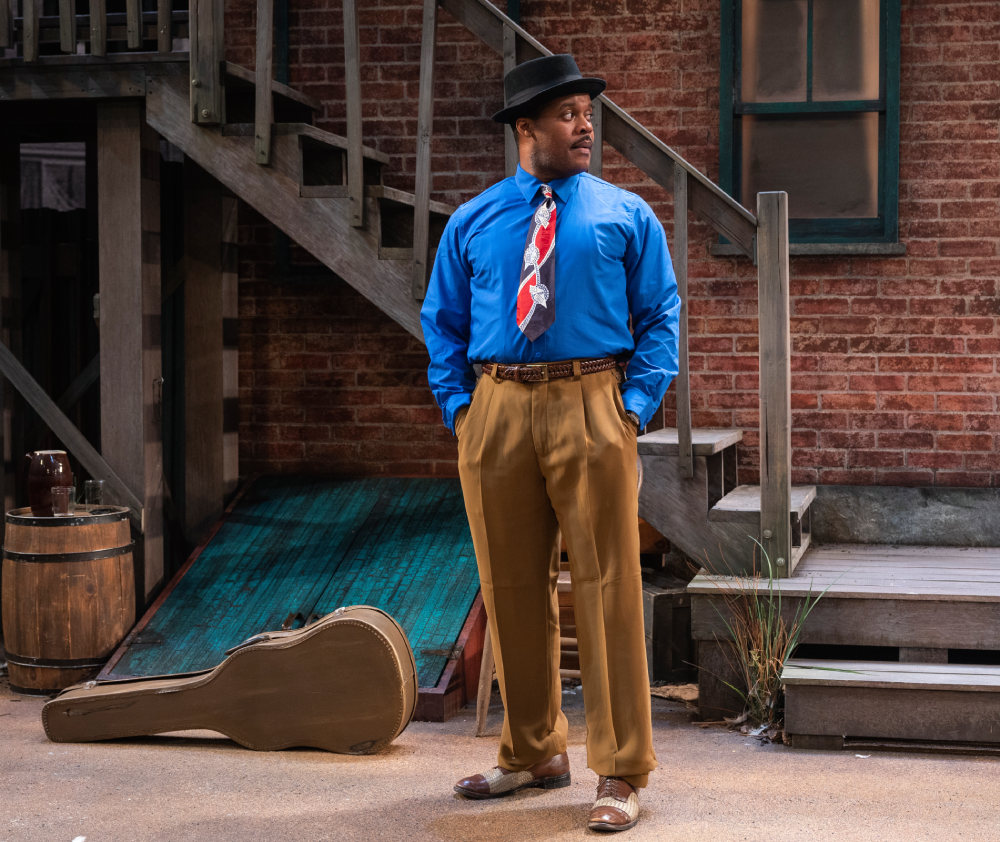 Spoiler alert: Floyd "Schoolboy" Barton was dead to begin with. This must be distinctly understood, or nothing wonderful can come from the story of August Wilson's Seven Guitars — a stirring and poignant composition about the ties that bind, featuring live music and poetic monologues.

Wilson's landmark play takes place in the summer of 1948 in Pittsburgh, where blues music echoes throughout the neighborhood. Floyd had been a gifted guitarist whose star was on the rise, and his untimely death has irrevocably changed the tight-knit group of family and friends that surrounded him. At the beginning of the play, the characters have just returned from Floyd's funeral. By the second scene, we've gone back a week in time, seeing the events that led to the bluesman's untimely demise.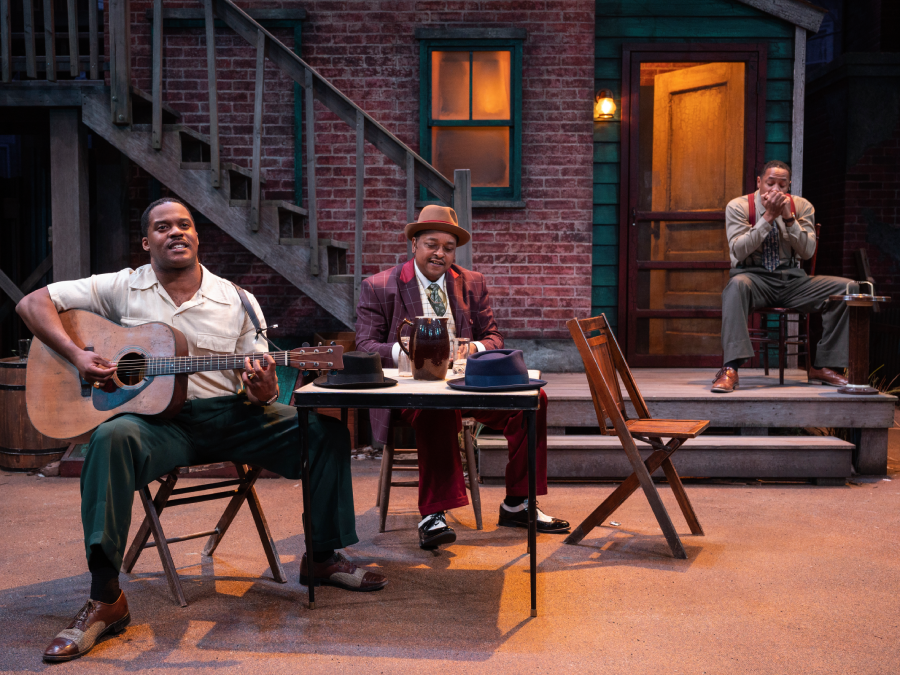 Dimonte Henning (Floyd "Schoolboy" Barton), Bryant Bentley (Red Carter) and Vincent Jordan (Canewell) in of August Wilson's Seven Guitars. Photo from Milwaukee Repertory Theater by Michael Brosilow.
Lyrical language, earnest characters and a skillful infusion of the blues reveal the true wonder of Seven Guitars. Audiences might recognize these elements, characteristic of Wilson and his body of work, from the Playhouse's productions of Two Trains Running in 2019, Jitney in 2016 or even Ma Rainey's Black Bottom in 1988. These, in addition to six other works that explore the Black American experience throughout the 20th century, comprise Wilson's groundbreaking American Century Cycle.
Like nine of the 10 plays in the Cycle, Seven Guitars takes place in Pittsburgh's Hill District. The setting was familiar to Wilson: His mother raised him, his two brothers and his three sisters in a two-bedroom house in the historically Black, culturally rich neighborhood. His mother instilled in Wilson a love for reading and writing, which led him first into the world of poetry. He dropped out of school at age 16 and immersed himself in the culture of the neighborhood, reciting his poetry at local cafes and jazz clubs.
The Hill District of Wilson's youth is very much alive in Seven Guitars. Wilson comments on this in his notes on the play: "I happen to think that the content of my mother's life — her myths, her superstitions, her prayers, the contents of her pantry, the smell of her kitchen, the song that escaped from her sometimes parched lips, her thoughtful repose and pregnant laughter — are all worthy of art. Hence, Seven Guitars."
The world of the play, part fictional and part memory, is both inhabited and embodied by its cast of Black characters. Their small talk, gossiping, griping, existential musings, singing, dancing and card playing reveal the particulars and peculiarities of this world, bringing to life a space and a period of time that are deeply personal and memorable.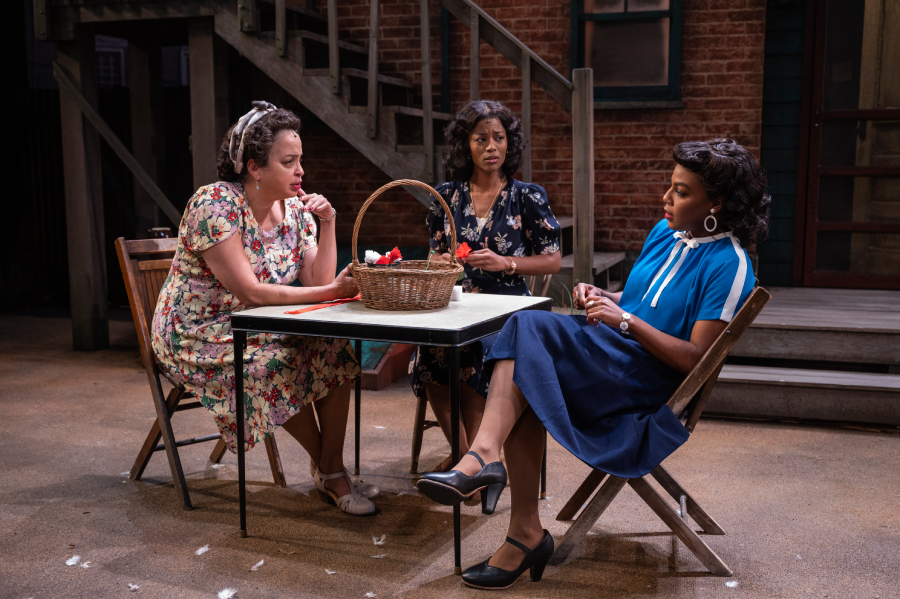 Marsha Estell (Louise), Kierra Bunch (Vera Dotson) and Saran Bakari (Ruby) in August Wilson's Seven Guitars. Photo from Milwaukee Repertory Theater by Michael Brosilow.
While many of Wilson's plays feature the death of a character, the world of Seven Guitars exists especially within the tension between life and death. Floyd's funeral looms over the entire play, highlighting the importance of the day-to-day moments that lead up to his death. Living and dying aren't far from anyone's mind; as the character Hedley observes, "Everybody got a time coming. Nobody can't say that they don't have a time coming. My father have his time. And his father have his time. Hedley is 59 years old. His time come soon enough. I'm not worried about that."
Considered one of the greatest American playwrights (if not the greatest), Wilson and his Tony Award- and Pulitzer Prize-winning body of work have opened doors to innumerable revelations and conversations about the Black experience in the U.S. What does Seven Guitars reveal about Black life? What does it reveal about America? His chronicling and contributions to Black culture have reached across generations, races and national boundaries, inviting readers and audiences across the globe to examine at ground level the despair generated by poverty and racism, while simultaneously celebrating Black America.
Experience Seven Guitars in Moe and Jack's Place – The Rouse Theatre beginning April 23.