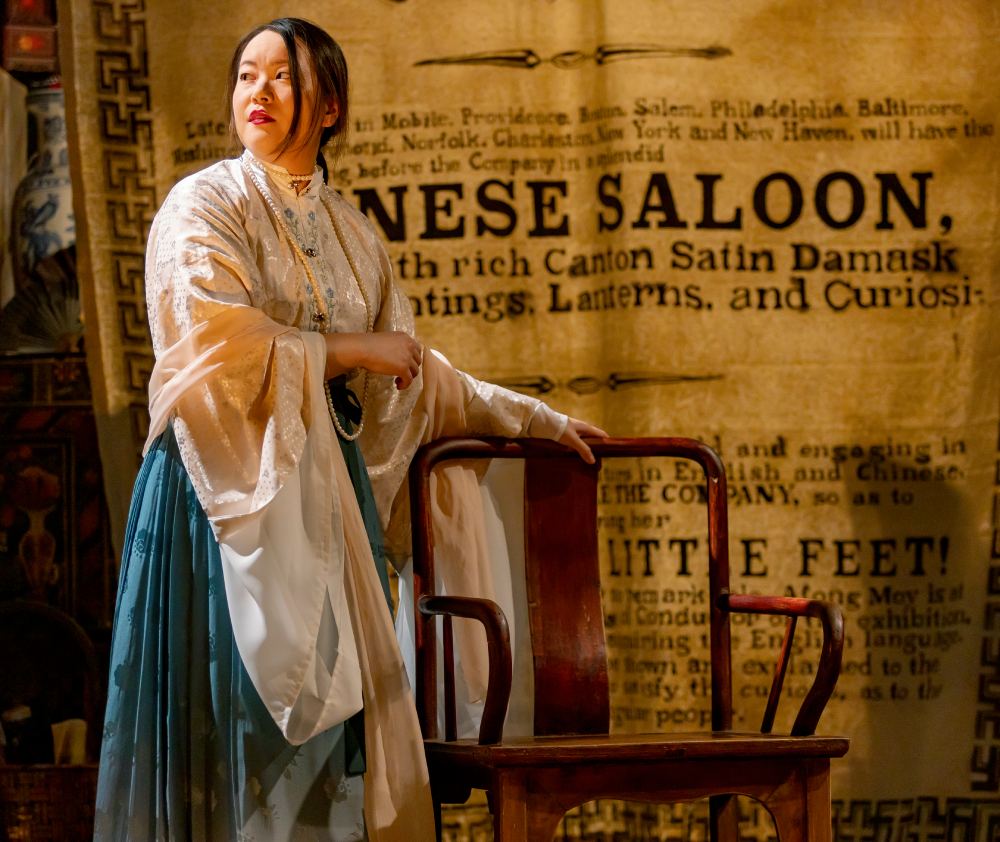 For the first time this season, Playhouse audiences will return to the Rosenthal Shelterhouse Theatre as The Chinese Lady takes the stage. The play is based on the true story of Afong Moy, who is supposedly the first Chinese woman to step foot on U.S. soil in 1834. Striking a rare balance between poetic darkness and humorous moments of whimsy, The Chinese Lady blends historical accounts with a deep exploration of character and culture.
Who was Afong Moy? Everything known about her life has been learned from artifacts that help piece together basic details. When Moy was 14 years old, her parents exchanged money with the Carnes Brothers — American merchants who were buying decorative goods from Southern China and bringing them to New York City to sell at an incredible mark-up — who brought along Moy to help sell their goods as "authentically Chinese."
When she arrived in New York, she was made to do a series of exoticized
performances, demonstrating the Carneses' ideas of what daily life in China must
have been like: using chopsticks, pouring tea, using a fan. She was, quite literally,
placed on display to educate the American public. In these performances, Moy was surrounded by the goods the Carneses had purchased, which spectators could then purchase.

Photo of Sami Ma (Afong Moy) in The Chinese Lady. Photo by Mikki Schaffner.
In 1836, the Carneses, finding her to be a lucrative selling point, took Moy on a tour through the U.S., visiting cities like Pittsburgh, Boston, Buffalo and Cincinnati. They promised to send her back to her family when her two-year contract ended, but that didn't happen. So, amidst increasing hostility towards Chinese populations in the U.S., Moy spent her time in and out of poor houses and being made to perform at P.T. Barnum's American Museum.
There is no written or oral record of Moy after her time with Barnum. The Chinese Lady imagines what her life and experiences were, creatively defying the limits of time. In the show, she bears witness to some of the most pivotal events in American history, and through her eyes, we experience our collective past anew.
Many historians and storytellers have sought to answer the question, "Who
was Afong Moy?," including The Chinese Lady playwright Lloyd Suh. He first
encountered Moy's story while doing research for another play and
describes being "haunted" by what he found. Suh told American
Theatre magazine, "[A]s I began to think about her and research more
and then eventually began to start exploratory writing, the layers of that haunting just kind of grew until I knew that I had to do something with it."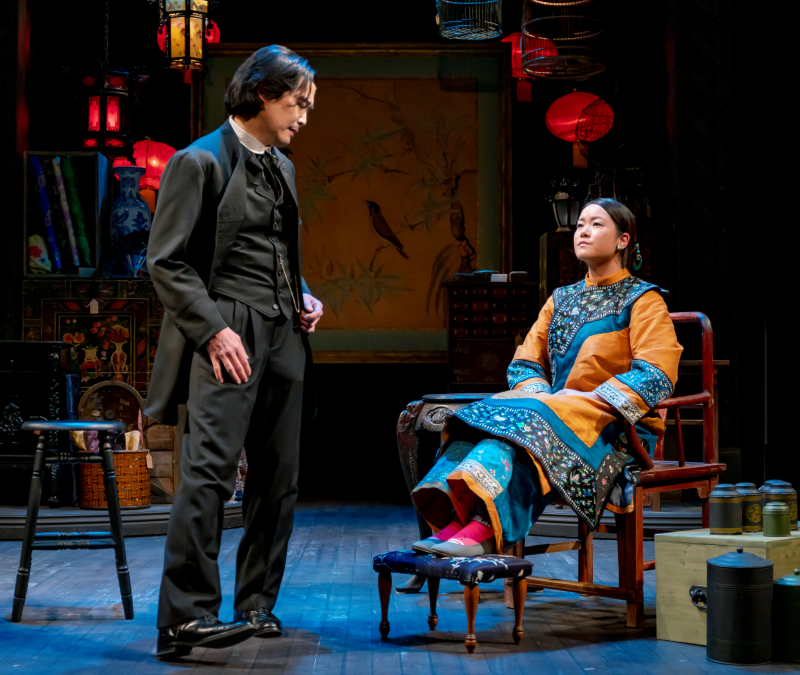 Photo of Albert Park (Atung) and Sami Ma (Afong Moy) in The Chinese Lady. Photo by Mikki Schaffner.
He continued to develop his idea at various theatres across the U.S. until its premiere in Massachusetts. It transferred off-Broadway to the Public Theater in early 2022.
Since then, Moy has been touring the country again. At one point in the 2021-22 playgoing season, The Chinese Lady was the most produced play in the U.S. Suh's writing and the fervor around the play compellingly parallels Moy's real-life performances and travels. How much has changed in the almost 200 years since Moy's arrival? How has the relationship between the U.S. and its Asian American and Pacific Islander citizens changed? How has the perception of Moy's performance changed? These parallels are at the root of The Chinese Lady's power as a play.
In a time of increased anti-Asian violence in the U.S., Suh commented on how The Chinese Lady has been received across the U.S. "I feel like what's happened over the past couple of years is that this country is now in a very self-aware reckoning about what it is to be an American, what it is to live in a country that has the kind of history that it has, and how the color and origin of our bodies influences the way that we navigate that history."
In The Chinese Lady, Moy tells her own story in her own words with honesty, urgency and whimsical humor — a surprising and thought-provoking combination that makes this play, and most certainly the woman at its center, truly memorable.
The Chinese Lady runs through April 30th in The Rosenthal Shelterhouse Theatre.