Becoming Little Willie John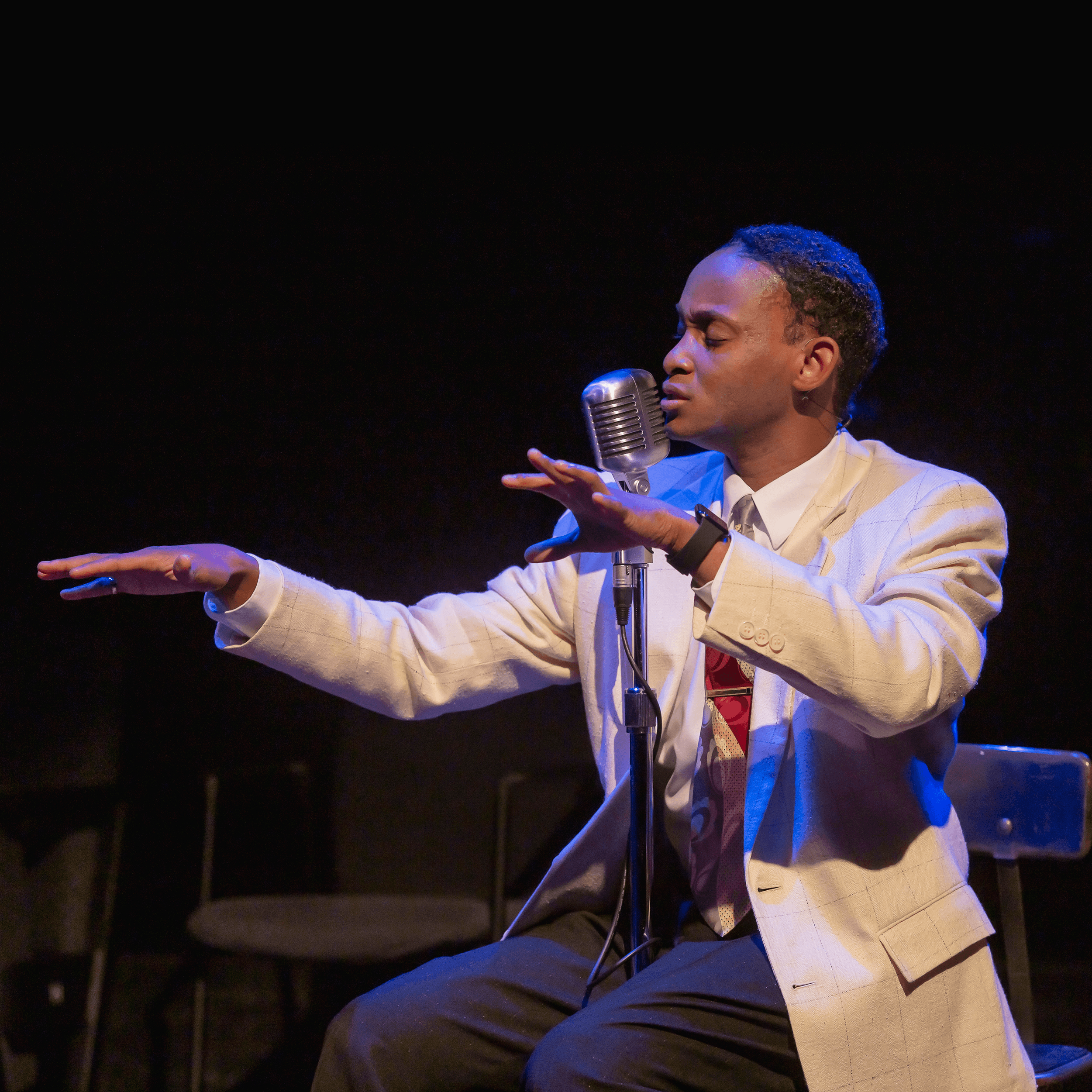 As a musical follow-up to Cincinnati King by KJ Sanchez, Need Your Love is an intimate and captivating world premiere that recounts Little Willie John's meteoric career and turbulent life in the music industry fast-lane. Read how performer Antonio Michael Woodard found the spirit and soul of R&B's unsung hero.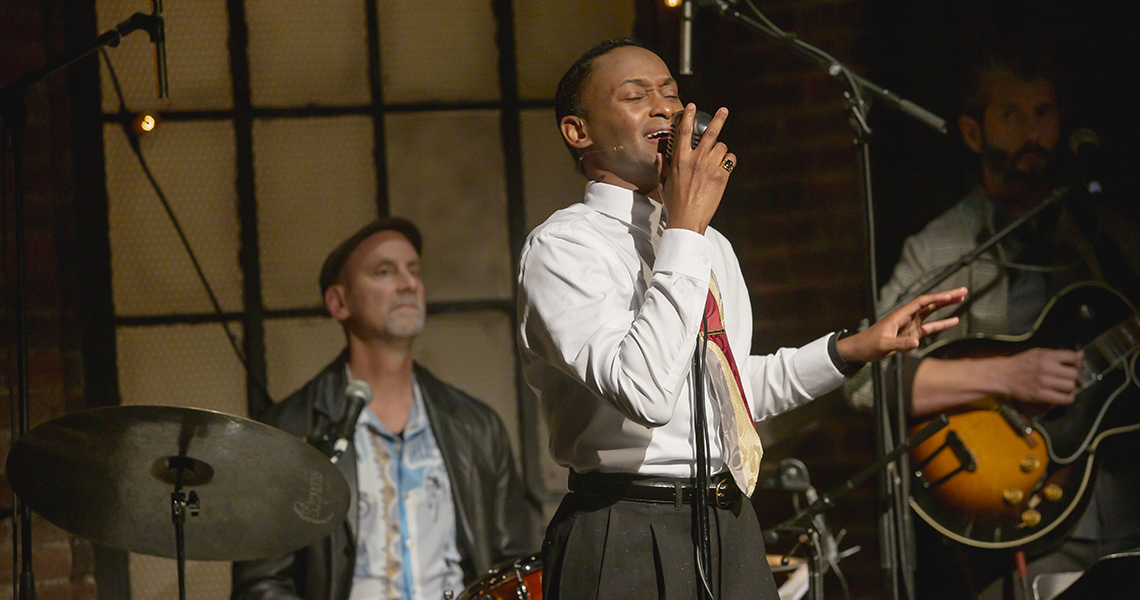 Antonio Michael Woodard (George/Little Willie John) with Richard Livingston Huntley (Music Director/Drummer) and Joel Greenberg (Guitarist) in Need Your Love
. Photo by Mikki Schaffner.

When you learned about Little Willie John's story, what did you find most compelling? Did you find any unique parallels or connections with him?

What I find most compelling about Little Willie John's story is his drive and tenacity for music. Even at an early age while singing with the United Five the gospel group his father put together, which included his five brothers and sisters, he would step out and bring the house down. They say he showed out, he put on for the people. His boldness and bravery when it came to music is like none other. He was very young at the time but always driven to be at the top of his game and always gave his ultimate best.
Although most people may not know much about him, he is one of the architects of R&B music today. Many people, including myself, before learning of this project don't know of his contributions. Thank God for the greats such as Stevie Wonder, James Brown, Marvin Gaye and countless musicians/singers of that era who patterned themselves after him. Although he endured so much during his time in the music industry, he always found a way to sing. That, to me, is the most compelling part of Little Willie John's story.
I absolutely find connections and unique parallels to Little Willie John. First, the obvious connection is his height. What I also find to be very unique is his age, after just turning 30 this year. His singing ability is another unique attribute. My family would say I'm an "old soul," so my ear is geared toward old-school music. I also grew up in church. That's another parallel in our upbringings. Church really prepares you for the world. From musical theatre to whatever else you want to do in music or performance. Most of the artists we experience today had some upbringing in the church. The voice I was given is a particular and unique sound. It's not "new school," not necessarily musical theatre, but it is definitely old school which is very similar to his. When I first heard his voice, I was in awe. I said , "Oh, yeah, there's no way I am missing out on doing this, I have to do this."

Antonio Michael woodard (George/Little willie John) in Need Your Love. Photo by Mikki Schaffner.

Portraying a real-life character is a bit different from embodying a fictional character. How did you begin preparing for this role?
I began preparing for this role by trying to find every piece of information I could about Little Willie John. There was some information I could find in interviews from his sons and sources online. Most of the facts about him are from someone else's perspective. However, I was able to listen to source recordings. Our brilliant director and playwright KJ Sanchez has done an amazing amount of dramaturgical work about Little Willie John. She has recordings of Rev. Dr. Mable John who is Little Willie John's sister. So, I was able to gather information about their upbringing and about him specifically from that interview. There is also another interview about Rev. Dr. Mable John, she talks about her own experience in the music industry. After watching that interview, I was able to study her body language and cadence of speech. I tried my best to incorporate some of what I learned from her.
We also had pictures of Little Willie John in the rehearsal space, so I was able to see some of his body language through those pictures. Our director and playwright KJ Sanchez took me through exercises with music and would have me find postures for Little Willie John as the music stopped. We figured out his physical, mental and social life. I also had the script, which gave me gems that I was able to infuse into the building of Little Willie John's character.
Throughout my education, whether from Brown University/Trinity Rep MFA or The Alabama State University, I always try to seek out truth when building characters. At Alabama State University, under the world-renowned actress Dr. Tommie Tonea Stewart, the Dean of the College of visual and performing arts — who some may know from the In the Heat of the Knight series as Aunt Etta Kibby or Gwen Hailey from A Time to Kill with Samuel Jackson. Dr. Stewart for 50-plus years has been teaching the "BEing technique" which was created by Frank Silvera, who was also an actor in the early days of the industry best known for Killer's Kiss (1955), Vincent Rapallo, The High Chaparral and so many others. He is the founder of The American Theatre of Being, and for about a year and a half — really, over our time during COVID — I was able to sit under Dr. Stewart and research "BEing." The dynamic actress Beah Richards (Guess Who's Coming to Dinner?). also a "BEing" actress, defines being as "mortal existence in a complete and perfect state, lacking no essential characteristics." This existence is communicated through the reality of the here and now, a communal experience.
So, with the BEing concept, you learn and understand that you don't seem to be, you just ARE. This dynamic Little Willie John IS. So, I tried my best to be as authentic and truthful while portraying the life of Little Willie John. With every fiber of my being — from delivering a line, to sitting in a chair, how I moved my head, what I was doing with my hands, moving about the space — I had a desire to make sure that I was doing him justice. And this may sound a little weird, but I always pray for a character's spirit to inhabit my body/my vessel so that I can be as honest as I possibly can. I know that was a long answer, but that is how I prepare.
I also want to give a special Shout-out to Dr. Tommie Tonea Stewart and the gatekeepers — that's who we are — we are the preservers of Frank Silvera's legacy. You can catch us at the top of the year in 2022 at theamericantheaterofbeing.com, and also during the spring and summer, we will be presenting the world with some materials about The American Theater of BEing. I just wanted to give that little plug. I love y'all.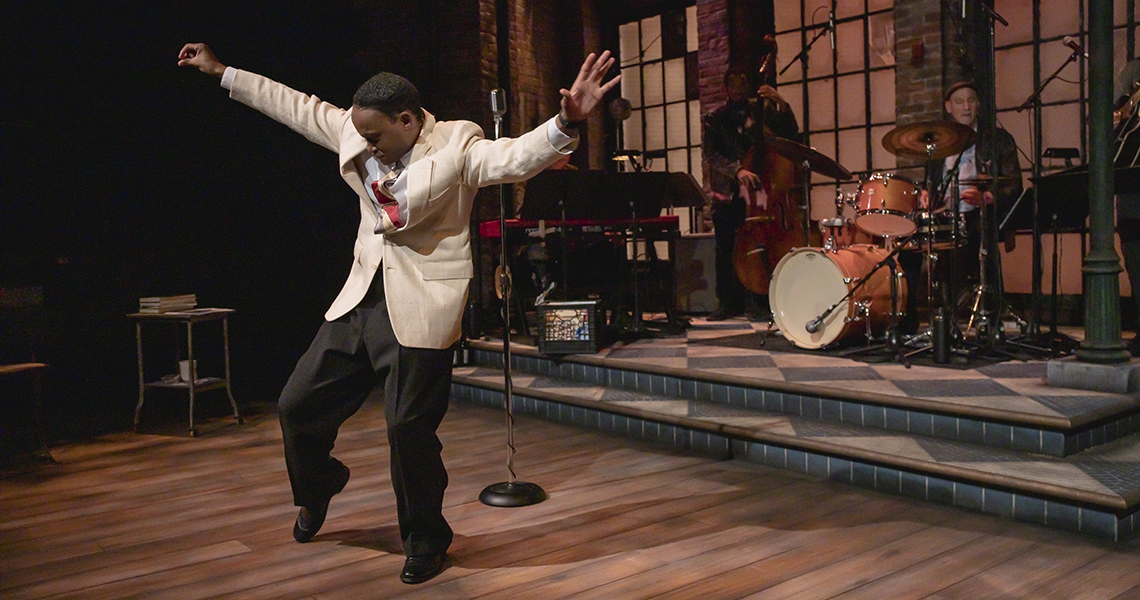 Antonio Michael Woodard (George/Little Willie John) with Ralph
Huntley (Pianist), Terrell Montgomery (Bassist) and Richard Livingston Huntley (Music
Director/Drummer) in Need Your Love. Photo by Mikki Schaffner.

Little Willie John was known for his magnetic performing style. How did you approach these characteristics in rehearsal?
The first step was actually in the songs and learning the material. It really starts with his voice — his voice just grabs you and gets your attention. It is powerful. While learning the material I began to capture his rhythm, cadence, his trumpet reach of notes and his phrasing. I also was able to really play in rehearsal and come up with things that came natural to me while just enjoying the music. I also had a lot of help from our director and playwright KJ Sanchez. Her dramaturgical work and dramatic structure within the text gave me all the information I needed in finding the story behind each song. Also during many collaborative moments, we pitched ideas on where to position particular songs and what emotions I felt while singing. We were always interested in what happened organically.
Which of Little Willie John's songs are your favorite to listen to, and which are your favorite to perform?
Oh, this one is tough… My favorite Little Willie John songs to listen to are "My Love," "Cottage for Sale" and also "Need Your Love." My favorites to perform are… "My Love", "Welcome to the Club" and "Sunshine."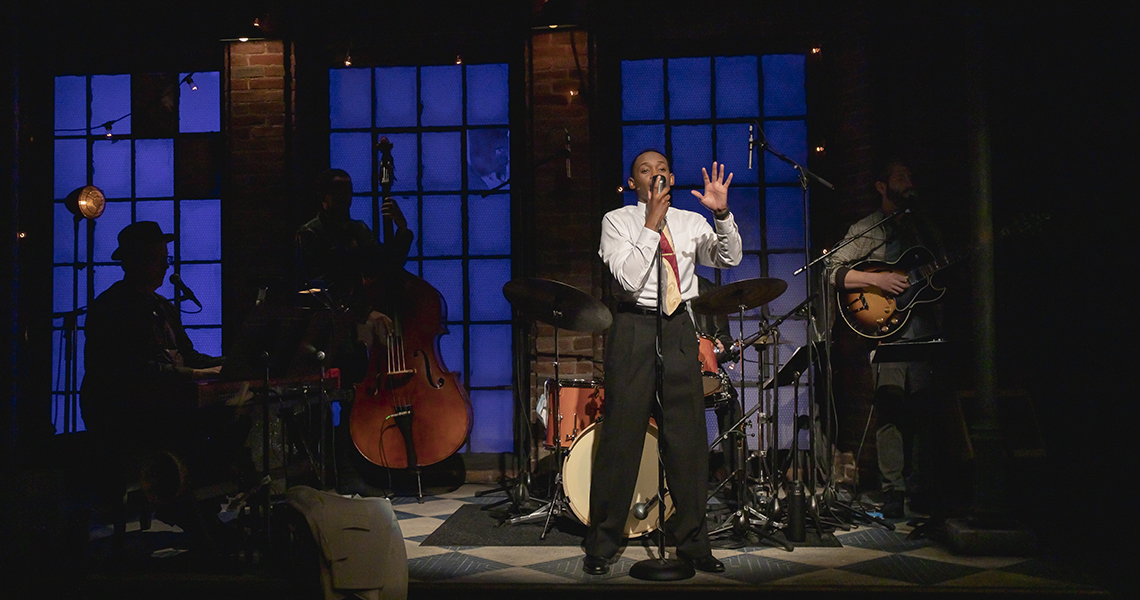 Antonio Michael Woodard (George/Little Willie John) with Ralph
Huntley (Pianist), Terrell Montgomery (Bassist), Richard Livingston Huntley (Music Director/Drummer)
and Joel Greenberg (Guitarist) in Need Your Love. Photo by Mikki
Schaffner.

Is there anything else you'd like to share with us about your experience with Need Your Love?
My experience with Need Your Love has been amazing and life-changing. I have to shout out the amazing band for this awesome production: Richard Huntley (Drummer/Musical Director), Ralph Huntley (Keyboard), Terrell Montgomery (Upright Bass), Joel Greenberg (Electric Guitar) and everyone else who has come in to help us out during this production. The crew and production team! Everybody is so passionate about this project, and it feels good to be back after such a long year without theatre. Thank you again, KJ Sanchez, for this opportunity and also Cincinnati Playhouse in the Park. It's been an amazing and beautiful ride. This was indeed a challenge but one I will never forget. I am grateful and thankful. It is an absolute honor to play this giant of a man, Little Willie John.
To learn more about Need Your Love, visit our production detail page.