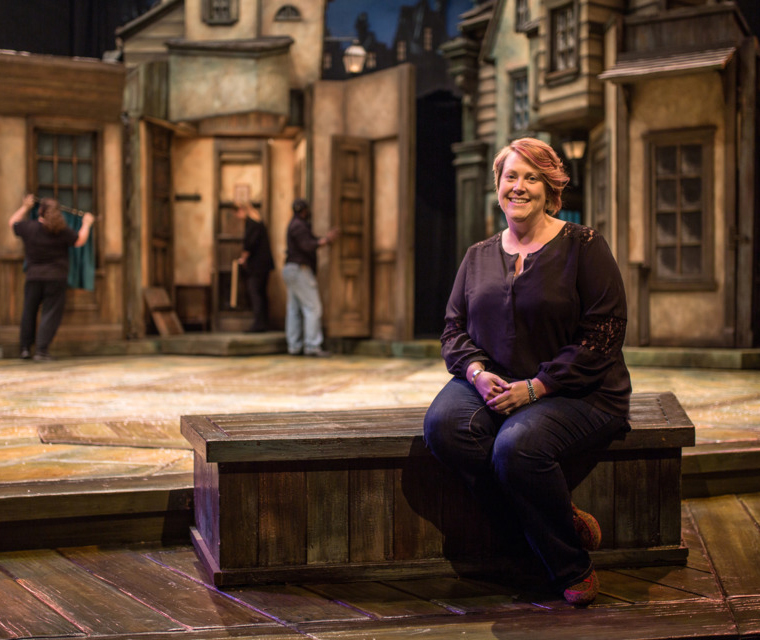 My husband Scott fondly refers to A Christmas Carol as "the beast that we know," and it is. It's the all-consuming process that eats my life for two months each year. As a production, it's busy and daunting and filled with spectacle and understudy coverage plans and stress and fatigue. But, more than that, it's my home and my heart, my center and my joy. It's the production where I grew up.




The 2019 cast and team for A Christmas Carol. Photo by Mikki Schaffner.


I was first introduced to the Playhouse's A Christmas Carol in 2000 when I was allowed to observe Production Stage Manager Bruce E. Coyle call the show as part of my undergraduate honors thesis project. I was mesmerized by his complete mastery of the script and by his artful navigation of the cues. That was when I understood that a stage manager is the final character of the play — their voice, timing, experience, and intuition complete the director's vision. That was also when I knew I desperately wanted to work at the Playhouse.
Five months later, I was hired as a stage management intern, and after some serious lobbying on my part, I got to work on Carol in my second season. Since then, I've spent 19 of my 21 Christmases working on the show.




Andrea L. Shell in rehearsal and backstage for A Christmas Carol. Image on the left by Mikki Schaffner.


I've experienced the love and excitement of 19 first rehearsals and have witnessed all the familiar hugs of actors returning after ten months apart and the joyous trepidation of initial introductions. I've giggled and gasped through 19 first read-throughs of the play, delighting as Scrooge looks around the room to see which child is going to answer shouts as the new George, guffawing as Greg Procaccino (our dearest Marley/Old Joe) gets so invested in those around him that he forgets his next line. I've calmed 19 opening nights' worth of anxious nerves and said bittersweet good-byes to 19 amazing companies at closing-night toasts.
And, in between those benchmarks, I've been lucky enough to be here for the day-to-day happenings of the show — the Secret Santa reveals, color day photos (earth tones is always my favorite), meals in the green room, collective screams for the Marley reveal at student matinees, preshow tours, automation malfunctions, and lobby carols (we've collected over $200,000 since 2006 alone).



A Christmas Carol casts on a day of donations for the Cratchit Family Food Drive, and on a color day in rehearsal, respectively.

But, of all those beautiful moments, of all those countless shared experiences, the ones I hold dearest are the joys so consistent they've become personal truths. Each year, I'm blessed to glance out my booth window to see generations of families enjoying this important story of hope, compassion, and shared humanity. I get to experience new company members breathing fresh life into our process while trusting the veterans to hold the production steady. And, each performance, I get to join in Scrooge's final promise: "I will honor Christmas in my heart and try to keep it all the year. I will live in the Past, the Present, and the Future. The spirits of all three will strive within me."




Photo of Andrea L. Shell on the set of A Christmas Carol by Hailey Bollinger, as seen in CityBeat.
I am the conductor of the beautiful symphony that is the carol we all sing together. So, as the lights dim and the first chord rings out at today's performance, please join me and the rest of the A Christmas Carol family as we whisper, "Make it sing."



---

Want to see Stage Manager Andrea L. Shell in action?
Watch the below video for a glimpse at her role in the show, then get your tickets for A Christmas Carol.