30 Years of A CHRISTMAS CAROL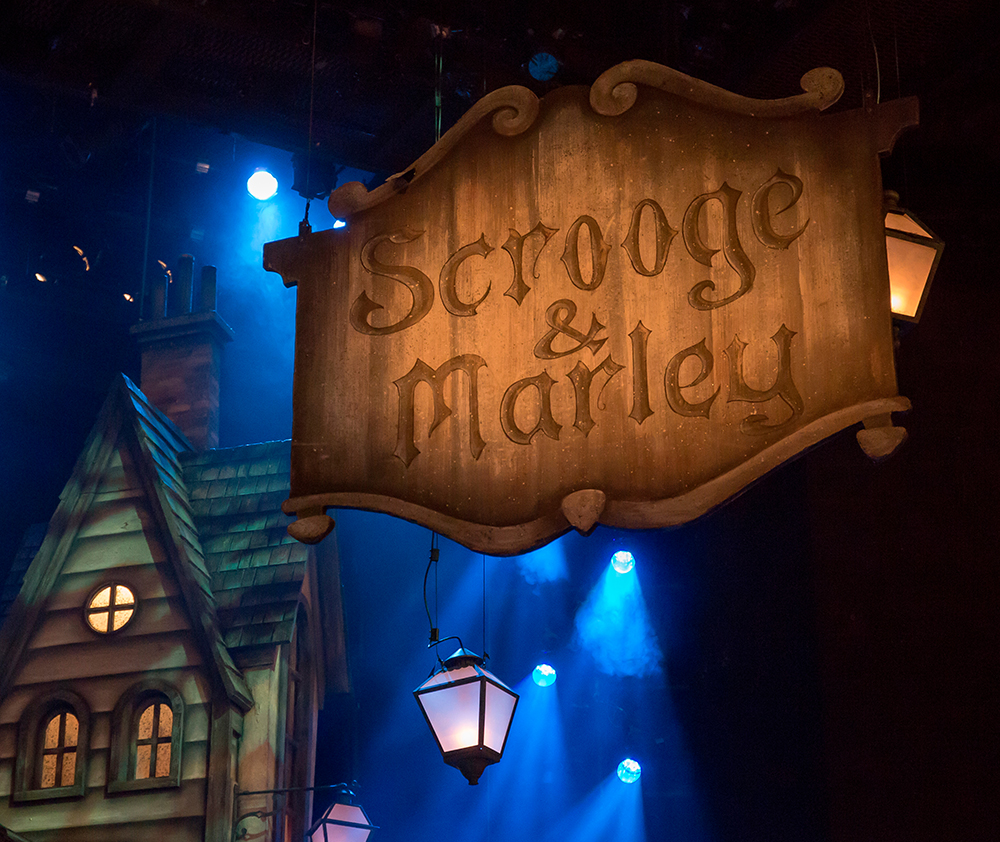 Since 1991, families have been enjoying our production of A Christmas Carol each holiday season. Charles Dickens' classic story about a sinner who's given one last chance at redemption is brought to life through spellbinding stage magic, an exuberant ensemble and a holiday spirit that fills us with warmth. The production, presented by First Financial Bank, has created memories for a lifetime for thousands of people across the Tristate and established an artistic legacy that's synonymous with the Playhouse.
This year marks the 30th anniversary of our iconic production. It's also the final year we'll gather together in the Marx Theatre before we build the Rouse Theatre — a state-of-the-art theatre complex that promises enhanced technical capabilities. A new theatre means we'll be bringing you a new adaptation of Dickens' classic story, complete with stage magic that's even more dazzling than you've come to know and love. To celebrate the rich history of A Christmas Carol in the Marx Theatre, let's take a look back at three decades of theatrical holiday cheer!
---

OUR JOYFUL AUDIENCE
There's no denying that A Christmas Carol is a tradition that rings in the spirit of the holiday season. Since its first performance in 1991, the show has had a total attendance of 659,037 audience members. There have been 1,115 performances (prior to the 2021-22 season) with an average theatre capacity of 94.32 percent. Of those performances, 168 have been student matinees for schools around the region.



The 2019 cast and audiences of A Christmas Carol. Photo by Mikki Schaffner.


So many of you have spent birthdays, anniversaries, date nights, family outings and holiday celebrations at the Playhouse with A Christmas Carol being a part of it. Check out some of the moments you've shared in our Playhouse Love Stories series:
● Betsy and Mike Liderbach:
Betsy and Mike snagged last-minute tickets to the show on Dec. 16, 1994, and each agreed that the production was "amazing." They continued to date long after Scrooge wished a Merry Christmas to the audience that evening. In fact, they returned to the Playhouse to see A Christmas Carol again on Dec. 16, 1998, to celebrate four years of dating.


Betsy and Mike Liderbach. Photo of the 1994 cast of A Christmas Carol by Sandy Underwood.


● Jennifer and Tim Berfeld:
Jennifer and Tim have made the Playhouse a part of their date nights ever since they attended their first performance on A Christmas Carol in 2015. They always enjoy a dinner together at Montgomery Inn as part of their outing, and they watch the show from their favorite area of the theatre each time they attend.


Jennifer and Tim with photo op for A Christmas Carol, and outside the theatre in Eden Park.


● Suzanne and Donald Schutte:
In 1993, Suzanne and Donald attended A Christmas Carol for the very first time. It's when they both "fell in love with Playhouse in the Park." They have regularly seen shows together and purchased theatre subscriptions over the years, and eventually they began volunteering as ushers. One of their favorite holiday dates is to see A Christmas Carol. "We haven't missed an A Christmas Carol performance since 1993," says Suzanne. "It's fun to see how much it has changed, as well as how much it has stayed the same. My husband always says that it doesn't feel like Christmas until we see the show."



Suzanne and Donald Schutte. Photo of Peter Davies and Alan Mixon in the 1993 production of A Christmas Carol by Sandy Underwood.
---

OUR TALENTED CAST
An ensemble of professional actors liven up the Marx Theatre each year, and many of them have become veteran cast members of the show. Gregory Procaccino, who currently portrays Jacob Marley and Old Joe, is the only cast member who has been in every single production since 1991.




Gregory Procaccino as Jacob Marley in A Christmas Carol. Photo by Mikki Schaffner.


Procaccino is also one of two actors who've played the most different roles over the years, with nine different characters (the Undertaker's Assistant, Dick Wilkins, Mr. Sosser, Schoolmaster Oxlip, Man with Shoe Shine, Percy, Poulterer, Jacob Marley and Old Joe). He shares that title with Associate Director Stephen Skiles, who also played nine different characters over the years (Mr. Cupp, Mr. Soccer, Percy, Topper, the Man with Pipe, Man with Shoe Shine, the Baker, the Tailor and Rich Father at Fezziwig's).

There have been four different actors who have embodied Ebenezer Scrooge: Yusef Bolos (1991), Alan Mixon (1992 to 1996), Joneal Joplin (1997 to 2004) and Bruce Cromer (2005 to present). There have been 16 young actors who have portrayed Tiny Tim, and three of them have performed in the role for three consecutive years: J. Patrick Naylor (1997 to 1999), Owen Gunderman (2008 to 2010) and Henry Charles Weghorst (2015 to 2017).



Pictured: Dale Hodges and Yusef Bolos; Richard Jackson II and Alan Mixon; Evan Martin and Joneal Joplin; Bruce Cromer.


Many of the actors who have performed in A Christmas Carol have also performed in different productions at the Playhouse. Here's a look at the current season's company members who have taken the stage in different mainstage productions over the years:
● Bruce Cromer: Barrymore (1999), King Lear (2001), Speaking in Tongues (2012)
● Annie Fitzpatrick: A Prayer for Owen Meany (2016), To Kill a Mockingbird (2016), Pride and Prejudice (2014), Hank Williams: Lost Highway (2012), Alias Grace (2019)
● Douglas Rees: Born Yesterday (1981), Inherit the Wind (1982), Macbeth (1982), Sherlock Holmes and the Adventure of the Suicide Club (2014)
● Stephen Skiles: Gross Indecency: The Trials of Oscar Wilde (1998), Much Ado About Nothing (1999), Witness for the Prosecution (2006)
● Gregory Procaccino: Romeo and Juliet (1978), The Caine Mutiny Court-Martial (1996)
● Taha Mandviwala: Shakespeare in Love (2017), Ken Ludwig's Treasure Island (2018)
Some of the roles in A Christmas Carol are also reserved for the inaugural Bruce E. Coyle Acting Intern company. In addition to performing in the Playhouse's educational outreach shows and teaching educational workshops, each acting intern gains professional stage experience by being part of the performance ensemble.
---

OUR HARD-WORKING CREW
It takes a theatrical village to bring A Christmas Carol to its feet year after year. Offstage and behind the scenes, a staff of nearly two dozen production crew members work every performance. Their roles include wardrobe, wig master, fly operators, props, sound technicians, electricians, automation, stage manager and stage management interns.


The 2019 cast and production crew for A Christmas Carol.


In order to make the stage magic sparkle, the stage manager must call every cue during every performance. Production Stage Manager Andrea L. Shell, who has held the role for A Christmas Carol since 2006 is responsible for giving cues to the technicians who create sound, lighting and other special effects onstage. Aside from the performers' acting, nothing technical in the production changes without Shell's cue. In total, there are about 600 cues to call during every performance — that's roughly five cues per minute.


Andrea L. Shell calling cues for A Christmas Carol.

There are more than 150 props used onstage, proving how essential the details are within the scenery. Here's a snapshot of the show's props:
● Five gallons of fake snow fall during each performance.


Photo of the 2019 cast of A Christmas Carol by Mikki Schaffner.

● 10 boxes of 40 pounds of dry ice are used every week to elicit the cold and murky environment of Victorian-era London.


Pictured: The cast of A Christmas Carol; Bruce Cromer. Photos by Mikki Schaffner.

● There are two lifts, two trap doors, two spinning towers and two wagons that are automated and controlled by a computer backstage during the show.


Photos of Douglas Rees as the Ghost of Christmas Present and Marx Properties Running Crew Lara Sheridan in the trap room under the stage during A Christmas Carol by Mikki Schaffner.


● Scrooge's desk weighs more than 500 pounds and is made completely out of steel and painted to look like wood.


Photos of Bruce Cromer in A Christmas Carol by Mikki Schaffner.

● Scrooge's four-poster bed is twice that size, weighing in at 1,000 pounds. It's 11 feet fall, seven feet wide and eight feet long.


Bruce Cromer in A Christmas Carol. Photo by Mikki Schaffner.

The wardrobe department oversees the costumes before, during and after every performance throughout the run. There are 90 and 95 costumes used throughout the show, with slight variations from year to year. For each of the children's costumes, the department keeps two sizes to allow for growing room. There are 13 wigs and eight additional hair pieces like sideburns, beards and mustaches.



Photos of Britney Nicole Simpson as the Ghost of Christmas Past (along with Bruce Cromer) by Mikki Schaffner.



Marx Wardrobe Mistress Cindy Clifford Saalfeld has been head dresser for every season since 1991. She holds the title of being the only member of the production crew to have worked every show.


Bruce Cromer and Cindy Clifford Saalfeld; Photo by Mikki Schaffner. Gregory Procaccino and Cindy Clifford Saalfeld; Photo by Aly Gomez.
---
Don't miss your chance to celebrate the spirit of the holidays with A Christmas Carol, presented by First Financial Bank! Visit the production detail page to snag your seats before they sell out.