Reimagining Happily Ever After, Virtually
Discover "once upon a time" like never before as the Playhouse's Off the Hill touring series begins its season of fairy tales and fables with Greg Banks' adaptation of Snow White. In this fun-filled and fantastic retelling, Snow White and her most trusted companion, Dwarf #4, discover the true meaning of happily ever after: friendship, family and a whole lot of laughter. The tour will be streamed virtually from Oct. 22 to Nov. 14.
Banks' plays are familiar to Playhouse audiences. His contemporary versions of classics like Robin Hood and The Jungle Book delighted students and families in previous seasons, and Snow White is sure to do the same.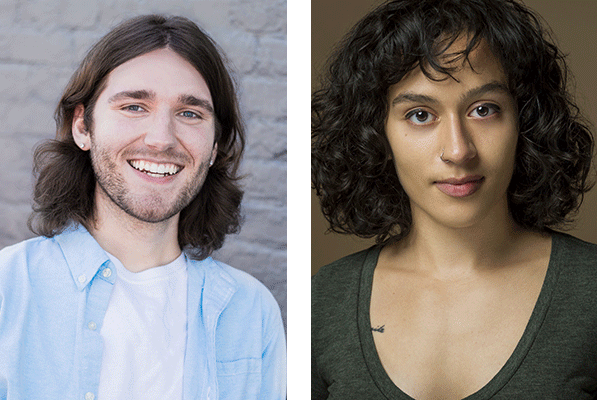 The cast of
Snow White
: James Dawson and Julie Locher.

"Greg Banks is a playwright that I love to program," says Daunielle Rasmussen, Playhouse Director of Artistic Engagement and the director of the show. "His adaptations of classic tales are vibrant, funny and give female characters agency over their participation in the story."
While princes and magic wands are left to "save the day" in some stories, Snow White and Dwarf #4 discover what it means to share one's truth in full in this new tale. Together, the two characters retell the story we all know — in which Snow White finds refuge with seven dwarfs after the evil queen tries to have her killed — but relay it from their own perspective. Two actors put their performance skills to the test by embodying all the characters themselves. With twists and tweaks from the original, Banks' script reimagines the classic fairy tale as Snow White takes ownership of the story named after her and becomes a brave and adventurous heroine.
"I connect to her resiliency, and I love how Snow White creates an entire world for herself that reflects the love she gives to those around her," says Rasmussen. "It is that love, and her found family, that save her — versus a prince coming to the rescue."
Snow White fits neatly into this season's Off the Hill theme of fairy tales and fables. Along with Hare and Tortoise and The Little Mermaid, students, families and young audiences explore multiple interpretations and visions of classic tales. This coincides with the dramatic interpretation that's foundational to the Playhouse's educational programming. Snow White will be available virtually in the fall, Hare and Tortoise will be available both virtually and in person this winter, and The Little Mermaid will be performed in person during the spring.

Says Rasmussen, "Every script I read of these stories is so different, and it is so fun to live inside the creative interpretation that each playwright brings."
Wrapped within Banks' fast-paced Snow White script are themes of friendship, family, kindness, community and perseverance. Just like Snow White, audiences have agency in what they take away from the story. For Rasmussen, this is a story about "finding your community and creating family out of friendships that you develop." What will Snow White mean to you?
Visit the production page for more information about tickets, virtual tour dates and streaming availability. Snow White is recommended for ages 6 and up.