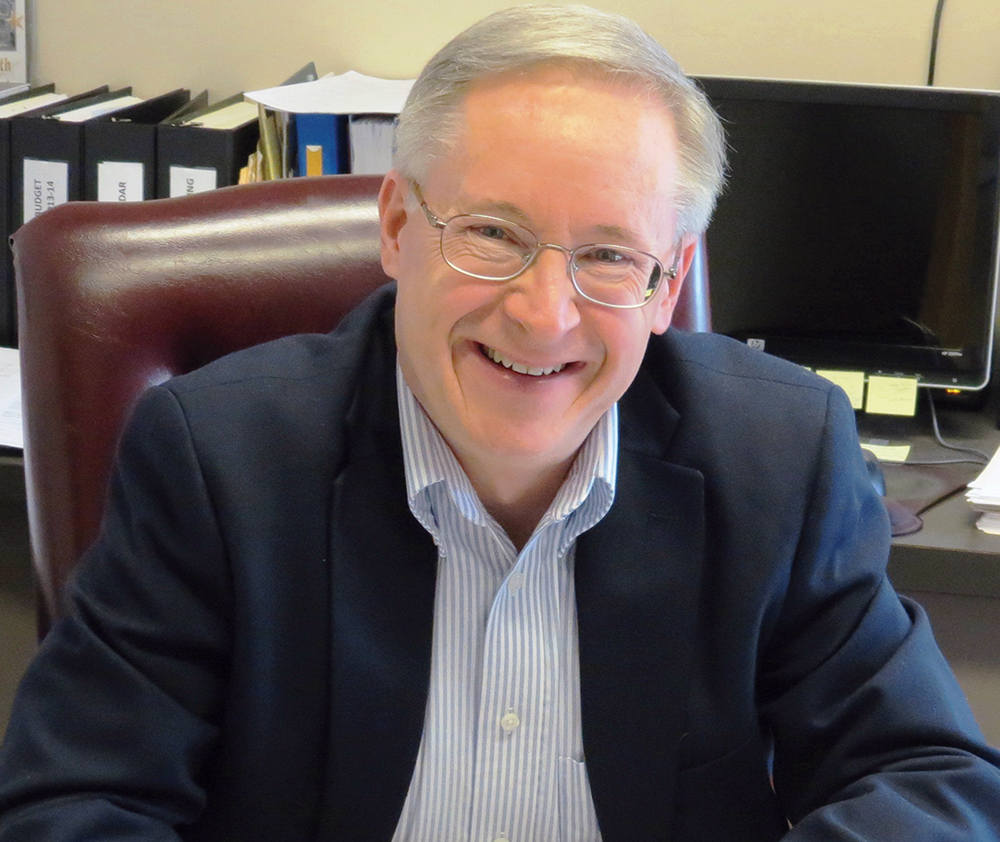 Managing Director Buzz Ward has had an unprecedented and incredible 29-year tenure leading Cincinnati Playhouse in the Park. As the longest serving executive in the Playhouse's history, much of the theatre's ongoing success can be credited to him — having managed it for nearly half its 61 years. He has presided over 28 consecutive seasons with an operating surplus — an unrivaled record in the American regional theatre — that has resulted in the financially strong organization the Playhouse is today. During his time, he oversaw the production of over 300 mainstage shows, and the theatre won two Tony Awards: the first in 2004 for Best Regional Theatre and the second in 2007 for Best Revival of a Musical for Company. In 2012, he was awarded the Governor's Award for the Arts in Arts Administration.


Producing Artistic Director Ed Stern with Buzz Ward in 1992 and in 2012.
Buzz arrived at the Playhouse in 1992. He served as Executive Director under the late Producing Artistic Director Ed Stern until 2012. He was then named Managing Director and Co-CEO with the arrival of current Artistic Director and Co-CEO Blake Robison. At the end of June, Buzz will retire from his role as Managing Director and transition into the Playhouse's first-ever Managing Director Emeritus.
"Nobody can replace Buzz. His keen financial skills and visionary leadership have brought national acclaim to the organization," says Blake.
Thank you, Buzz, for serving Cincinnati audiences with remarkable work, enriching our artistic community and making significant contributions to the American theatre!

---
Which Playhouse productions would you never grow tired of seeing?
There would be many, but if I had to pick one it is probably A Christmas Carol. I only missed the opening night of the first one in 1991 since I wasn't here yet, but I saw at least one, if not more performances, of the 28 productions that followed. To paraphrase Ebenezer, "The happiness it gives is just as great as if it cost a fortune!"


Bruce Cromer greets students with a prepared lunch after the Macy's-sponsored matinee of A Christmas Carol.
Share with us an anecdote from your tenure that always makes you smile.
Every year, we do the Macy's-sponsored matinee performance of A Christmas Carol for 626 kids who could never afford to see a show, and it is often the first live theatre they have ever experienced. After the show, the actors remain in costume to come and hand out lunches. As the students were passing through the lobby, one little boy was standing behind Bruce Cromer, who played Scrooge. He stopped in his tracks. He tentatively reached out, touched Scrooge's costume, looked up at Bruce and said, "You're real!" The power of live theatre to fire young imaginations always makes me smile.



The cast of Company; Photo by Sandy Underwood. The 2006 Tony Award for Best Revival of a Musical.

Alongside the late Producing Artistic Director Ed Stern, you brought two Tony Awards back to Cincinnati: Regional Theatre Award in 2004 and Best Revival of a Musical for Company in 2007. Do you recall your very first reactions when you heard the news for both awards?
For the Regional Tony Award in 2004: "It's about time!" I was glad the rest of the country finally recognized the quality of the work here. For that particular award, you are notified about one month in advance, so we knew in May. For Company in 2007: While we knew we were nominated, we didn't know we had won until they announced it from the stage of Radio City Music Hall. But I had such faith that we would win that I told the people sitting next to us we were going to have to get past them when they announced we had won! But both were real thrills! (Read more about the Playhouse's Tony Awards here.)


Playhouse Board members Richard Curry and Jack Osborn with Producing Artistic Director Ed Stern and Buzz Ward.
When you consider your time at the Playhouse, which moments bring you the most pride?
There are many things of which I am exceptionally proud. It would be easy to say it is the two Tony Awards, or the string of 28 consecutive years of operating in the black (with what I hope will be 29 this year despite the pandemic), or working with the 252 different members of our Board of Trustees over my tenure, or the many brilliant artists with whom we have collaborated, or getting to work with what I consider to be the very best staff in the American theatre. But what I am most proud of is the art that we have produced for this community, both on the stages at the Playhouse and off the hill in our schools and neighborhoods. Theatre has always had the power to let people experience new worlds, to fire the imagination, to let you walk in someone else's shoes and to open people's hearts and minds to one another. I am proud of how we have done that for the people of greater Cincinnati and that the community recognizes what a gem the Playhouse is.
If you could offer pearls of wisdom to up-and-coming theatre artists and theatre professionals, what would you say?
Stay passionate and hopeful. Human beings need to come together in community to hear and share everyone's stories, and there is no better vehicle for that than live theatre. Theatre in its current form has been around for 2,500 years because it serves this great need of our society. It will be here in some form for the next 2,500 years, and it is our privilege to create and share it with our community. In the meantime, make sure you have six months of savings to get you through the tough times!

Buzz Ward with Jennie Rosenthal, Woody Taft, Richard Rosenthal and Blake Robison at the opening of the Rosenthal Shelterhouse Theatre in 2019.
What productions stand out as particularly memorable, and why?
It's tough to choose among the 316 mainstage productions I have overseen during my tenure. So, perhaps by decade might be reasonable, and my apologies to the many other plays I wanted to put on this list!
1990s:
Someone Who'll Watch Over Me (1995-96): Three actors on a simple, eight-foot-by-eight-foot platform. The production transported me as all good theatre does.
Sweeney Todd: The Demon Barber of Fleet Street (1997-98): My favorite Stephen Sondheim musical.
Wit (1999-2000): Such powerful and moving storytelling.
2000s:
Company (2005-06): Not only a brilliant production but transferring it to Broadway and winning the Tony Award showed the rest of the world the quality of the work we do here for our Cincinnati audiences.
Ace (2006-07): A glorious, world premiere musical.
2010s:
Behind the Eye (2010-11): Incredibly inventive and compelling storytelling.
Jitney (2016-17): The return of August Wilson's powerful poetry to the stages of the Playhouse.
Ken Ludwig's Treasure Island (2017-18): Who doesn't love a good pirate story?
In the Heights (2018-19): What a celebration of life!



Thomas Sesma and Pamela Myers in Sweeney Todd: The Demon Barber of Fleet Street. Photo by Sandy Underwood.
What do your first steps of retirement look like?
First and foremost, I am looking forward to spending much more quality time with my 95-year-old mother. Second, it has been more than a year since I have seen my daughter and granddaughter because of COVID, so there are some visits to Washington D.C. in my future. After that, I imagine there will be some teaching, consulting, travel to Australia and New Zealand to pick up my seventh and final continent, and perhaps a bit of golf.
Is there anything else you'd like to add about your time at the Playhouse?
When I first came to Cincinnati in 1992, I thought I would be here for five or six years. Little did I realize that together with the staff, Board, artists, first Ed Stern and now Blake Robison, we would grow the theatre into the one in which I wanted to spend my career. And none of that would have been possible without the steadfast support of our subscribers, donors and other audiences. You have consistently supported us and helped us to thrive. After all, without an audience, it's just a rehearsal. My deepest thanks go to all of you and to the citizens of Greater Cincinnati. I could not have hoped for better.