DRAGONS LOVE TACOS Takes the Stage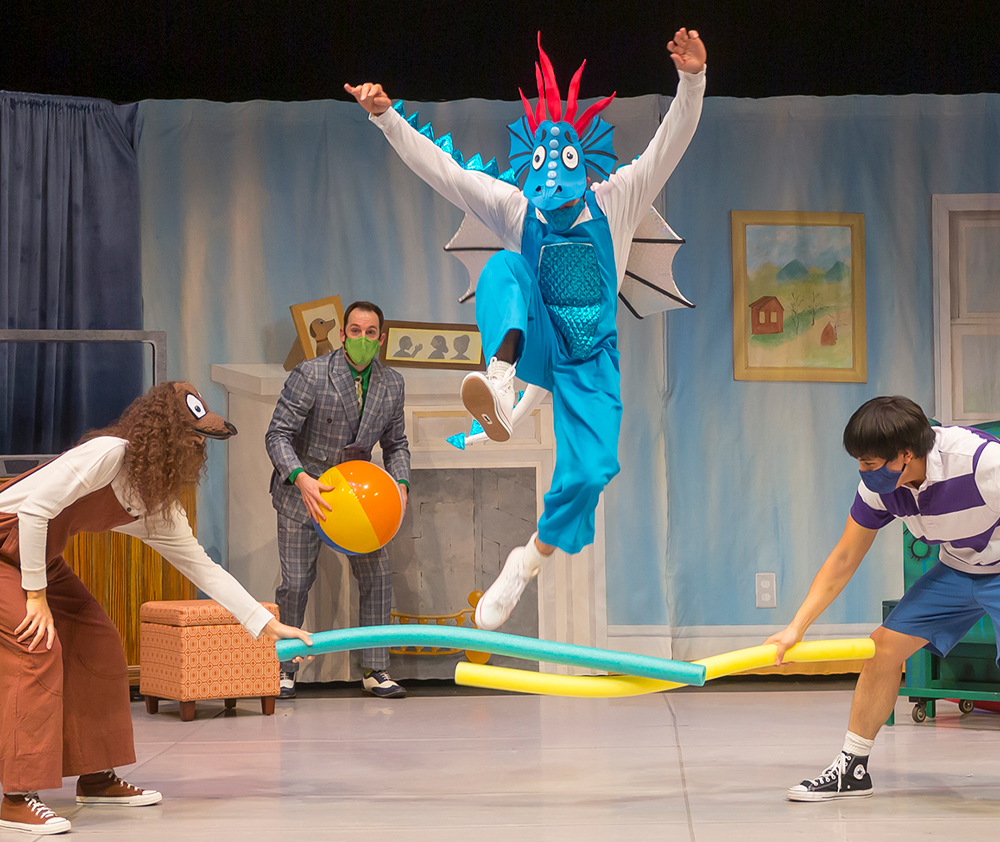 Feast your eyes on the Playhouse's new mouthwatering adventure! Our Off the Hill series finishes the 2020-21 season with a free virtual production of Dragons Love Tacos, streaming during weekends through May 16.
This adaptation of the beloved New York Times best-seller follows a boy and his dog, who are left home alone one stormy night. While the boy is channel surfing, a man in a suit pops out of the television and begins to teach the boy about the secret history of dragons.


Sydney E. Crutcher, Phineas Clark and Joshua Carandang. Photo by Mikki Schaffner.

As actual dragons begin to appear at his house, the boy learns that they absolutely love tacos, but they must be careful — if they eat spicy salsa, their ears will smoke, they get tummy troubles, and they will snort sparks!
"Working on Dragons Love Tacos has been boatloads of fun," says Director Dylan Shelton, who is Artistic Director of Madcap Puppets. "Families will love seeing one of their favorite books come to life. This show expands the world of the book with fabulous surprises and dynamic physical performances."

---
Making Dragons
The cast of characters includes four dragons, played by two actors. Costume Designer Melanie Mortimore created a base piece for these actors to wear. When acting as different dragons, they'll swap hats and adjust their costumes to help each new character come to life.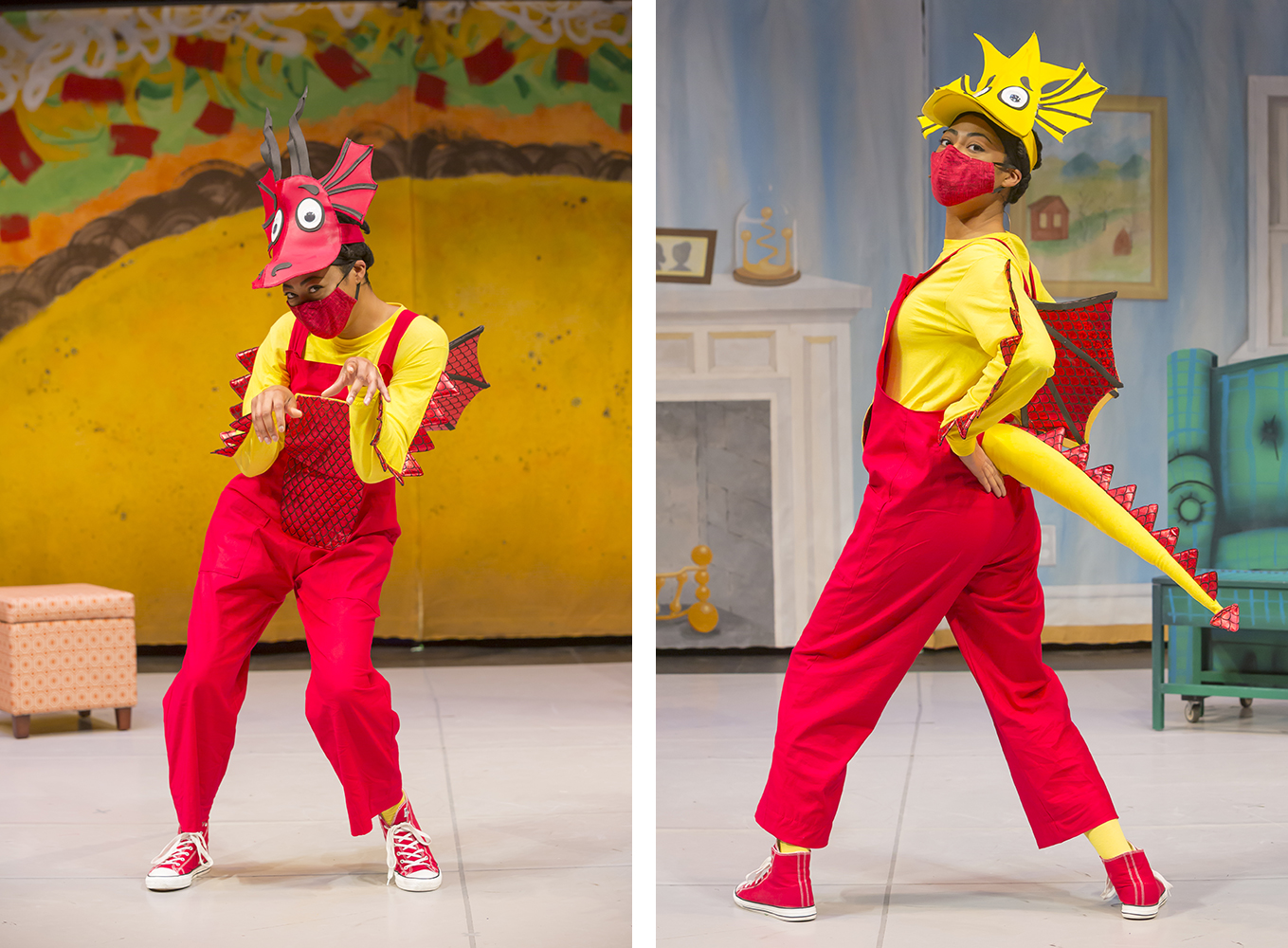 Red Dragon and Yellow Dragon, both played by A.J. Baldwin. Photos by Mikki Schaffner.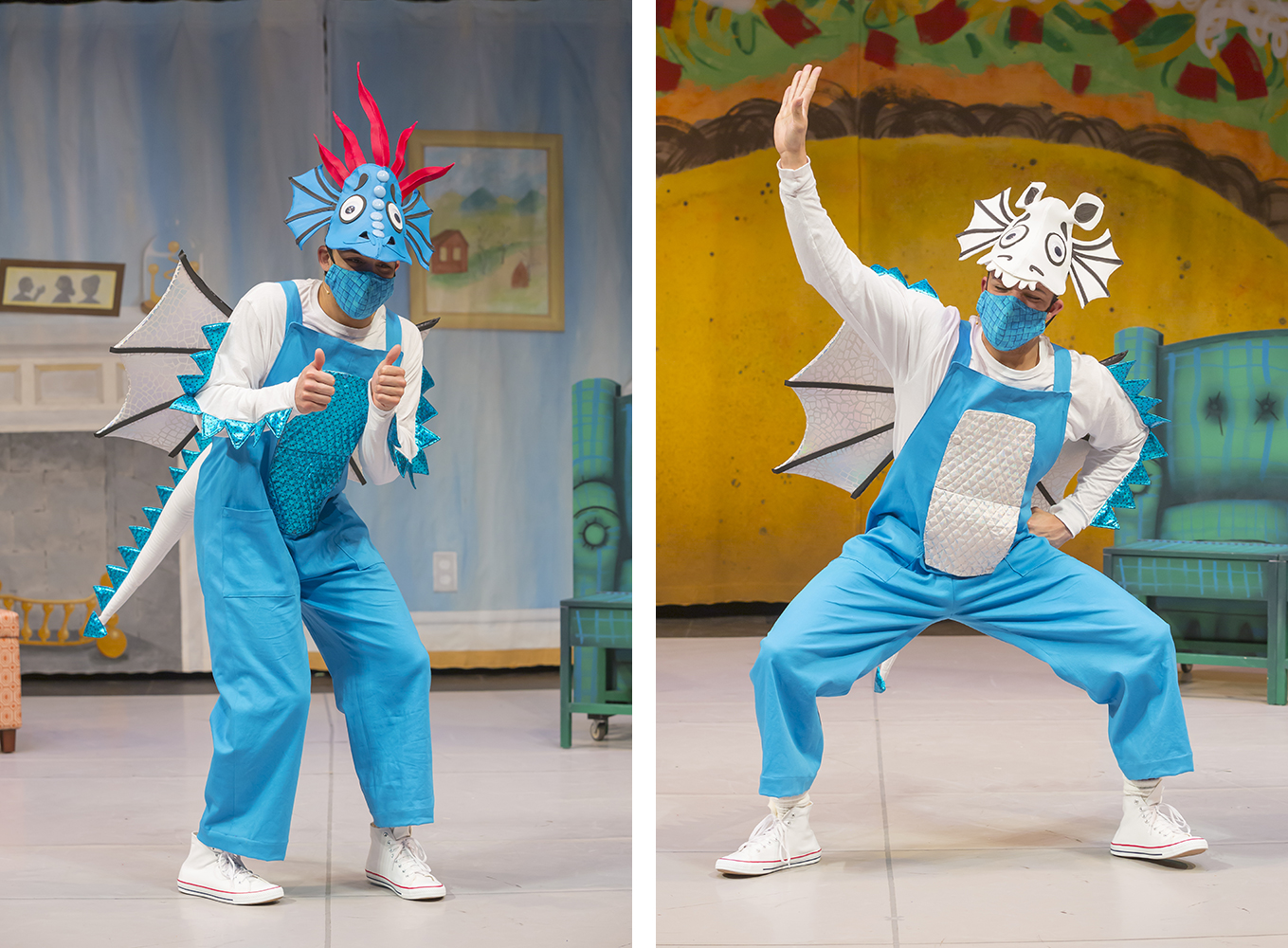 Blue Dragon and White Dragon, both played by Kenny Hamilton. Photos by Mikki Schaffner.
The costumes and headpieces were constructed in the Playhouse scene shop. Masks, face shields and gloves were used to make fittings as safe as possible. Here's a peek at the costume creation process!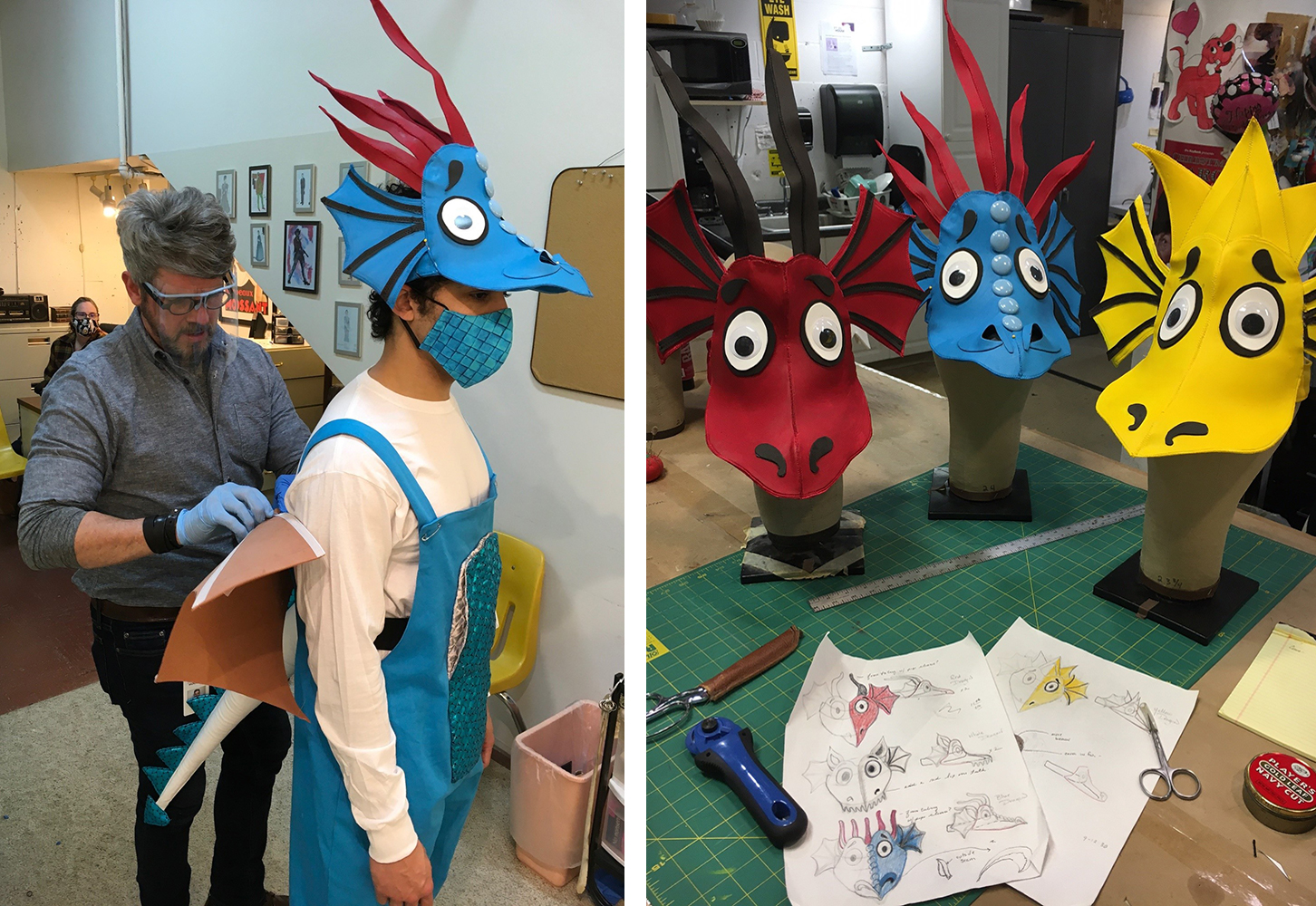 Administrative and Design Assistant Chad Phillips does a costume fitting with actor Kenny Hamilton while Costume Designer Melanie Mortimore looks on.
---
Setting the Stage
Set Designer and Playhouse Charge Scenic Artist Kenton Brett embraced the taco theme. There will be tons of tacos of all sizes across the stage! Brett says that Dragons Love Tacos is "colorful, weird and wonky, perfect for nice dragons, snarky dogs and taco lovers everywhere!"

A.J. Baldwin, Kenny Hamilton, Joshua Carandang, Phineas Clark and Sydney E. Crutcher. Photo by Mikki Schaffner.
---
Stream the Show
Dragons Love Tacos is available to stream on weekends April 16 through May 16, 2021. Visit our production page to reserve your free ticket! Recommended for ages 3 and up.


Ellie Deutsch contributed to this article.