Marry Me a Little: Weddings at the Playhouse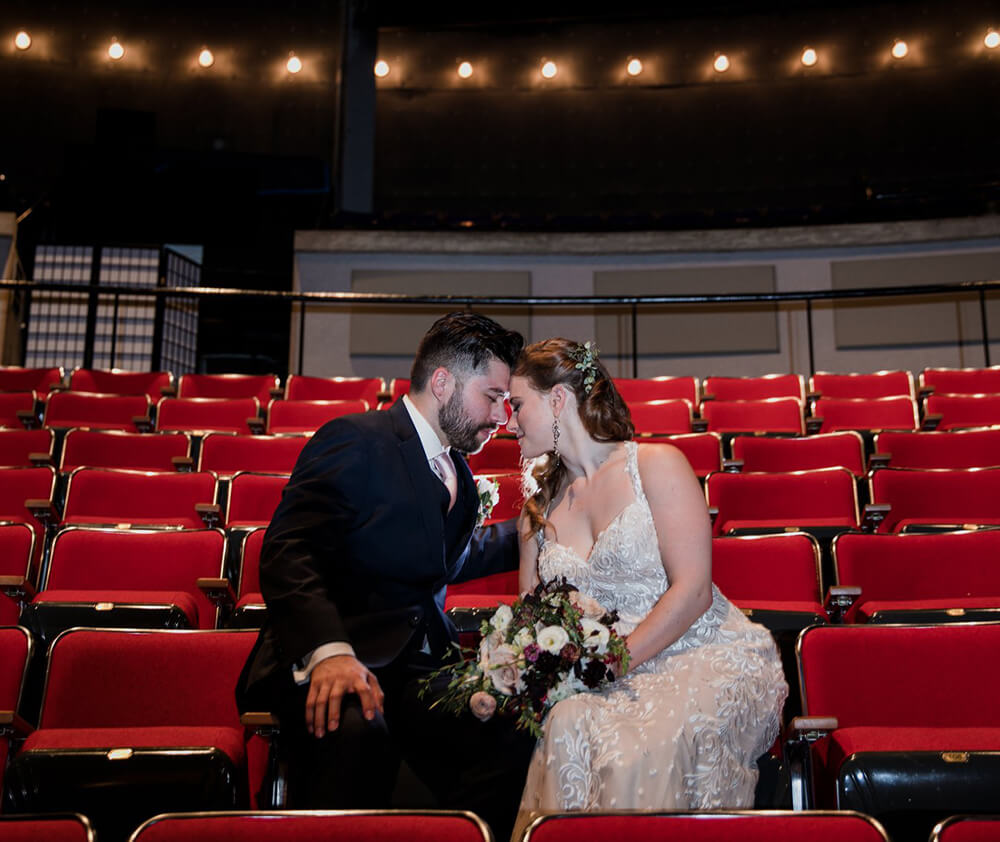 "I do" may be the most romantic lines ever spoken on our stages! We're thrilled to host weddings at the Playhouse and to help set the scene for a couple's very first moments as married partners. See how couples in the past have sealed their love with their wedding at the theatre.
---
Torie and Aaron Wilkins
Torie has stepped on stage many times in her career as a professional actor, but one moment stands out among the rest — in 2016, she and her husband Aaron tied the knot centerstage in the Playhouse's Rosenthal Shelterhouse Theatre!
"It was actually Aaron's idea to get married in a theatre," say Torie. "Just one of the sweet ways he affirms that he knows what I'm passionate about in life." A member of Actors Equity Association with many credits to her name, Torie performed in the Playhouse's 2015 production of To Kill a Mockingbird. She's also a playwright and wrote "Hope Deconstructed" for our 2020 Monologues of Hope.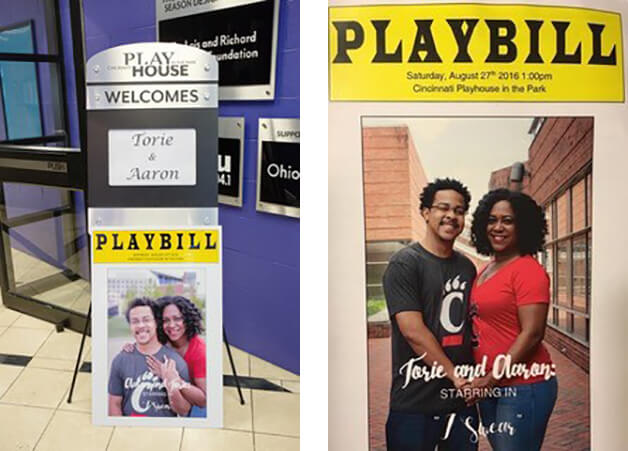 Torie and Aaron's wedding programs, crafted to look like performance Playbills!

On their wedding day, Torie got ready in the Rosenthal Shelterhouse dressing room with her cousin, Mom and sister. "There's something about getting ready in front of that vanity mirror with the lights," she says. "It made me feel like I was getting ready to play the role of a lifetime!" Aaron got ready in the Marx Theatre dressing rooms on the other side of the building.
Torie and friends backstage in the Rosenthal Shelterhouse Theatre.

"Although I'm no stranger to the stage, I found myself a little nervous to be myself in front of hundreds of people," she says. "I had no script or costume. I didn't want to play a role here: I wanted everyone to see my whole soul and heart in front of my soon-to-be husband. I wanted him to truly see me and the love I was bursting with."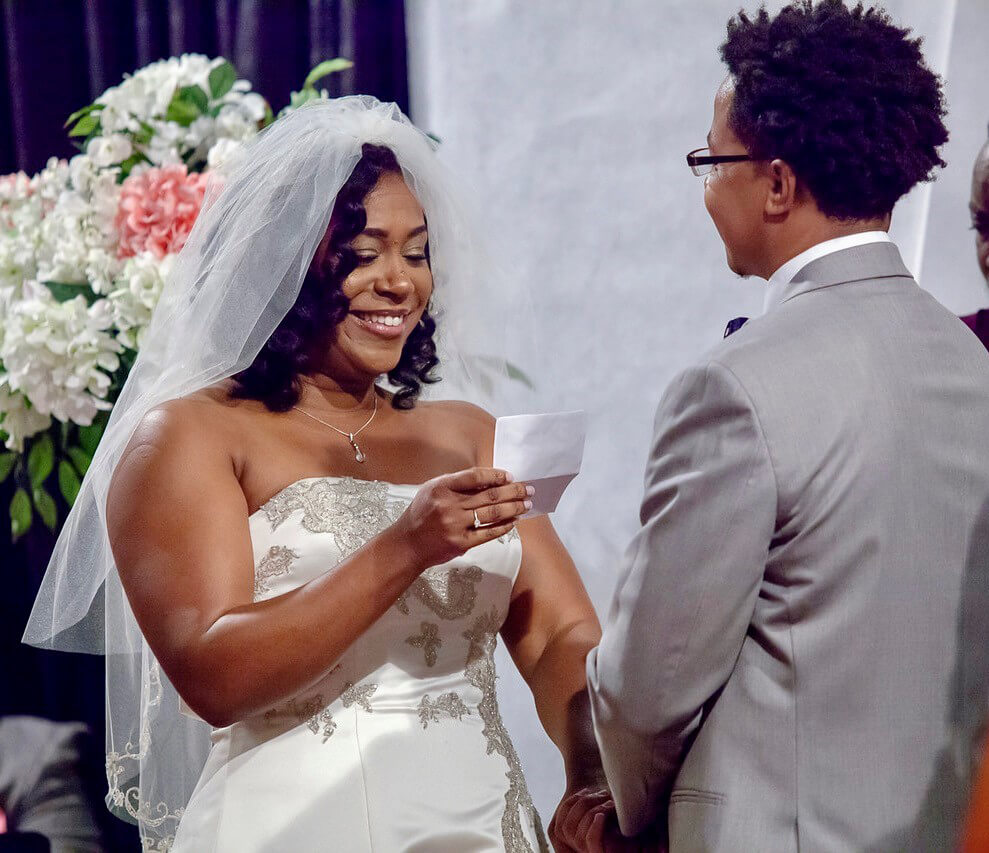 Torie and Aaron during their wedding ceremony in the Rosenthal Shelterhouse Theatre.

Once they were wed, the couple danced their way into the Rosenthal Plaza for a joyful reception with friends and family. This was Torie's favorite moment from the day. "We got to exit the theatre (stage left) and come out the way you walk out of the stage door and greet your fans," she explains. "The love in that room when we walked out together far exceeded any curtain call I've ever experienced. It was truly magical!"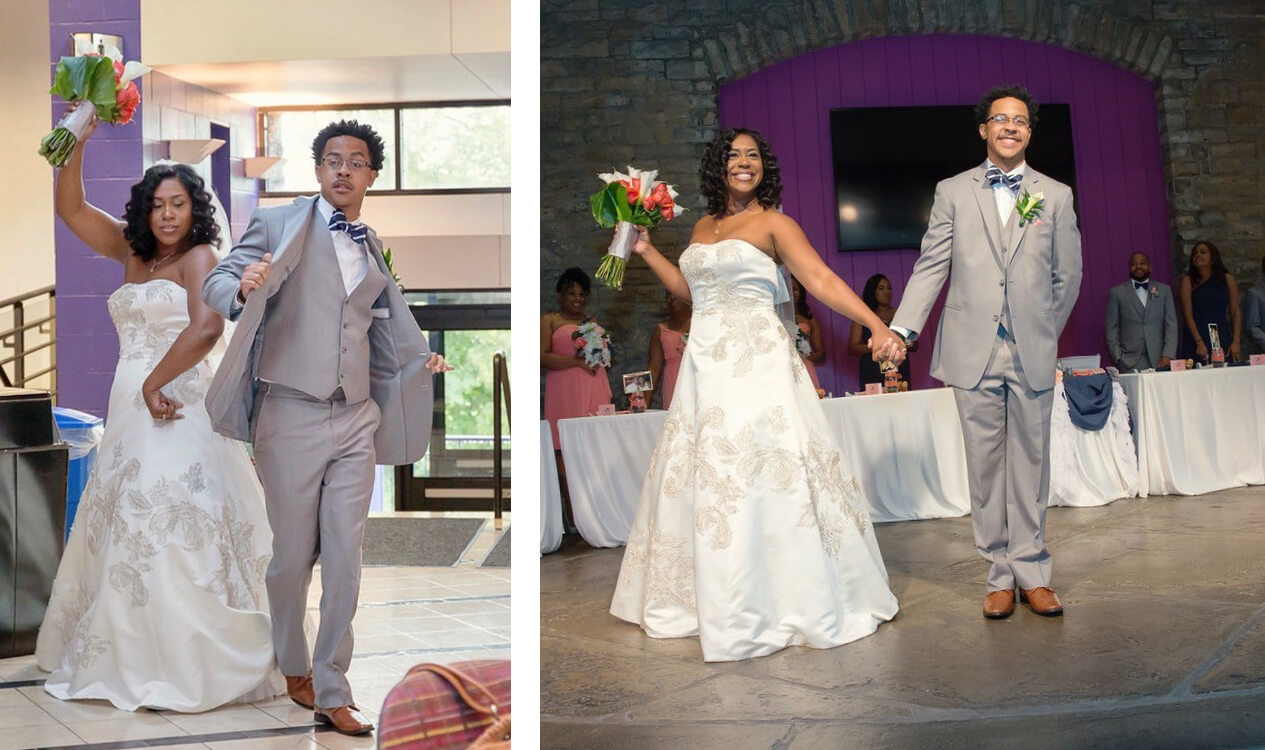 Torie and Aaron entering the Rosenthal Plaza at the beginning of their reception.

Torie and Aaron have spent many date nights at the theatre since getting married, and Torie's performance, writing and teaching work have continued to thrive at the Playhouse and other locations across Cincinnati. We're honored to have played a part in their love story, and we look forward to welcoming them back to the theatre for years to come!

Photos of Torie and Aaron's wedding day by Mikki Schaffner Photography.
---
Aly and Sebastian Gomez
Aly began working at the Playhouse in 2013 as a member of the marketing department. When she and Sebastian got engaged, they knew that choosing the Playhouse as their wedding venue was a must. It's where they had spent so many date nights and memories as a couple, and it was a special place that they called home.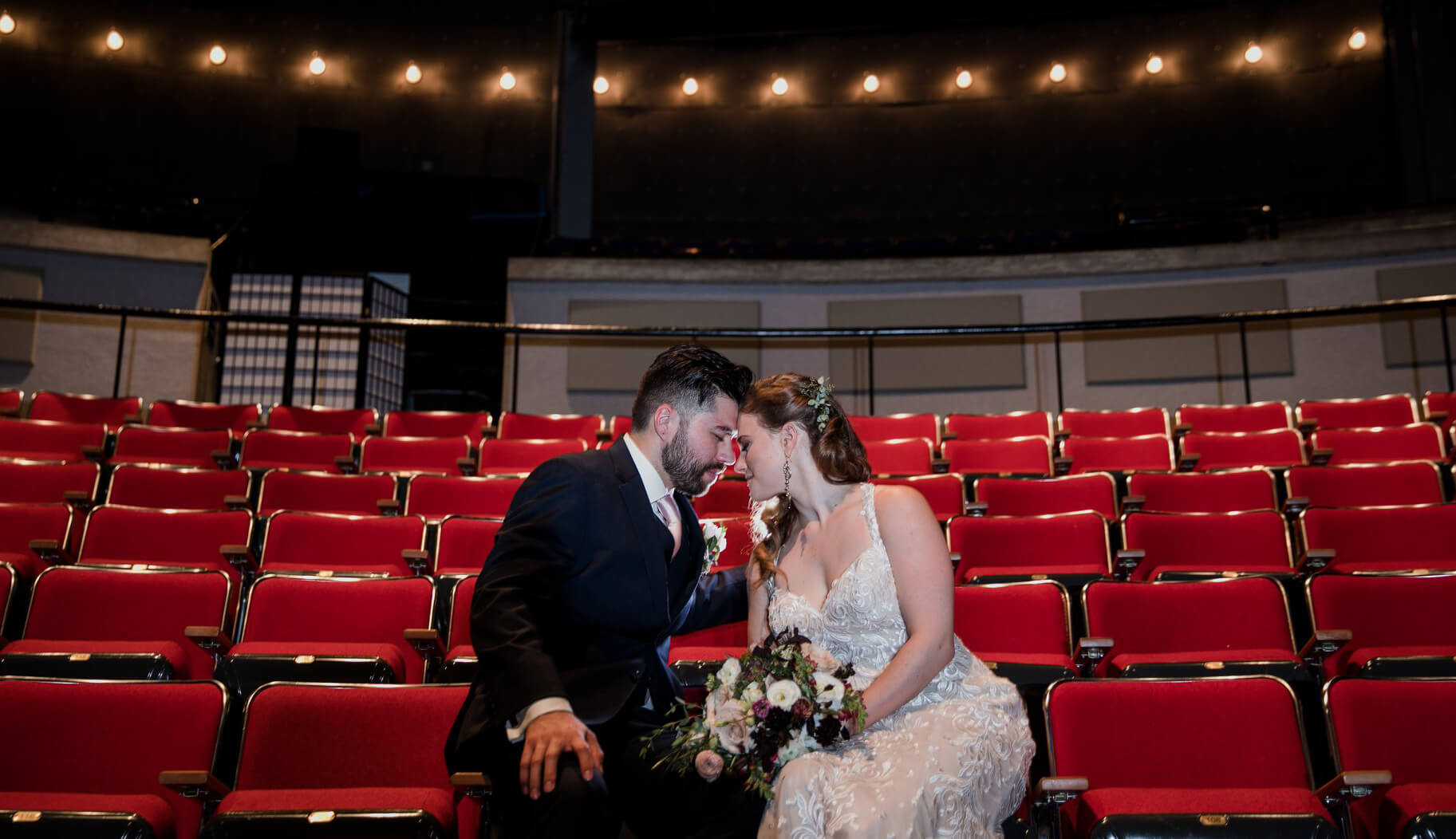 Sebastian and Aly on their wedding day in the Marx Theatre.

On the day of their 2019 wedding, Aly spent the morning in the Marx Theatre dressing room where so many actors have prepared to take the stage. "It was an absolute dream to get ready and take photos with my bridal party there, experiencing the same magic you feel when you're backstage," says Aly. The women who helped her shine that day were her close friends and family members — women, she says, who have joined her for countless art and live performance experiences over the years. "It felt so special to be in the spotlight with them on this day, and to celebrate my mom and my new suegra (the Spanish word for mother-in-law) in this sacred space."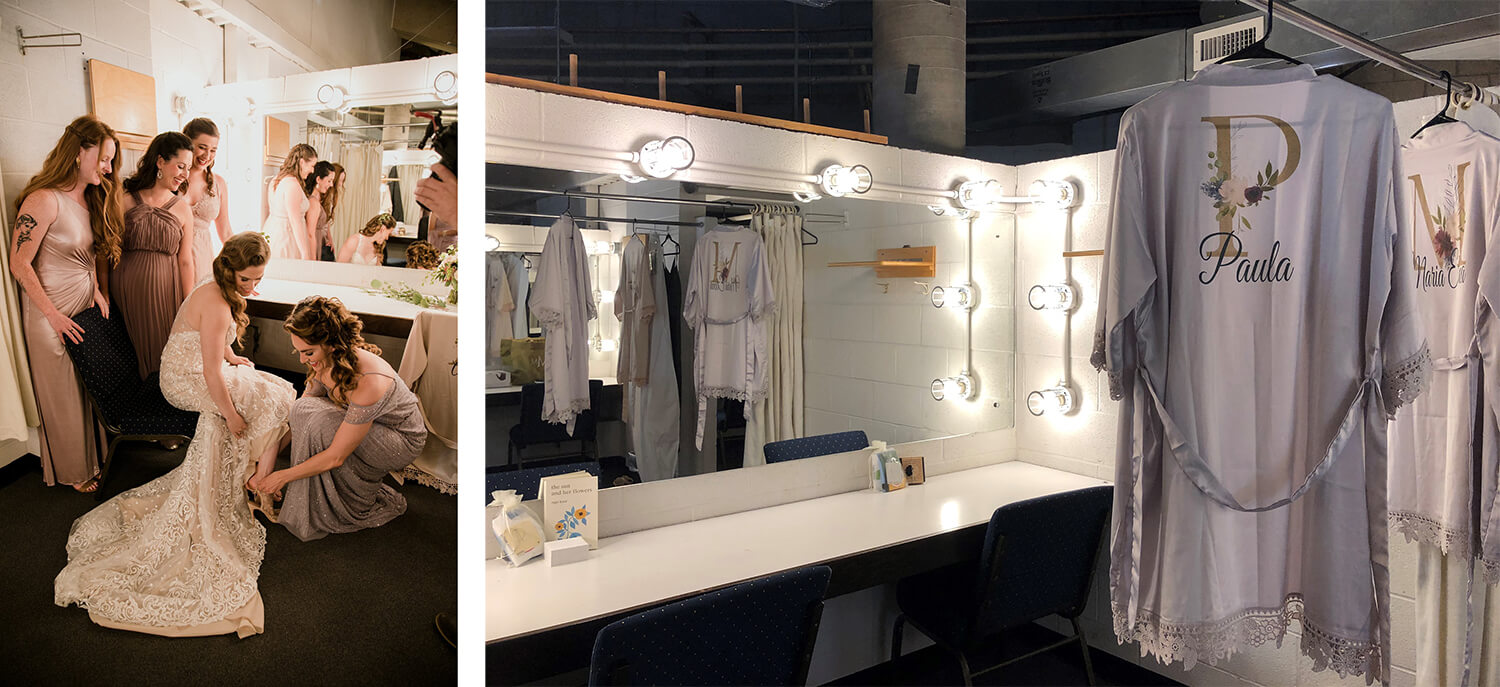 Aly surrounded by her bridesmaids while getting ready in the Marx Theatre dressing rooms.

Their ceremony took place in the Marx Theatre. One of Aly's favorite moments is when she stood in the back of the theatre with her dad, waiting for the cue from their wedding coordinator for her to walk down aisle three towards her (almost!) husband. "When we stepped out, I saw so many of the people who have been a part of our lives over the years," she says. "I felt an overwhelming amount of love and support, and so much gratitude to be marrying such a wonderful man, who was waiting at the bottom of the aisle for me, surrounded by our brothers and chosen sisters. We walked up onstage together, and the ceremony (and the next chapter in our romance) began."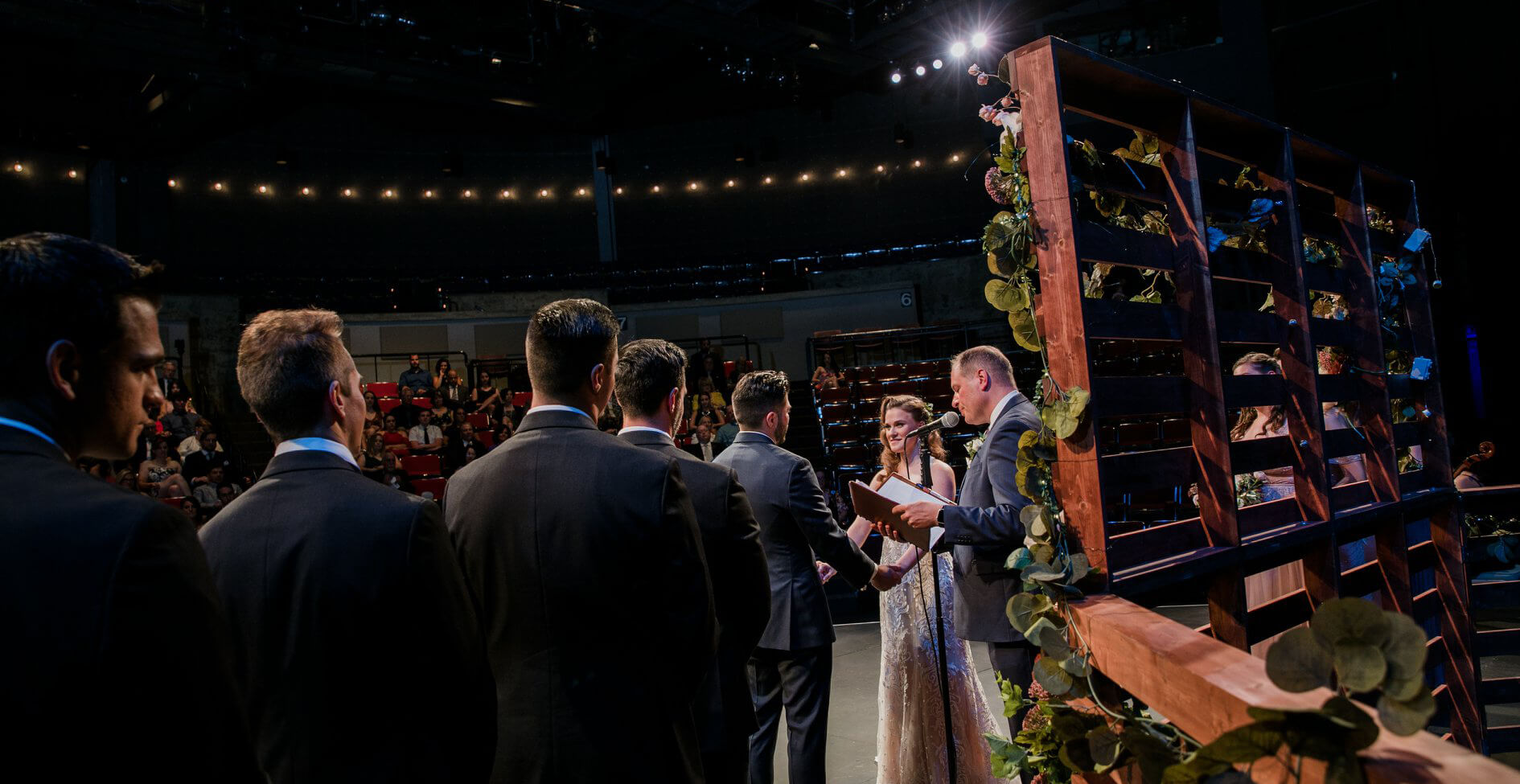 Photos of Aly and Sebastian's wedding day by Cherry Red Shoe Photography.

After the ceremony, Aly and Sebastian's guests enjoyed cocktails and live music in the lobby. The Bluewater Kings Band performed, and everyone danced the night away. Take a closer look at Aly and Sebastian's romantic, theatrical wedding in the video below!
Video of Aly and Sebastian's wedding day by Panda Films. Their wedding day was coordinated by Clare Jaymes at Clarity Events.
---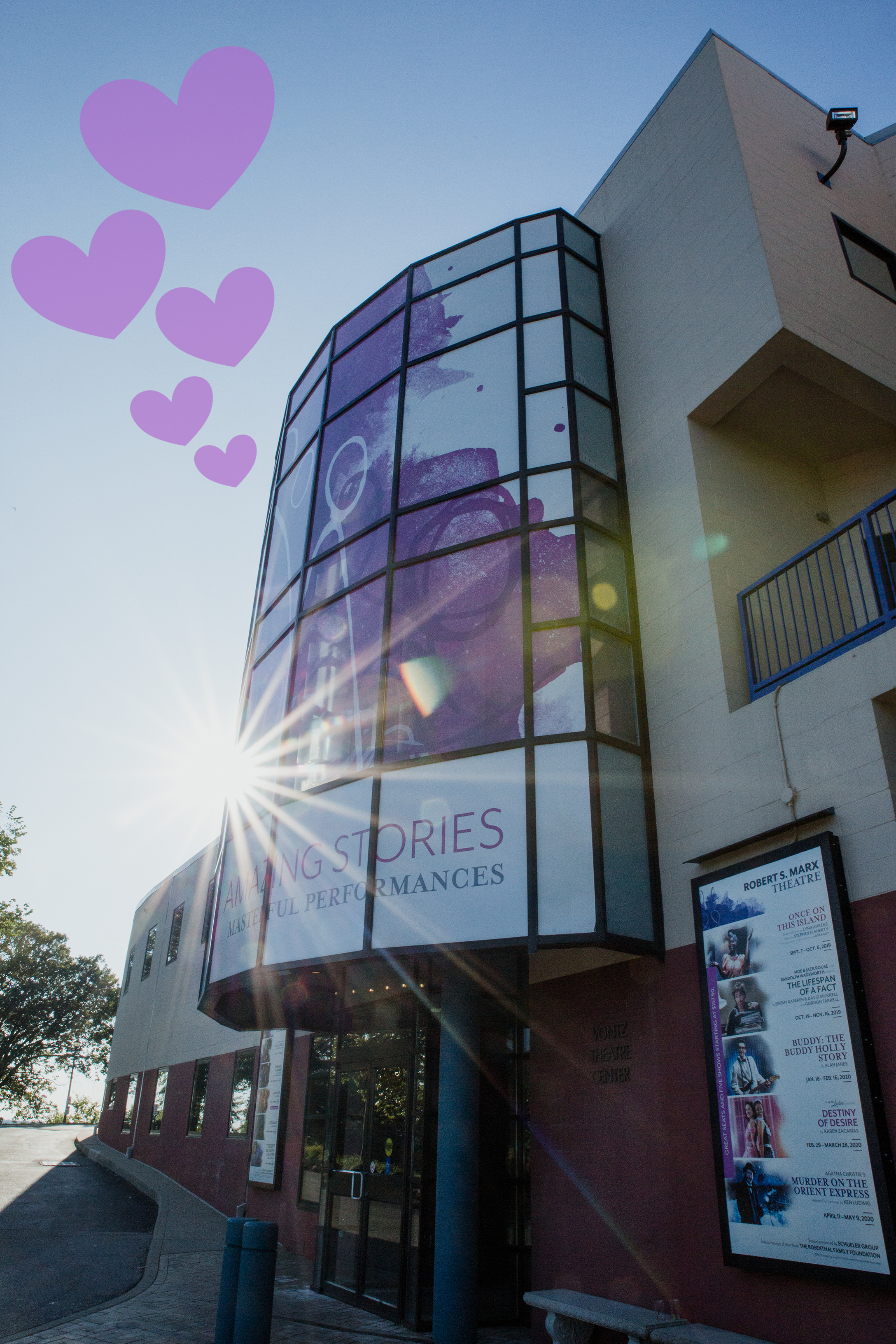 Share Your Love Story

We're looking for love stories that have scenes at the Playhouse, and we'd love to include yours! Did you meet your spouse or significant other here? Was it where you had your first date? Did you get engaged after a show? Has Playhouse marked a special occasion for you both? Is it where you've had date nights for years? Submit your story here for a chance to be featured in future iterations of our Love Stories project.
Photo of the Playhouse building and header image at top of page by Cherry Red Shoe Photography.