Flashback Fridays Fashion Inspiration for BUDDY: THE BUDDY HOLLY STORY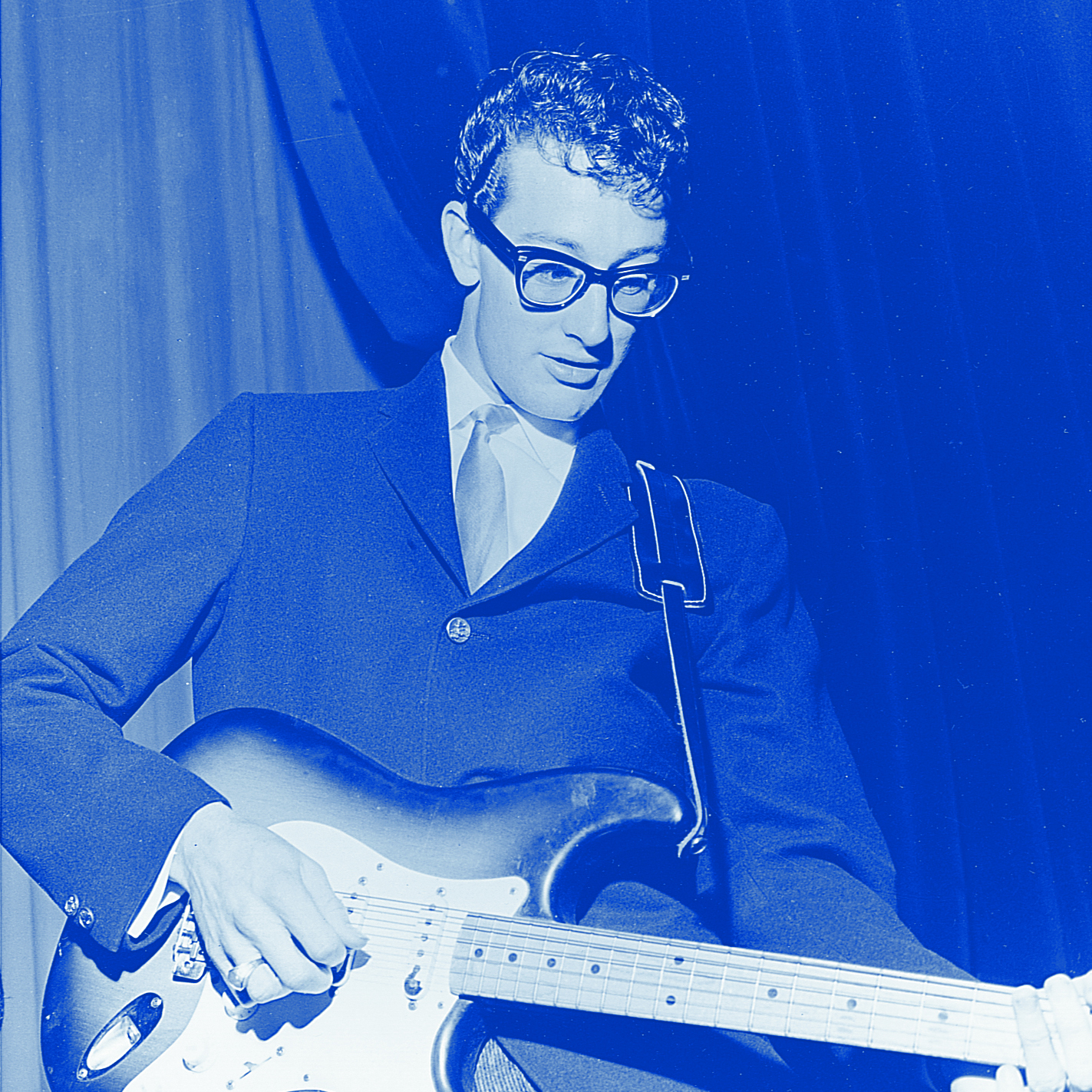 Buddy: The Buddy Holly Story is an electrifying musical memoir that recounts the iconic rocker's meteoric rise to fame from 1956 to 1959. For every Friday performance during the run, we invite audiences to dress up in their favorite retro ensemble inspired by Holly and his contemporaries! Not sure how to start assembling your outfit? Take a look at some of our sartorial suggestions to help you get into the groove for this sensational musical.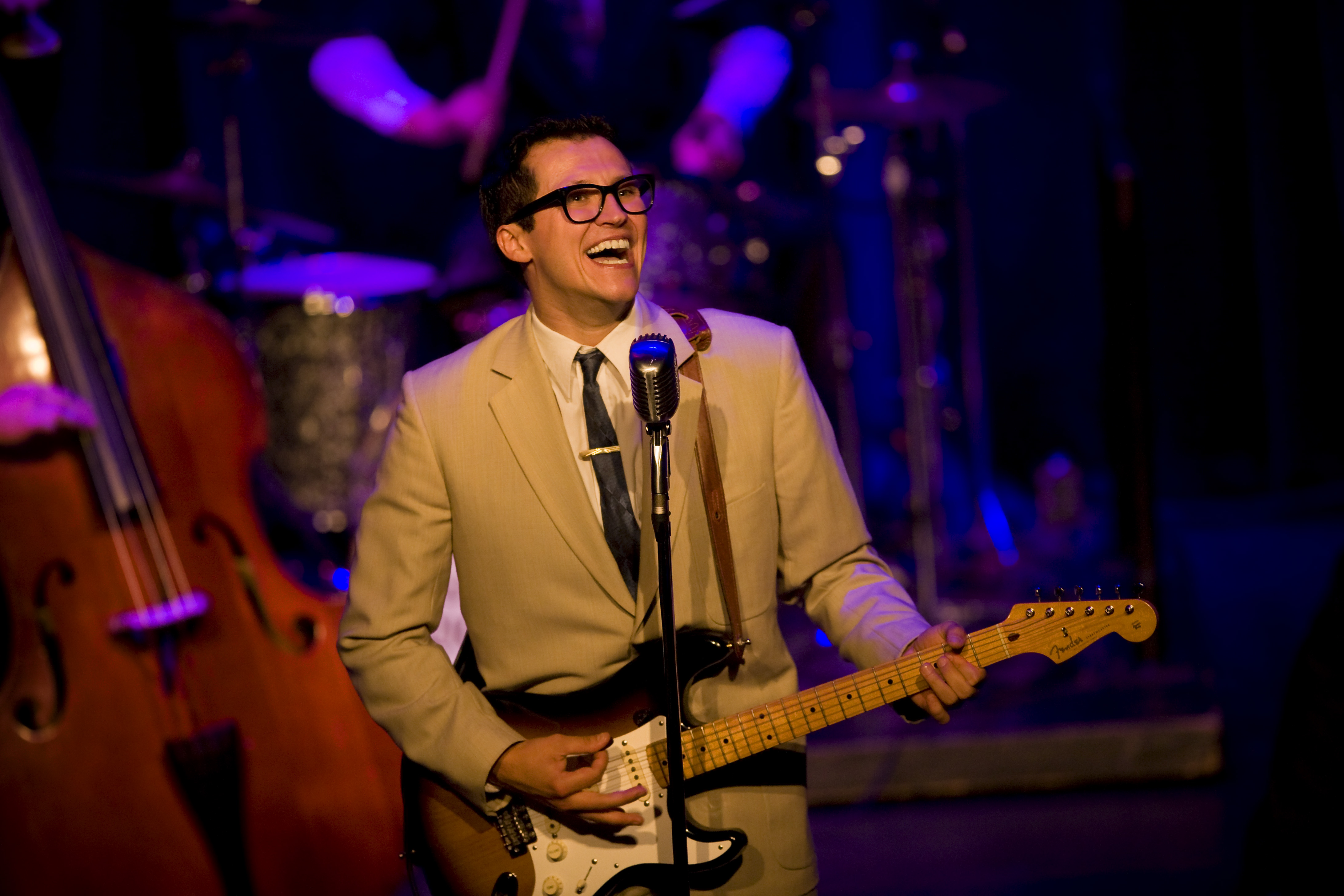 Flashback to the Fifties
American fashion in the 1950s was defined by conservative sensibilities, leisurely lifestyles and occasional moments of glamour. It was the decade that introduced Christian Dior's ultra-feminine "new look" dress silhouette, the clean-cut business man's style, and the new teenage aesthetics of all-American prep and rebellious greaser. Colors all over the spectrum were embraced, and patterns like stripes, gingham, florals, plaid and polka dots were everywhere. The decade celebrated fashion as not only a luxury but a means of identity and status.
---
Ladies' Fashion
Think: chic, sophisticated, elegant and feminine.

Typical ladies' fashion was divided into three main styles: house dresses/ensembles, party/cocktail dresses and evening dresses. For Flashback Fridays, we recommend donning a party dress that looks stylish and put together, while still allowing you the comfort of having a good time at the show.
Attire
Knee-length swing dress (or skirt) with a crinoline petticoat for extra volume
Collar-less dress with a scoop or V-shaped neckline
Tea-length sheath dress
Knee-length "wiggle dress" that emphasizes curves, no matter your shape
Accessories
Stiletto heels
Small handbag that matches your shoes or hat
Matching jewelry, including clip-on earrings, necklace and bracelet
Statement-making pillbox hat or tilt hat — netting optional!
Hair and Makeup
Bold red lipstick and long eyelashes
For longer hair: a voluminous bouffant (or beehive)
For shorter hair: a curly coif

---
Men's Fashion
Think: clean, traditional, and casual yet put together.
In the decade following World War II, men returned to the workplace in droves, and the fashion followed suit — literally. Professional style favored a comfortable suit in neutral colors, or a sport coat over a collared shirt and sweater vest. For Flashback Fridays, however, we recommend opting for leisure wear, as men of the decade would have preferred a casual get-up for social events. In these settings, men drifted away from the stuffiness of muted hues in favor of vibrant colors and patterns.
Attire
Button-up sweater cardigan
Knit collared shirt
Polo shirt with a sport coat in a bold color (or patterns like stripes and plaid)
Casual slacks
Accessories
Fedora hat
Black, or brown leather shoes — make sure they're polished and shiny!
Hair
Well-groomed, cleanly cut hair style
Clean-shaven face

---
Teen Fashion
The 1950s saw the birth of the "American teenager." Young adults of this era carved out a formative period of their lives to focus on high school, socializing and entertainment, while delaying the inevitability of adulthood. Quintessential archetypes you may be familiar with include the "all-American prep" and the "teenage rebel/greaser." See which style you feel drawn to for Flashback Fridays in these suggestions below.
All-American Prep
Think: preppy, conservative, wholesome and approachable.
Attire
Girls

Matching sweater set with sweater clip
Circle skirt with a novelty applique (like a poodle) and crinoline petticoat for volume

Boys

Casual slacks
Knit polo t-shirt in a vibrant color or pattern
Varsity sweater or jacket
Accessories
Girls

Kitten heels or ballet flats
Two-tone saddle shoes with white socks
Wide, waist-cinching belt

Boys
Hair and Makeup
Girls

Low-key makeup with light rouge
For longer hair: a curled ponytail
For shorter hair: a curly coif

Boys

Short, clean-cut hair style

Teenage Rebel/GreaserThink: hip, cool, relaxed and confident.
Attire
Girls

Form-fitting, off-the-shoulder sweater
Knee-length, form-fitting skirt
Pedal-pusher pants

Boys

Dark blue jeans, cuffed at the ankle
Clean white t-shirt
Black leather motorcycle jacket
Accessories
Girls

Clip-on hoop earrings
Lightweight scarf

Boys

Converse sneakers or motorcycle boots
Black hair comb — with an extra jar of grease, just in case you need to touch up your 'do!
Hair and Makeup
Girls

For long hair: a voluminous bouffant (or beehive)
For short hair: Tight curls

Boys

Pompadour — slicked back on the sides with volume on top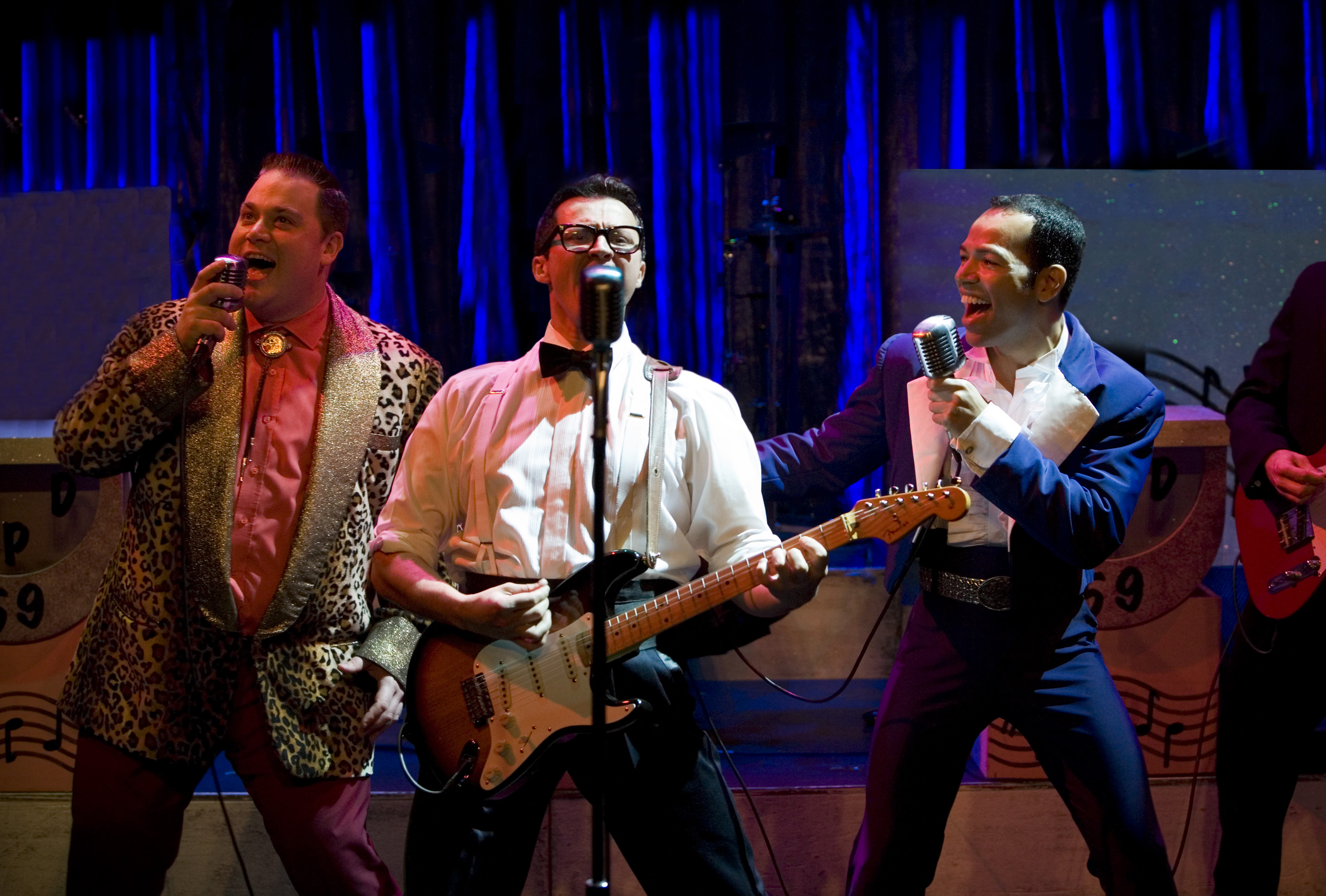 Flashback Fridays for Buddy: The Buddy Holly Story take place on Fridays, Jan. 24, Jan. 31, Feb. 7, and Feb. 14. Be sure to snap a picture of your ensemble and tag us on Facebook, Instagram and Twitter! To snag tickets to Buddy and to learn more about the production, visit our production detail page.
Photo of Dean Elliott by John Persson. Photo of Lee Ormsby, Dean Elliott and Miguel Angel by Johan Persson.