Beyond the Stage: THE LIFESPAN OF A FACT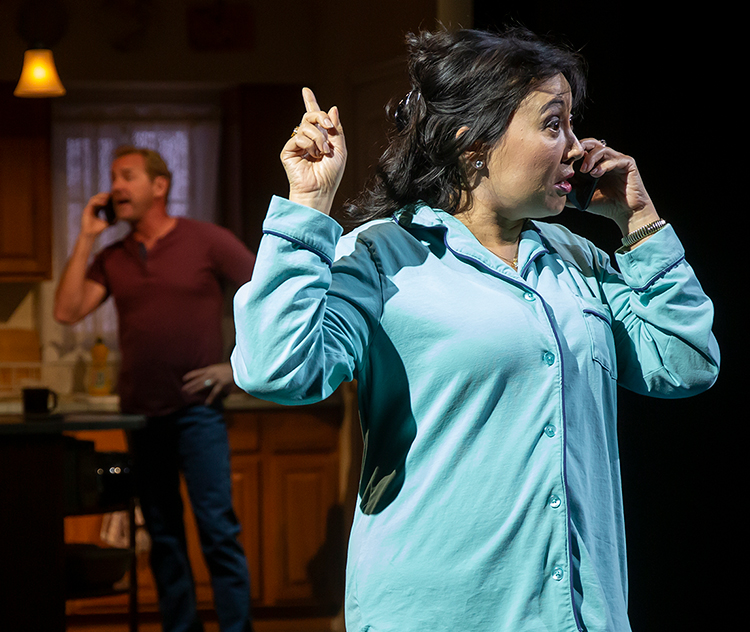 When The Lifespan of a Fact debuted on Broadway in 2018, it was met with heaps of critical praise. The Daily Beast wrote, "It is intelligent, thought-provoking and challenging to the audience: the theatrical equivalent of the best kind of fiendish board puzzle or chewy dinner-party topic." If you, too, found your thoughts provoked and assumptions challenged — or if you just want to sink your teeth into the publishing and news industries — see how you can stay connected to the story.
The Essay
In real life, John D'Agata's essay, titled "What Happens There," really did get published by The Believer. Read it in its entirety here.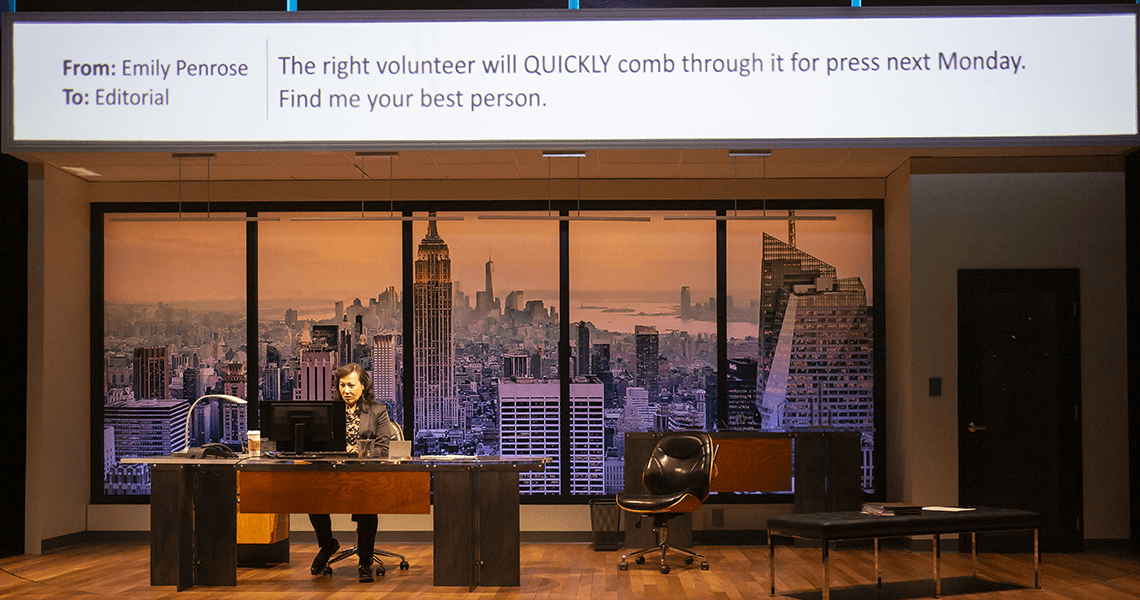 Kate Rigg (Emily Penrose) in The Lifespan of a Fact. Photo by Mikki Schaffner.
---

Continuing the Conversation
Between The Lifespan of a Fact's publication as a book in 2012 and its theatrical adaptation in 2018, D'Agata and Fingal provided their takes on the events in a variety of interviews and articles.
Guernica magazine: John D'Agata: What We Owe History
Kenyon Review: Doubling Down: An Interview with John D'Agata and Jim Fingal
New City Lit: Fact or Nonfiction? John D'Agata and the Truth Behind the Essay
Broadway.com: #LiveAtFive with Jim Fingal and John D'Agata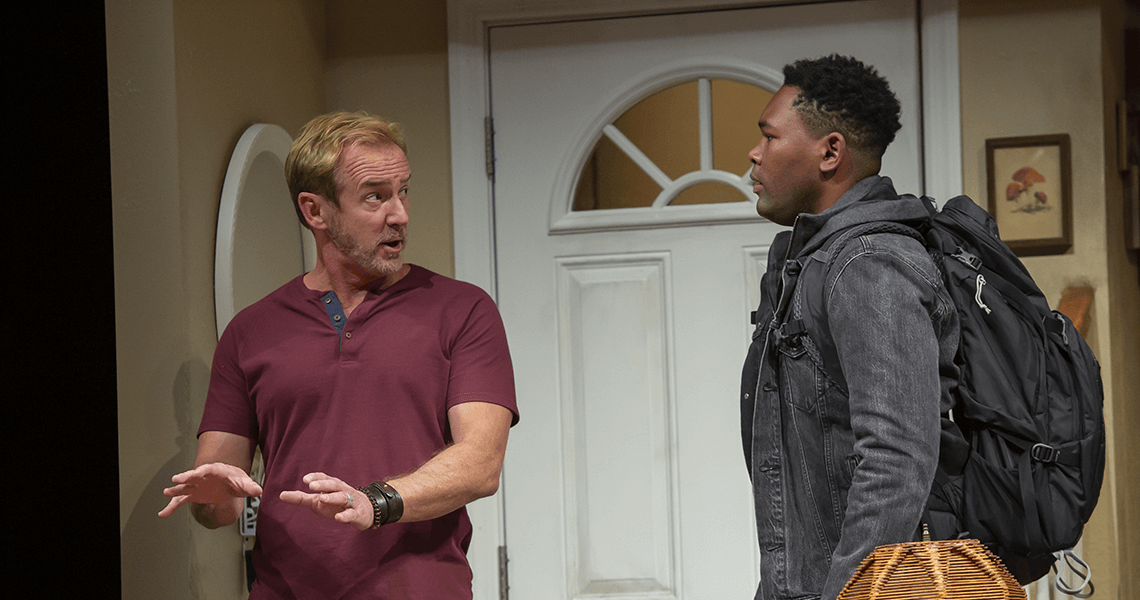 David Whalen (John D'Agata) and JuCoby Johnson (Jim Fingal) in The Lifespan of a Fact. Photo by Mikki Schaffner.

---

An Inside Look
Did you find your curiosity piqued by Jim Fingal's fact-checking or D'Agata's creative nonfiction? Explore each of their roles in these suggested resources.
CrashCourse: The Facts About Fact-Checking


Foyles: Narrative Nonfiction with Ben Rawlence


---
Films About Journalism and Publishing
There's no shortage of films that center around the worlds of journalism and publishing. Here are our recommendations of which films to add to your watch list, according to their topics.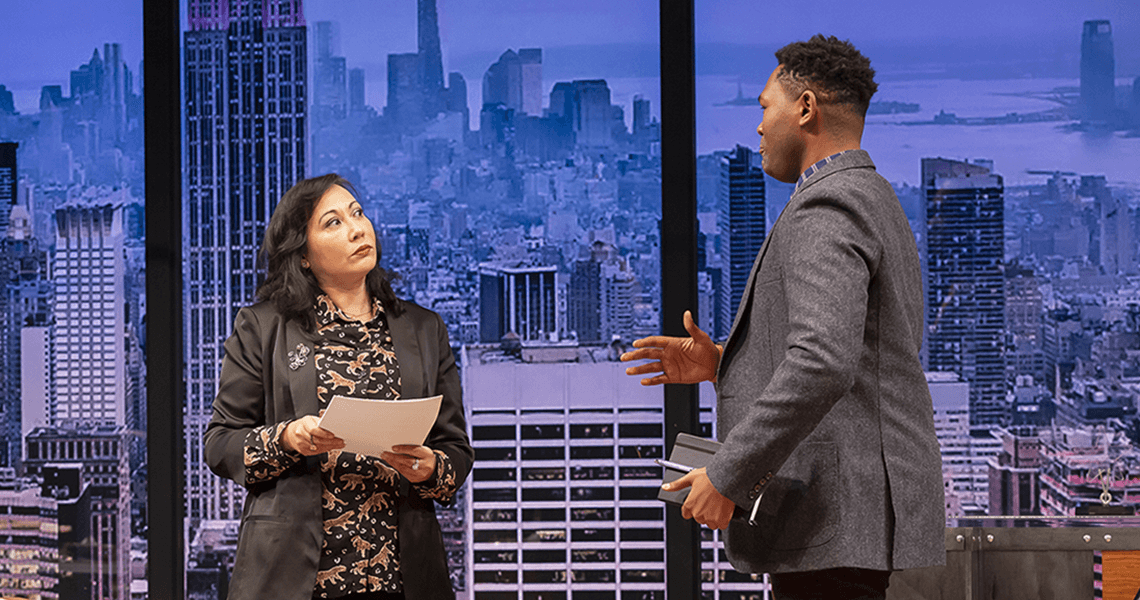 Kate Rigg (Emily Penrose) and JuCoby Johnson (Jim Fingal) in The Lifespan of a Fact. Photo by Mikki Schaffner.


Newspaper and Broadcast Journalism
All the President's Men
Washington Post reporters Bob Woodward and Carl Bernstein tirelessly investigate the 1970s Watergate scandal that ultimately forced President Nixon to resign.
Good Night, and Good Luck.
Broadcast journalist Edward R. Murrow uses truth and television news a means to take on the controversial Senator Joseph McCarthy and his anti-Communist crusades of the 1950s.
Spotlight
Boston Globe reporters uncover an unprecedented series of scandals and cover-ups within the Catholic Church that stretches far beyond the limits of their own town.
Magazine Journalism
Almost Famous
A young writer is swept up into the world of 1970s rock 'n' roll when he's assigned to write a story about an up-and-coming band for Rolling Stone.
The September Issue
Vogue editor-in-chief Anna Wintour takes center stage in this behind-the-scenes documentary about the magazine's annual publication of its epic fall fashion issue.
Rolling Stone: Stories From the Edge
In-depth interviews combine with footage of news events and concerts to tell a sprawling story about Rolling Stone magazine's impact on American culture.
Essay Writing and Nonfiction Writers
Joan Didion: The Center Will Not Hold
Essayist and literary journalist Joan Didion shares unique personal insight into how her personal life and eccentric experiences influenced her body of work.
The End of the Tour
A reporter spends five days interviewing essayist and author David Foster Wallace after the publication of his pivotal 1996 book, Infinite Jest.
Capote
Legendary writer Truman Capote pens a suspenseful work of nonfiction about the 1950s murder of a Kansas family — and one of the killers involved.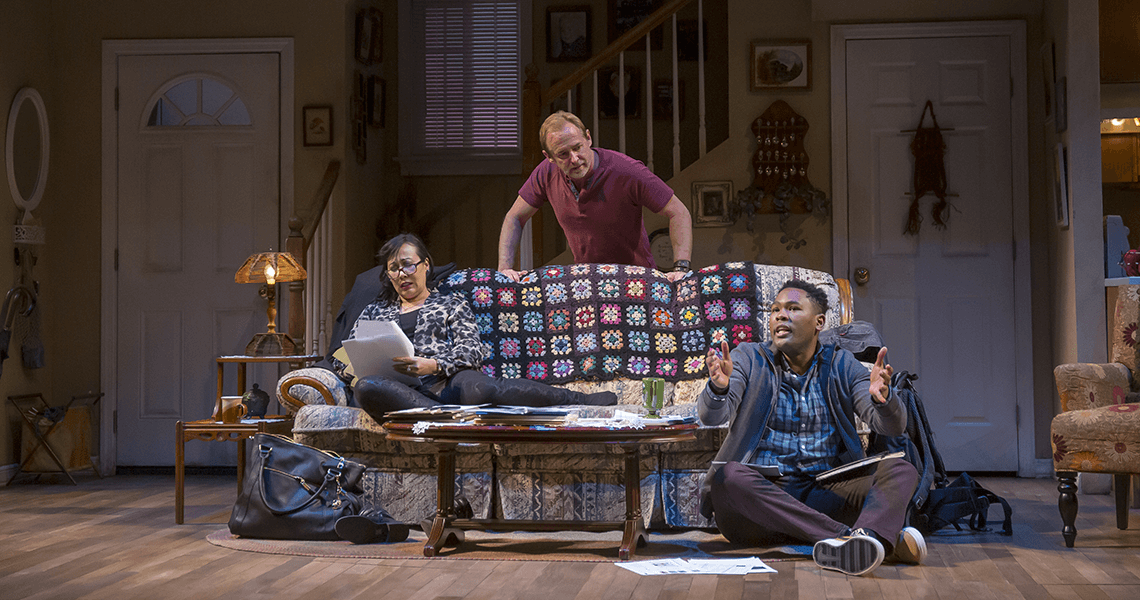 Kate Rigg (Emily Penrose), David Whalen (John D'Agata) and JuCoby Johnson (Jim Fingal) in The Lifespan of a Fact. Photo by Mikki Schaffner.
---
To learn more about the Playhouse's production of The Lifespan of a Fact, presented by Moe & Jack Rouse and Randolph Wadsworth, visit our production detail page.