John D'Agata and Jim Fingal: In Real Life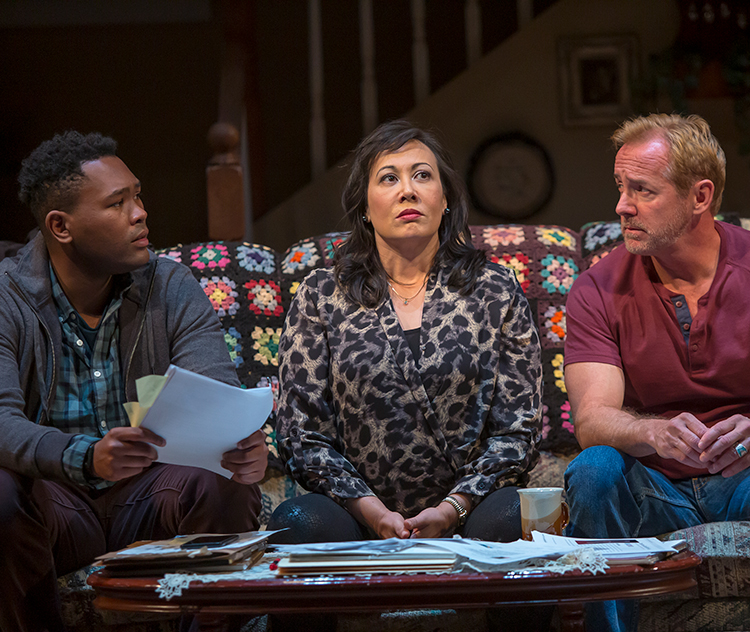 Facts become blurry when they're twisted into fiction in the high-stakes world of publishing — and in the play The Lifespan of a Fact. In this Broadway comedy, Emily Penrose, the demanding editor-in-chief of a high-end magazine, hires a determined millennial fact-checker named Jim Fingal to work on a groundbreaking essay written by the famous author John D'Agata. But the overly eager Jim takes his fact-checking way too far, creating the ultimate showdown of fact versus fiction.
The Lifespan of a Fact reflects real events, real people and a real essay. The play is based on a nonfiction book of the same name, which includes an early draft of D'Agata's controversial essay as well as a tense, sprawling, back-and-forth discussion between D'Agata and Fingal. As Fingal points out factual inaccuracies the writing on the page (like embellishing numbers here and there for the sake of literary finesse), D'Agata fires back rationale for why he took certain creative liberties. D'Agata is, as he iterates multiple times, an essayist and not a journalist. The work is a "meditation on the relationship between 'truth' and 'accuracy,'" as the book's publisher describes.
In the play, Emily is a fictional character, inspired by different editors you may find at a high-end magazine like Vanity Fair or Condé Nast, according to Director Wendy C. Goldberg. But D'Agata and Fingal are based on real people, and the essay was really published by The Believer here. Take a closer look below at their lives and careers.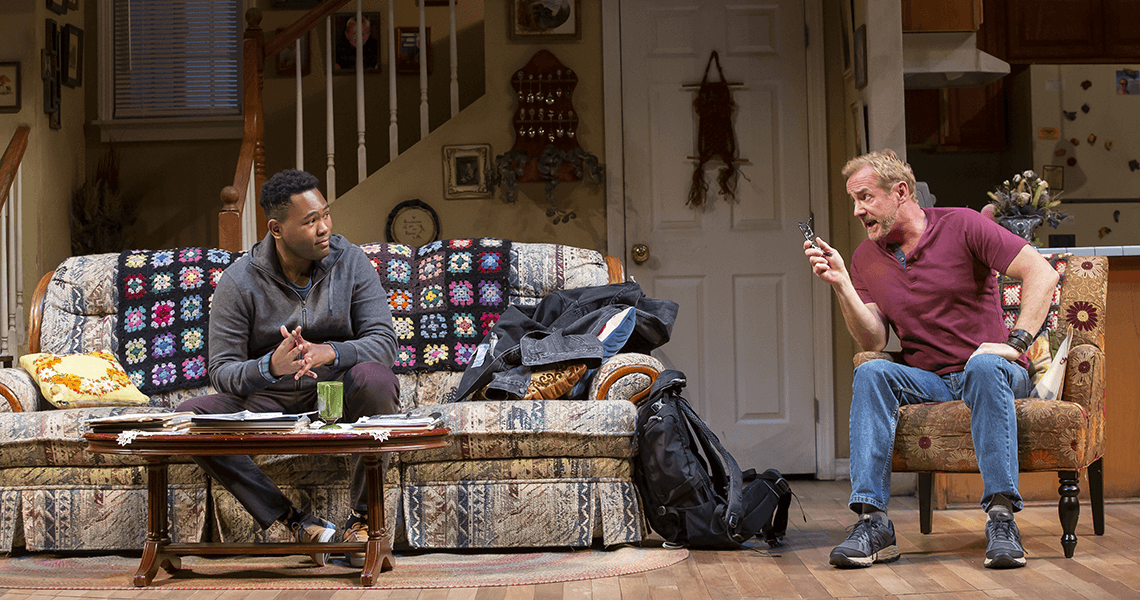 JuCoby Johnson (Jim Fingal) and David Whalen (John D'Agata) in The Lifespan of a Fact. Photo by Mikki Schaffner


John D'Agata
D'Agata is an acclaimed author who has written three works of nonfiction and edited three anthologies of nonfiction. In addition to co-writing The Lifespan of a Fact, he has written Halls of Fame (a collection of essays about some of America's most fascinating subjects and spaces) and About a Mountain (in which he writes about the federal government's plan to store nuclear waste near Las Vegas). D'Agata's essays are experimental in form, and he is often credited with pioneering the contemporary lyric essay, which favors the use of poetic aesthetics over straightforward prose.
Critical Praise
"D'Agata is an alchemist who changes trash into purest gold." — Harper's magazine on Halls of Fame
"[D'Agata] is a poet in his soul and, through his prose, on the page. He makes the essay, from start to finish, new. — Frederick Busch on Halls of Fame
"Exquisite … This is what, at its best, contemporary narrative nonfiction aspires to, a story that, like the novel, operates on many levels at once. And in About a Mountain D'Agata has found a nearly perfect nexus to investigate our post-millennial concerns." — The Los Angeles Times
"Transcendent … This is an empathetic and virtuosic performance that invites us to live more bravely with, and to think about, our uncertainties." — Time Out New York on About a Mountain
Anthologies by D'Agata include The Lost Origins of the Essay, The Making of the American Essay and The Next American Essay. This exhaustive, three-part series examines the roots, form and conceit of the essay as a literary canon. He takes a deep dive into the most groundbreaking essays and authors from Greek history all the way up to today. Such writers include Heraclitus, Michel de Montaigne, Virginia Woolf, Emily Dickinson, Gertrude Stein, Norman Mailer, Guy Davenport, Jamaica Kincaid, Susan Sontag and David Foster Wallace, among several others. The series is considered some of the most significant scholarly work written about nonfiction writing.
Critical Praise
"A genuinely exhilarating work of literary history. "— Booklist on The Lost Origins of the Essay
"John D'Agata is a champion of the essay, a crusader for lost forms, a defender of nonfiction as an art. … His project — that of reshaping the genre of creative nonfiction — is a bold one, and in these anthologies, the [essay] becomes a spiritual vessel, a portal to deeper truths." — Iowa Review on The Making of the American Essay
"Like Whitman's Leaves of Grass, The Next American Essay creates a frontier between the American self and its imaginative New World." — The Constant Critic
D'Agata received a B.A. from Hobart College and two M.F.A.s from the University of Iowa — one in poetry and one in nonfiction. Throughout his career, he has received a Guggenheim Fellowship, a Howard Foundation Fellowship, an NEA Literature Fellowship and a Lannan Foundation Fellowship. He has written for such publications as The Believer, Harper's, Gulf Coast and Conjunctions. He teaches creative writing at the University of Iowa, where he is also the director of the graduate nonfiction writing program.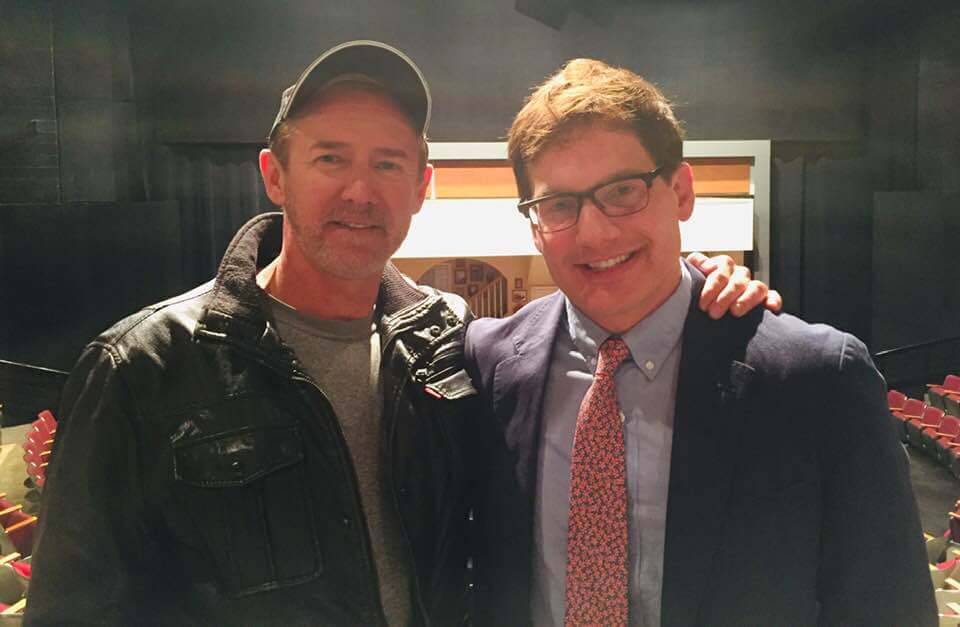 David Whalen (who plays John D'Agata in The Lifespan of a Fact) with John D'Agata.


Jim Fingal
Fingal graduated from Harvard with a degree in English in 2006. He then took an unpaid internship with The Believer and the magazine's publisher, McSweeney's, which is located in San Francisco. In addition to fact-checking D'Agata's essay (which actually took six months to complete), he worked on other nonfiction texts including What Is the What, Surviving Justice, Voices from the Storm and others. After his internship, he began full-time work with MediaUnbound, a music software recommendation startup company, where he worked as a programmer, product and project manager, client services representative and software engineer. A few years later, he began work with Amino, a healthcare financial wellness platform that helps employees across the country find affordable yet high-quality healthcare. He is currently the Chief Technology Officer at Amino.
Additionally, Fingal co-founded Logic, a print magazine about technology. The publication is printed three times a year and includes essays, interviews and articles on "the tech space," written by industry professionals. Each issue of Logic focuses its content on a single topic, like justice, scale, failure and bodies. Here's a snippet of the publication's manifesto, which you can read in full here:
"[M]ost tech writing is shallow and pointless. It's nobody's fault; everyone is just doing their job. Communications teams feed reporters winning anecdotes about their founders that explain exactly nothing. ('One day, Chad was eating a ham sandwich and realized…') The reporters are overworked and underpaid and need to file a new story by EOD. Who can blame them for taking the bait?
Editors are desperate for shareable content, which too often means some kind of caricature. Tech is either brilliant or banal, heroic or heinous. The best minds of our generation are either curing cancer, or building a slightly faster way to buy weed. The robots will either free us from drudgery or destroy civilization. Hate-click or like-click, the stories tend to be about a handful of people. The pasty boy genius. The tragic token woman. The fascist billionaire. The duo of white dudes dueling to lead us to Mars.
We deserve a better conversation. By 'we,' we mean you, because everyone uses technology. We are all both its subject and object."
The most recent issue of Logic, on the topic of nature, released this month. Fingal has also co-hosted a podcast called Game Theory Podcast, which you can listen to on iTunes.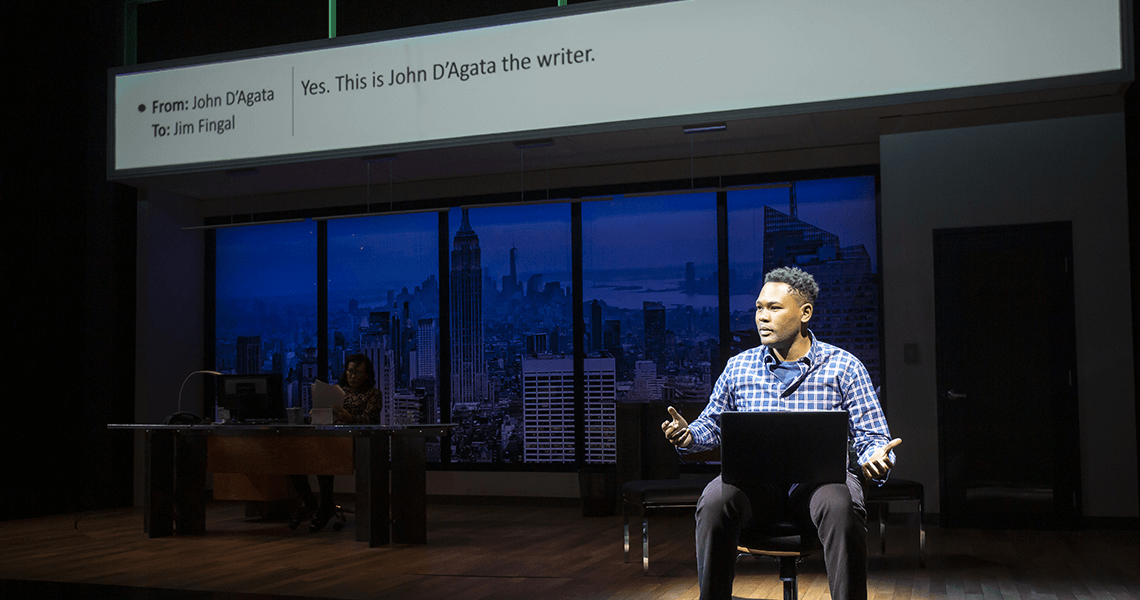 Kate Rigg (Emily Penrose) and JuCoby Johnson (Jim Fingal) in The Lifespan of a Fact. Photo by Mikki Schaffner.
---
To learn more about the Playhouse's production of The Lifespan of a Fact, presented by Moe & Jack Rouse and Randolph Wadsworth, visit our production detail page.