Monkey Business Ventures Off the Hill
Join in the monkey business as the Playhouse presents its final Off the Hill touring show with Ernie Nolan's adaptation of Eileen Chistelow's children's book series,
Five Little Monkeys
. In this wildly entertaining production, we experience a day in the life of Mama Monkey raising her five little children who can't resist playing games that often lead to trouble. This zany Monkey family, played by members of the Bruce E. Coyle Acting Intern company, journeys throughout the Greater Cincinnati area this April and May under the direction of Brian Robertson.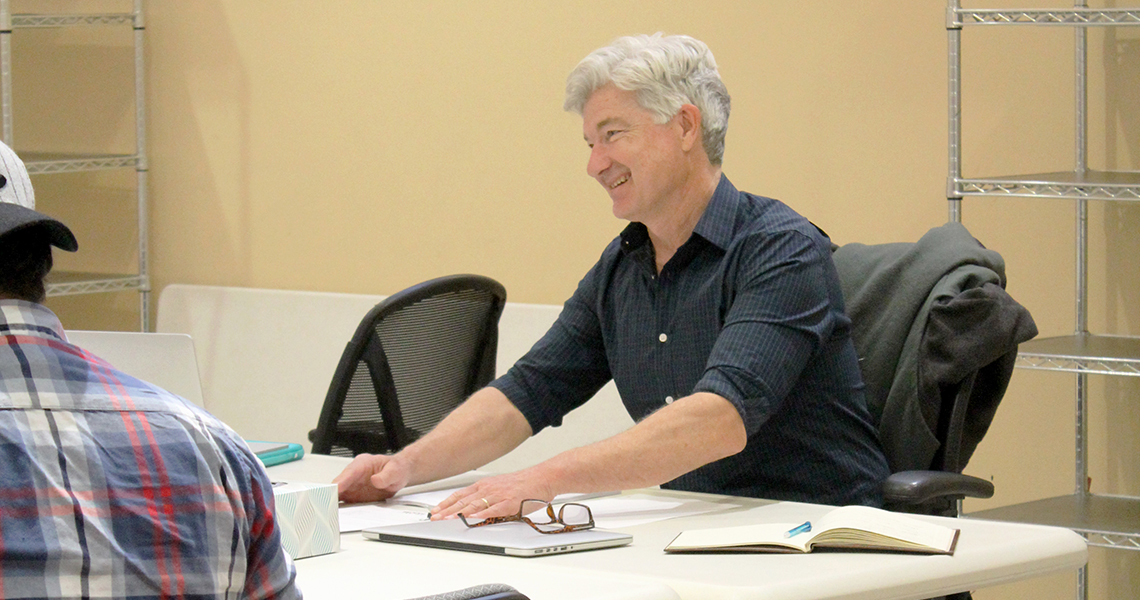 Director Brian Robertson in rehearsal for Five Little Monkeys.
When Christelow was taught an old nursery rhyme that her daughter learned in preschool — "Five little monkeys jumping on the bed, one fell off and bumped her head" — she thought that it would create a nice picture book. Twelve years later, after becoming an author and illustrator, she revisited the idea for a new project. With the remarkable success of
Five Little Monkeys Jumping on the Bed
, Christelow expanded the story into a best-selling children's book series where the treasured monkey siblings get into all kinds of mischief.
Nolan's script integrates plot lines from four of the 10 monkey books while also preserving its witty cumulative verse. From baking cakes to sitting in trees, or going shopping and jumping on beds, Nolan gives distinct personality traits to each monkey sibling which only heightens the hilarity of their ongoing mishaps.
The Playhouse's production of
Five Little Monkeys
brings the storybook to life with a whimsical set by Playhouse Charge Scenic Artist Kenton Brett and a frenetic soundscape by Sound Designer Trey Tatum.
"The set could be described as playful illustrations, as if pulled from a children's book," says Brett. Much like the books, he has thought of every detail to represent how a family of monkeys might keep their home. There are cracks in the wood and shoddy-looking furniture with rips in the upholstery, and every label is primate-themed — "Julia Chimp's Cookbook," for instance, or "Capuchin's Pride sugar bag."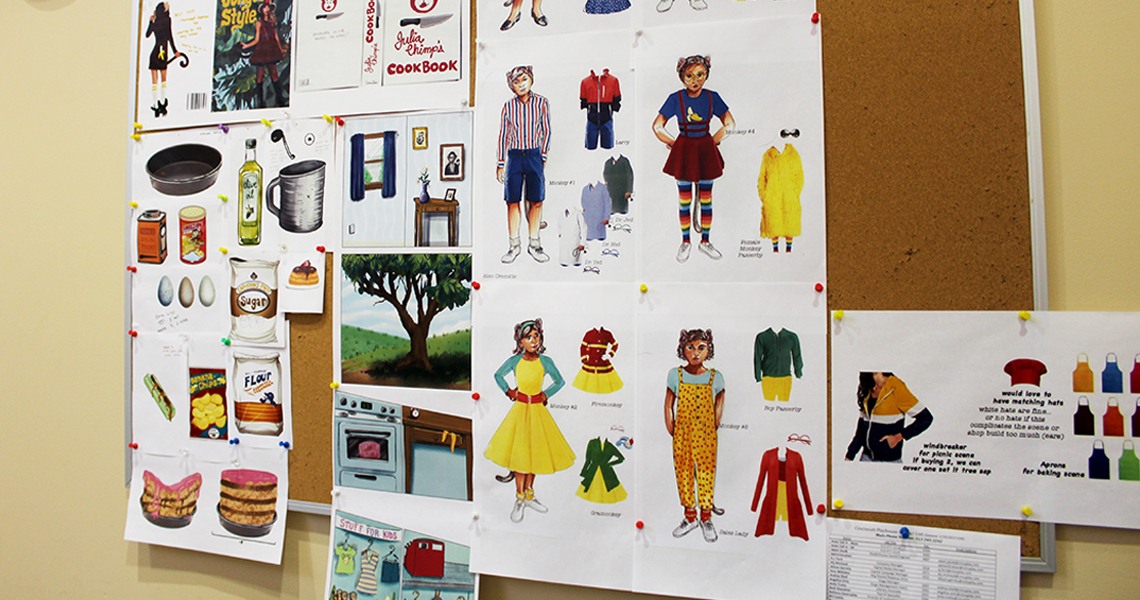 Audiences will also be delighted by the technical magic of an exploding birthday cake and snapping jaws of a crocodile. Brett designed the oven with a trick door that allows a cake to go in, and then with a simple flick, the stove bursts open to reveal an exploded cake inside. Further along their adventure, the monkeys meet a big, hungry crocodile who waits for them at the bottom of a tree. The crocodile's jaws open and close and act as an extension of the actor's arms.
Unlike some children's stories that take place in faraway lands, Five Little Monkeys reveals the adventure that can take place right in your own town. Interested in making "a sound design that is familiar," Tatum spent a lot of his research in his own home "playing with pots and pans or strumming rubber bands." Keeping in mind the frenetic pace of the show, Tatum believes that the music should "reflect the distractible world these siblings live in."
"Thematically,
Five Little Monkeys
celebrates the innocence and discovery in the wonders of childhood," explains Playhouse Director of Education and Community Engagement Daunielle Rasmussen. "The monkeys have a curiosity and an excitement for learning. While it gets the monkeys into trouble, there is an earnestness and a beauty to their childlike spirit."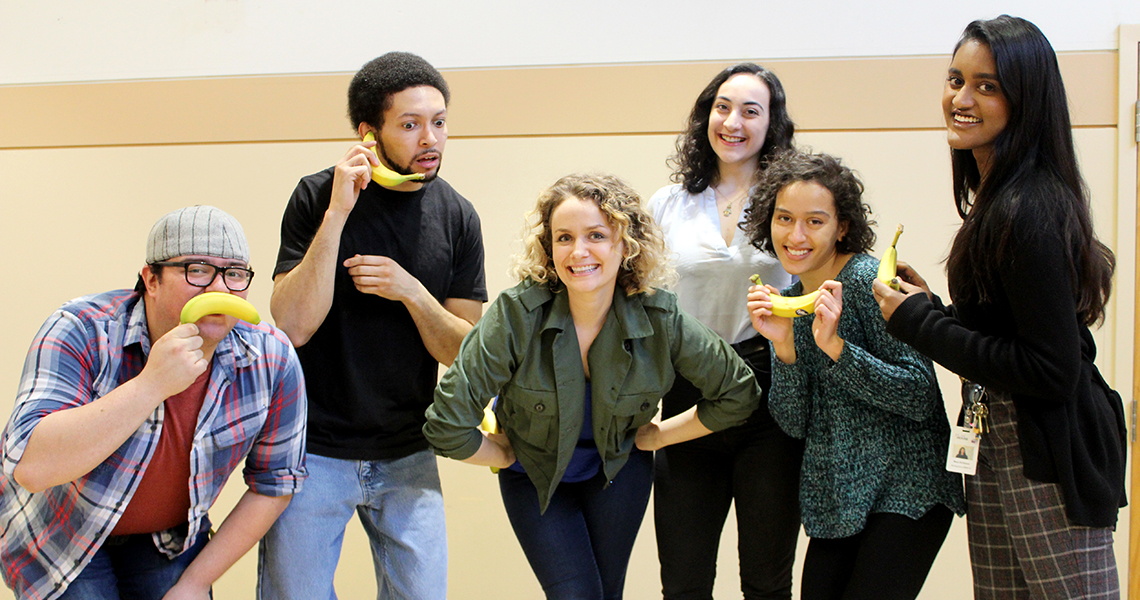 Five Little Monkeys cast members and Bruce E. Coyle Acting Interns David Armando, James Stringer, Madison Rengli, Gabrielle Kogut, Julie Locker and Maya Jeyam at the meet and greet for the show.
It will be easy for parents to identify with the central character of Mama Monkey. In the beginning of the play, Mama Monkey invites the audience into her home for conversation but continues to get distracted by family life chaos. At bedtime, she apologizes, "Sorry again, that it's gotten so late, but family life is wild, that you can't debate. But whether things mellow or reached a crazy degree, oh how I love my monkey family."
"Mama Monkey loves her kids and loves them for the mistakes they make. She's exhausted, as parents are, but she enjoys the experience of each of her children," says Rasmussen. "Through her, we get to see the joy of family life that isn't depicted on stage a lot."
Robertson agrees: "Parents will connect and find laughter in the alter-reality that often comes with living in the lives of children."
---
This endearing and clever production is recommended for children ages 3 and up. Visit the
production detail page
for more information about the production, locations and tickets.