5 Questions With Chaz Hodges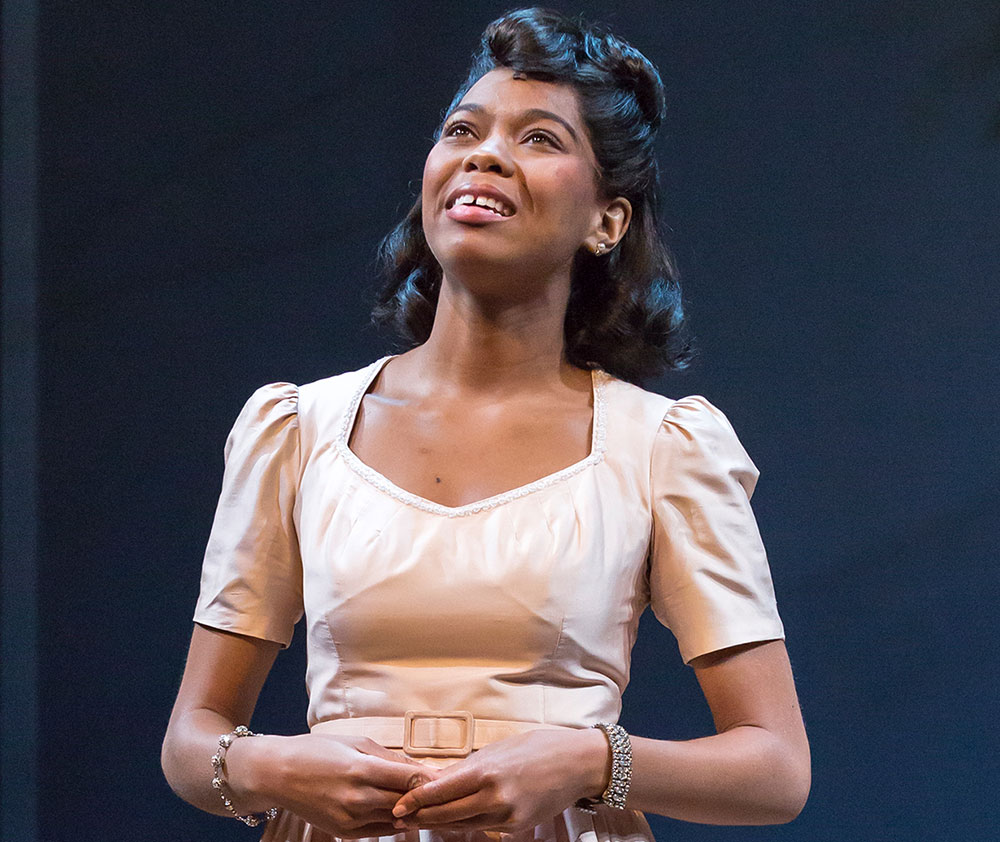 Chaz Hodges plays gospel singer Marie Knight in
Marie and Rosetta
, presented by Leading Ladies.
Regional credits at La Jolla Playhouse include
In the Red and Brown Water
(as Oya),
A Lie of the Min
d (as Beth) and
Little Children Dream of God
(as Madison). She performed with the Ubuntu Theater Project in
Dance of the Holy Ghost
(as Viola) and
Hurt Village
(as Cookie), which landed her a TBA Award nomination for best actress in a leading role. She has also performed at The New Harmony Project Playwriting Conference, the Ojai Playwrights Conference, The Denver Center New Play Festival and The New Griots Festival at The Guthrie Theater. Film credits include Lifetime's
My Crazy Ex
(as Tamara) and BET's
Reflections
(as Holly).
The Wind and the Breez
e (Nia) at Cygnet Theatre in San Diego is her next production after
Marie and Rosetta
.
How long have you been acting, and where did you receive your training?
I've been acting all my life at the foot of my mother's bed. Only child syndrome I guess. Professionally, since about the fourth grade. I played Rosa Parks in a play for Black History Month and I've been on stages recreating characters until today. I got my Master's in Acting from University of California at San Diego, and studied improv with The Second City in Hollywood.
When did you know you wanted to be an actor, and what's your favorite part of the job?
I knew I wanted to be an actress my senior year of high school after playing Gertrude in
Hamlet
at Chicago Shakespeare Theater at Navy Pier. I got to be such a regal and graceful woman with depth, and then the role doubled as a gravedigger. I decided to play that character as a silly drunk. From that moment, I just knew nothing else in the world would offer me that type of duplicity. My absolute favorite part of my job is the universality of storytelling. Someone from a completely different background can watch a performance of an event they haven't experienced in their lifetime and they can still relate to the genuine humanity of the people baring their souls onstage. Humanity and truth are inexhaustible.
Chaz Hodges in Marie and Rosetta; photo by Mikki Schaffner.
What is your all-time favorite role you've performed, and why?
My all-time favorite role thus far was playing Beth in Sam Shepard's
A Lie of the Mind
. It was the first time I read a character and understood them. She jumped off of the page into my voice. It was frightening how in-tune I was with her plight and her twisted sense of joy. She awakened so much in me I didn't know I could access at that point in my career. Beth was a domestic violence abuse victim who needed brain surgery and still was able to harbor forgiveness. She made me ache long after we had closed.
What role have you been dying to play, and why?
This is like asking me which finger I'd least want to lose! Of course, I want to keep them all. Just like all of my favorite roles. I'd want to play them all! Cinderella from
Into the Woods
. Pumpkin from Dominique Morriseau's
Paradise Blue
. Camae from Katori
Hall's Mountain Top
. Titania from Shakespeare's
A Midsummer Night's Dream
... A never-ending list, simply because I love what I do!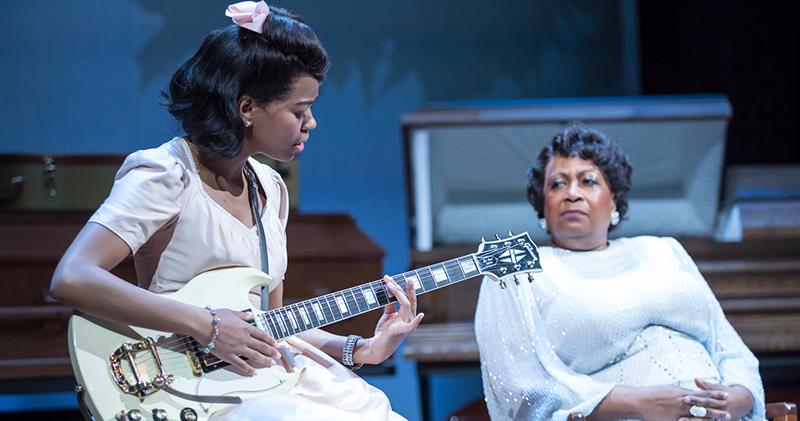 Chaz Hodges and Miche Braden in Marie and Rosetta; photo by Mikki Schaffner.
What has been the most interesting part of working on Marie and Rosetta so far?
The most interesting part of working on
Marie and Rosetta
is sisterhood. It is such a rich connection that Miche Braden and I have fostered. It's so lovely to feel it deepen and inform my character choices night after night. Sister Rosetta Tharpe was a legend and Marie Knight her protégée. It is awesome to step onstage every night, into the shoes of greatness, of sisterhood and of black joy.
To learn more about the Playhouse's production of
Marie and Rosetta
, visit our
production detail page
.