Julius Henry "Groucho" Marx lived virtually his entire life in show business, making generations laugh with his trademark blend of wit, slapstick and insult. His nearly seven-decade career spanned vaudeville, Broadway, radio, film and television, while the influence of his humor can be seen in comedians ranging from Woody Allen and Bill Murray to Larry David and Adam Sandler.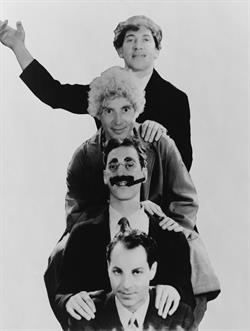 Born in New York in 1890, Groucho was thrust into the spotlight in 1905 as part of a singing trio, but he hit it big in an act with his brothers, playing the Palace Theatre in 1919 before touring Europe. Upon their return to the U.S., the Marx Brothers — Groucho, Chico, Harpo and Zeppo; another brother, Gummo, left to serve in WWI — became the toast of Broadway in
I'll Say She Is
(1924),
The Cocoanuts
(1925) and
Animal Crackers
(1928).
The advent of talking pictures offered the perfect vehicle for the talents of the Marxes, called the "funniest brothers in the U.S." by Time in 1930. Their first film was an adaptation of
The Cocoanuts
in 1929; their last was 1949's
Love Happy
. Groucho subsequently carved out a successful solo career, most notably as the host of the quiz show
You Bet Your Life
. He passed away in 1977.
In all, the Marx Brothers released 14 movies. Here's a snapshot of six films, widely considered by critics and fans to be among the best.
Duck Soup (1933)
Plot:
The final film to feature all four Marx Brothers,
Duck Soup
is a political satire about a fictional European country on the verge of bankruptcy whose president sends the nation down a warpath when he picks a fight with a neighboring state's ambassador.
Groucho's Role:
Rufus T. Firefly, the president with a tendency toward authoritarianism.
Known For:
Legendary "mirror scene" between Groucho and Harpo.
Sample One-Liner:
"If you think this country's bad off now, just wait till I get through with it."
Fun Fact:
Mussolini banned the film in Italy because he believed it was a satire of him.
A Night at the Opera (1935)
Plot:
One of the brothers' biggest hits,
A Night at the Opera
was the first film without Zeppo. The story focuses on a conman trying to woo a wealthy investor to a prestigious opera company with promises of obtaining her path into high society.
Groucho's Role:
Otis B. Driftwood, the swindling business manager.
Known For:
Hilarious overcrowded stateroom episode, in which 15 people try to cram into a tiny ship's cabin.
Sample One-Liner:
"You know the old saying. Two's company, five's a crowd."
Fun Fact:
Returning to their roots, the Marx Brothers tested and refined material for this film on stage.
A Day at the Races (1937)
Plot:
In an effort to save a sanitarium from ruin, its owner is forced to hire a new chief of staff advocated by a wealthy patient. Unfortunately, he turns out to be a veterinarian.
Groucho's Role:
Hugo Z. Hackenbush, the horse doctor masquerading as a neurologist.
Known For:
"Tootsie-Frootsie Ice Cream" sequence, in which Harpo ensnarls Groucho in an elaborate scam.
Sample One-Liner:
"Either he's dead or my watch has stopped."
Fun Fact:
A Day at the Races is the only Marx Brothers film nominated for a competitive Oscar for best dance direction.
Horse Feathers (1932)
Plot:
In a parody of popular college films of the time, Horse Feathers sees the headmaster of a school that has yet to win a single football game sink to sabotage for an upcoming match against a rival team.
Groucho's Role:
Professor Quincy Adams Wagstaff, president at the fictional Huxley College.
Known For:
The climactic football game, named by ESPN first in its list of "top 11 scenes in football movie history."
Sample One-Liner:
(with Groucho breaking the fourth wall to speak directly to the audience) "I've got to stay here but there's no reason you folks shouldn't go out into the lobby till this thing blows over."
Fun Fact:
While Harpo was famous for his talent on the harp and Chico for his beautiful piano playing, Groucho was also musical. In Horse Feathers, audiences get to sample his skills on the guitar.
Monkey Business (1931)
Plot:
While hiding on a luxury ship bound for America, the brothers cause mayhem when they get mixed up in a feud between rival gangsters.
Groucho's Role:
A mischievous ship's stowaway.
Known For:
Scene when the brothers embark from the ship using the stolen passport of famous singer Maurice Chevalier.
Sample One-Liner: "Love flies out the door when money comes innuendo."
Fun Fact:
Monkey Business features a cameo by the brothers' real-life father, Sam Marx.
Animal Crackers (1930)
Plot:
During an extravagant party thrown in honor of a famous explorer, a priceless painting goes mysteriously missing.
Groucho's Role:
Captain Jeffrey T. Spaulding, the African explorer.
Known For:
Spaulding's outrageous lecture about his safari adventures.
Sample One-Liner:
"One morning, I shot an elephant in my pajamas. How he got in my pajamas, I don't know."
Fun Fact:
A 15-second clip of the film's rehearsal shot in Multicolor was discovered in the 1990s. It is the only known color footage of the Marx Brothers.
To learn about the Playhouse's production of Frank Ferrante in
An Evening With Groucho
, visit our
production detail page
.
Photograph of Marx Brothers above from Ralph F. Stitt, Rivoli Theatre. 1931.