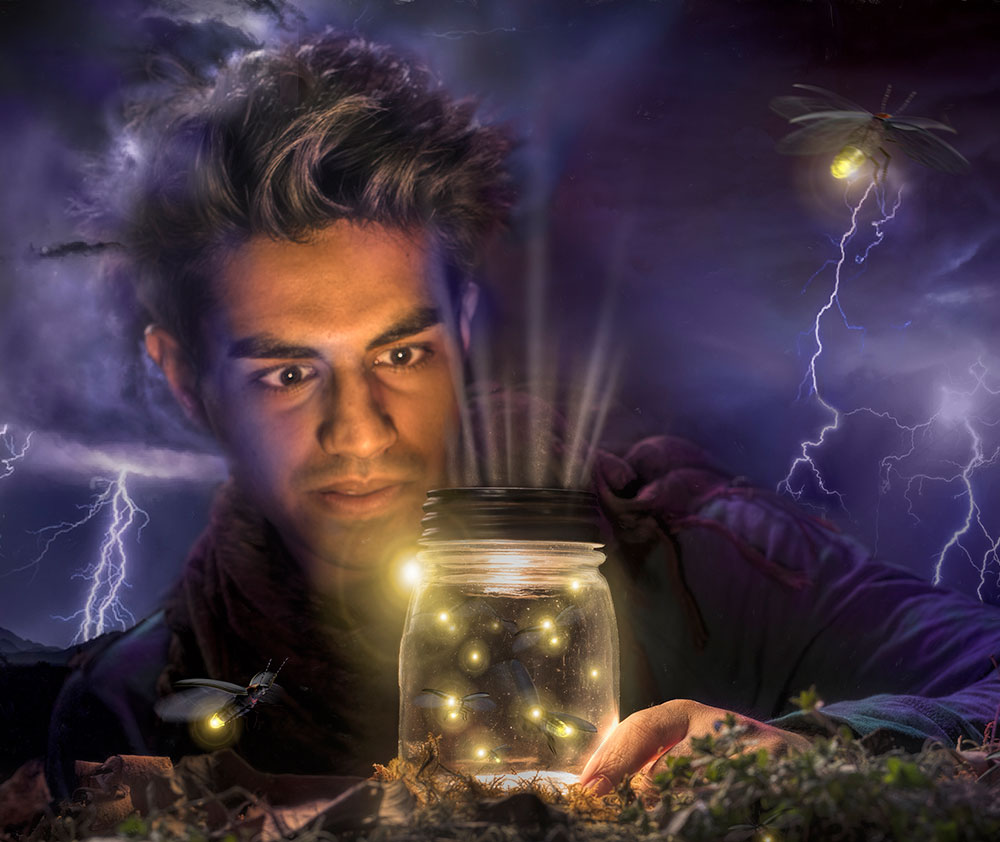 It begins with a light, a sliver, a flash. Then comes a sound, a pulse, a beat, a crash — like a giant hammer smashing through the sky. This is the mythical story of Boom, the son of Thunder, who sets out to discover his true self in
The Last Firefly
.
Written by acclaimed playwright Naomi Iizuka, this fantastical story follows young hero Boom, who is in search of his real father. After being forced out of his home at the hand of his cruel stepfather, Boom sets out on a journey of self-discovery where he must courageously battle forces of nature. Along the way, he encounters conflict with the animals of an enchanted forest who will either help or hinder him in his quest. The epic tale combines Japanese fairy tales and folklore to create an exciting theatrical experience for young people.
This Off the Hill show kicks off the Playhouse's touring season as it visits schools and community centers throughout the region this fall. It is performed by members of the 2017-18 Bruce E. Coyle Acting Intern Company, under the direction of Playhouse Associate Artist Timothy Douglas.
Douglas calls Iizuka's script "an evocative and kabuki-influenced play geared towards young audiences." Kabuki theatre is a Japanese form of stage drama that is characterized by elaborate costumes, lively storytelling, music, movement and dancing. Traditionally, kabuki theatre explores themes of good and evil through nature and spirituality.
The Last Firefly
is no exception. Characters include Lightning, Monkey, Tree and Spider, and Boom must also battle fierce elements of nature. These fantastical characteristics call for an especially innovative approach to set design, props and costume, all of which are crafted by Playhouse artisans.
"Freeing the natural elements of this play in a theatrically gratifying way poses its own unique challenges," says Douglas, "and further augmented by the necessity that our physical production be decidedly 'portable' for the purpose of efficiency in touring."
As Associate Artist at the Playhouse, Douglas has directed many productions for the Marx and Shelterhouse stages, including
Jitney
,
Buzzer
,
Clybourne Park
,
The North Pool
,
Mothers and Sons
and the world premiere of
Safe House
.
The Last Firefly
marks his first production in which he directs young and emerging artists for children's theatre.
"We are very fortunate to have a director of Timothy's caliber working with us on the first tour of the season," says Director of Education and Community Engagement Daunielle Rasmussen. "Timothy is gifted at telling the story of a character's journey through their relationship to their world. This play is about a fatherless boy, surrounded by strong female influences, who is trying to find his father to save his mother and, in the process, figures out what it means to be strong in his own right. I can't think of a better craftsman and storyteller to guide the actors and creative team as we put together the story of Boom's journey."
This exhilarating, heroic tale is ideal for children ages 8 and up.
"
The Last Firefly
is a fun adventure that will engage the imaginations of children and parents alike," says Rasmussen. "As a parent myself, I am always drawn to scripts that are able to foster a conversation between parents and children. While this story is a fun experience, it is also full of the complexities of life and family dynamics that will provide the framework for a rich discussion at home."
The show tours the Greater Cincinnati area from Sept. 30 to Oct. 29. For information on locations and tickets, visit the
production detail page
.
Off the Hill is supported by The Robert and Adele Schiff Family Foundation, the John C. Griswold Foundation, and Barbara and Bill Weyand.