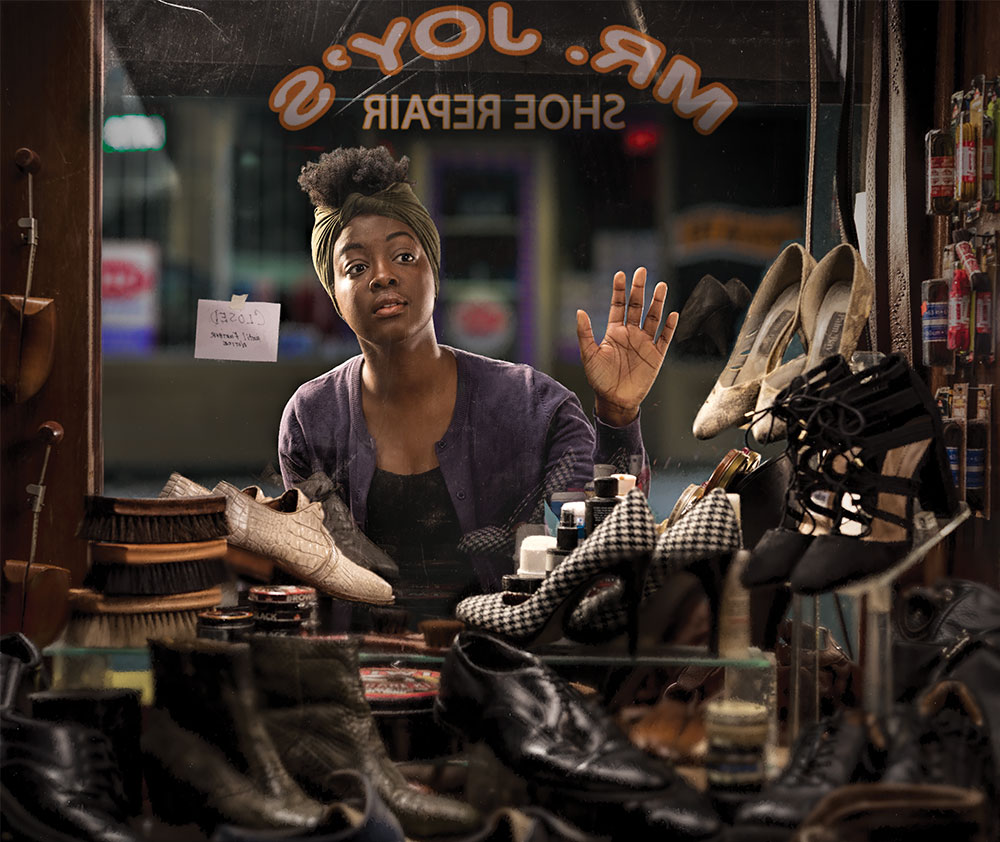 In present-day Harlem, an 11-year-old girl named Clarissa approaches Mr. Joy's Shoe Shop, a neighborhood storefront. There's a "closed" sign in the window and shoes are scattered along the sidewalk. Clarissa searches for the owner yet he's nowhere to be found. She turns her attention to the audience, introduces herself and begins the story of her relationship with Mr. Joy, whose sudden absence has left everyone in their community shaken.
Written by Dayton-native playwright Daniel Beaty,
Mr. Joy
is a thoughtful drama that weaves together the personal narratives of nine different characters who unravel the mystery of Mr. Joy's disappearance.
Like Clarissa, each character tells their chapter through a series of monologues. They're also all brought to life by a single actress. Clarissa transforms onstage into eight other characters who span age, gender, ethnicity, class and identity. Each of them is one of Mr. Joy's customers, and each of them has a unique story to tell.
Beaty explains in a Boston radio interview that he drew inspiration for the stage drama from real-life experiences. While living in New York as a struggling actor and teaching artist years ago, he used to take his shoes to a Chinese-American shop owner for repairs.
"He worked magic," Beaty says. "I'd take my one pair of fancy, beat-up shoes into his shop, and they'd come out like new. One morning I woke up and the shop was boarded up and there was caution tape around the outside. I asked my neighbors what happened and people said, 'You know, we think somebody attacked him.' I never saw anything in the newspaper but it lived with me for a lot of years. I eventually wrote this play that asks the question, 'What happened to Mr. Joy?'"
Beaty sets out to answer that question through the lens of his characters who have different worldviews and personal experiences. In this way, Beaty invites the audience to explore the idea of community in the face of social and cultural forces.
"Most of my work deals with themes of race and class in America, and this was a Chinese-American man who had a shoe repair shop for many years in a largely African-American neighborhood," says Beaty, who finds a creative opportunity to discuss such themes in this setting. "The possibility and the gift of artistry is to put those ideas in flesh and blood, in a character that's dimensional in human form, and then create a well-crafted story that has humor, that has a lot of humanity, that sees the characters' relationships with one another, that sees the characters fighting to overcome obstacles."
Similar to Beaty's other theatrical work,
Mr. Joy
examines themes of race and class through an empathetic lens from multiple points of view. In 2012, the Playhouse produced
Through the Night
, a one-man show in which Beaty himself embodied six different African-American men from ages 10 to 60 who are connected through a single, life-changing event. In
Emergency
, a single actor performs 40 characters who explore the surreal phenomenon of a slave ship's sudden emergence out of the Hudson River. This signature technique invites the audience to consider themes through a multifaceted lens and to approach the characters who embody them with compassion and understanding.
"I believe that artists have a particular role to play in healing and social transformation," Beaty says in an interview with
The New York Times
. "Part of the reason that our nation and our world are so out of balance is that artists aren't playing a full role in these conversations. How can we build a world we want our children to live in, to inherit?"
More than a playwright, Beaty is an actor, singer, poet, filmmaker and activist. He has written five plays and two books—a memoir,
Transforming Pain into Power
, and a children's book,
Knock Knock
, which is based on his inspiring spoken word performance of the same name that's garnered more than 17 million views online. He co-wrote the screenplay for the film
Chapter & Verse
, in which he co-starred with Loretta Divine, and wrote and produced the feature-length documentaries
Behind the Glass
and
I Dream of an Omaha Where
. He is the founder of I Dream, a storytelling workshop that empowers youth and communities to use art as a tool for healing, and he is a youth advocate, mentor and activist for children of incarcerated parents.
For more information and details about
Mr. Joy
, visit the
production detail page
.