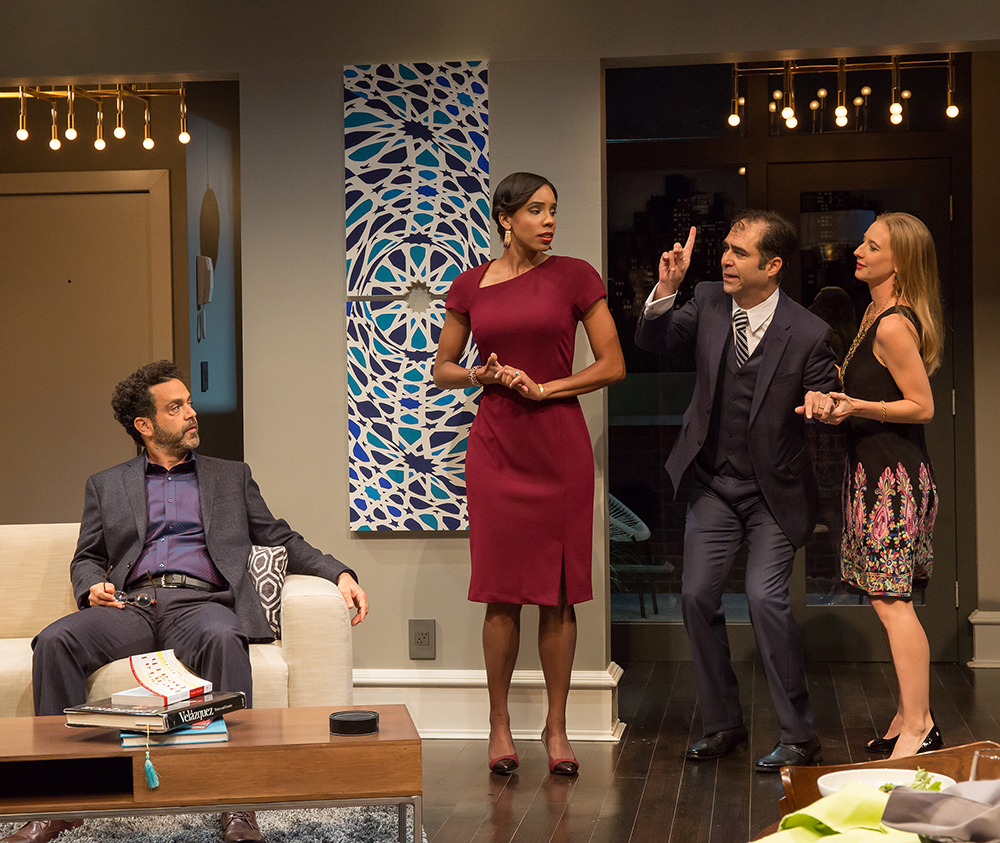 Disgraced
director Lisa Portes reveals what excites her about this story.
When did you first encounter Disgraced, and what was your response to the play?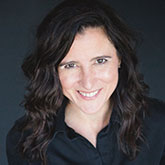 I first encountered
Disgraced
when I saw it in its world premiere production at American Theatre Company in Chicago, directed by my friend and colleague Kimberly Senior and featuring astonishing performances by Usman Ally as Amir and Behzad Dabu as Abe.
The play exploded a comfortable, liberal blanket I'd wrapped around myself and reconnected me to the complexity of being a hyphenated American. I'm Cuban-American. My Cuban-born, olive-skinned father married my fair-skinned Midwestern mother in the early 1960s. They faced numerous challenges and ultimately the marriage didn't survive. Seeing
Disgraced
reminded me that in learning, wishing for and teaching love in the face of difference, there is a tendency to not face the deep, deep wounds upon which we are trying to build a diverse and inclusive society.
Disgraced
unwinds the bandages of being "other" in this country, revealing that which has yet to be healed.
The ideas raised in Disgraced — questions of religion and race, of identity and culture, of the American Dream and all of its implications — are provocative, and playwright Ayad Akhtar purposefully presents them without a single point of view. What challenges does that present? How does that excite you?
Yes,
Disgraced
puts five people onstage, none of whom are white, male and Christian, all at the same time. And — whatever your ethnicity, religion or gender — the play really challenges your assumptions about each of the characters in this play. In fact, the play challenges your assumptions about yourself: What are the limits of your tolerance or compassion? When do you feel yourself start to succumb to the insidious pull of stereotype? Are you surprised by who you relate to?
The thing that excites me most about
Disgraced
is Akhtar's ability to give each character the full beauty and humanity of his or her failures. Over the course of the story, each makes a grave ethical error — from fear, ambition, lust or pain — and Akhtar refuses to take sides. There are those who might argue that it's dangerous to portray people of a particular cultural group in anything less than positive light. I'd argue that to not allow people their failures is to rob them of their humanity.
And that's really the directorial challenge: to give each character his or her own complicated, specific and individual life. To resist the temptation to explain or downplay behavior out of political correctness and instead honor them with their complexity and, thereby, their humanity.
Over the past two years, Disgraced has become the most produced play across the country. Why do you think it's struck such a chord with contemporary theatregoers?
Well, first of all, I think it's an incredibly well-written play! It's structurally tight, its characters and relationships compelling, the dialogue sharp and the action moves like a bullet train. But I think
Disgraced
has tapped into the zeitgeist because as a people I believe we are nervous about the American Dream in relation to changing demographics and power structures of the nation we live in now.
Disgraced
puts the ideal 21st century situation onstage — four successful people, equally balanced in gender, religion and ethnicity, share a meal — and the protagonist of the play is a prosperous Pakistani-American man. There it is: the American Dream. Everyone's different, everyone's winning and everyone gets along. And then the whole thing blows up.
Why? I think that's the point of curiosity for audiences. In trying to build a truly pluralistic 21st century America, what are we missing? What do we learn about ourselves when the American experiment fails?
What kind of discussions do you hope the play will ignite for our audiences?
Our nation is founded on the ideal that all are created equal. I hope the play will provoke discussion about the challenges of forging a truly inclusive society. It's not as easy as putting one of these and two of those at the dinner table or on the office staff. Can we expand the limits of the American Dream to create space for real difference? Or will we continue to promote only differences that more closely resemble ourselves?
I read a comment recently by theatre artist and cultural activist Kathy Hsieh about
Disgraced
in which she argues that Akhtar exposes the post-traumatic stress disorder of our country's racial wars. On the cusp of the 2016 election, I'm hoping we can discuss what the ongoing trauma of racial conflict in the U.S. is doing to us as a people.
To learn more about the Playhouse production of
Disgraced
, visit the
production detail page
.
Photo of Maury Ginsberg, Krystel Lucas, Barzin Akhavan and Bethany Jillard in Disgraced by Mikki Schaffner.