A Behind the Scenes Look at Audrey II
Little Shop of Horrors is a co-production between Portland Center Stage at the Armory in Portland, Oregon, and Cincinnati Playhouse in the Park. The musical features the same touring cast and production crew and reflects the artistic efforts of both theatres.
Little Shop of Horrors
is now performing at the Playhouse, and the company has brought their originally designed, monstrous plants along with them. The Portland Center Stage props department created Audrey II, the beloved blood-thirsty plant puppet — or four puppets, to be exact. Here's a behind the scenes look at what it takes to bring this plant to life.
After receiving the design drawing from Scenic Designer Michael Schweikardt, the Portland Center Stage props artisans made a one-inch scale clay model to create a paper pattern, then enlarged it to use as a template for four different sized pods. The patterns were then traced onto giant sheets of foam, cut and glued together like puzzle pieces.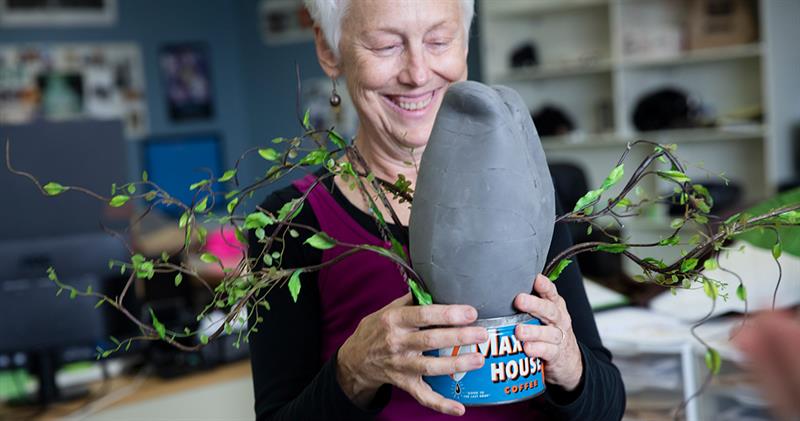 There are four puppets that represent Audrey II (called "pods") which increase in size as the plant grows throughout the show. Above, Portland Center Stage Costume Crafts Artisan Barbara Casement holds the smallest pod: a nine inch hand puppet built into a vintage coffee can with a false bottom for the puppeteer's arm. Keep an eye on those baby vines during the show — they might even perform a trick!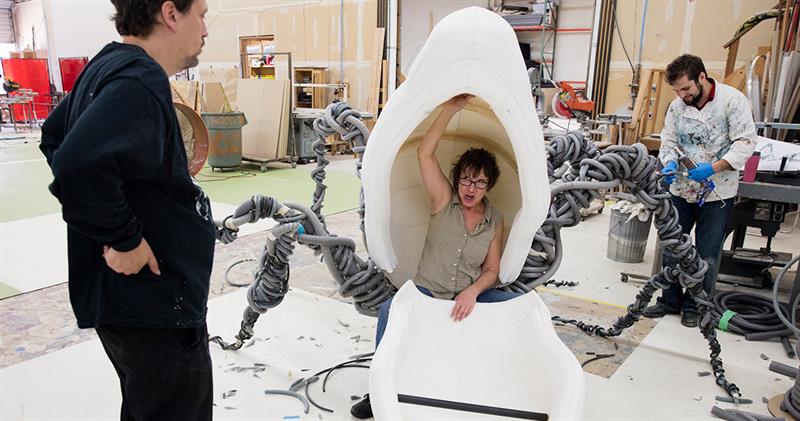 Pictured above is the third pod: a six foot, six inch human-sized Audrey II in a giant flower pot. The puppeteer for the show will wear pants and shoes that turn the lower half of his body into moving vines. His top half will be inside the head to animate Audrey II's tongue and jaw, while actor Chaz Rose provides the booming "Feed me Seymour!" vocals off stage.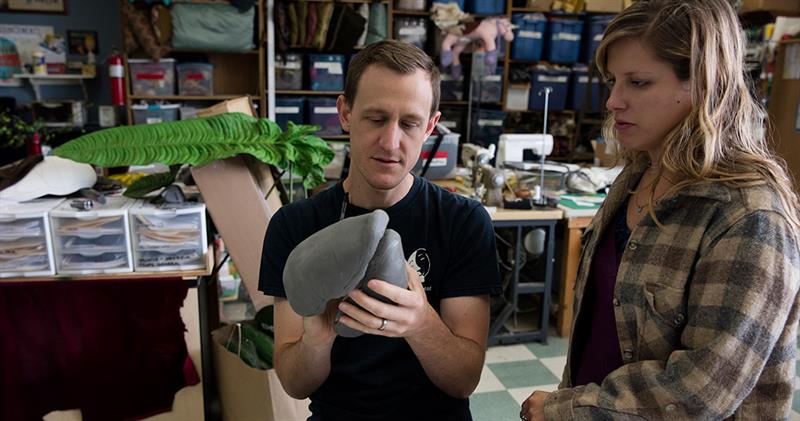 "The build is challenging because we have to minimize weight but maximize stability. The puppets need to be ergonomic and functional in a way that allows them to be expressive, as well as being able to move on and off stage quickly and seamlessly." —
Portland Center Stage Props Master Michael Jones, pictured above left with Props Artisan Rachel Peterson Schmerge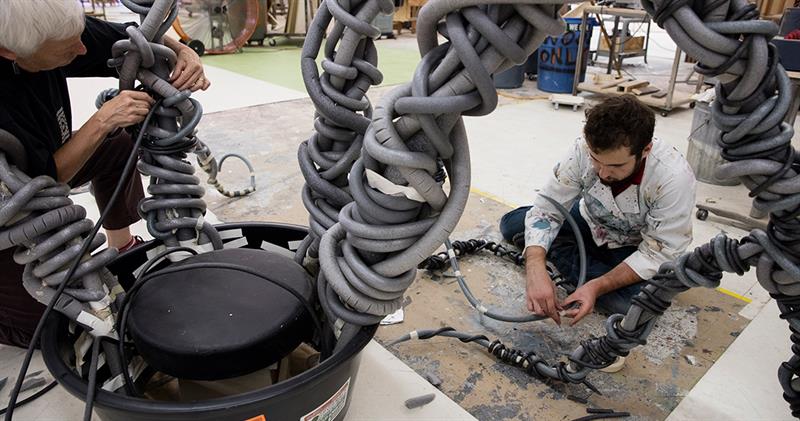 The making of Audrey II employed Portland talent ranging from props artisans, puppeteers, sculptors, costumers and wood/metal fabricators working together in the weeks before the more traditional production elements — costumes, scenery, props — were created.
To learn more about the Playhouse production of
Little Shop of Horrors
, visit the
production detail page
.
This blog was originally published by Portland Center Stage and has been posted with permission.