5 Questions With Lauren Molina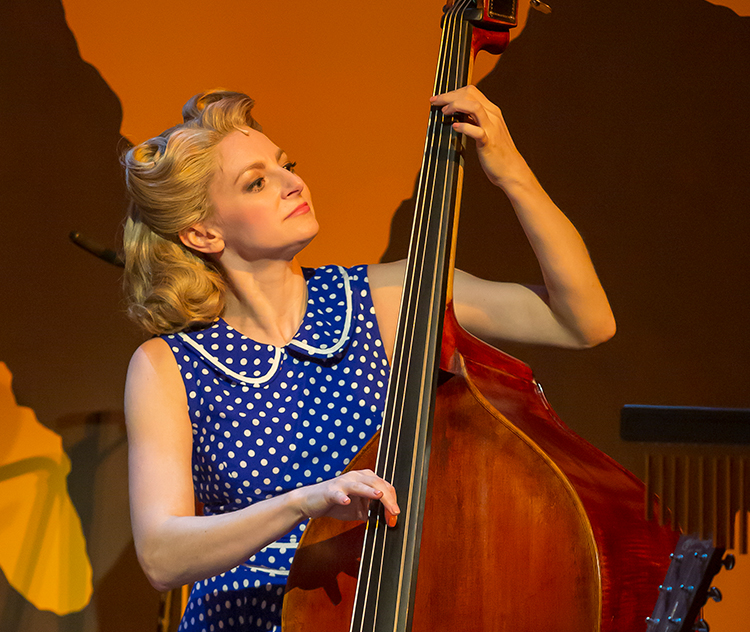 Lauren plays Lucy in and is the co-conceiver of
You're a Good Man, Charlie Brown
.
Lauren couldn't be happier to be making her Cincinnati Playhouse in the Park debut. She first appeared on Broadway in John Doyle's critically acclaimed revival of
Sweeney Todd: The Demon Barber of Fleet Street
as the cello-playing Johanna. She then went on to create the role of Regina in
Rock of Ages
off-Broadway, transferring with it to Broadway. Off-Broadway, she co-starred in Stephen Sondheim's revival of
Marry Me A Little
(Drama League nomination), originated Bella Rose in
Desperate Measures
(Lortel and Outer Critics nomination) and originated Megan in
Nobody Loves You
at Second Stage Theater. Regional favorites include Squeaky Fromme in
Assassins
(Yale Repertory Theatre), Eileen in
Wonderful Town
(Goodman Theatre), Countess in
A Little Night Music
(Huntington Theatre Company), Cunegunde in
Candide
(Goodman Theatre Company, Huntington Theatre Company, Shakespeare Theatre Company – Helen Hayes Award), Audrey in
Little Shop of Horrors
(Cleveland Play House), Janet in
The Rocky Horror Picture Show
(Bucks County Playhouse) and Sara in
Murder Ballad
(TUTS Underground). She's half of the acclaimed comedy-pop duo The Skivvies. A Detroit-born Michigan native, Lauren graduated from the University of Michigan musical theatre program. She now lives in New York City with her domestic partner Rob Morrison and their two cats Hoodie and Fordham. Visit
www.LaurenMolina.com
and
www.TheSkivviesNYC.com
. Instagram and Twitter:
@lomo212
@TheSkivviesNYC
---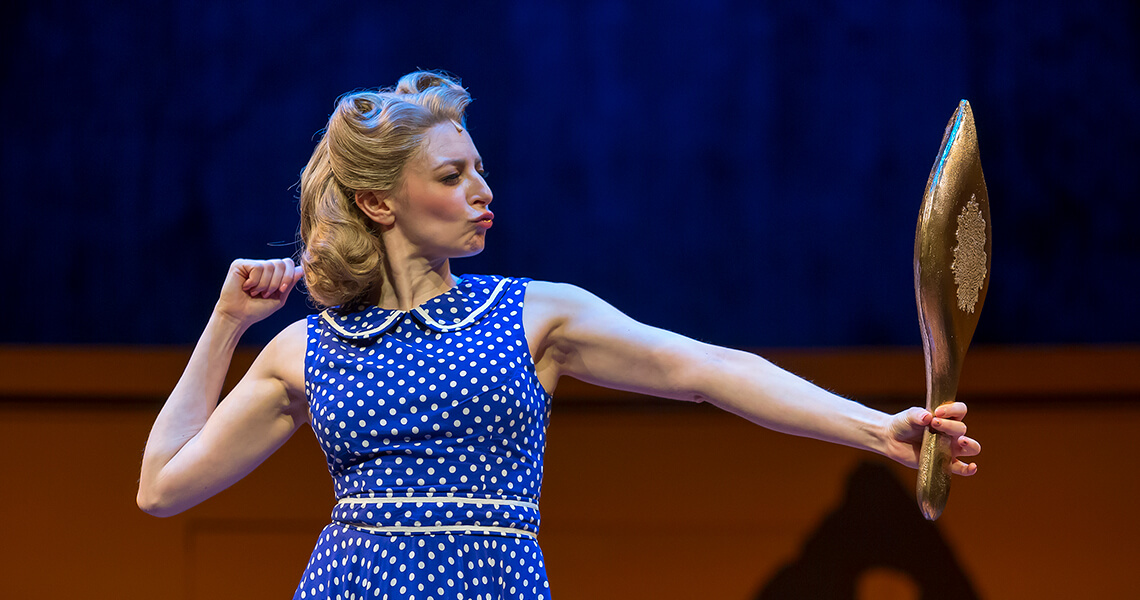 Lauren Molina in You're a Good Man, Charlie Brown. Photo by Mikki Schaffner.
How long have you been acting, and where did you receive your training?
My first acting experience was around the age of 6, when I played Gus Gus the mouse in an elementary school production of
Cinderella
. However, some of my earliest memories include creating puppet shows, putting on costumes and creating fantasy worlds at home when I was just a precocious toddler. I continued to perform in school plays and musicals, and once I was in high school, I took advantage of summer acting courses at Northwestern and Yale University. I then went on to the University of Michigan where I majored in Musical Theatre.
When did you know you wanted to be an actor, and what's your favorite part of the job?
When I began my schooling at the University of Michigan, my major was undecided. I thought acting and singing were fun hobbies that came naturally but not the career I wanted to pursue. I was very academic and thought I'd end up with a career in communications or psychology. My freshman year, I auditioned for the university choir and received a lot of support and encouragement from the choir director. She promoted me in the second semester to the highest-level choir, chamber choir. It was then that I felt I should consider switching majors. I auditioned and in my second year was accepted to the voice program at the music school. Studying opera was fun, but my heart really was in acting and musical theatre. So, my third year, I applied to transfer into the Musical Theatre program. It was a miracle that I was accepted, as it is so selective. It truly changed my life. I decided I would be an actor and go for it. Fortunately, the musical theatre program puts on a Senior Showcase in New York, and I was able to move to the city and immediately get an agent.
My favorite part of acting is diving deep into the emotional construct of a character and exploring the way they move, speak and react. I love the process of starting with text, breaking down each beat, finding the objectives, finding the funny (if there is any to mine) and finding the journey. I often do comedy, so making people laugh is definitely another favorite part of acting. However, it's even more satisfying when I can connect with an audience and move them in some way.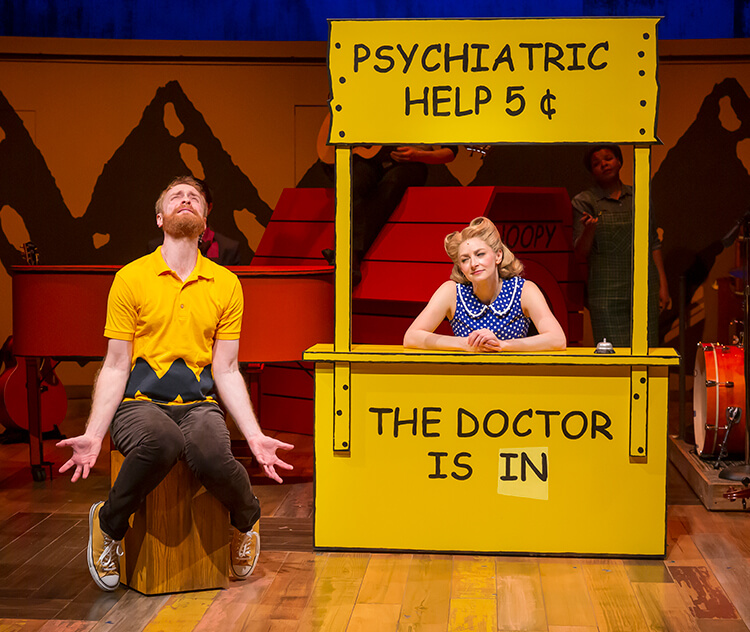 Rob Morrison and Lauren Molina with Stephanie Anne Johnson in You're a Good Man, Charlie Brown. Photo by Mikki Schaffner.
What is your all-time favorite role you've performed and why?
This is hard question to answer because there are so many special experiences I've had in various roles. My top three are Johanna in the John Doyle actor-instrumental Broadway revival of
Sweeney Todd
; Cunegunde in the Mary Zimmerman-directed
Candide
at Goodman Theatre, Shakespeare Theatre in D.C. and Huntington Theatre; and Bella Rose in
Desperate Measure
s off-Broadway. Johanna in
Sweeney Todd
was my Broadway debut in a highly conceptual, brilliantly staged version, where I discovered that playing my cello was an extension of the character's voice. I was performing with heavy hitters like Patti LuPone and Michael Cerveris! Cunegunde was always a dream role, so to play it in Mary Zimmerman's newly rewritten way was thrilling. It was a very challenging role to sing, which made it all the more fulfilling. Also, the costumes, the set, the beauty and creativity were beyond anything I'd experienced. Finally, Bella Rose in
Desperate Measures
was a role I created from the ground up. She was a good time gal, funny, bawdy, loud, and led with love. I loved the music, the book and my cast. It's always extra special when you create a role.
What role have you been dying to play and why?
I always say it's a role that hasn't been written yet! I love creating characters in new shows. However, I am dying to play Dot in
Sunday in the Park with George
, and I'd love to do a straight play! I am always in musicals, and it has been so long since I have been in a show where I simply speak.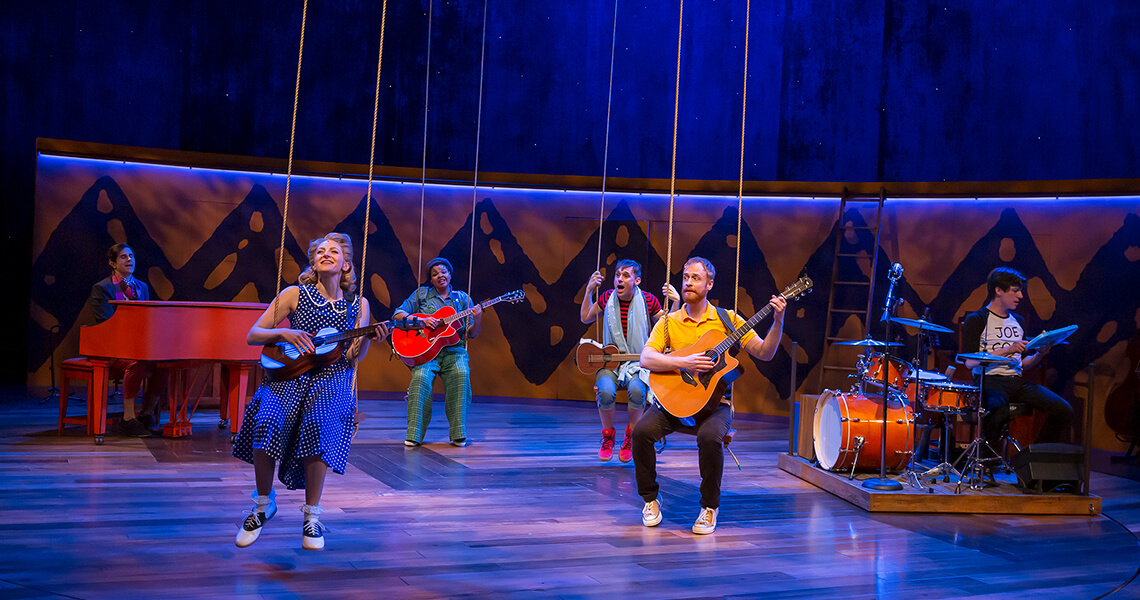 The cast of You're a Good Man, Charlie Brown. Photo by Mikki Schaffner.
What has been the most interesting part of working on You're a Good Man, Charlie Brown so far?
I'd have to say the most interesting part is learning the history of Charles Schulz as a person and how he created the Peanuts. These beloved characters are so iconic, and each embody traits that we all can relate to — feelings like wanting to have success, be accepted, be a winner and yet facing the realities of life that things don't always work out, and we must use little moments of joy to find happiness. Also, in creating this specific actor-instrument version of the show, it has been thrilling to create new arrangements and hear the music in an entirely fresh way.
---
To learn more about the Playhouse's production of
You're a Good Man, Charlie Brown
, visit our
production detail page
.