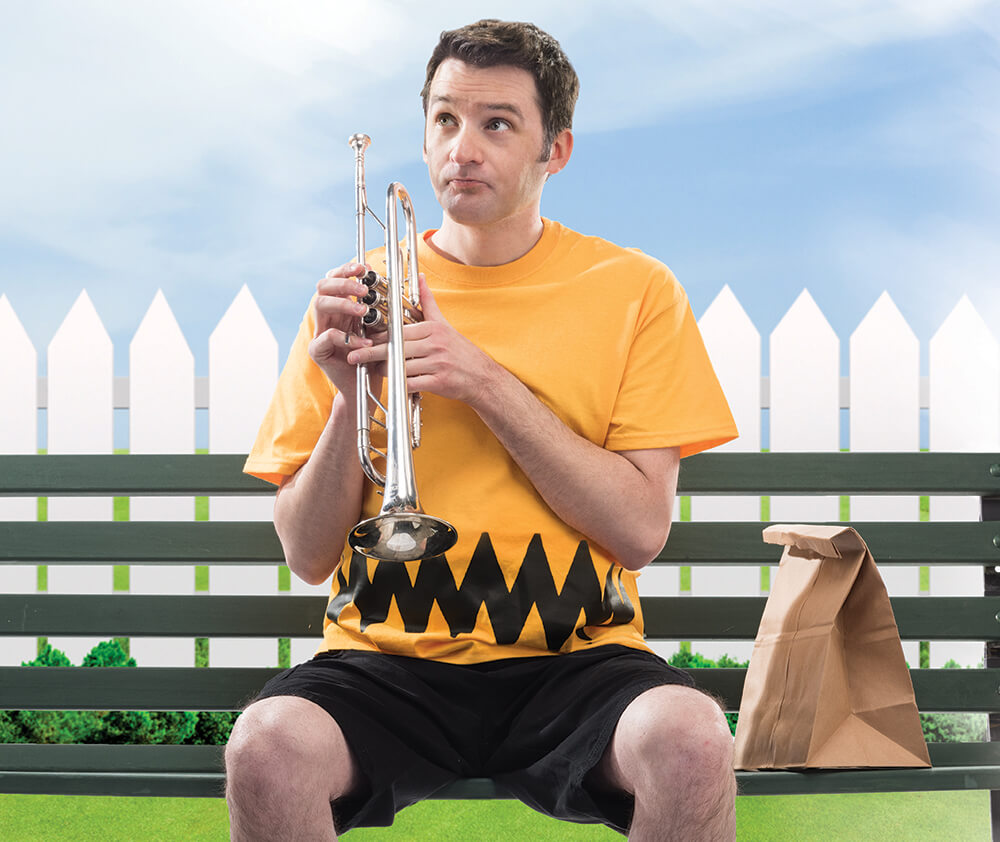 On Oct. 2, 1950, cartoonist Charles M. Schulz debuted a four-panel comic strip called
Peanuts
. In the first panel of the strip, a boy and a girl sit on the sidewalk and see another child heading towards them. "Here comes ol' Charlie Brown!" the boy says. As Charlie walks past them, the boy adds, "Good ol' Charlie Brown…" In the last panel, Charlie has walked past them and the boy quips, "How I hate him!" In this comically unexpected way, Schulz introduced the world to the Peanuts gang.
For the next 50 years, Schulz wrote and illustrated nearly 18,000
Peanuts
comic strips. They featured the lovable, zig-zag-sporting Charlie Brown; the demanding pseudo-psychiatrist Lucy and her sensitive, blanket-toting brother Linus; the Beethoven-loving, musical genius Schroeder; the freckle-faced tomboy Patty; and Charlie's wildly imaginative pet dog Snoopy, among many other colorful characters that Schulz imagined. These endearing cartoons engaged in everyday misadventures from getting a kite stuck in the tree to losing what would have been the winning catch in a football game — which made them all the more charming.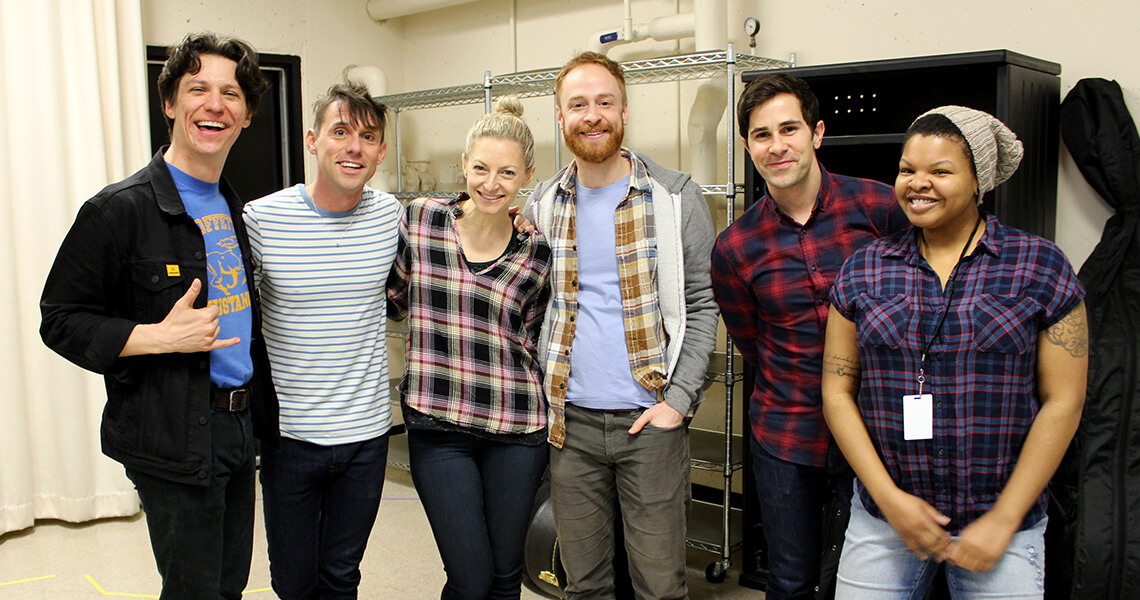 Armando Gutierrez (Snoopy), Nick Cearley (Linus/Co-Conceiver), Lauren Molina (Lucy/Co-Conceiver), Rob Morrison (Charlie Brown), Brett Ryback (Schroeder) and Stephanie Anne Johnson (Patty) at the meet and greet for You're a Good Man, Charlie Brown.
The Peanuts gang has been rendered into short and feature films, television specials and theatrical productions (including the 1967 off-Broadway hit musical and Tony Award-winning 1999 Broadway revival) that have been enjoyed by generations of fans. At the Playhouse, they come to life once more in
You're a Good Man, Charlie Brown
, a rendering of the 1967 script that features a new musical arrangement with actors playing their own instruments onstage.
This witty and whimsical reimagining was conceived by actor-musicians Nick Cearley, who starred as Seymour in the Playhouse's 2017 production of
Little Shop of Horrors
, and Lauren Molina, a New York-based theatre artist and singer-songwriter. Together they perform as The Skivvies — an "undie"-rock duo that covers popular songs and plays originals with classical instruments. Cearley says he was inspired to create an actor-musician production after seeing Molina portray Johanna in John Doyle's 2005 Broadway revival of
Sweeney Todd: The Demon Barber of Fleet Street
in which the actors played instruments onstage.
"We are always looking for the perfect project to do together that would marry our strengths as actor-musicians," says Cearley. "We immediately started brainstorming other ideas that would cater to our strengths while providing new insight on a classic."
"I remember having discussions with Nick about how cool it would be to do Charlie Brown where the actors would be the band," says Molina. "We always thought that quirky kid instruments like toy pianos, glockenspiels and ukuleles would lend itself to the music of the piece, too."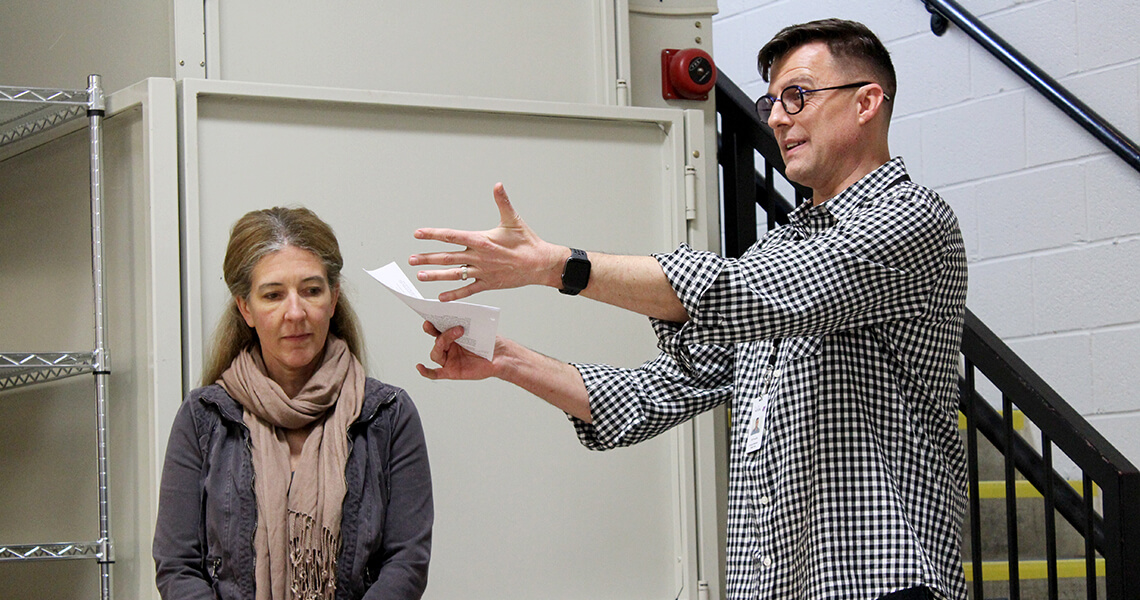 Director Bill Fennelly talks about You're a Good Man, Charlie Brown at the meet and greet as Costume Designer Kathleen Geldard looks on.
Cearley presented their idea to
Little Shop of Horrors
director Bill Fennelly, who was quickly intrigued. Both artists were eager to work together again on a new project, and they specifically wanted the Playhouse to produce it.
"I shared with Nick and Lauren my great love for the wit and philosophy of Charles Schulz," says Fennelly, "and I told them that I would be interested in creating a production that would embody the dual nature of the original creations — not adults 'playing at' being children but a world where the simultaneous dual nature of adult and child could be playfully explored in an imaginative new production for a contemporary, multigenerational audience."
The theatre artists held a workshop in the fall of 2017 to devise a musical arrangement with offbeat instruments like kazoos, slide whistles and washboards, along with the traditional guitar, piano and accordion. They presented their performance to Artistic Director Blake Robison, who was inspired to "green light" their vision for the Marx stage this season under Fennelly's direction. Cearley will play Linus and Molina will play Lucy.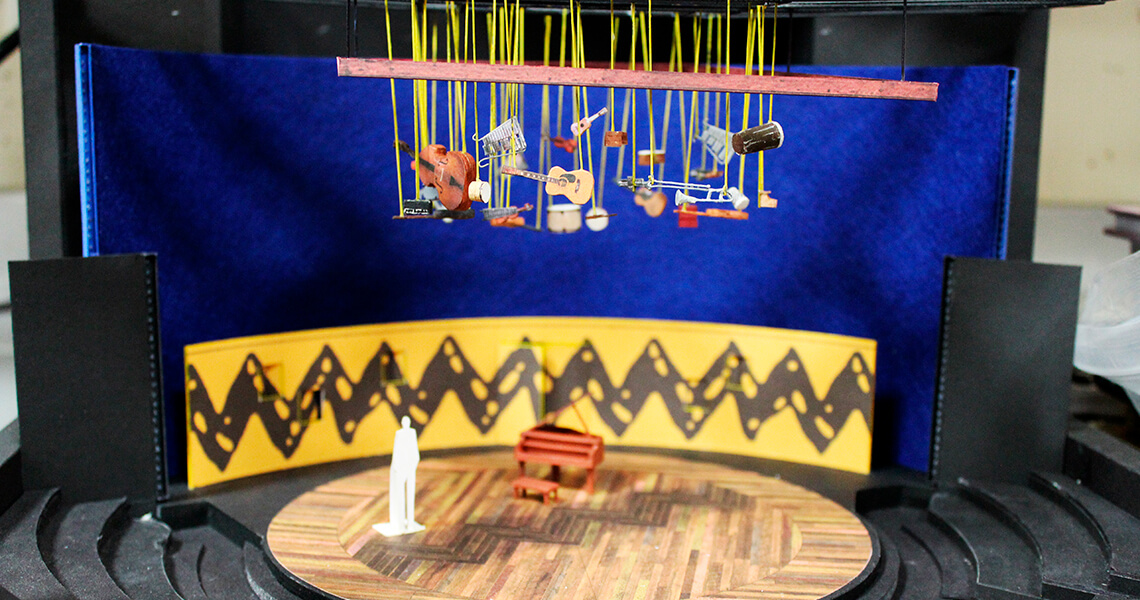 Set model of You're a Good Man, Charlie Brown by Set Designer Michael Schweikardt.
"I feel doubly blessed that the theatre I grew up seeing productions at, especially during my formative years, was as excited about the ideas as we were," says Cearley, who is originally from Fairfield, Ohio, and is now based in New York City. "The Playhouse has such a wonderful track record with actor-musician pieces that it organically felt like the perfect marriage of artistic love."
Past Playhouse productions that featured new, actor-musician arrangements include
Merrily We Roll Along
(2012) and
Company
(2006), which earned the theatre a Tony Award for Best Revival of a Musical. Both productions were directed by John Doyle.
"I hope audiences will laugh, be inspired, be filled with joy and warmth, and get excited about the creative way we are going to be sharing this story," says Molina.
With heartwarming nostalgia and charming innovation,
You're a Good Man, Charlie Brown
promises the opportunity to revisit Schulz's animated world of book reports, glee club rehearsals and, above all, happiness in a whole new way.
---
To learn more about the Playhouse's production of
You're a Good Man, Charlie Brown
, visit our
production detail page
.