Happily Ever After Told Anew
The Playhouse will tour its final outreach show of the 2018-19 season with a charming adaptation of
Rapunzel
. The script, written by award-winning playwright Mike Kenny, stays faithful to its fairy tale setting while offering a nuanced perspective of independence, friendship and family relationships. The production will feature magical design elements from Playhouse artisans and is directed by Playhouse Director of Education and Community Engagement Daunielle Rasmussen.
Rapunzel
has seen many renditions since its first known telling in the 17th century. Its origins trace to Italy and France with such titles as
Petrosinella
and
The Godchild of the Fairy in the Tower
, respectively. Perhaps the most well-known version is by the Brothers Grimm, who published their adaptation in their 1812 fairy tale collection titled Children's and Household Tales.
The Brothers' adaptation finds Rapunzel locked in a tower all her life, having been taken captive as a baby by a sorceress. She has no contact with others except for the sorceress, who climbs Rapunzel's growing hair each day to deliver food and necessities. Everything changes, however, when a prince stumbles upon the tower to rescue Rapunzel and take her to his kingdom.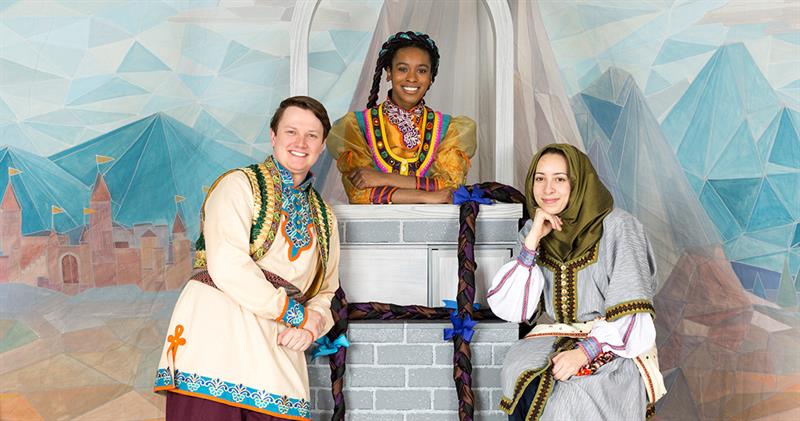 Robert Carlton Stimmel (Rafi), Psacoya Guinn (Rapunzel) and Hannah Jones (Nan) in the Off the Hill production of Rapunzel; photo by Mikki Schaffner.
In the Playhouse's production of
Rapunzel
, Kenny maintains the magic of the fairy tale while re-envisioning the characters. The sorceress (or witch, in other adaptations) is an overly protective grandmother named Nana, who raises Rapunzel after her mother abandons her. The townsfolk believe Nana to be a witch and they taunt her relentlessly. Fearing that Rapunzel will endure the same kind of scorn, Nana builds a tower around her to keep her safe from the cruelty of others. As Rapunzel comes of age, though, she becomes more eager to explore the outside world. One day, she meets a local boy named Rafi, and his friendship inspires her to gain her own independence.
"One of the things I love about this version is that it's not about a boy saving a girl," says Rasmussen, who emphasizes that the show celebrates both male and female empowerment. "Their friendship brings meaning to the girl. She finds her own life and she finds her own destiny that's different from his."
The story also explores how the relationship between Rapunzel and Nana changes as Rapunzel matures. Nan must learn that she cannot keep her granddaughter safe from the world no matter how scary it is. It is a theme that Rasmussen hopes will resonate with parents today.
"It's really a story about growing up. It's about becoming your own person as a child, and as a parent, it's about letting your child become their own person while still providing a sanctuary where they can become who they're meant to be," says Rasmussen.
Hannah Jones (Nan) and Psacoya Guinn (Rapunzel) in the Off the Hill production of Rapunzel; photo by Mikki Schaffner.
As Rapunzel ages throughout the story, production elements of set and costume design reflect that. The tower starts out small when Rapunzel is a baby, and Nana builds it higher and higher the more she grows. To represent that, set designer and Playhouse Charge Scenic Artist Kenton Brett used concepts of Russian Matryoshka dolls and Tetris as influences.
"The set is essentially a system of nesting and weight-bearing boxes that can be rearranged," says Brett. "For a show that goes on the road and needs to be moved from venue to venue, this means better protection for props and set pieces. Plus, it adds an element of discovery as new things are constantly pulled from inside of other things."
Brett worked closely with costume designer David Arevalo to design the most iconic production element: Rapunzel's hair. "The most important thing was blending away the imaginary line between costume and set design," says Arevalo. "Her hair is both the costume and the set and has to perform multiple functions."
Together, Brett and Arevalo conceived of a way to integrate up to 80 feet of colorful fabric for the actress to wear and change throughout the play. Arevalo designed fabric hair crowns to break away from the European imagery that's often associated with the story and used traditional, Mexican ballet
folklorico
headdresses as his inspiration.
Renderings by Costume Designer David Arevalo.
"I grew up watching these performers, and when I read the script, I immediately thought of their massive crowns and their
trensas
(braids), full of ribbon and flowers," says Arevalo.
Rasmussen hopes that such artistry of the set and costume design will not only reflect the magic of the fairy tale but will give audiences of all ages the opportunity to explore the production's creativity.
"I really love this production because it's for both parents and kids. The kids are going to enjoy Rapunzel and all of her fun antic and the parents are going to hear something for themselves, too," says Rasmussen. "It's always a delight for me when a show like this can become a springboard for conversations between kids and their parents about their experiences, their hopes and their dreams."
To learn more about the Playhouse's Off the Hill production of
Rapunzel
, visit our
production detail page
.