A CHRISTMAS CAROL: Fast Facts
Called "the second greatest Christmas story ever told," Charles Dickens' A Christmas Carol has endured generations of faithful audiences since its publication in 1843. History and literary lore tell of the author's speedy writing and self-financed publication of the novel — he wrote the story in six weeks, printed 6,000 copies that sold out in five days, and only turned a meager profit because he had foot the bill for printing.

Nevertheless, Dickens' story about a sinner who's given one last chance at redemption has proven to be a timeless work of art that's fostered much scholarly research. Take a look at a few facts that reflect the historical and personal context of A Christmas Carol.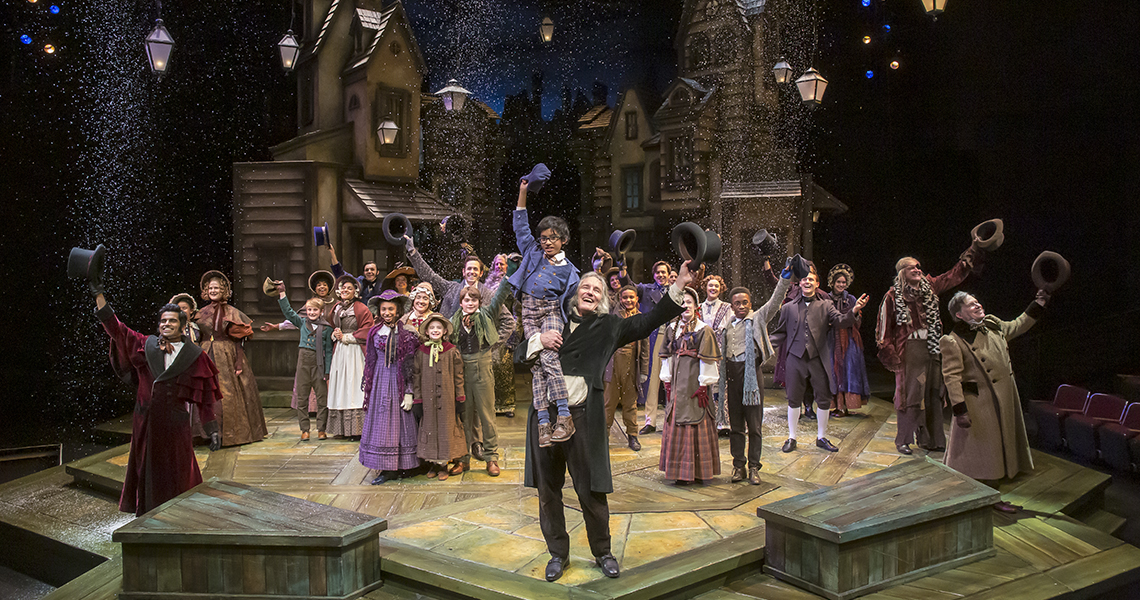 The cast of A Christmas Carol. Photo by Mikki Schaffner.

• A Christmas Carol was preceded by a folk tale that Dickens had written for his first novel, The Pickwick Papers. "The Story of the Goblins Who Stole a Sexton" is told by one of the novel's characters and tells the story of a curmudgeonly grave-digger named Gabriel Grub who does not enjoy the Christmas holiday. On Christmas Eve, goblins kidnap Gabriel and, by showing him images of the past and the future, try to convince him that he must change his ways.
• The cranky, miserly Ebenezer Scrooge is thought to have been inspired by two historical figures: Thomas Malthus and John Elwes. Malthus was an economist who wrote that population growth would diminish the opportunities of the population. He associated his views with Charles Darwin's theory of natural selection and advocated against assisting the poor in the hope that it would "decrease the surplus population." Dickens includes Malthus's philosophy in one of Scrooge's infamous passages: "And the Union workhouses? Are they still in operation? … If they would rather die, they had better do it, and decrease the surplus population."
Elwes was a politician who was extremely frugal despite having incredible wealth. He inherited £100,000 (about $13 million today) from his father's death in 1718, and then inherited £250,000 (about $32 million) in 1763 from his uncle's death. He reportedly dressed very poorly, rarely sought medical care and let his mansions crumble for lack of upkeep. He would even go to bed very early to avoid buying candles for night time and eat molding food to avoid buying fresh food. He died in 1789 and left an estate of £500,000 (about $67 million) to his sons.
• Dickens' childhood was much like the Cratchit family. He was the second of eight children, and his parents had only a modest income. Though the Dickens' circumstances weren't as dire as the Cratchits', they were always financially poor. Dickens' father even served time in Marshalsea Prison, a debtors' prison, for owing £40 to a local baker. He was confined for three months before settling his debts.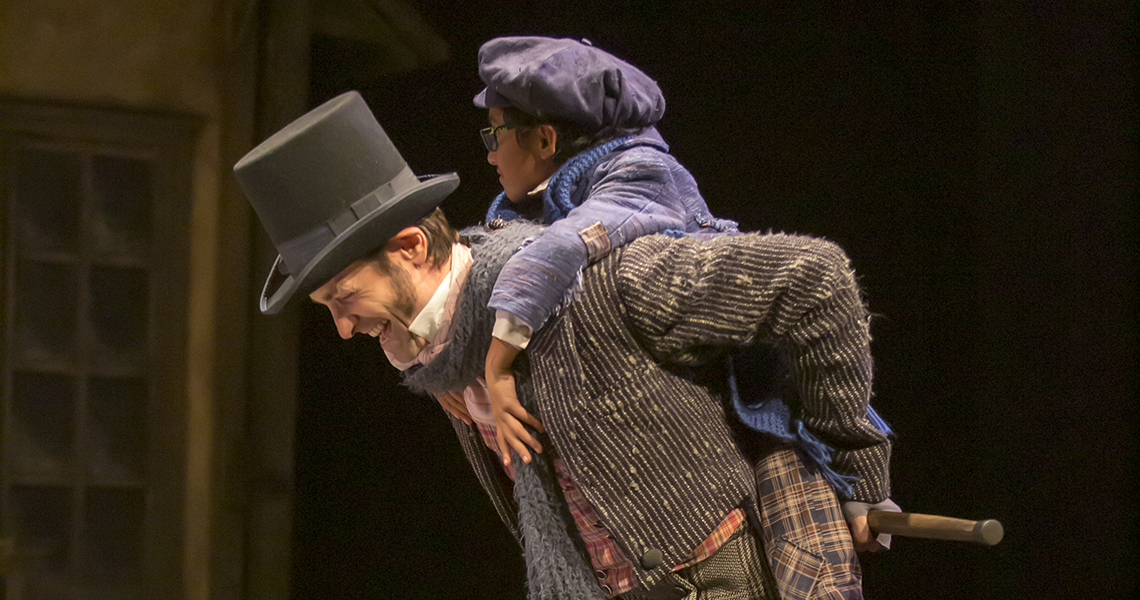 Bob Cratchit (Ryan Wesley Gilreath) and Tiny Tim (Roshan Chitnis) in A Christmas Carol. Photo by Mikki Schaffner

• Dickens never specifically names the disease from which Tiny Tim suffers. He instead offers only a handful of symptoms. Tiny Tim is quite small for his age and has muscle weakness that requires him to use a crutch. When the Ghost of Christmas Present shows Scrooge an empty seat the Cratchit dining table, he tells him that Tiny Tim is not expected to live long.
It is thought that Dickens's nephew — who, like Tim, suffered from health problems and died prematurely at age 9 — inspired the spirit of the character. Researchers agree that Tiny Tim suffers from one of the common medical conditions that plagued the poor of the time. Conditions include tuberculosis, Pott's disease, rickets and renal tuberculosis acidosis. These conditions were treatable so long as the patient's family could afford it and were only fatal if left alone.
• Dickens wrote heavily about the conflict between financial need and familial relationships in Victorian-era England, occasionally writing to instigate social change. He had originally wanted to write a pamphlet called, "An Appeal to the People of England on behalf of the Poor Man's Child," as a means of addressing the issues of the poor and of child labor. Instead, he decided to use the lens of a fictional story — A Christmas Carol — to comment on the crisis.
• Despite facing consistent financial hardship, Dickens' family never shied away from a grand Christmas celebration. They invited extended family over for holiday gatherings, decorated the house with evergreen, played parlor games with the children and gifted one another presents. Though these traditions weren't unusual, they were relatively uncommon for the time period, especially for members of the lower class. Industrialization meant longer work hours and fewer holiday time for every member of the entire family. It is thought that Dickens' hearty descriptions of family festivities helped to restore readers' faith in the spirit of the holiday.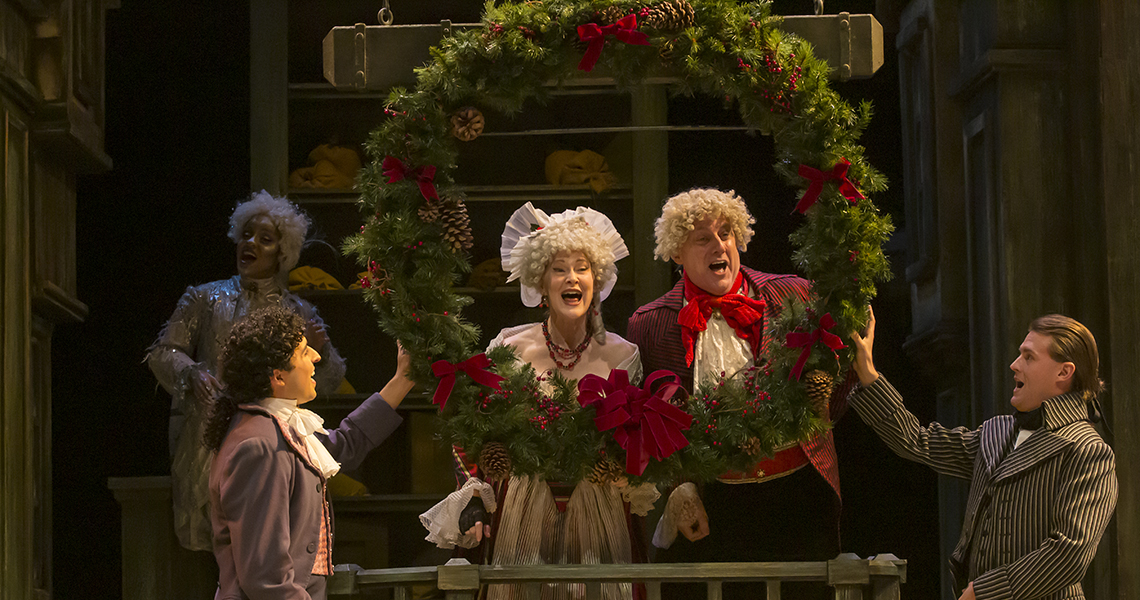 Mrs. Fezziwig (Annie Fitzpatrick) and Mr. Fezziwig (Douglas Rees) with Dick Wilkins (Nicolás Acosta), Young Scrooge (Charlie Cromer) and Ghost of Christmas Past (Britney Nicole Simpson) in A Christmas Carol. Photo by Mikki Schaffner.

• A Christmas Carol was not the only yuletide story Dickens wrote. He authored the following holiday-themed tales: The Chimes (1844), The Cricket on the Hearth (1845), The Battle of Life (1846) and The Haunted Man (1848). Each of them has their own unique characters and story lines, but themes of family, the redemptive power of second chances, and the influence of spiritual forces are prominently featured. None rose to the level of popularity of A Christmas Carol, but they individually received generally positive reviews from fans and critics.
• While most popular authors these days give public readings of their work, Dickens is thought to have been the first famous writer to do so. His first event of this kind was a reading of A Christmas Carol in a town hall in Birmingham, England, in 1853. Nearly 2,000 people attended. Dickens also loved to perform scenes for the audience, rather than read directly from the text.
At a public reading in Chicago in 1867, one of the audience members was a wealthy scale manufacturer named Mr. Fairbanks. Inspired by the story and its themes of charity and holiday spirit, Fairbanks decided to close the factory on Christmas Day in observation of the holiday. He also went a step further and gifted each of his employees a turkey to enjoy with their families.
• Very soon after A Christmas Carol was published, theatres began producing stage adaptations. The first productions of the tale premiered two months after the story's publication in February at the Adelphi, Strand and Royal Surrey Theatres. By the end of year 1844, a dozen theatrical adaptations had been produced in London alone. Productions soon emerged in New York City, where crowded theatres with packed audiences enjoyed the story.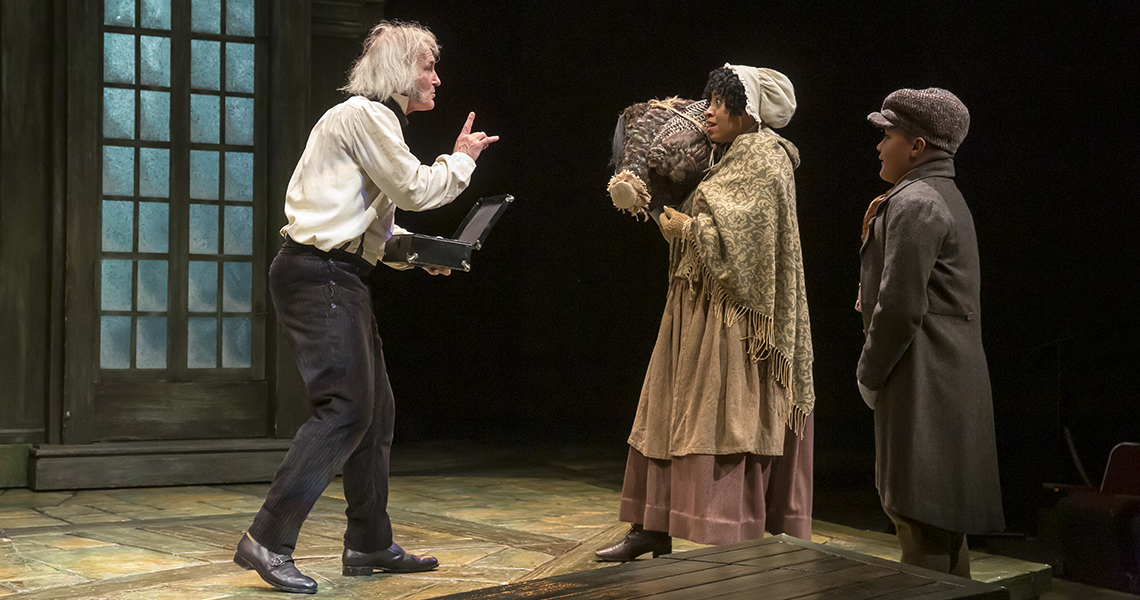 Ebenezer Scrooge (Bruce Cromer) with Poulteress (Deja Elliott) and George (Sabian Swan) in A Christmas Carol. Photo by Mikki Schaffner.


• At the time of A Christmas Carol's publication, many people were somewhat confused by Scrooge gifting the Cratchits a turkey at the end. A goose was the traditional English holiday meal. Goose was the affordable meal option for middle- and lower-class families, as turkeys had been typically only been served by high society. Many scholars believe Dickens' choice of having Scrooge opt for turkey shows how eager he is to treat the Cratchit family to grand holiday feast.
• Charity plays a significant role in A Christmas Carol, as Scrooge comes to realize the importance of looking out for his fellow man by the story's end. Dickens was a lifelong philanthropist and dedicated much of his literary work (as well as journalistic appeals to society at large) to drawing attention to what he felt was a duty to give back to those who have little. As a result of his influence and the publication of A Christmas Carol in 1843, British newspapers reported a considerable spike in charitable donations in 1844. Members of the wealthy class (particularly the industrial revolution's "nouveau riche" class) dramatically increased their charitable giving efforts after being inspired by the holiday tale.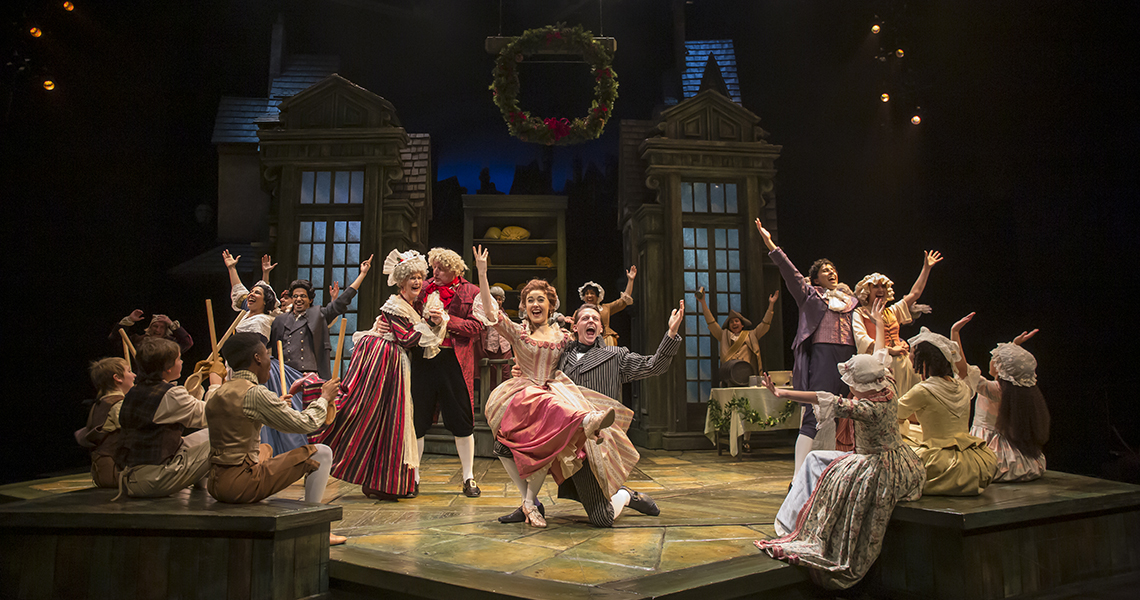 The cast of A Christmas Carol. Photo by Mikki Schaffner.

To learn more about the Playhouse's production of A Christmas Carol, presented by First Financial Bank, visit our production detail page.