Creating Christopher: A Q&A with Nick LaMedica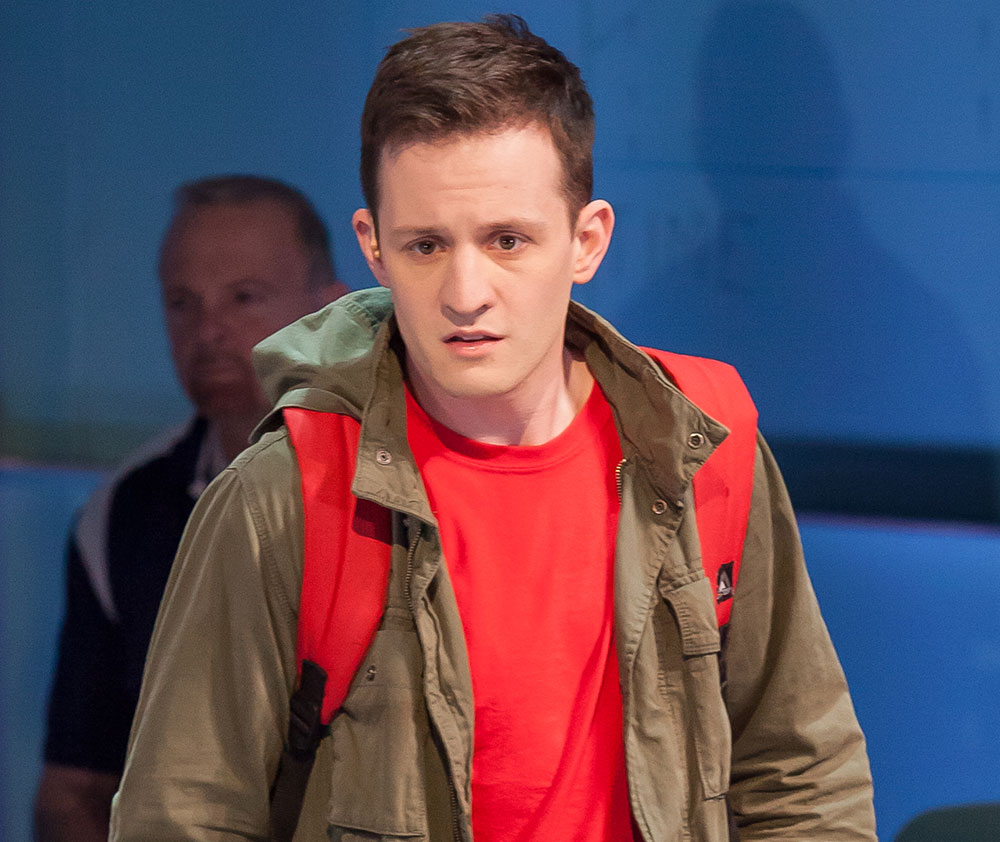 Nick LaMedica recently took time from production to describe the experience of creating his character, Christopher Boone, in
The Curious Incident of the Dog in the Night-Time
.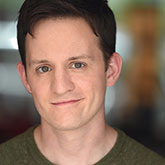 Nick's recent favorite credits include
Hand to God
(City Theatre Company),
How I Learned to Drive
(Cleveland Play House/Syracuse Stage),
War Horse
(first national tour and Tokyo),
As You Like It
and the world premiere of Benediction (Denver Center) and
Much Ado About Nothing
(Two River Theatre). He has appeared on television in
Mysteries at the Museum
and in various commercials for Hasbro, Krispy Kreme, Microsoft and Planned Parenthood. Nick is a proud member of Actors' Equity Association. Visit
NickLaMedica.com
.
How did you first encounter Christopher? Was it through the script, the book, or did you see a performance of the Broadway production? What were your initial thoughts?
My first encounter with Christopher was the Broadway production of the play — which really blew me out of the water. I had recently returned home to New York City from another show and had been hearing buzz about the West End production. It had been recommended to me by some of my colleagues and I got a seat to one of the preview performances. The level of detail, the unique perspective that Christopher shares and the singular demands of the role were all very exciting. It immediately shot to the top of my "Roles I'm Dying to Work On" list. I remember after the show thinking, "I can do this. It would be the hardest thing I've ever done and I'm going to work harder than I've ever worked, but I can do this." It is an honor to try and live up to this art every night!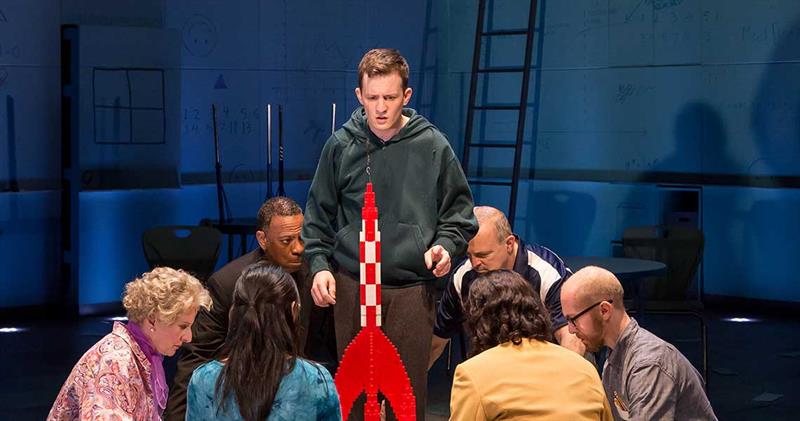 Nick LaMedica and the cast of The Curious Incident of the Dog in the Night-Time. Photo by Mikki Schaffner.

In your own words, how would you describe Christopher, and what do you hope audiences will see in him?
Christopher is, first and foremost, an incredibly intelligent young man. He is calculating, brilliant, focused and has very little tolerance for irrationality. In many ways, the way he looks at the world is very refreshing, in that he doesn't waste time with things like small talk and isn't coy about sharing his feelings. There is a tremendous amount of drive within Christopher, and great bravery; he sets goals for himself and pushes beyond the limits that other people have placed on him in order to achieve them. I hope that our audiences see that within him and find it as inspiring as I do.
This production employs movement and choreography under the direction of Marcia Milgrom Dodge. Tell us about the rehearsal process with the ensemble.
In many ways, the play is constructed like a film, with frequent and rapid changes from place to place, jumping forward and back in time as well as physical reality and fantasy. This creates a huge challenge for the theatre. In order to portray and illustrate the chaos, the confusion and the beauty of Christopher's view of the world, Marcia (along with our associate choreographer Michael Baxter) devised some very interesting movement to tell this story. Most people see "choreography" and immediately think of traditional musical theatre dance or ballet, but this is very different. Much of the choreography is grounded in pedestrian movement, but we play with scale, tempo and shape to literally transform the space from one place to another and externalize Christopher's psychology. Sometimes it is elegant, other times nightmarish, surprising and even funny. The process was athletically demanding and the ensemble does an astounding amount of work to take us from the classroom, to home, to the beach, to the train station, to the streets of London and into outer space. It was really challenging work, but the product is pretty wonderful. The whole cast works together so beautifully to make it all come together. I'm very lucky to be part of such a great team of artists making this show happen every night.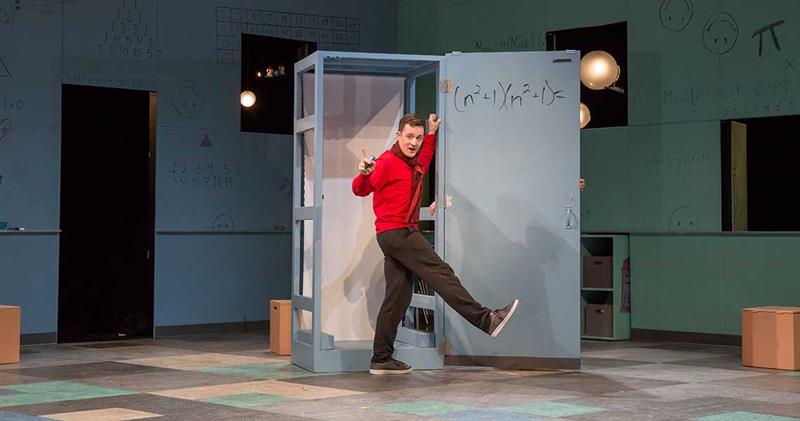 Nick LaMedica in The Curious Incident of the Dog in the Night-Time. Photo by Mikki Schaffner.

How does this role compare to others you've taken on in the past?
This is the biggest acting challenge of my life! I've played leading roles in the past, but this one is definitely the most demanding psychologically, verbally and physically. As soon as I was cast, I started working to get myself into physical shape, memorizing lists of prime numbers and doing research to get into the mind of this very unique character. I was very lucky to have the original book to draw from. Mark Haddon's novel is full to the brim with insights and ideas because it is told directly from Christopher's point of view. Whenever I found myself stuck, there was never a shortage of inspiration from which to draw. I joke around that I'm looking forward to some less traumatic roles in the future — but playing Christopher is a heck of a fun ride and I wouldn't trade it for the world.
Where did you receive your acting training, and are there any experiences from your background that you feel have been instrumental in helping you bring Christopher to life each night?
I have a BFA in Acting and a minor in Musical Theatre from Marymount Manhattan College, and I have continued to train in various classes, workshops and lessons since graduation. Honestly, I would say that there isn't a single experience that is not instrumental to bringing Christopher to life. This part requires that I draw from every aspect of my training and my experiences from working on other shows, and that is the way that I think every role and show should be treated.
In terms of understanding Christopher and crafting this performance, I gained a lot from my visit to
Great Circle
, an organization that provides counseling and specialized care to young people with a lot of similarities to Christopher. Interacting with some of their staff, observing students and having the opportunity to see some of the art the children there had created made a huge impact on me.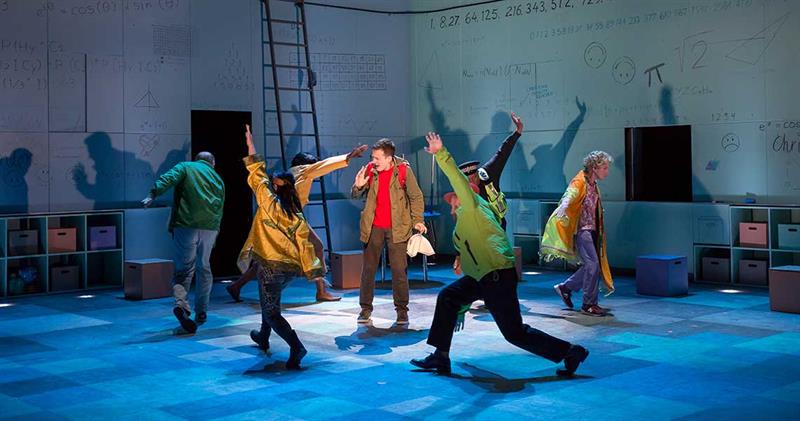 Nick LaMedica and the cast of The Curious Incident of the Dog in the Night-Time. Photo by Mikki Schaffner.
To learn more about the Playhouse's production of The Curious Incident of the Dog in the Night-Time, visit our production detail page.