Happily Ever After: Engagements at the Playhouse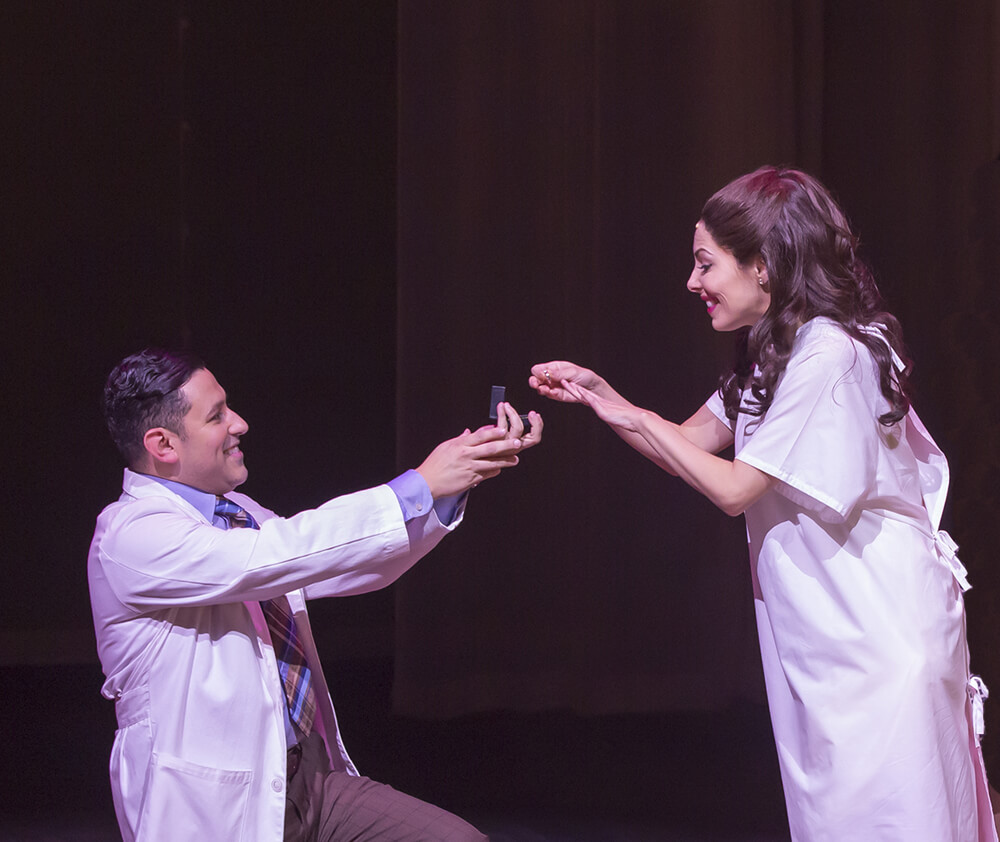 We love stories that end in happily ever after — but yours might be our favorite. For the couples below, the Playhouse holds a special place in their lives as the setting where they got engaged. See how they each started a new chapter of their love stories!
---
Michael and Valerie Perry
In the spring of 1992, Michael took Valerie on their first date to see Perfect for You, Doll, in the Rosenthal Shelterhouse Theatre. "We got there early and talked while sitting on one of the picnic benches on the grounds before going in," he recalls.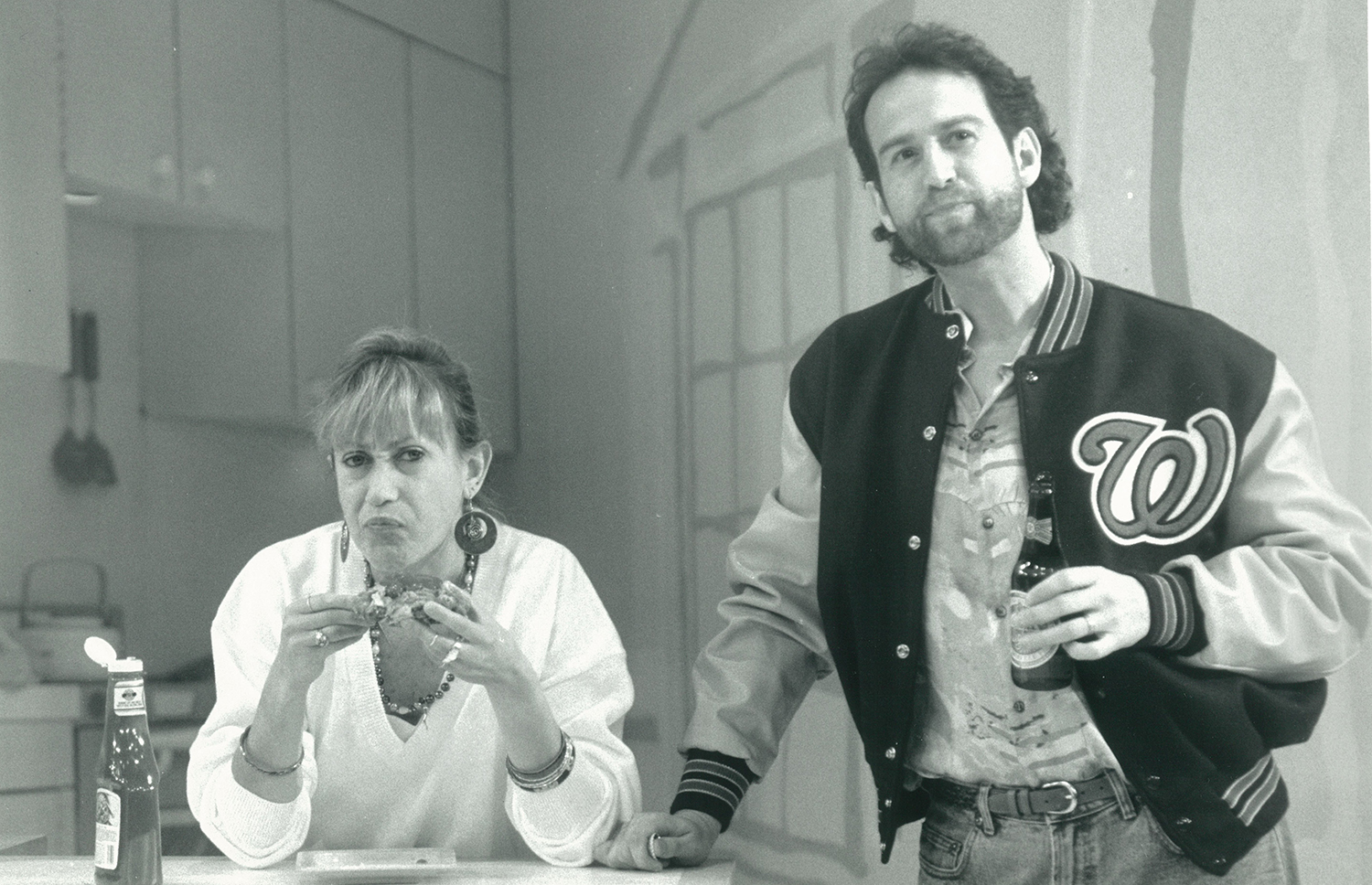 Actors Constance Shulman and Ted Neustadt in Perfect for You, Doll. Photo by Sandy Underwood.

In November 1995, after a few years of dating, they returned to the Playhouse — and to the same bench in the park. Michael got down on one knee and proposed, and the couple got married in August 1996! This summer, they will celebrate their 25th wedding anniversary. As Michael looks back, he says, "Perfect for me, indeed."
---
Melinda Butsch Kovacic and Al Kovacic
Melinda and Al had Playhouse subscriptions for much of the seven years they dated, and they enjoyed spending their date nights together in Mt. Adams. They loved going to restaurants like The Blind Lemon before attending their performance and having drinks there afterward. In 1996, Melinda moved up to Columbus to attend graduate school at Ohio State University while Al stayed behind in Cincinnati. They decided to forego their Playhouse subscription during that time, but the couple tried to catch performances at the theatre whenever Melinda came down to visit.
One year on Valentine's Day, the couple decided to celebrate in their favorite local neighborhood, Mt. Adams. Al asked Melinda if he would like to go up to the Playhouse to get a good view of the city. Up they trekked to the top of the Eden Park hill to catch the view. When they got there, Melinda turned around to find that Al had dropped to his knee to pop the question. "Finally!" Melinda thought, "I had waited five-and-a-half years for that question!" The couple married that following June. They have been together for 22 years and have raised four sons.
---
Xavi Moreno and Elia Saldana
Xavi and Elia, who are married, performed in our 2020 production of Destiny of Desire. The couple played one another's love interest in the show, making their swoon-worthy moments together even more heartwarming.
Actors Xavi Moreno and Elia Sladana in Destiny of Desire. Photos by Mikki Schaffner.

Throughout the play, the couple has a "love at first sight" meet-cute, they fall in love, and they eventually tie the knot in the last scene. Xavi says he loved that he got to get down on one knee, propose and marry his wife each night onstage. A dream role, indeed!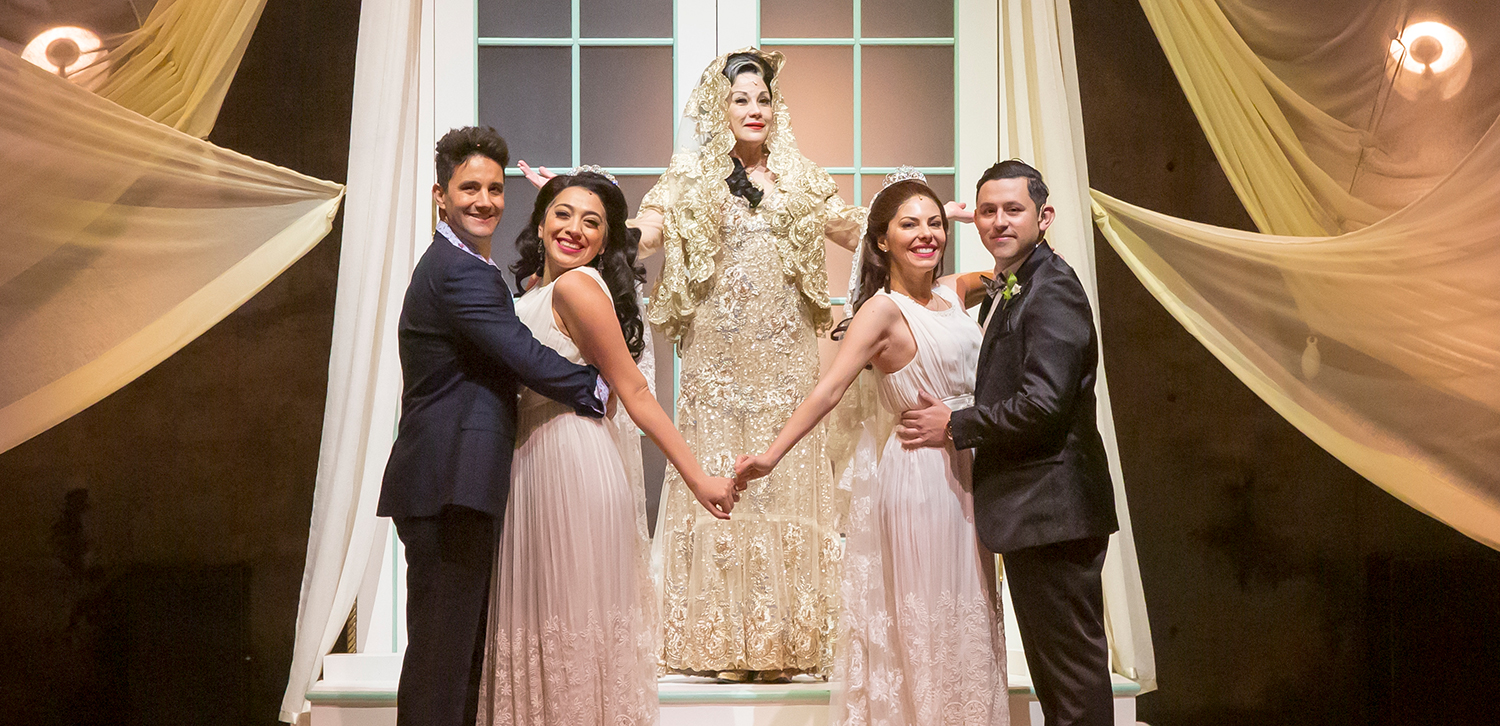 Left to Right: Eduardo Enrikez, Esperanza América, Dyana Ortelli, Xavi Moreno and Elia Sladana in Destiny of Desire. Photos by Mikki Schaffner.

---
Jennifer Beitz
Jennifer and her husband started their love story as college students in the 1980s. As a young couple, they used the Playhouse's student discount to see shows. They attended a performance at the Playhouse on March 16, 1984, that would prove more special than the rest. Jennifer recalls waiting outside before the show started, appreciating how beautiful the stars were, when he asked her to marry him! Now, whenever they come back to the Playhouse, they're reminded of the heartwarming memory of their engagement.
---
Kyle Rynard
Although Kyle and his fiancé are from Indianapolis, Cincinnati plays a unique role in the couple's life. They're huge fans of both the Reds and the Playhouse! Kyle says the theatre is one of their favorite date spots, and they attend shows a few times throughout the year. Last year, he proposed on the Reds opening day (she said yes!), and afterward they attended a performance.
---
Casey and Susie Smith
Casey grew up in Cincinnati, and he loved seeing shows at the Playhouse and experiencing this city's "spectacular arts scene," he says. In 2002, he took his friend Susie out for an evening. They went to dinner in Mt. Adams and attended a play together afterward. The night turned out to be a memorable one — not only did they both enjoy the quality of the production and the actors' performances, but they held hands for the first time during the second act.
When the couple returned to the Playhouse to see Native Gardens, Casey asked her to hold his hand again but this time for forever — and she said yes! "I'm still so appreciative of the inspiration the Playhouse has given over the decades," he says.
Photo #1: Susie and Casey in front of the set of Native Gardens. Photo #2: Actors John Lescault, Karen Ziemba, Sabina Zuniga Varela and Gabriel Ruiz in the world premiere of Native Gardens in 2016. Cast photo by Mikki Schaffner.

---
Rabbi Sandford Kopnick and Dr. Nancy Magnus Kopnick
The night that Nancy and Sandford got engaged was a rather thrilling one! The evening began with the Playhouse's first production of the pirate adventure Treasure Island in 1989.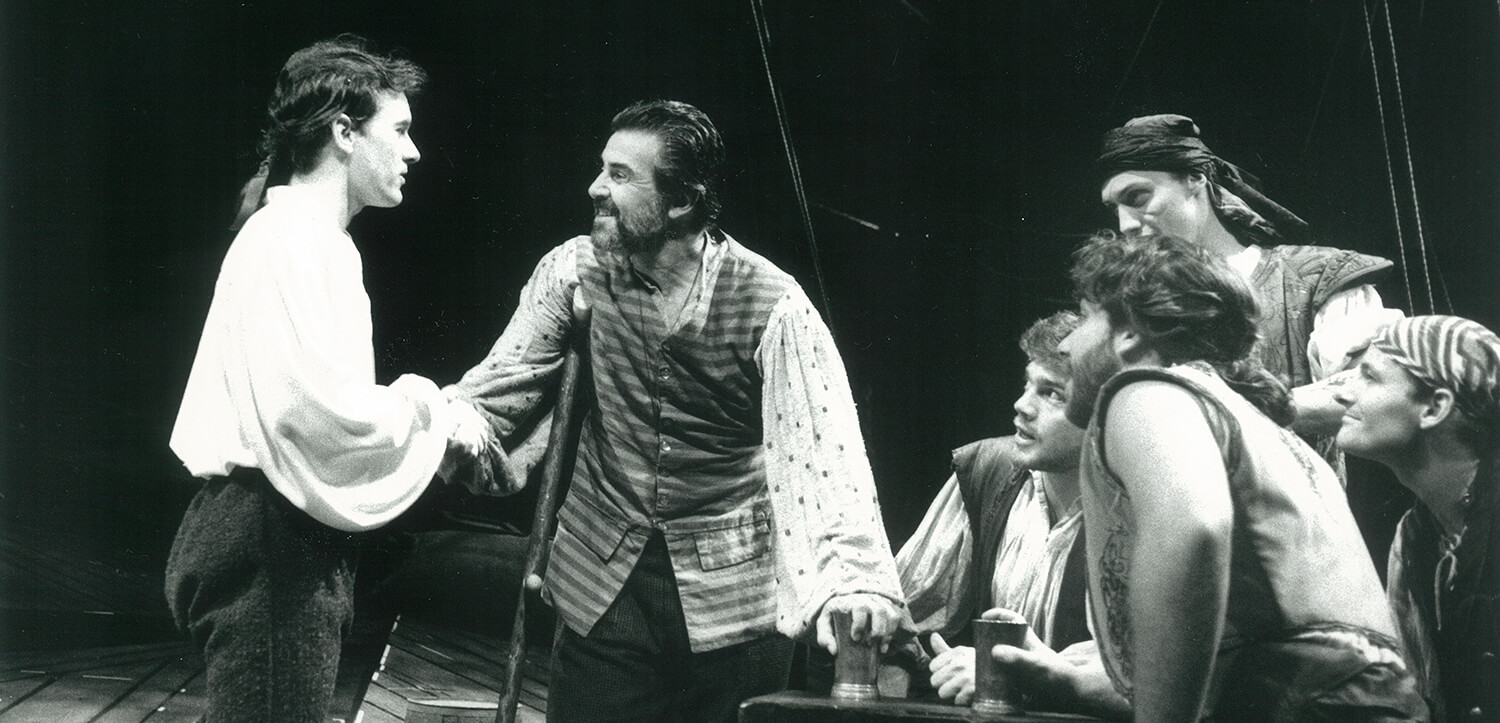 The cast of Treasure Island in 1989. Photo by Sandy Underwood.

When the performance ended, Nancy and Sandford walked out of the theatre, and a limousine was waiting for them in the parking lot. Nancy was taken by complete surprise, and Sandford proposed to her right there. Says Nancy, "Theatre and the Playhouse have been a part of our love story ever since."

---
Regina and Joe Wilmes
Regina started volunteering as an usher at the Playhouse with her friend Linda in the early 1990s. At the time, the house manager (whose job is to lead and assist the ushers) was John Salyers. Regina recalls enjoying his amusing pre-show speeches. When John left his position, Joe Wilmes became the new house manager. His "by the book" vibe and approach were noticeably different than John's engaging demeanor, and it didn't take long for Regina and Linda to prefer their former house manager over the latter.
The Playhouse's front entrance in 1994.

A few years went by, and Regina and Linda continued to usher at the theatre while Joe grew more comfortable and relaxed in his role as house manager. Regina even found that he was a funny and friendly guy who always held onto her work pager so that she could quietly usher and attend the show inside the theatre. "I'm sure he thought of me as an annoyance," she recalls. After a while, Linda noticed that the two of them had established a noticeable rapport. She encouraged Regina to ask Joe out on a date, much to Regina's chagrin. She explains, "At that point, I was in my thirties, had decided that I would probably be single forever, and had already begun the process of adopting a baby. I wanted to be a mother even if I never married."
Even though she was interested in Joe, she didn't pursue him at the time — that is, until 1994. At a Playhouse usher event, Regina seized upon a moment and asked him if he would be interested in getting coffee together. "I don't drink coffee," Joe replied, "but would you like to get a bite to eat?" The pair enjoyed dinner and conversation at Mt. Adams Bar and Grille. Then Joe took her back to the Playhouse for a backstage tour of the set that was being built for Alchemy of Desire/Dead Man's Blues.
After a few months of dating, Regina gathered up the courage to tell Joe that she was in the process of adopting a baby. She says, "Instead of running away, he said, 'I think that's great.'" Nine months after the couple had their first date, Regina brought home her three-month-old son, Gabe, and Joe immediately bonded with him. Fast-forward a year and Regina received a call that Gabe had a newborn sister, Hallie, who she could adopt. Regina and Joe brought Hallie home seven months later. Says Regina, "In the space of two years, we went from being two single people to an unofficial family of four." In 1998, she accepted a job in Philadelphia, and Joe committed to moving with her and their family. He proposed to Regina at the annual summer picnic for theatre ushers, and they got to celebrate the happy occasion with everyone there.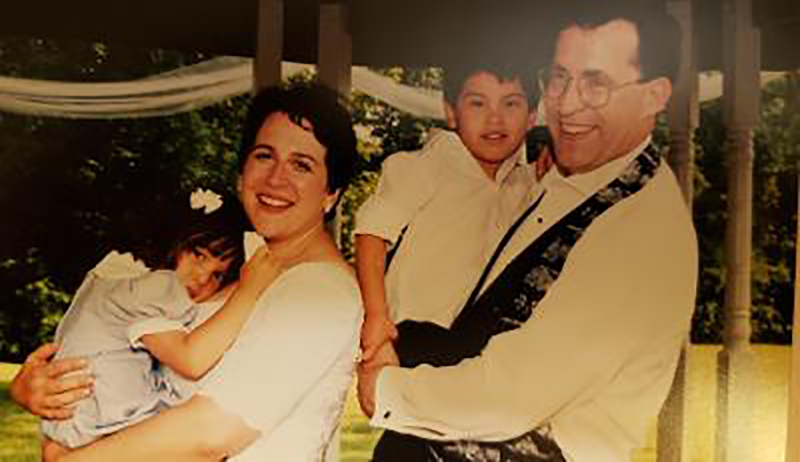 The couple had their wedding in Cincinnati the following year, and Joe formally adopted Gabe and Hallie. They still live in Philadelphia, but because Joe has a large family who live in Cincinnati, they have returned to the city frequently over the past 22 years. They enjoy taking their nieces and nephews to see A Christmas Carol each holiday season.
"As you can see," says Regina, "our love story started right there in the building, it developed in front of the staff and volunteers, we got engaged during a Playhouse event, and we have continued to attend the Playhouse during the past 22 years even though we live 600 miles away." She adds, "We send our regards to [Managing Director] Buzz Ward and [Assistant Marx Theatre Wardrobe Mistress] Karla Knochelmann, who have known us since the beginning of our relationship."
---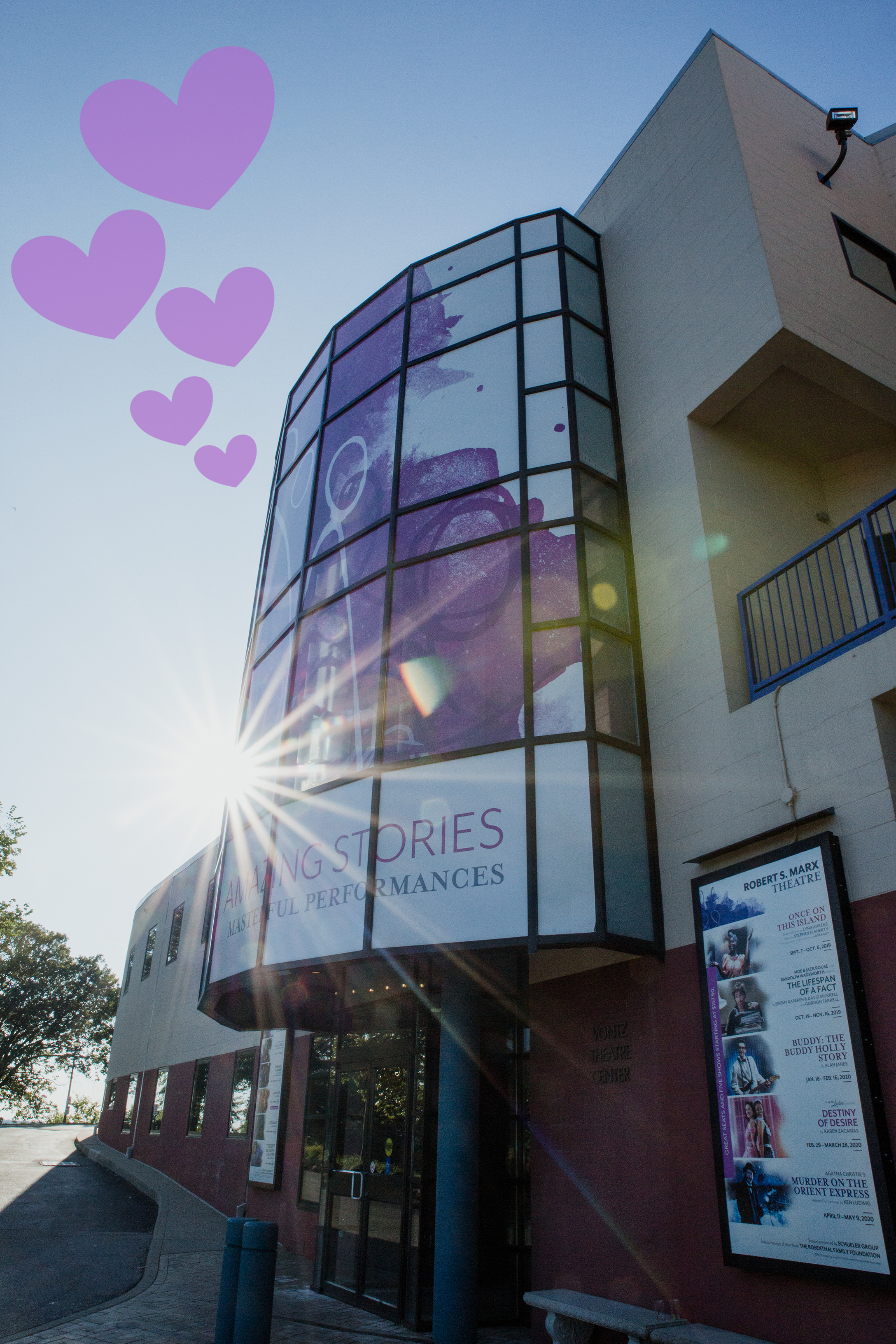 Share Your Love Story

We're looking for love stories that have scenes at the Playhouse, and we'd love to include yours! Did you meet your spouse or significant other here? Was it where you had your first date? Did you get engaged after a show? Has Playhouse marked a special occasion for you both? Is it where you've had date nights for years? Submit your story here for a chance to be featured in future iterations of our Love Stories project.
Photo of the Playhouse building by Cherry Red Shoe Photography.