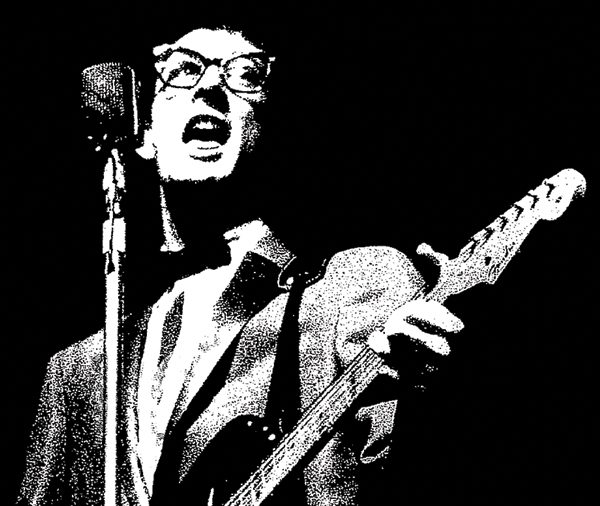 Before Buddy Holly became the bespectacled rock legend of the 1950s, he was Charles Hardin Holley — a skinny kid from Texas who could play a lot of instruments. (His friends and family called him Buddy as a child, and the e in Holley was later dropped in a typing error on one of his first professional contracts.) When he was in high school, he wrote in a personal essay, "My life has been what you might call an uneventful one, and it seems there is not much of interest to tell … I have thought about making a career out of western music if I am good enough, but I will just have to wait and see how that turns out."
The rock and roll pioneer may have had an "uneventful" upbringing, but his career in music would be anything but that. Here's a timeline of his life.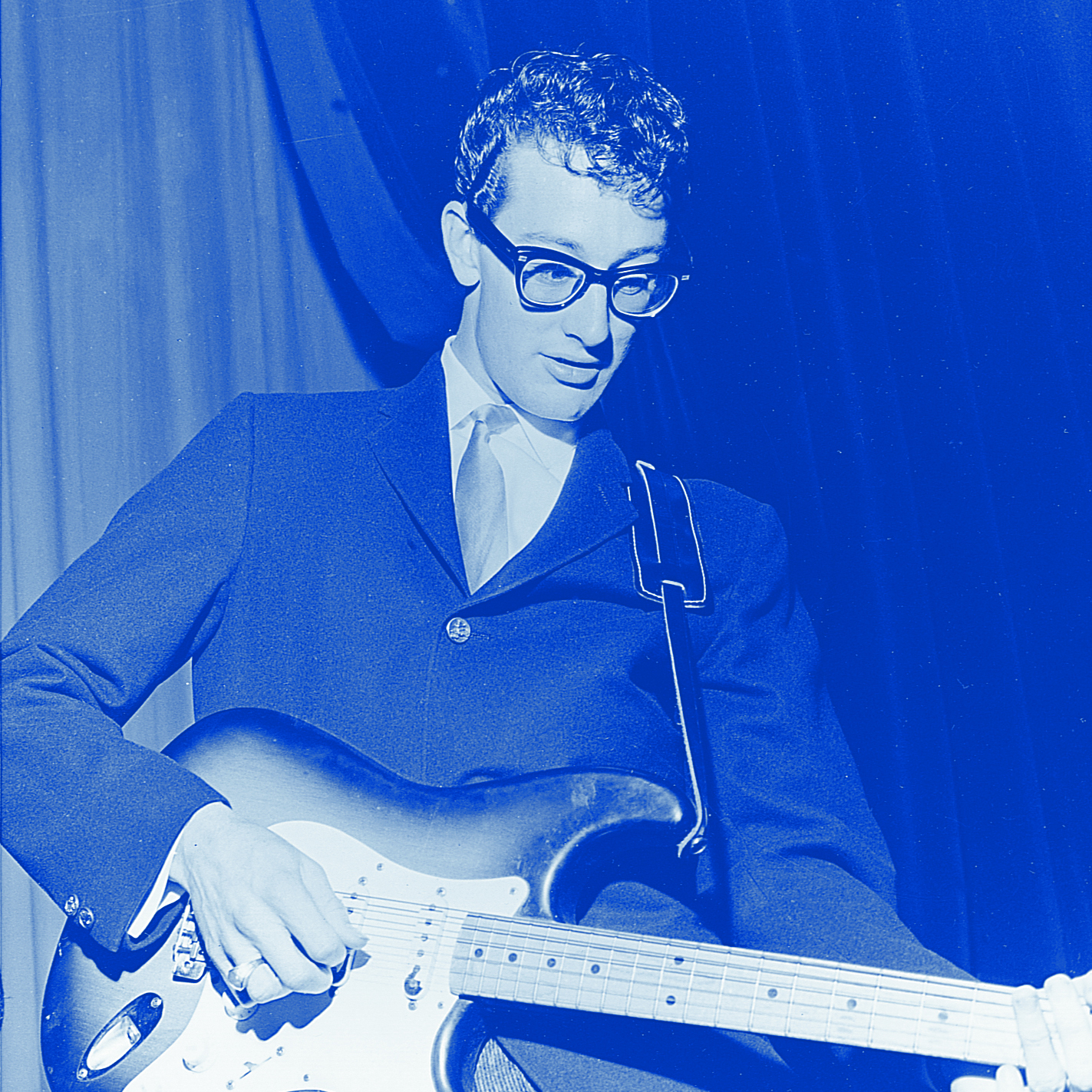 Charles Hardin Holley — better known as Buddy Holly — is born in Lubbock, Texas, on Sept. 7, 1936. His parents are Ella Pauline Drake Holley and Lawrence Odell. He is the youngest of four children. The Holley family were devout Baptists, and Buddy was immersed in the sounds of gospel music throughout his childhood. The family was also well-versed in music, and Buddy's parents strongly supported his musical talents. He learned to play the violin, piano, fiddle and guitar as a child, and he wrote his own songs.

Buddy becomes friends with fellow student Bob Montgomery. The two share a love of music and form the musical duo Buddy and Bob. They sing bluegrass-inspired harmony duets around town.

Buddy performs western bop music throughout the region with Montgomery and Larry Welborn. They become the area's go-to opening act for touring shows. They also perform on Lubbock radio station KDAV's live broadcast called "The Sunday Party."

Elvis Presley performs in Texas, and Buddy is his opening act. Buddy also opens for Bill Haley & His Comets in a show organized by Eddie Crandall, a manager and talent scout from Nashville. Crandall invites Buddy to cut demos for Decca.

Buddy signs with Decca Records and seems to earn his "big break." He records "Blue Days, Black Nights," "Midnight Shift" and the original version of "That'll Be the Day." However, the records sell poorly and don't impress the Decca executives. He returns to Lubbock and forms Buddy Holly and the Crickets alongside Jerry Allison, Niki Sullivan and Joe B. Mauldin.

Buddy Holly and the Crickets meet independent record producer Norman Petty and begin cutting records in Clovis, New Mexico. Petty embraces experimental rock and roll techniques, which allows the band the creative freedom to create their signature sound. They cut multiple records including a re-cut version of "That'll Be the Day," which becomes a mega hit. The band takes the music industry by storm, and Buddy becomes a popular teenage idol. "That'll Be the Day" reaches the number-one spot as the best-selling record in stores. Buddy Holly and the Crickets perform at the Royal Theatre in Baltimore, at the Apollo Theater in New York City, on The Ed Sullivan Show and on American Bandstand. Legendary radio DJ Alan Freed hosts The Alan Freed Holiday Show at the Paramount Theater in New York City, and Buddy Holly and the Crickets perform alongside Little Richard, The Five Keys, The Diamonds and other big names.

Buddy Holly and the Crickets churn out multiple records while also touring extensively. They perform across the country, in Hawaii and Australia, and throughout the United Kingdom. They tour with artists like Jerry Lee Lewis, Paul Anka, Margie Rayburn, The Shirelles and more. The band's popularity amongst teenagers continues to grow. Concert attendees at several events are turned away due to capacity. An Australia newspaper describes one audience as, "groups of enthusiastic teenagers squealing and screaming like 50 untrained fife bands." Buddy meets Maria Elena Santiago. They get married two months later and settle in Greenwich Village in New York City. In November, Buddy dissolves his professional relationship with Petty due to financial problems, and he splits from The Crickets. He considers taking legal action against Petty, but he lacks the funds to do so, so he decides to tour as a solo artist on the Winter Dance Party tour.

In January, Buddy recruits Tommy Allsup, Waylon Jennings and Carl Bunch to perform in the Winter Dance Party tour, which has concerts scheduled for Minnesota, Iowa, Illinois, Kentucky and Ohio. They tour with The Big Bopper, Ritchie Valens, Dion and The Belmonts, and Frankie Sardo. The tour suffers frigid temperatures and snowy weather conditions, causing delays, cancellations and health problems. On Feb. 2, Buddy performs his last concert with Jennings and Allsup in Clear Lake, Iowa. On Feb. 3, Buddy charters a small plane from Iowa to Minnesota. Valens and Allsup flip a coin to see who would get a seat on the plane. Valens wins and boards the plane with Buddy and The Big Bopper. The plane crashes soon after take-off, and everyone on board is killed. Buddy's funeral is held on Feb. 7 at the Tabernacle Baptist Church in Lubbock.
---
Explore the Playhouse production of Buddy: The Buddy Holly Story.

---