A Closer Look at our Summer Camp Partners
The Playhouse's
summer theatre day camp
expands its reach this year with sessions held in multiple communities throughout the Greater Cincinnati region. From June to August, half-day, one-week and multi-week camps will be held for children ages 3 to 17 at the Playhouse in Mt. Adams, Evendale Performance Center, Mason Community Center, Artsville in Madisonville and Pogo Play in Blue Ash. These satellite locations offer greater access to the arts for campers and their families, while also deepening the Playhouse's relationship with communities.
"Each one of the facilities that we're working with has been a partner of ours with some of our other programs, like the Off the Hill touring plays," says Daunielle Rasmussen, Playhouse Director of Education and Community Engagement. "They're also each an entity that I respect as a parent in the community and as an educator."
This year's theatre camp theme is "Summer at the Movies." Using basic performance techniques, campers will dive into the worlds of films like
Harry Potter, How to Train Your Dragon, The Lego Movie
and
Star Wars
, among other cinematic favorites.
Take a closer look at each of our summer camp community partners below.
---

Evendale Performance Center
The Village of Evendale's
Cultural Arts Center
has a wide variety of artistic enrichment programming for children, teens and adults. One of these programs includes hosting the Playhouse's Off the Hill touring plays — shows that are designed for families to enjoy together and are performed by members of the theatre's Bruce E. Coyle Intern Company.
"We appreciate the community of Evendale and would love to have a deeper relationship with them," says Rasmussen. "They are a wonderful community group, and it's been such a positive experience to serve them already through the touring shows."
The Cultural Arts Center hosts workshops and classes like dance, yoga, fine arts and music. The Photography Club of Greater Cincinnati meets monthly there, and the group holds discussions of photography-related subjects as well as monthly print and digital photography contests. The Ohio School of Music provides lessons and training in the musical arts; disciplines include piano, strings, voice, drum and percussion, and brass and wind instruments. Additionally, the Cincinnati Actor's Studio offers year-round adult acting classes held twice a week for beginner performers up to professionals.
Playhouse summer camp offered:
Wizarding Movies
June 10 – 14 | 9 a.m. to 4:30 p.m. | Incoming grades 1 – 10


Please note: Registration for this camp is now closed.
Camps will be located at the Evendale Performance Center at the corner of Reading Rd. and Glendale Milford Rd. at
3270 Glendale Milford Rd., Cincinnati, OH 45241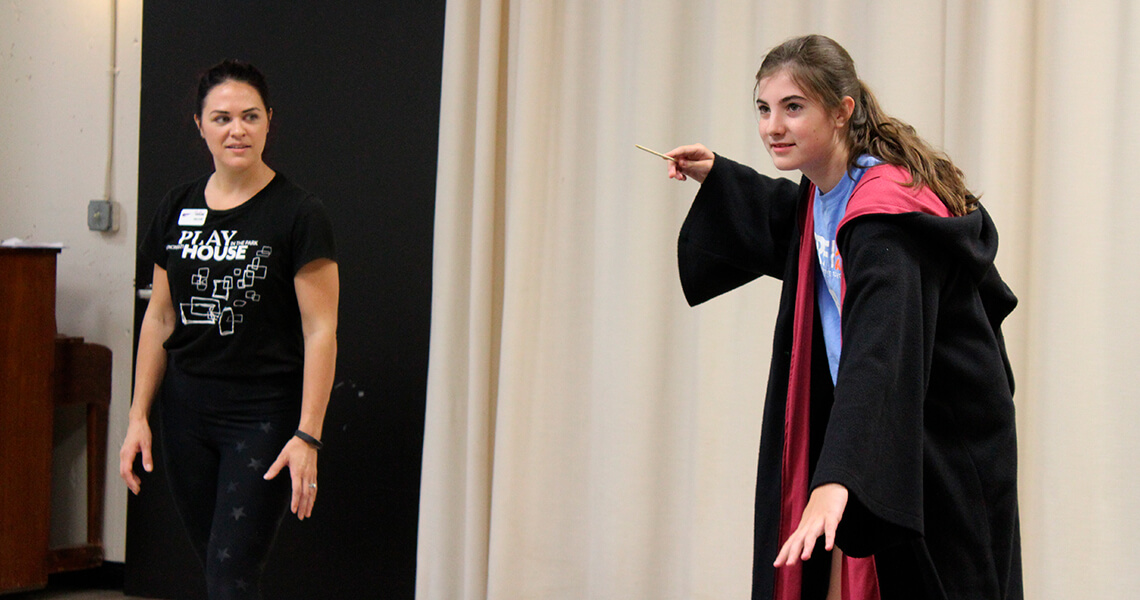 Artsville
Located in Madisonville between Oakley, Mariemont and Madeira,
Artsville
is a non-profit organization with a goal to promote personal growth, self-expression and appreciation of the visual, healing, literary and performing arts. They focus their intentions on art at work, at play, at home and in the community. The Playhouse has partnered with the organization in recent years through educational programming.
"Artsville is kind of our second home on the education team. Whenever we need rehearsal space, that's where we'll go if we're not able to be at the Playhouse," says Rasmussen. "Their goal is to serve the community with creative experiences and art. We really respect that and want to support and propel their mission."
In addition to hosting the Playhouse's touring shows, Artsville holds events and workshops related to fine art, performing arts and music. They recently held an artist showcase that featured a local artist's work and offered community members the opportunity to purchase artwork and engage in conversation with them. In March, Artsville hosted a poetry slam contest that invited poets and spoken-word artists to perform and compete for a cash prize. The organization has also held musical performances, guided painting lessons for adults and families, and a chili cook-off contest.
Playhouse summer camp offered:
Space Fantasy Movies
June 17 – 21 | 9 a.m. to 4:30 p.m. | Incoming grades 1 – 8
Artsville is located at
5021 Whetsel Ave., Cincinnati, OH 45227
.

Mason Community Center
Warren County considers itself "Ohio's largest playground" with Kings Island, water parks, ziplining and state parks in its region. In the middle of that is
Mason Community Center
, which features an array of recreational and educational services and programming.
"The Mason Community Center is such a vital part of the community that we're really excited to be a part of it in this way," says Rasmussen. "They'll provide a really positive experience for our campers."
Enrichment programs at the Mason Community Center include arts and crafts, like painting and pottery; technological services that teach computer skills and digital photography; personal development skills like guidance in job-seeking, interviewing and life-mapping; and various youth programming like a summer reading program, a social space for teens, and play-time activities for young children. The facility offers aquatics programs, team sports for children and adults, fitness classes, nutrition guidance and personal training.
Playhouse summer camps offered:
Space Fantasy Movies
June 17 – 21 | 9 a.m. to 4:30 p.m. | Incoming grades 1 – 8

Adventure Movies
June 24 – 28 | 9 a.m. to 4:30 p.m. | Incoming grades 1 – 8

Performance Academy: Seussical KIDS
July 22 – Aug. 2 | 9 a.m. to 4:30 p.m. | Incoming grades 1 – 6

Performance Academy: Seussical KIDS: Little Whos
July 29 – Aug. 2 | 1:30 to 4:30 p.m. | Ages 3 to 5
Mason Community Center is located at
6050 Mason Montgomery Rd., Mason, OH 45040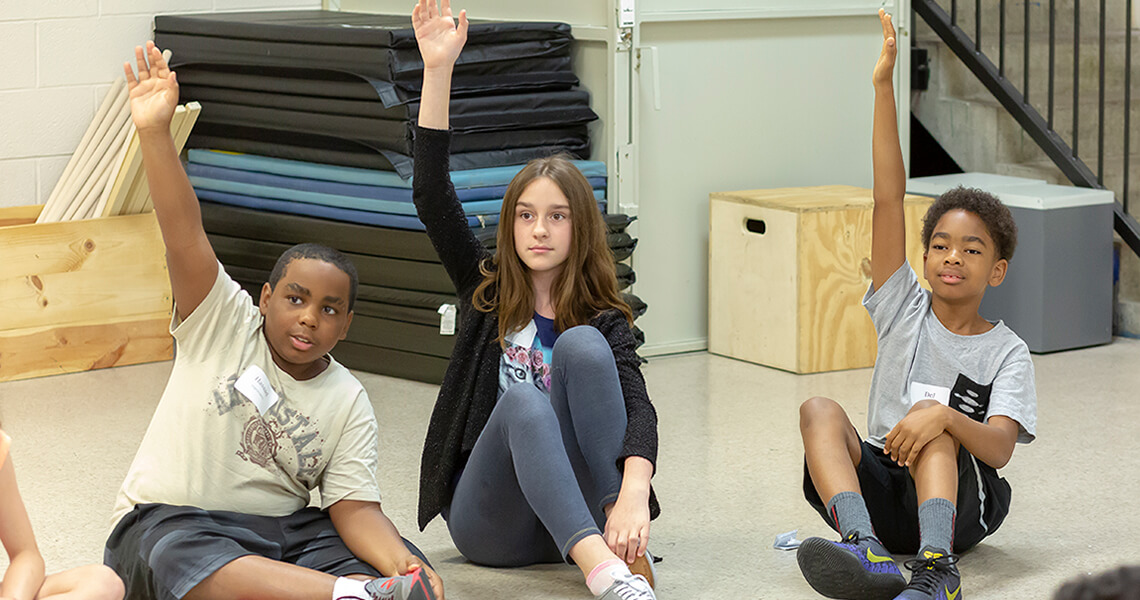 Pogo Play in Blue Ash
Pogo Play
describes its indoor facility as "a play space that offers creative family fun for the whole family." It provides a range of physical, play-time activities for people of all ages.
"As a parent, Pogo Play saves my life!" says Rasmussen, who frequently takes her son to the facility. "Their methodology around family engagement very much aligns with ours through Off the Hill plays and audience engagement activities. They really embody the idea of developing community while also giving families a place to play."
Pogo Play houses a 7,600-square foot play structure that has slides, pogo sticks, a rope bridge, a climbing wall and more. It also has an "imagination playground" with oversized tinker toys and building blocks; a Lego and block-building room that has over 200,000 Legos to play with; a basketball court; a "dramatic play" area that has props and toys that mimic their own lives; a toddler room for children two years old and younger; and a "light-up room" that combines music and video on an interactive floor. There is also a café onsite that provides snacks, sandwiches, salads, smoothies, pizza and beverages.
Playhouse summer camp offered:
Movie Musicals
July 15 – 19 | 9 a.m. to 4:30 p.m. | Incoming grades 1 – 10
Pogo Play is located
10870 Kenwood Rd., Blue Ash, OH 45242
---
To see what camp themes and locations are the best fit for you and your camper, visit our
Summer Theatre Camps page
.