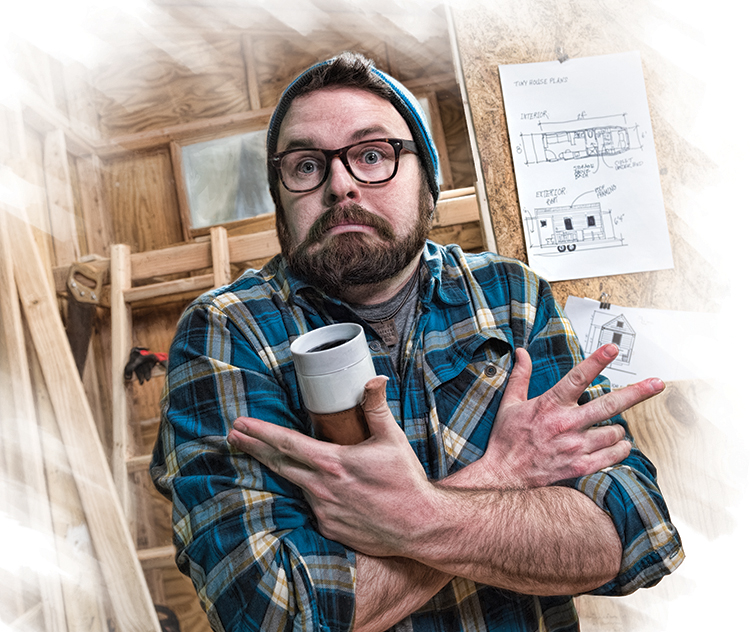 What happens when our world begins to shrink? The world premiere comedy
Tiny Houses
watches a misfit team of four young adults attempt to build a 200-square-foot home. This movement toward "tiny houses" has been growing as more people seek to shed their need for belongings in order to refocus on relationships, nature and a simpler lifestyle. For the characters in
Tiny Houses
, finding meaning through minimalism is easier said than done.
Tiny Houses
is the final Shelterhouse play in 2018-19, a season which features exclusively plays by women. It is fitting to end the season with a work by Chelsea Marcantel, who has recently been inducted as a member of the Kilroys, a collective of playwrights, performers, producers and directors who advocate for the voices of female, trans and nonbinary playwrights. Marcantel has also recently received the 2018 M. Elizabeth Osborn New Play Award from the American Theatre Critics Association, which recognizes notable, emerging playwrights.
Kate Eastman (Cath) and Peter Hargrave (Bohdi) in Tiny Houses. Photo by Roger Mastroianni.
Marcantel's
Tiny Houses
is a co-production with Cleveland Play House; the shared world premiere will feature the same creative teams and will be helmed by Cleveland Play House's Artistic Director Laura Kepley, a Cincinnati native.
Kepley told
Broadway World
, "The first thing that grabbed me about Chelsea's extraordinary script was the daring dramatic proposal that a tiny house gets constructed over the course of the play. What a thrilling invitation to the design team, the director and the actors!"
It takes five characters to get this tiny house standing. The play centers around Bodhi and Cath, a couple who has recently uprooted their lives, moving from New York to Oregon to build and move into a tiny house together. Cath has left her finance job behind, hoping for a fresh start but finding herself increasingly unmoored. "Since we left the city I feel a little bit in exile from myself," says Cath. "I didn't know it was such a big part of my identity. I feel almost… embarrassed to live here."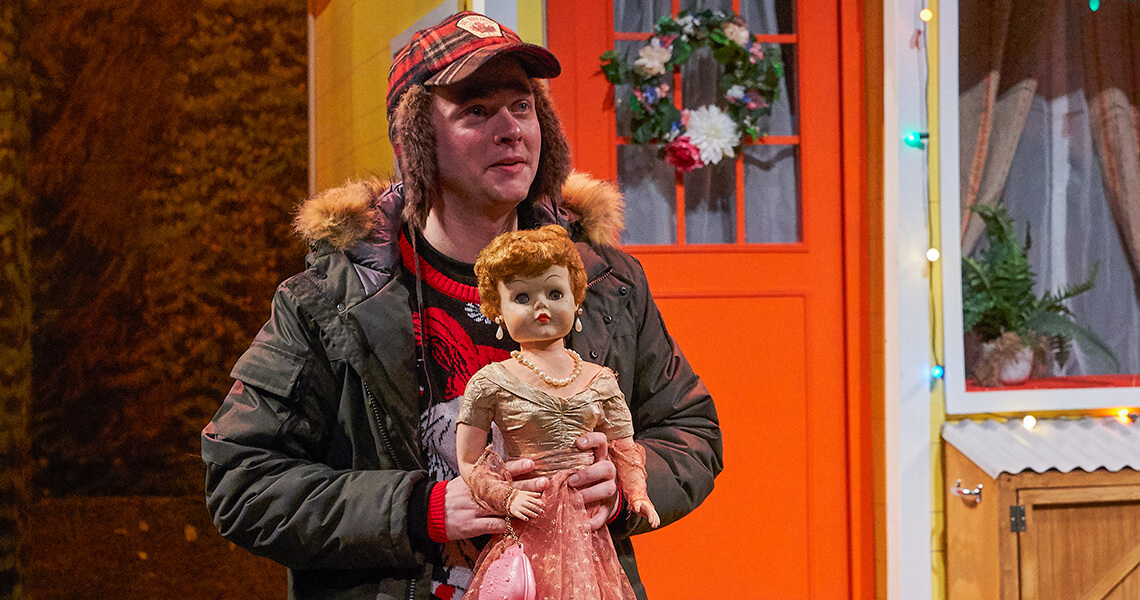 Michael Doherty (Ollie) in Tiny Houses. Photo by Roger Mastroianni.
For Cath's beau Bohdi, Oregon is a homecoming; in fact, the tiny house is being constructed in the backyard of a college friend, Ollie, an easy-going spirit who seems to attract slightly broken people — and who sells haunted dolls on eBay. Those two ideas might be related — in Ollie's words, "Everybody's got to have a home, don't you agree? It's a business, sure, but it's also a good deed. To take in misunderstood dolls with limited prospects." Bohdi is one of Ollie's strays; he is charismatic and full of passion… so long as a project (or a relationship) can hold his interest, which is rarely very long.
This group also includes Jevne, Bohdi's mousy childhood sweetheart, whom we meet while she is hard at work as an "ASMRtist" on YouTube. These artists create videos that help people relax by speaking with a soothing voice and using calming sounds that can provoke a tingling sensation in its viewers. Popular ASMRists can rack up hundreds of thousands of views on videos in which they, for example, whisper a story, play with feathers or soft materials, pretend to give the viewer a scalp massage, or use any other approach to trigger this pleasant tingle and relaxed euphoria. In
Tiny Houses
, Jevne explains: "People send me donations and letters and gifts all the time, because they have tried medication and exercise and new bedding and new partners and new jobs and nothing has worked to soothe them but my videos."
Nandita Shenoy (Jevne) and Kate Eastman (Cath) in Tiny Houses. Photo by Roger Mastroianni.
We asked Marcantel about what motivated her choices for these contemporary jobs. "Part of it is that this is a comedy about people who are mostly a little extreme," says Marcantel, "and part of it is that every character is trying to find a way to craft a life that really lines up with their values." She continues, "All the characters are trying to find that sense of meaning in their lives and their professions."
Will this team find that meaning before someone gets hurt? As tiny house walls go up, emotional walls come down. The entrance of one final character — Jeremiah, a level-headed construction consultant — will upend what little balance the group might have had. "I've helped a lot of couples build these tiny houses and I do know one thing," Jeremiah tells a conflicted Cath. "Some people build them to keep stuff in, and some people build them to keep stuff out. And if you two haven't decided to build for the same reason, you're going to have a big mess on your hands before it's finished."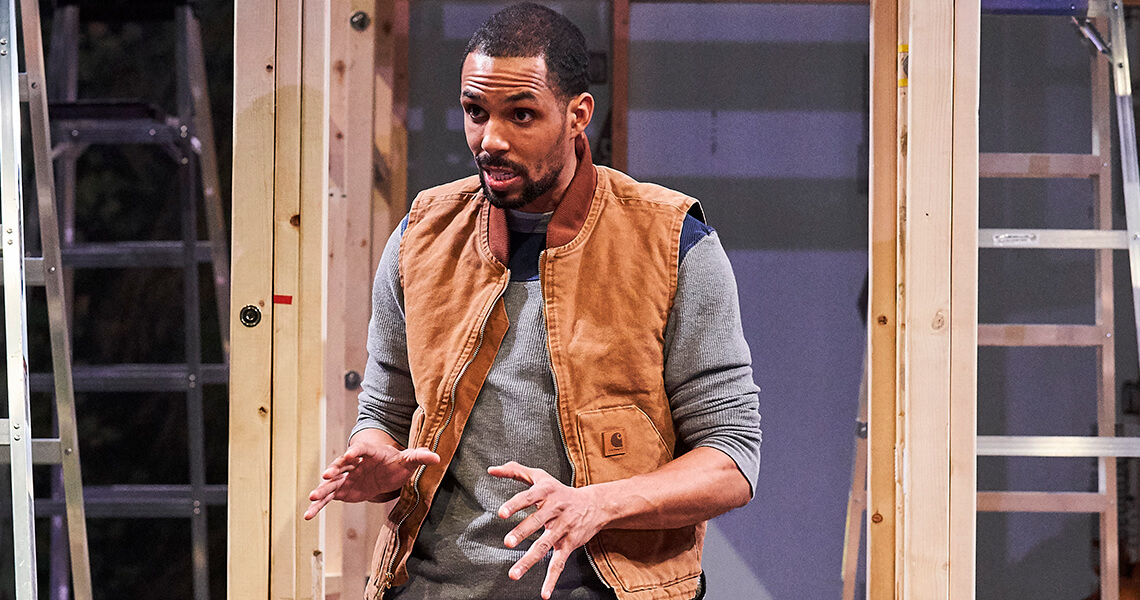 James Holloway in Tiny Houses. Photo by Roger Mastroianni.
Tiny Houses
uses references to YouTube, blogging, the do-it-yourself movement and more to tap into today's young adult culture, but the story at its heart is one that any generation can relate to: the desire for love, identity and a less hectic life. As Kepley told
Broadway World
, "[It] turns out that choosing a simpler life can get very complicated, which makes for a surprising, charming and very entertaining night of theatre."
To learn more about the Playhouse's world premiere production of
Tiny Houses
, which begins performances on May 4, visit our
production detail page
.