5 Questions With Scott Parkinson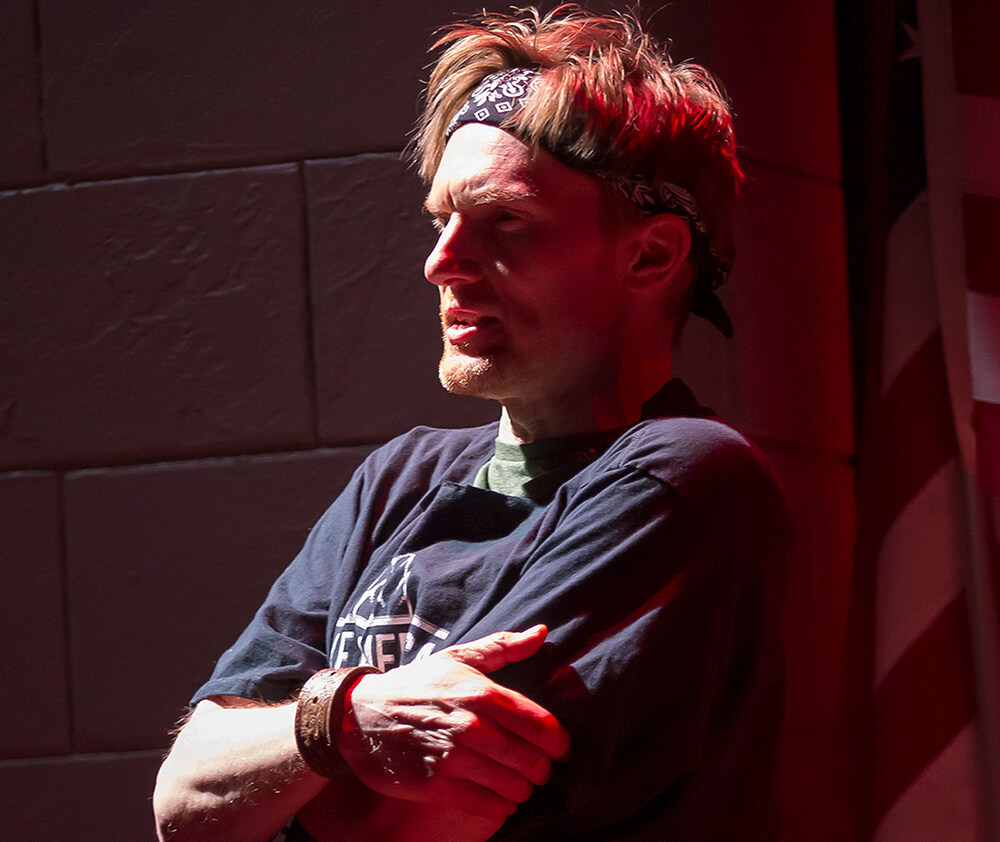 Scott plays Jaxton in
The Thanksgiving Play.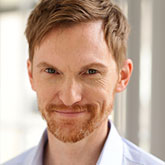 Scott is making his Cincinnati Playhouse in the Park debut. He appeared on Broadway in
The Coast of Utopia
(Lincoln Center) and was in the first national tour of
The 39 Steps.
Other New York appearances include
Hamlet
(Classic Stage Company),
Our Town
and
Orson's Shadow
(Barrow Street Theatricals),
The Third Story
(MCC theater),
Rose Rage
and
Crime & Punishment
. Scott lived in Chicago for 12 years, where he appeared in 16 productions with Chicago Shakespeare Theater (including the title role in
Richard II
), as well as appearances at the Goodman Theatre, Court Theatre, Northlight Theatre, and in
Hamlet
(title role),
Hedda Gabler
(Judge Brack),
Arcadia
(Bernard Nightingale),
Twelfth Night
(Aguecheek) and as Cassius in
Julius Caesar
(which he also co-directed and adapted) at the Writers Theatre. Regionally, Scott has appeared in the D.C. area in
An Iliad
and
Cock
(Studio Theatre), in several leading roles at the Shakespeare Theatre, and as Reverend Hale in The Crucible (Olney Theatre). His other regional appearances include the Old Globe Theatre, La Jolla Playhouse, Hartford Stage and the Mark Taper Forum. He was interviewed for the books The World Only Spins Forward and North American Players of Shakespeare. Instagram:
@thelegitscottparkinson
---
How long have you been acting, and where did you receive your training?
Professionally, I've been acting since way back in the last century — the '90s — but I've been performing in some way or another since I was a child. I was one of those kids that got the other kids together in my parents' basement and made costumes for them and then put on a show for the neighborhood. That producing instinct seems to have cleared my being since then, but the acting one remained. I studied Theatre and English Literature in college and I did a semester abroad training in London, but in many ways, I feel that my most valuable training came after school, in my early years working in Chicago theatre and watching working actors do their thing. A certain Chicago work ethic — one of deference to the text and to one's fellow players, as well as a near-artisanal approach to creating a character — was bred into me in those days, and it lingers all these years later.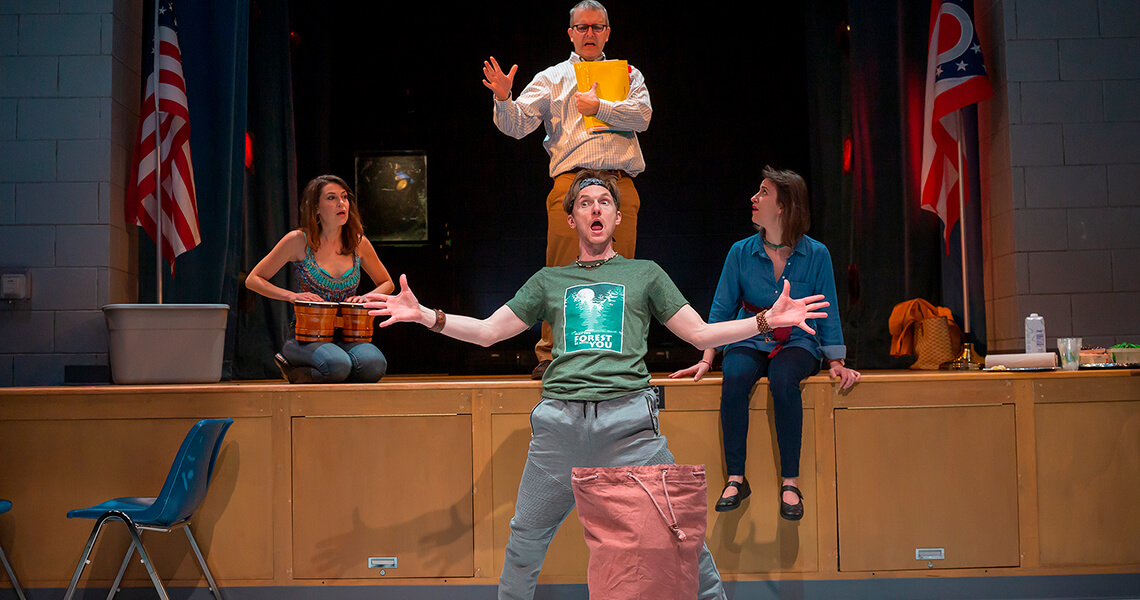 Ashley Austin Morris, Nat DeWolf, Scott Parkinson and Jennifer Bareilles in The Thanksgiving Play. Photo by Mikki Schaffner.
When did you know you wanted to be an actor, and what's your favorite part of the job?
I've known I wanted to act since I was a kid, really. Or at least I've known from a very early age that acting was what I seemed to be good at. I remember auditioning for
Hansel & Gretel
in the first grade and getting cast as Hansel, and that was it — you want me to play the leading role?! Sure, I'm in! As I get older, my favorite part of acting has less to do with attention-seeking and more to do with the process of burrowing inside a character, figuring out how best to fuse some part of my own being with who the character is. I've always been pretty introverted, as well as awkward and insecure about my own personality, so being able to become someone else for a while is hugely appealing, particularly if the character possesses attributes that I myself wish I had in more abundance. But it's a different puzzle to solve with each character and a challenging one for entirely different reasons each time.
What is your all-time favorite role you've performed and why?
I have been lucky to play so many great roles, each one rewarding in its own way. It's really fun when a character surprises you, as I was recently surprised playing Sir Andrew Aguecheek in
Twelfth Night.
I hadn't been looking forward to playing him before rehearsals began, honestly, but the process of figuring him out, of coming up with a backstory for him about what brought him to this particular moment in the play, of getting in touch with the purity of his spirit, all of it was just an alchemical magic for me. I fell so in love with playing him every night that I was bereft to have to leave him behind when the production closed. Probably my all-time favorite role, however, is Hamlet, which I was fortunate enough to play in two separate productions. Hamlet was a role that I felt a real kinship with from an early age, as I was quite the brooding teenager back in the day. His interior life became intertwined with mine in ways that I wasn't even conscious of over the years; to then be able to explore that inner world on two different occasions at two very different ages (something that hugely affected my approach to him each time) was deeply gratifying.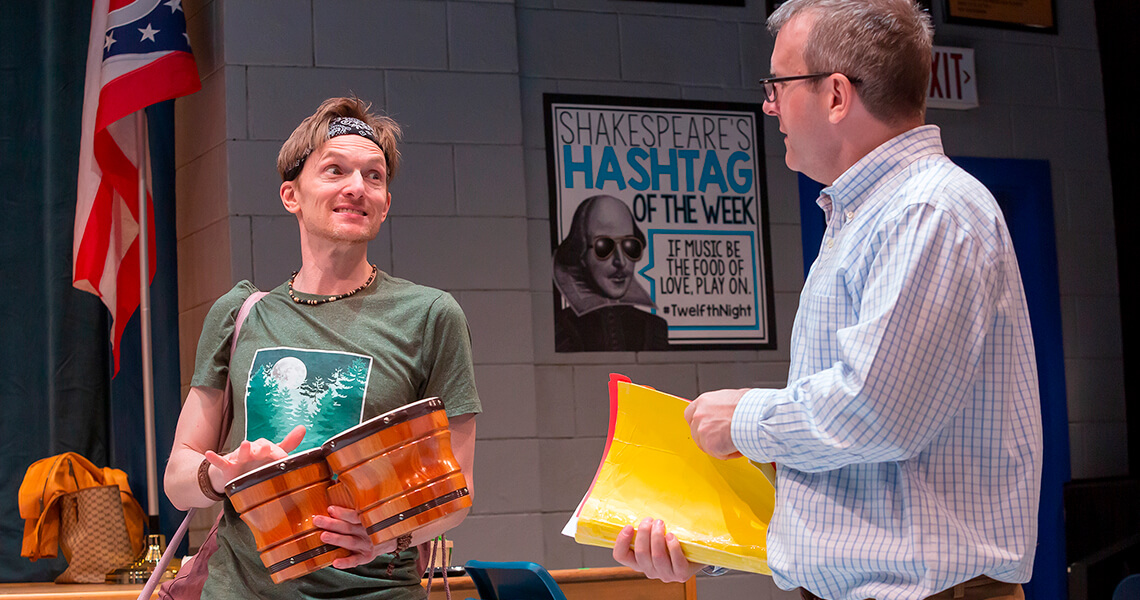 Scott Parkinson and Nat DeWolf in The Thanksgiving Play. Photo by Mikki Schaffner.
What role have you been dying to play and why?
The other role I was obsessed with as a teenager was Edmund in
Long Day's Journey into Night.
Edmund is a loner who longs for real connection, and this aspect of him, combined with his yearning for truth and authenticity in all things, struck deep chords within me. I auditioned for the role a few times over the years, but I never got to play him, and it's the one role in my career that I feel really "got away" from me, as I am now simply too old to play it. Perhaps one day I'll get to play Tyrone senior instead! Or maybe I'll get to direct the play someday, as I would love to do that, too. There are a number of Shakespearean roles I've only played once — Richard III, Richard II, Iago — that I would love to re-visit as well; I feel that I have so much more to bring to them now. And I'm also just getting more adventurous as I get older — I love taking on new work these days, more experimental work, anything that stretches me and pushes me outside the box.
What has been the most interesting part of working on The Thanksgiving Play so far?
Jaxton is not the kind of role that I usually get to audition for, let alone get to play. He is an actor and a yogi, as am I, but the similarities truly end there. So, the process of trying to find out where he and I intersect has been at times both exasperating and exciting. As a person, I tend to be mostly sharp edges (although I've tried to blunt them as much as possible through my years of yoga and meditation practice); Jaxton, however, has no sharp edges, and he passionately believes that this little Thanksgiving play they are all creating for children will both right the wrongs of history and inch the world forward in a more positive way. From a jaundiced eye, one that's been through a lot of disappointment in life, one can laugh at the absurdity of his enthusiasm, but his innocence is infectious and it shouldn't be dismissed. Would that we all had such belief in what we do! Ultimately, I credit a note from our director, Lisa Portes, challenging me to find "Jaxton's breath and flow" and the inspiration of a particular yoga teacher's voice and spirit in a class I took here in town with helping me turn a corner with Jaxton in rehearsals. Between my experience of working on Jaxton and having played Andrew Aguecheek just before him, I feel like the universe is sending me a message lately about continuing to get more in touch with my own sense of innocence and wonder, and about working from a place of greater purity in both my creative endeavors and my life in general.
---
To learn more about the Playhouse's production of
The Thanksgiving Play
, visit our
production detail page
.