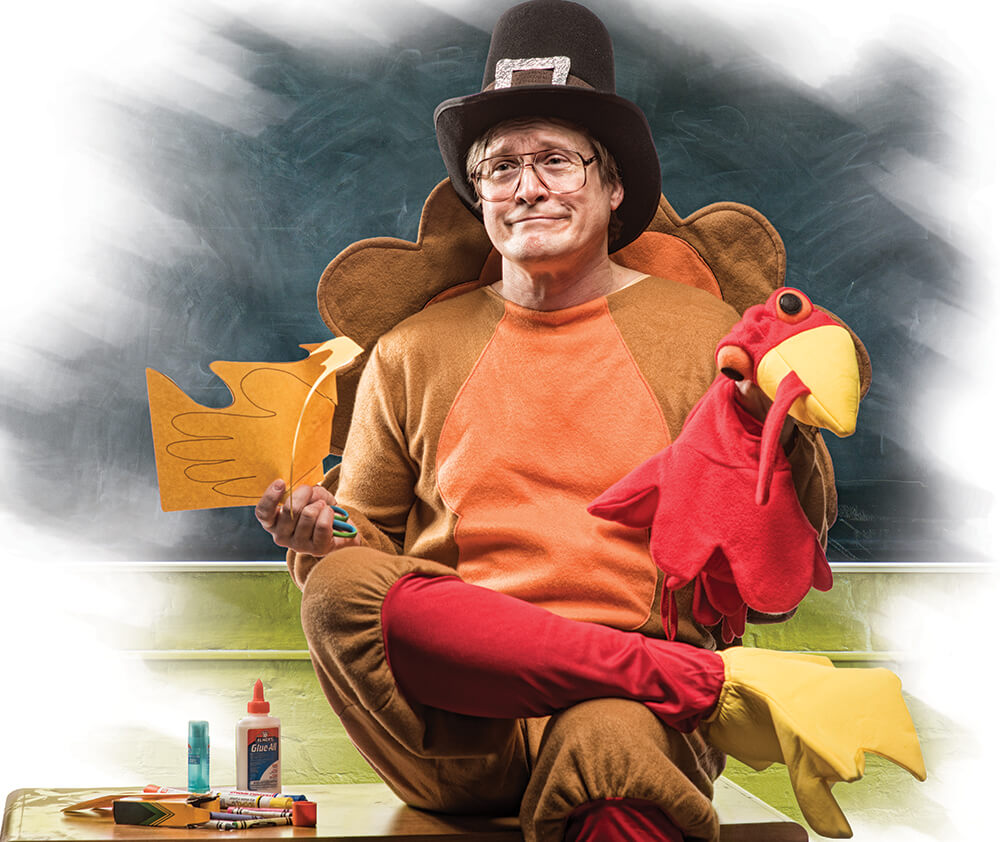 Most of us are familiar with the adage, "The road to Hell is paved with good intentions." In other words, the value of a good deed is measured by one's actions and not by one's talk. In Larissa FastHorse's new work,
The Thanksgiving Play
, she hilariously skewers that very idea.
In this fresh satire, four liberal theatre artists, armed with good intentions and progressive lingo, attempt to devise a politically correct Thanksgiving play for elementary schools. They are tasked with telling the history of the holiday's origins (skipping over the violent erasure of Native Americans from their own lands) that's culturally sensitive (i.e. respectful of Native American culture) and satisfies their diversity grants (like the one they received for Native American Heritage Month awareness). They realize rather quickly that honoring Indigenous people while simultaneously celebrating the peaceful Thanksgiving feast of American lore is much more difficult than they anticipated.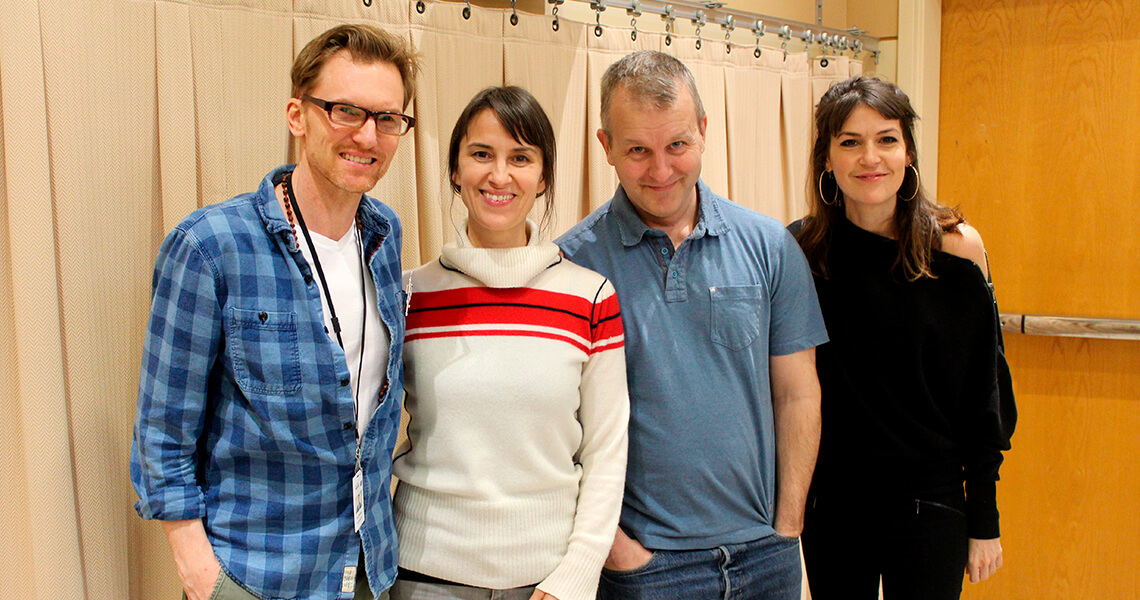 Scott Parkinson (Jaxton), Jennifer Bareilles (Logan), Nat DeWolf (Caden) and Ashley Austin Morris (Alicia) at the meet and greet for The Thanksgiving Play.
The company of artists includes Logan, a drama teacher whose recent, high school production of
The Iceman Cometh
prompted parents to petition for her removal; Jaxton, a straight, Caucasian, male street performer/yogi who is determined to be an ally to all oppressed groups; Caden, an awkward, elementary school history teacher who dreams of writing for the stage but never has; and Alicia, a pretty actress from Los Angeles who is hired to provide a crucial cultural perspective. Together, they comb through American history and tread the minefields of appropriation to accomplish their feat. But their well-meaning plans slowly dissolve into an outrageous sendup of PC behavior.
"I think the comedy is obvious," says FastHorse, when asked about where the laughter lies in this bold new work. "We can all see ourselves in parts of this play and identify real people that make us crazy. And we've all turned ourselves in knots to try to do the right thing but somehow still turn out wrong. Or is that only me?"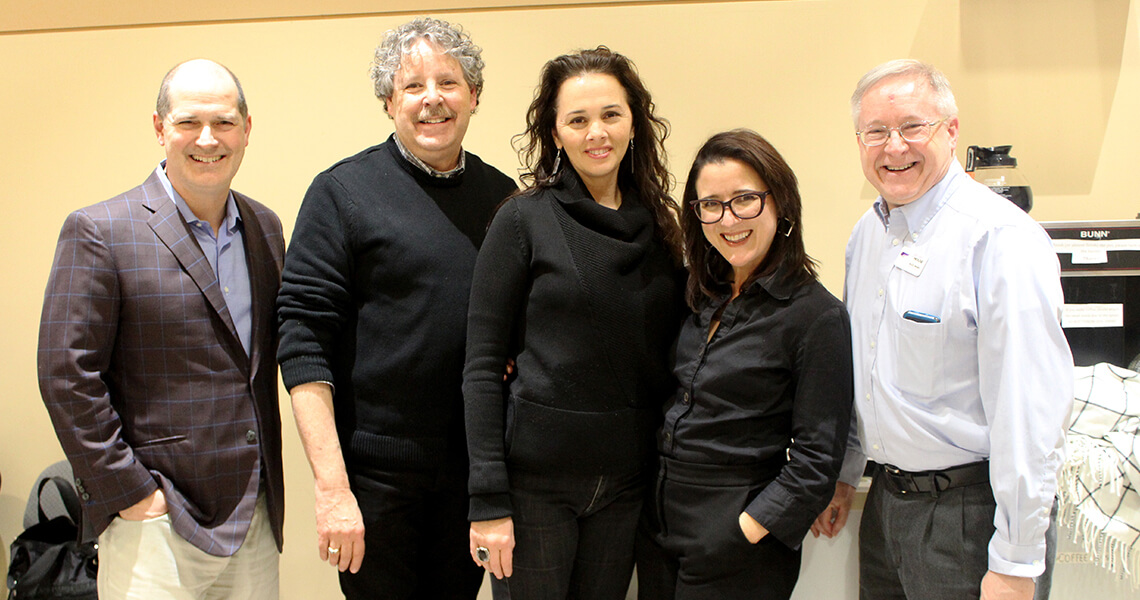 Playhouse Artistic Director Blake Robison, Costume Designer Bill Black, Playwright Larissa FastHorse, Director Lisa Portes and Playhouse Managing Director Buzz Ward at the meet and greet for The Thanksgiving Play.
The Thanksgiving Play
made its off-Broadway premiere at Playwrights Horizons last October. FastHorse says in an interview with the theatre, "As a Native American person, I'm really fortunate in that I get commissioned to do a lot of plays on Native American history, which tends to be majority-depressing at this point. So, I really wanted to write a comedy, and I really wanted to have fun in the room."
In a review of the production,
The Hollywood Reporter
praises the success of FastHorse's objective: "If you consider yourself truly 'woke,' you might want to see [this] new comedy … And if you're not, you'll still want to see
The Thanksgiving Play
, because it's very, very funny."
Audiences get an immediate taste of the humor that flavors
The Thanksgiving Play
from the get-go. The first scene finds the actors onstage, dressed in Thanksgiving costumes, singing a holiday-relevant parody of "The Twelve Days of Christmas." Here's a snippet:
On the third day of Thanksgiving the natives gave to me / Three Native headdresses, two turkey gobblers and a pumpkin in a pumpkin patch.
Parodies of that nature act as transitions between scenes in the central narrative. What's more, FastHorse found them on websites for educators as suggested projects to use inside their own classrooms. Having grown up in a time of reconciliation in South Dakota (which includes the process of recognizing and reconciling historical violence inflicted on Indigenous populations), FastHorse says she was shocked to find that schools still perform these kinds of pageants.
"For many audience members, they remember doing nearly these exact pieces and seeing them now as an adult is horrifying — which is great," says FastHorse. "Each piece deals with levels of appropriation that we are taught in childhood that carries into our adulthood in some way."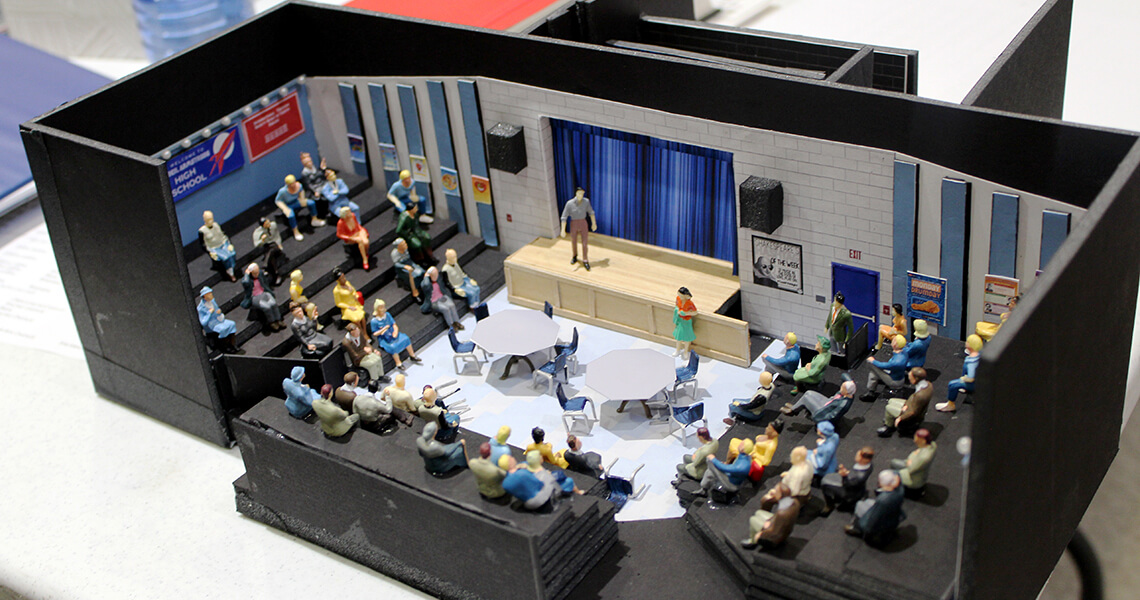 Set model by Set and Lighting Designer Brian Sidney Bembridge for The Thanksgiving Play.
Emphasizing the perspective that the show reflects, these cringeworthy scenes add a humbling touch of reality to the production and spin problematic ideas into razor-sharp moments of irony ripe for laughter.
Altogether,
The Thanksgiving Play
mixes timely rhetoric of progressive pretense and good intentions with a biting, satirical slant to serve up a painfully honest that
The New York Times
calls "a delicious roasting."
To learn more about the Playhouse's production of
The Thanksgiving Play,
visit our
production detail page
.