5 Questions With Richard Livingston Huntley
Richard Livingston Huntley is Music Director and Drummer for
Cincinnati King
.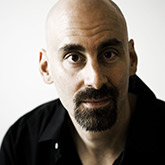 Richard, a resident of New York City for 25 years, now resides in Austin, Texas. He has performed in over 30 countries worldwide, including major jazz, blues and world music festivals. He has performed and/or recorded with jazz greats George Coleman, Dave Liebman, Harold Mabern, Mulgrew Miller and Esperanza Spaulding, Brazilian legend Dom Salvador, singer-songwriter Natalie Merchant, New York bordello blues band Hazmat Modine, and the Gangbe Brass Band from Benin, Africa. Recent recordings include a piano trio with pianist Nikolaj Hess and bassist Cameron Brown titled The Art of The Hang, and a recording with Finnish guitarist Niklas Winter to be released in 2019. He holds an MM from The Manhattan School of Music, where he was on the faculty for 12 years, and is a featured clinician worldwide. He is an endorser for Handmade custom drums, Bosphorus cymbals, Regal Tip sticks and brushes, and Beato drum bags.
---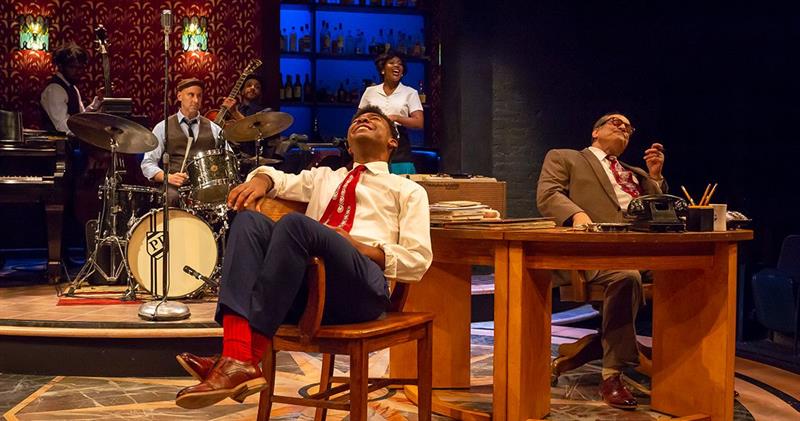 The cast of Cincinnati King. Photo by Mikki Schaffner.

How long have you been a musician, and where did you receive your training?

I've been a musician my whole life! My earliest memory is putting 10 Beatles LP's on the stereo and rocking back and forth in the living room chair, listening to each record as they dropped onto the turntable. I started playing piano when I was 6 (I still play — the piano is a beautiful instrument — a symphony in 10 fingers — and in my next life, I will come back as a concert pianist).
I started playing the drums when I was 12. I took a few private lessons when I was a teenager, but most of my learning was just by "doing it" and trying to figure out things on my own and playing with friends. I had a band with my brother Ralph and our gang of friends, and we were playing parties, proms, etc. We would practice every afternoon at our friend Charlie's house. Charlie's parents were very gracious by allowing us to play three or four hours a day, every day! And they restocked their kitchen with chips and snacks — it was years later that we all realized that the snacks didn't just magically appear each day!
I moved to La Jolla, California, when I was 18 to attend the University of California, San Diego. Just by chance I moved right across form the great alto saxophonist Charles McPherson and his son Chuck, who is a great drummer. Charles had played with the great bassist and composer Charles Mingus and was the sound of Charlie Parker on the Clint Eastwood movie Bird. His son Chuck was my first real mentor by introducing and explaining recordings, techniques and concepts, and instilling in me a real love for the music and musicians. Chuck has played with Wynton Marsalis, Freddie Hubbard, etc., and knew most of the musicians, so I had a really personal connection to the music. I used to spend hours at their house, listening to records by Art Blakey and the Jazz Messengers, John Coltrane, Thelonious Monk, etc.
That experience really changed my life, in conjunction with studying with Dr. Jimmy Cheatham at UCSD. Jimmy was the jazz professor, a trombonist and an arranger who had played with Duke Ellington, among many others. His godfather was also the legendary drummer Papa Jo Jones from the Count Basie Band. Jimmy was so inspiring and helpful to my growth as a musician. After graduating, I was playing in San Diego, but what I really wanted to do was to move to New York! So, in 1992, I drove across the country. Since then, I have studied privately with many different musicians — you never stop learning! It's similar to being a computer programmer — you can't just stick with the language you learned 25 years ago, you have to stay current! So, I've studied with the great musicians and drummers Ralph Peterson, Michael Carvin and at the Manhattan School of Music where I received my master's degree with John Riley and Justin DiCioccio. I have also been studying the Cuban batá drums and have traveled to Cuba three times to study with the great percussionist Miguel Bernal.
When did you know you wanted to be a musician, and what's your favorite part of the job?
I had always enjoyed music and playing the drums, but didn't really think it was possible to be a professional musician until I was a sophomore in college. I was in a jazz improvisation class with Dr. Jimmy Cheatham, and every week I would practice as much as I could, and he was so encouraging to me and recognized that I was trying to work hard and improve myself. I also noticed it and had the realization that if you work hard at something, you will get better! The love for the music just overtook everything else in my life.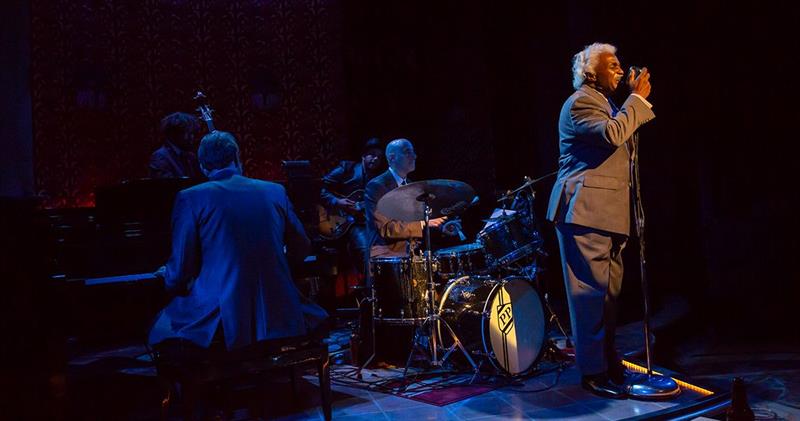 Pianist (Ralph Huntley), bassist (Terrell Montgomery), guitarist (Seth L. Johnson), drummer (Richard Livingston Huntley) and Philip Paul (Stanley Wayne Mathis) in Cincinnati King. Photo by Mikki Schaffner.
What is your all-time favorite project you've worked on, and why?
The all-time favorite project is whatever I'm working on at the moment! Which in this case is
Cincinnati King
! I'm so grateful and honored to be working with such a creative and talented group of people; from KJ Sanchez, the director and playwright, to the designers, to the wonderful cast, who are so inspiring to me that I can't help playing my best!
What project have you always wanted to work on, and why?
You know, I don't think about things in that way. I think life has a way of pointing you in the direction you are supposed to go, so I feel that everything I've done in my life — the people I've played with, the music I've seen and been lucky to be a part of — has all been for a reason and a purpose. I just try to keep an open mind, treat everyone with respect and practice my instrument every day so I can contribute in a positive way and hopefully make our world a little better for all of us.
What has been the most interesting part of working on Cincinnati King so far?
The most interesting part for me has been researching the music and the unsung and un-credited musicians who created the magic in one take! I have spent hours and hours listening, and then transcribing the music so that we are playing an accurate version of each song in the show. I have since discovered many songs and artists I had never heard of! It's my sincere goal that the audience will be so inspired after seeing our show that they'll go home and seek out the music as well — the learning never stops!
---
To learn more about the Playhouse's production of
Cincinnati King
, visit our
production detail page
.