5 Questions With Marina Shay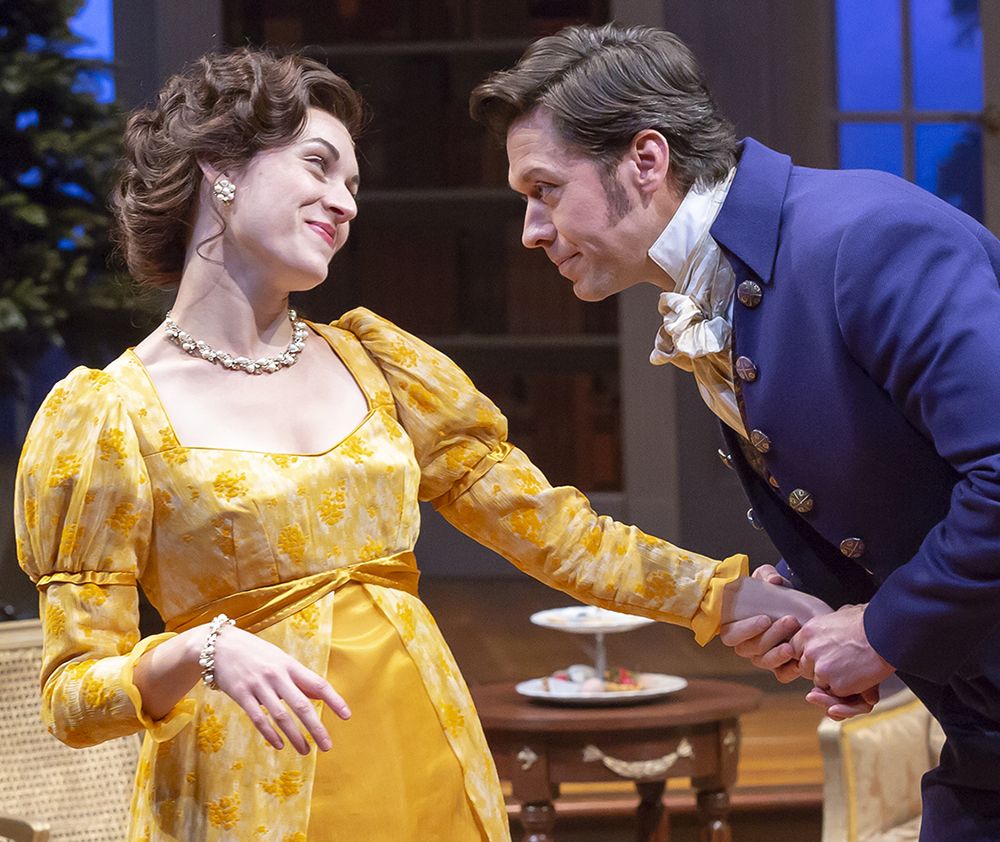 Marina Shay plays Elizabeth Darcy in
Miss Bennet: Christmas at Pemberley
.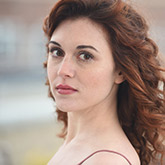 Marina is thrilled to be back in Ohio and making her Cincinnati Playhouse in the Park debut. She recently played Elizabeth Bennet in
Pride and Prejudice
at Virginia Stage Company and can't believe she gets to continue Lizzie's journey in this delightful sequel. Marina also recently finished playing Annie Sullivan in
The Miracle Worker
and Viola in
Twelfth Night
in repertory at the Alabama Shakespeare Festival. Other regional credits include Viola in
Shakespeare in Love
(Cleveland Play House), Estella/Biddy in
Great Expectations
(Syracuse Stage, SALT Awards Best Actress nomination), Eleanor in
Pulse
(Guthrie Theater), Sasha in
Ivanov
(Trinity Repertory Company), Iphigenia in
Iphigenia
2.0 (Cleveland Public Theatre) and Roxanne in
Cyrano de Bergerac
(Heartwood Regional Theater Company). New York City credits include Julie in
Miss Julie
(Access Theater) and Eurydice in Sarah Ruhl's
Eurydice
(Columbia Stages). Marina can be seen next as Marie Antoinette in Lauren Gunderson's
The Revolutionists
at Gulfshore Playhouse. She received her MFA in Acting from Brown/Trinity Rep and her BA in Theater from Oberlin College. Please visit
www.Marinashay.com
for more. Instagram:
@marinashay
---
How long have you been acting, and where did you receive your training?
I played Puck in A Midsummer Night's Dream when I was 14 and it was all over. I was hooked. I later went to Oberlin College and Conservatory for a BA in Theater and Brown University/Trinity Rep for an MFA in Acting.
When did you know you wanted to be an actor, and what's your favorite part of the job?
I was interested in being an actor after Puck, but I didn't know if it could actually be a reality. I was super in to Shakespeare, so I just kept following that and waiting for someone to eventually kick me out.
I think, in the end, it comes down to the characters. The power of being able to give life to people on the page and give them a voice that they wouldn't otherwise have. To get to be a champion for them.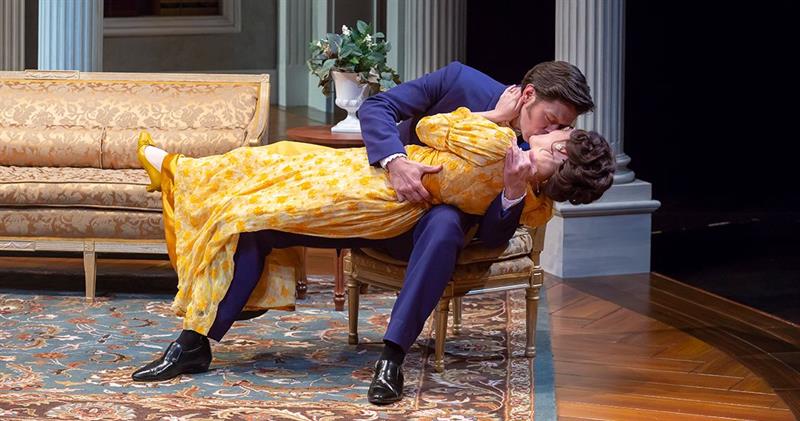 Fitzwilliam Darcy (John Keabler) and Elizabeth Darcy (Marina Shay) in Miss Bennet: Christmas at Pemberley. Photo by Mikki Schaffner.
What is your all-time favorite role you've performed, and why?
I was once in a beautiful play by Sarah Ruhl called
In the Next Room, or the vibrator play
. It was a small role, but I was on stage the entire time. I got to experience being an actor and an audience member simultaneously. It was an excellent lesson in patience and listening, and it turned out to be a very detailed, subtle, patient experience. My character was ahead of her time in many ways, but she couldn't say anything. She just had to watch and listen.
What role have you been dying to play, and why?
Right now, Joan of Arc. I've taken a few small stabs at her, but I'd love to really plunge into the fire (pun intended). Especially in this current age and political climate. She is fearless and insane — which is what we're all drawn to about her — and I'm obsessed with how similar and different those two are (especially in this political climate). And whether her doubt or her certainty brings about her downfall. Her bullheadedness and stubbornness. Her innocence and lack of experience. Her clarity and her blindness. Also, Hamlet and Hotspur.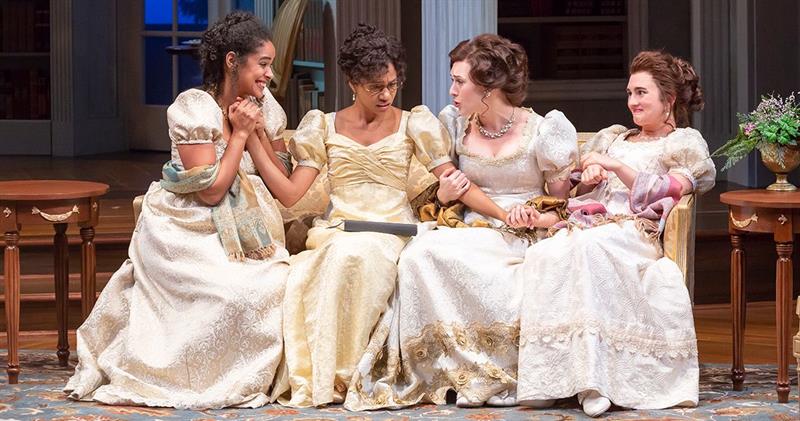 Jane Bingley (Maribel Martinez), Mary Bennet (Ayana Workman), Elizabeth Darcy (Marina Shay) and Lydia Wickham (Mia Hutchinson-Shaw) in Miss Bennet: Christmas at Pemberley. Photo by Mikki Schaffner.
What has been the most interesting part of working on Miss Bennet: Christmas at Pemberley so far?
The discussions about race, privilege, power, opportunity and gender that it's brought about. This is a feminist play written by two female playwrights, one of whom is widely known for being a feminist playwright, based on a book by one of the most famous feminist writers of all time. But it's also a modern play, so there's been a lot of comparison between what was feminist in 1815 as opposed to what is feminist in 2018, or what remains to still be feminist in 2018. And what we need to work on as a society.
And the most powerful conversations we've had are those surrounding race. Our world of
Miss Bennet
is one that includes people of color because that is what the world looks like. And the fact that every cast member in this play is not here in spite of their skin color or background but including it and all of the history that comes with it. Because it is undeniable. And what that means in the landscape of Jane Austen. In the landscape of people falling in love and being vulnerable and forging their identity and defining themselves. There have been some incredible discussions and I've learned so much from them.
---
To learn more about the Playhouse's production of
Miss Bennet: Christmas at Pemberley
, visit our
production detail page
.