Queen City. King Records.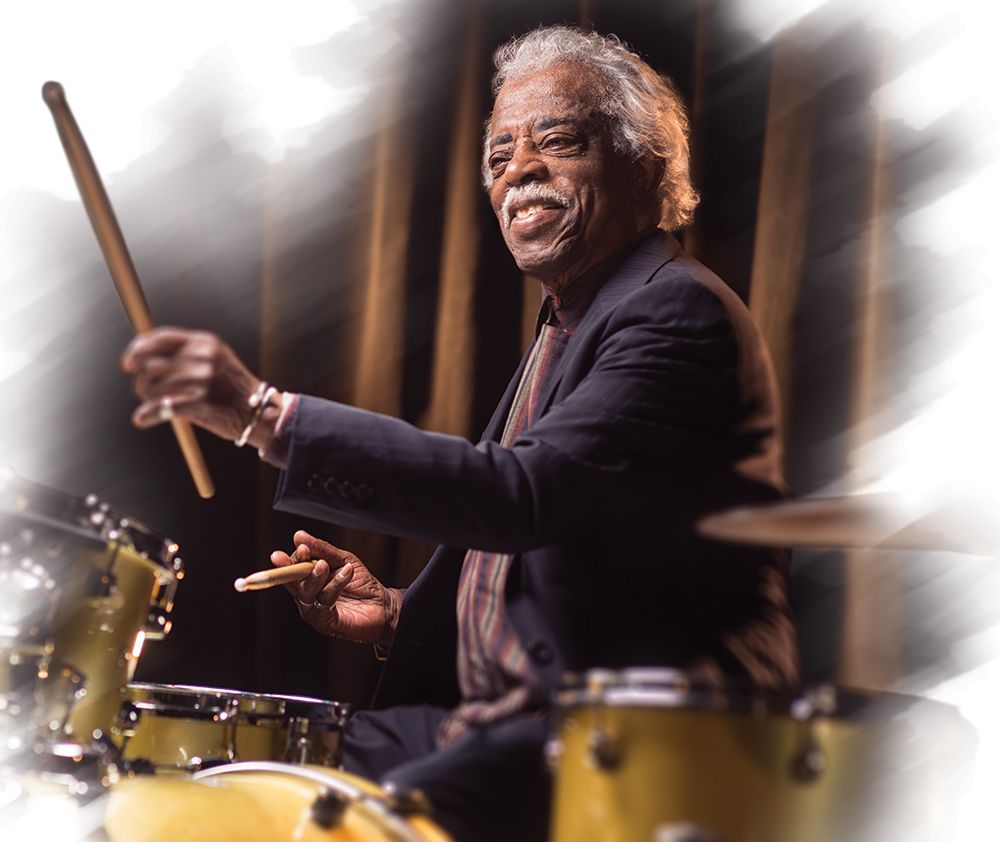 In modern-day, downtown Cincinnati, a quartet plays to a small crowd in a jazz lounge. They finish playing the smoldering blues track, "Drown in My Own Tears." The drummer of the quartet is Philip Paul — or rather, a theatrical representation of the real-life musician. As the song ends, Paul walks downstage. He's being interviewed for a play, he tells the audience. It's a play about Cincinnati's influence on the birth of rock 'n' roll.
"You go around the country and everybody knows about Cleveland, they know about Detroit, but people don't know about Cincinnati," he says in the play. "Before Johnny Cash and Elvis, before James Brown, before Carl Perkins, before Sam Phillips and Sun, before Verve… Before all that? There was King Records."
Paul, a long-time King Records session drummer, begins to narrate the story of
Cincinnati King
. The riveting drama traces the groundbreaking rise of music pioneer Syd Nathan and his revolutionary label, King Records. He shares behind-the-scenes tales of King Records hits like "The Twist" and "Fever," and he presents musical performances of country and jazz artists Annisteen Allen, Moon Mullican and the Delmore Brothers. Scored by the King Records' catalog throughout, this musical docudrama shines a spotlight on the Queen City's rich cultural history.
CET Public Television films as Cincinnati Playhouse in the Park staff, cast and creative team welcome Legendary King Records session drummer, Philip Paul, and his wife, Roberta Paul, at the meet and greet for Cincinnati King.
Cincinnati King
is written and directed by Cincinnati Playhouse in the Park Associate Artist KJ Sanchez, who was inspired to write about King Records' history after learning about its unforgettable founder.
"Syd Nathan was this guy with nothing more than an eighth-grade education who knew nothing about record labels, who went from basically running a radio repair shop to owning the sixth largest record label in the world," says Sanchez. "He was scrappy, he was feisty, he did it all himself."
Raised by Jewish immigrant parents in what Paul describes in the play as "the poorest of the poorest neighborhood," Nathan left school when he was 13 years old to help his family make ends meet. He worked odd jobs, relying on a relentless, tough-as-nails personality, and slowly but surely, he seized opportunities that allowed him to launch his own independent label in the Cincinnati neighborhood of Evanston.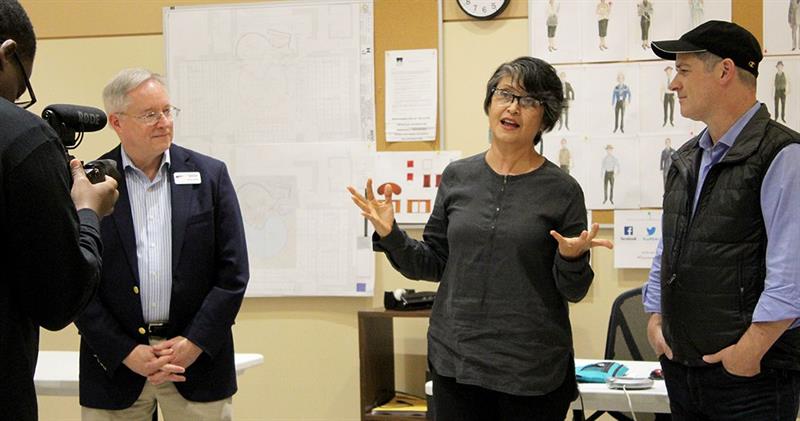 Playwright/Director KJ Sanchez, who is also a Playhouse Associate Artist, shares her perspective on the production as CET Public Television films and Playhouse Managing Director Buzz Ward and Artistic Director Blake Robison look on.
The Queen City quickly proved to be a prime location for music. Nathan's character says in the play, "The important thing about this time in Cincinnati is that you had some of the greatest country musicians coming through at the same time you had the world's greatest black artists coming to Cincinnati, too!"
"It's one of the main pillars of American music," says
Cincinnati King
Music Director/Drummer Richard Huntley. "All of these different groups of people — Appalachian people, African-American people — were migrating [to Cincinnati] and creating this sound. It's so important to the birth of rock 'n' roll, the birth of R&B, the birth of soul, modern country music, modern jazz."
Yet Nathan didn't come to own the sixth largest record label in the world without making a few enemies. The same feisty nature that led to his success fractured many important relationships, including those from within the studio. Sanchez dedicates much of the play to the relationship between Nathan and studio musician Little Willie John, who was an immensely talented, African-American gospel and blues singer whose future could have been rewritten in many ways.
"Little Willie John should be in the annals of the greatest recording artists in American history," says Sanchez. "He had all of the talent and all of the skill. In fact, there are a lot of people who say that James Brown learned everything he knew from watching Little Willie John."
The cast and creative team for our world premiere musical, Cincinnati King.
Through the dramatic arc of Nathan and John's turbulent relationship, Sanchez weaves a riveting tale about music, class, race and the sacrifices that are made in pursuit of success. She explores Nathan as a powerful and multifaceted figure on par with Shakespeare's King Lear, while honoring the stories of unsung artists and recognizing the Queen City's contributions to the foundation of rock 'n' roll.
This world premiere production begins performances in the Shelterhouse Theatre on Saturday, Nov. 3.
To learn more about the Playhouse's production of
Cincinnati King
,
visit our production detail page.