Welcome to the Playhouse: A Newcomer's Guide
The Playhouse welcomes everyone to enjoy masterful performances from some of the nation's leading artists each season on our Marx and Rosenthal Shelterhouse stages. If you're new to theatre, or new to the Playhouse, we know that it might be a little intimidating at first glance. So, we've put together this newcomer's guide to not only help you navigate the theatre but to remind you that we're thrilled to have you join us!
---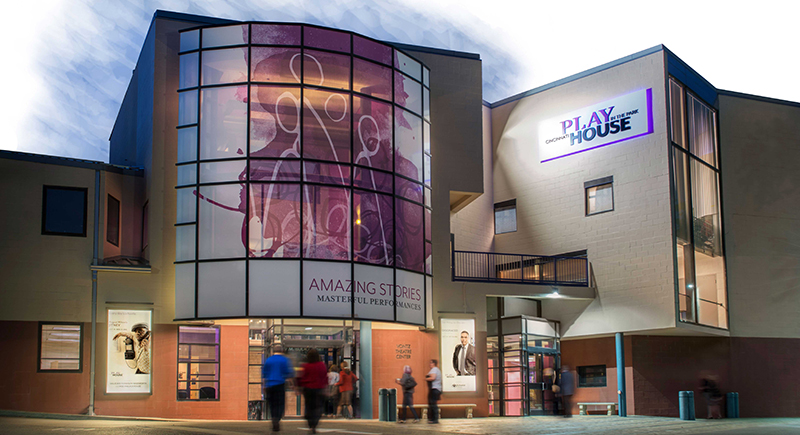 Useful Tips
Do:
• Come as you are. There is no formal dress code at the Playhouse.

• Arrive on time. We do our best to make sure our patrons don't miss any of the action onstage, but the show must go on as scheduled. If you do arrive late and the show has already started, our house managers will have you wait to enter the theatre until there's a break or scene transition in the show that won't disrupt the actors and others' viewing experience.

• Enjoy a beverage from our full-service bar. So long as it's in the plastic cup we provide, you can take it with you into the theatre. We also offer coffee, tea and hot chocolate from V's Café.

• Pick up a free program from our ushers. You can learn more about the show you're about to see and the artists who created it.

• Engage with lobby displays and activities. We provide different kinds of engagement like audience response boards, photo ops and educational displays to give you a fun and well-rounded experience while you're here.

• Take a free copy of Prologue from the lobby. It's our pre-show magazine that gives an in-depth look at our productions, offers exclusive insight from artists and features Playhouse news.

• Connect with us via social media. Follow us on Facebook, YouTube, Twitter and Instagram for show details, event news, behind-the-scenes content, interviews and more for you to enjoy before and after your visit.

• Silence your cell phone. The audience and the performers thank you.
Don't:
• Bring food into the theatre. We know the sweet treats from V's Café are delicious, but we don't want the audience to be distracted by crinkling candy wrappers and chewing sounds.

• Take photos or videos of the performance. Not only does it disrupt the performers and the audience members around you, but we're contractually obligated to protect the copyright of our artists' work when its onstage. If you'd like to view and share photos and videos of the production, check out the high-quality content we publish on our website and social media platforms.

• Make small talk during the performance. Both our Marx and Rosenthal Shelterhouse theatres offer intimate viewing experiences, so everyone around you (including the actors) will likely end up hearing you if you talk during the show. Plus, we want to make sure everyone enjoys an uninterrupted performance.


---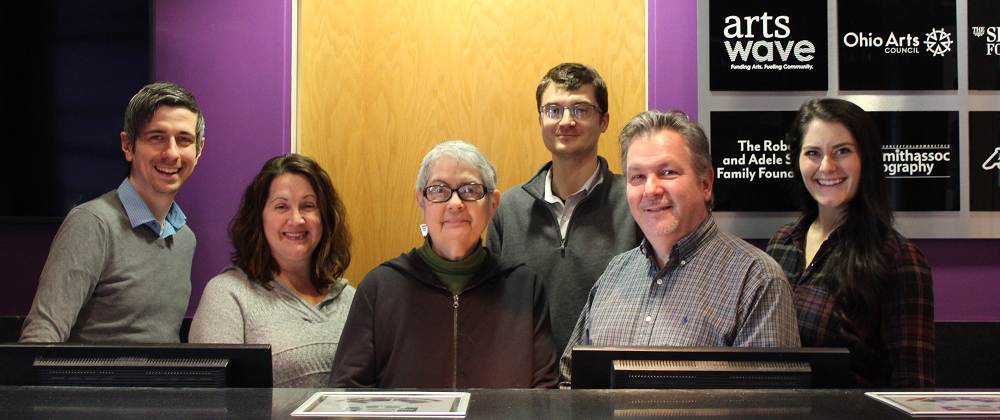 Members of our Box Office staff will assist in your ticketing needs. They're likely the first Playhouse employees you'll meet when you arrive.
Who You'll Meet
You'll interact with a few people here. Our
Box Office staff
will address all your ticketing needs, from reserving seats, holding tickets at will call and working with you to correct any hiccups you may experience. Our volunteer
ushers
will scan your tickets, offer you a program and help you locate your seats. Our
house managers
will field any questions or concerns you may have while you're on site, including finding an ideal time for you to find your seat in case you're running late.
A Playhouse for Everyone
The Playhouse works hard to ensure that all are welcome to enjoy our shows. We offer several services that address patrons' special needs, such as parking spaces for persons with disabilities, infrared sound enhancement systems, large print programs, wheelchair accessibility to both theatres and all public areas, and audio described and signed performances. To read more about our efforts to include everyone, visit our
Accessibility
page.
Please note: While we're located in beautiful Eden Park, both of our stages are indoors.
On-Site Amenities
An evening of theatre wouldn't be complete without treating our patrons. We offer convenient parking on site that you can reserve in advance for $10, coat check (weather permitting), a full-service bar and casual fare dining provided by V's Café. Throughout the season, we partner with local bars and restaurants for special tasting series that feature show-related cuisine and table service. Check our
Events
page and
Eat & Drink
page to see if the show you're seeing has any special events. You're also invited to join us after opening nights for a catered after party where you can meet members of the company.
---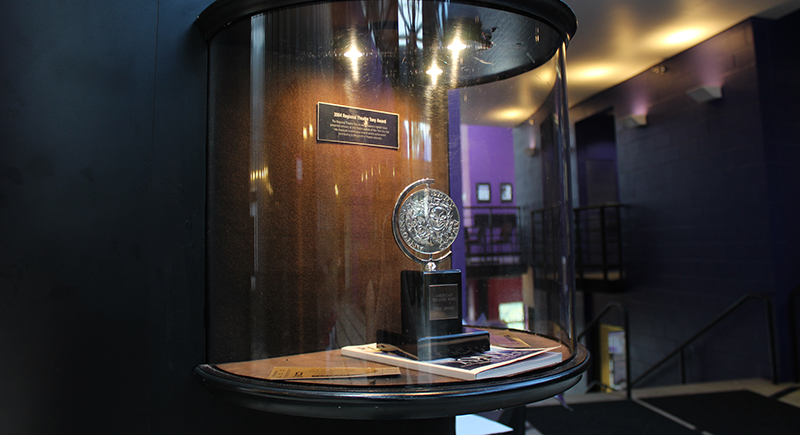 In 2004, the Playhouse won the Regional Theatre Tony Award, which is theatre's highest honor, presented annually to one theatre outside of New York City that has displayed a continuous level of artistic achievement, contributing to the growth of theatre nationally. (The Tony Awards are like the Oscars for theatre.)
Theatre Terms
There is plenty of industry lingo that folks on- and offstage use when referring to productions. Here's a list of commonly used words and phrases you may read or overhear.
Preview performances are public shows that precede opening night. The company is in its final stages of rehearsal, and performing for an audience lets them see how folks respond to material. This allows them to make their tweaks and changes before the show is officially complete. At the Playhouse, each production has four or five public previews, and tickets to these shows cost less than regular performances. Read more about previews in our FAQs.
You may read or hear about the several individuals who are involved in each production in different ways. The
company
includes cast members, crew members and all production staff associated with the show. The
ensemble
includes all actors and performers onstage. An
understudy
is a member of the ensemble who also rehearses the lead role and may perform in case the lead actor is unable to do so.
An
intermission
is a 20-minute break between acts. It allows the production to re-set for the second act and allows the audience to get up, stretch, go to the restroom, purchase concessions, etc. Not all productions will have an intermission. You'll want to check if the show has an intermission in advance of your performance so that you can plan accordingly.
After a particularly great performance, audience members will stand up during their applause to congratulate the company with a
standing ovation.
---
We can't wait for you to join us for a performance. While you're on our site, learn more about our
2019-20 shows
, join our
email list
for exclusive news and deals, read our
blog
and connect with us on
social media
. See you at the Playhouse!