Summer Theatre Camp 2018 Reading List
Can't wait to leap into a summer of stories for theatre camp? Get your imagination ready to explore the worlds of these beloved authors in preparation for your artistic adventures at the Playhouse.
Time Travel with Madeleine L'Engle
June 4 – 8 | Incoming first to 10th grades
A Wrinkle in Time
, the first of
Madeleine L'Engle
's Time Quintet books, follows Meg and Charles Wallace Murry and their friend Calvin O'Keefe on an exciting adventure through time and space. Mr. Murry, a brilliant scientist, has been missing for some time. But with the help of three, celestial creatures — Mrs. Whatsit, Mrs. Who and Mrs. Which — Meg, Charles Wallace and Calvin travel to other dimensions to save him.
L'Engle followed up
A Wrinkle in Time
by seeing the original characters through even more adventures in
A Wind in the Door, A Swiftly Tilting Planet, Many Waters
and
An Acceptable Time
. The first novel of the series was recently adapted into a blockbuster film directed by Ava DuVernay.
---

The Wizarding World of J.K. Rowling
June 11 – 15 | Incoming first to 10th grades


J.K. Rowling
's sensational, seven-book,
Harry Potter
series begins when 11-year-old Harry receives letters from a mysterious school called Hogwarts School of Witchcraft and Wizardry. During seven, life-changing years at Hogwarts (with each book taking place in a different year), he studies the tricky craft of magic, dives into the dark worlds of wizardry and learns of a destiny that will shape the course of the entire magical world.
When Rowling completed the series, she continued to explore the world with the companion books
Quidditch: Through the Ages, Fantastic Beasts and Where to Find Them
and
The Tales of Beedle the Bard
.
---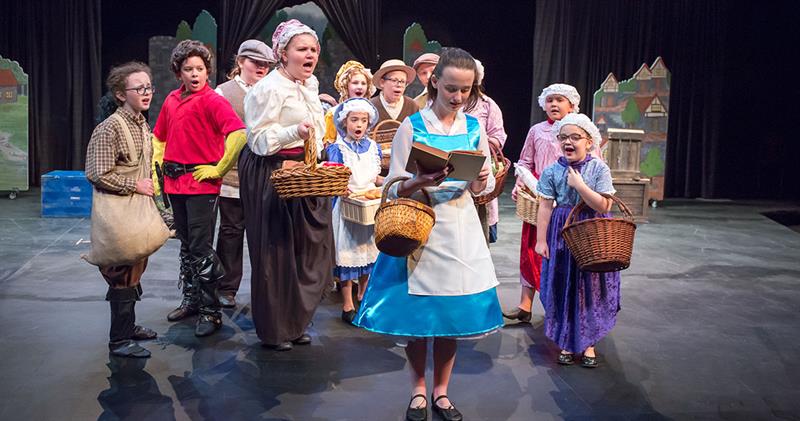 Students perform Disney's Beauty and the Beast during one of 2017's Performance Academy camps; photo by Mikki Schaffner.
Performance Academy: Peter Pan
June 11 – 29 | Incoming third to 12th grades
Originally published as a play in 1904,
J.M. Barrie
's fantastical story follows the adventurous Peter Pan, a boy who can never grow up. A chance encounter one evening finds him chasing his own shadow into the home of the Darling children, where he meets the eldest child, Wendy. Peter invites her and her younger brothers to fly through the night to Neverland, a magical world full of fairies, wild animals, pirates and the Lost Boys — a group of rowdy children who, like Peter, never age.
---
The Topsy Turvey World of Dr. Seuss
June 18 – 22 | Incoming first to 10th grades
The beloved writer and illustrator
Dr. Seuss
penned nearly 70 children's books that feature imaginative creatures and whimsical worlds. Through playful rhymes and nonsensical words, Seuss addressed universal themes of identity, humanity and culture. His books often reflect historical events and figures, along with complex ideas about our world. Popular book titles include
The Cat in the Hat, Horton Hears a Who!, Green Eggs and Ham, The Lorax, Fox in Socks
and
Oh, The Places You'll Go
, among many others.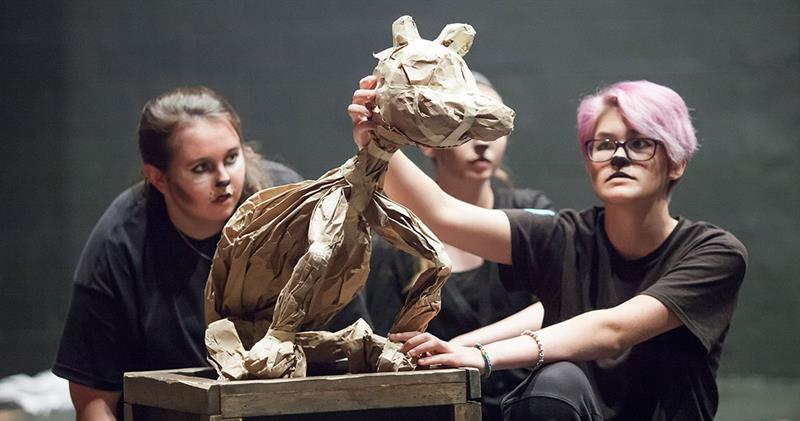 Students share their creative work on the Marx stage during one of 2017's theatre day camps; photo by Mikki Schaffner.
---
The Magical Musical Theatre of Roald Dahl
June 25 – 29 | Incoming first to 10th grades

British author
Roald Dahl
used dark humor and creative embellishment to craft entertaining stories for young adults. With evil villains, outlandish worlds and noble protagonists, Dahl wrote 34 books about adventure, friendship, family and the imagination. His first book,
James and the Giant Peach
, was initially written for his own children, yet it launched his storytelling career into mainstream success. He went on to write such cherished stories as
Charlie and the Chocolate Factory, Fantastic Mr. Fox, The Twits, The BFG, The Witches
and
Matilda
.
This camp will incorporate selections from
James and the Giant Peach, Charlie and the Chocolate Factory
and
Matilda
.
---
The Fantastical Kingdoms of C.S. Lewis
July 9 – 13 | Incoming first to 10th grades

C.S. Lewis
was a highly respected Irish author and scholar whose most widely read works of fiction include
The Chronicles of Narnia
series. These seven, dramatic books follow the action-filled adventures that take place in the fantastical kingdom of Narnia. The first book published in the series —
The Lion, The Witch, and the Wardrobe
— finds siblings Edmund, Lucy, Peter and Susan Pevensie entering Narnia through a magical armoire. There, they encounter mythical creatures, power-hungry kings and queens, and epic battles between good and evil.
Students rehearse with the puppets they created during one of 2017's theatre day camps; photo by Mikki Schaffner.
---
Performance Academy: Myths & Monsters
July 9 – 27 | Incoming seventh to 12th grades

Our universal love of stories stems from the tales and characters found in ancient Greek mythology. Created as a way to understand the world and its origins, Greek myths told the stories of gods and goddesses, heroes and heroines, and mythical creatures. Tales were told through poetry, prose, song, dance and many other art forms, influencing the world of literature as we know it today. Students can take an introductory dive into the world of Greek mythology with such bestselling books as
D'Aulaires' Book of Greek Myths
, by Ingri d'Aulaire, and
Mythology: Timeless Tales of Gods and Heroes
, by Edith Hamilton.
---
The Marvelous Adventures of Stan Lee
July 16 – 20 | Incoming first to 10th grades
The world of comic books changed with the artistic genius of author
Stan Lee
. Tasked with creating a series for Marvel Comics that could rival DC Comics, Lee created the heroic Fantastic Four in 1961. He then followed up with the creation of legendary characters the Hulk, Spider-Man, Doctor Strange, Daredevil and the X-Men. Lee gave each of his characters depth and humanity, allowing them to tackle relatable, complex issues in uniquely stylized worlds. He once said of his work, "A really great comic-book story is every bit as creative and important as a great story done in any other form of the media."
---
The Tragic Tales of Lemony Snicket
July 23 – 27 | Incoming first to 10th grades


"Proceed, but cautiously," says author Lemony Snicket to the rarest of readers who aren't afraid of ill-fated endings. Snicket's
A Series of Unfortunate Events
is a dark and comedic, 13-book series that tells the tragic yet amusing tales of Baudelaire orphans Violet, Klaus and Sunny. Each book finds them using their charm, intelligence and resourcefulness to outsmart such antagonistic elements as greedy villains, terrible accidents, bad luck and ominous surprises around every corner. Snicket's signature blend of darkness and hilarity has made this series an international phenomenon.
The series was recently adapted into a Netflix original series. The first season premiered in 2017, while the second season was released in March of this year.
---
For complete information on this year's theatre day camp and performance academy programs, visit our
Summer Theatre Camps page
.