En-Lighten Up: A Q&A With Portia Krieger
Portia, who directs our current production of
Be Here Now
, is a New York-based theatre director who mostly works on new plays and musicals.
Recent productions include Olivia Dufault's
The Tomb of King Tot
(Clubbed Thumb); Sofia Alvarez's
Friend Art
(2econd Stage Theater); Susan Bernfield's
Tania in the Getaway Van
(The Pool); Caroline V. McGraw's
The Bachelors
(Lesser America); Gabrielle Reisman's
Storm, Still
(Brooklyn Yard); Peggy Stafford's
16 Words Or Less
(Clubbed Thumb); Clare Barron's
Baby Screams Miracle
(Clubbed Thumb); and
Eager to Lose
, a burlesque farce Portia co-created with writer Matthew-Lee Erlbach, director Wes Grantom and burlesque starlet Tansy (Ars Nova). Portia has workshopped new plays with the Eugene O'Neill Theater Center National Playwrights Conference, Playwrights Horizons, 2econd Stage Theater, Roundabout Theatre Company, New York Stage and Film, Rattlestick Playwrights Theater, Page 73, Ars Nova and many others. She is an inaugural O'Neill/National New Play Network National Director's Fellow, a former New Georges Audrey Resident, an alumna of the Drama League Directors Project and the Lincoln Center Theater Directors Lab, a former Ars Nova Director-in-Residence, a Clubbed Thumb Affiliated Artist and a co-founder of the New Georges Jam. Portia is the Associate Director of
Fun Home
on Broadway, on tour and at the New Vic. She holds a BA in Theater from Smith College. Visit
www.portiakrieger.com
.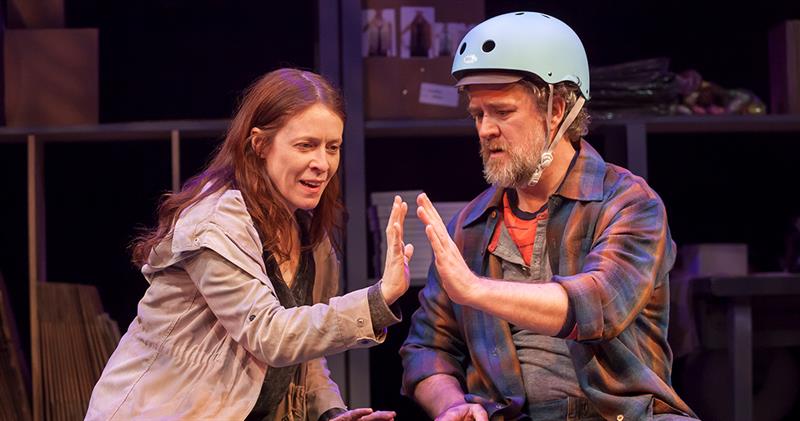 Eva Kaminsky and Torsten Hillhouse in Be Here Now; photo by Mikki Schaffner.

Be Here Now is a world premiere play written by Deborah Zoe Laufer. What were your initial thoughts and responses to reading the script?

I giggled a lot. I may even have snorted a little. I felt an instant connection to the characters, to these women working so hard to find happiness, and to the play's upstate New York location. I have a soft spot for those lost little towns, the ones you drive through and think, "Who lives here? And how do they survive? And are they happy?" This play is a kind of answer to those questions.

How would you describe the protagonist, Bari, and the journey she takes throughout the course of the play?

There's something liberating about seeing someone be relentlessly negative onstage. It's an ancient trope — Shakespeare did it and so did Molière — but when Deb does it, it feels fresh, because instead of punishing her misanthrope, she redeems her.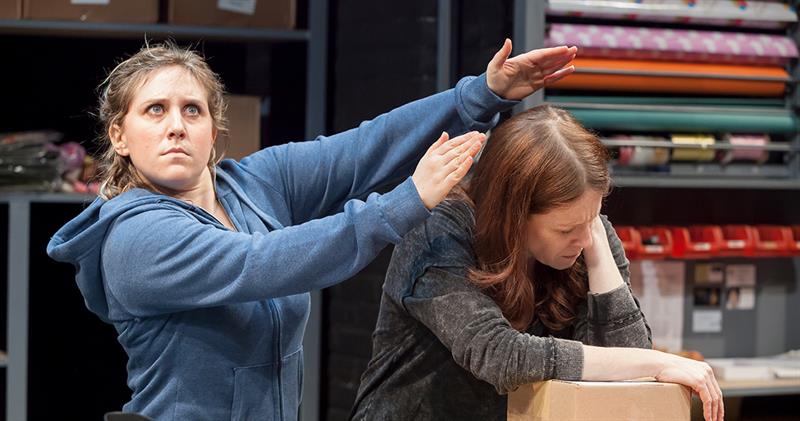 Emily Kratter and Eva Kaminsky in Be Here Now; photo by Mikki Schaffner.
Laufer has written very engaging dialogue for the characters, who each have uniquely memorable voices. Tell us about how you interpreted their voices in the script and how you've worked with the cast to bring them to life.
One of the ways I determine whether I should work on something is, when I read it, can I hear it? Deb is a genius of comic rhythm. This play was clear as a bell on the page. So, I started by figuring out who to cast that would support that sound and know how to work within that rhythm. And then once we got to rehearsal, we worked hard with the cast to be word perfect, and we made changes when we felt the rhythm of something wasn't working, right up to opening night.

This story deeply explores ideas of happiness and the many ways in which we search for it in our lives. Tell us about your approach to directing the cast and working with the artistic staff with this concept in mind.
With the cast, we talked a lot about the idea of staying in the present moment, being here now, as it were. We like to think it's possible to achieve happiness as a permanent state, but the truth is, we live life one moment at a time, and every moment is new to us. As a director, I'm always navigating how to make a repeatable story and keep that in-the-moment feeling onstage.
I worked a lot with the designers to create an environment that could morph to reflect the characters' emotional lives. The fulfillment center where Bari, Patty and Luanne work is looming, gray and cold. Mike's cabin is tiny and warm, and at the end of the play, we get to see a place we've been before in a new way.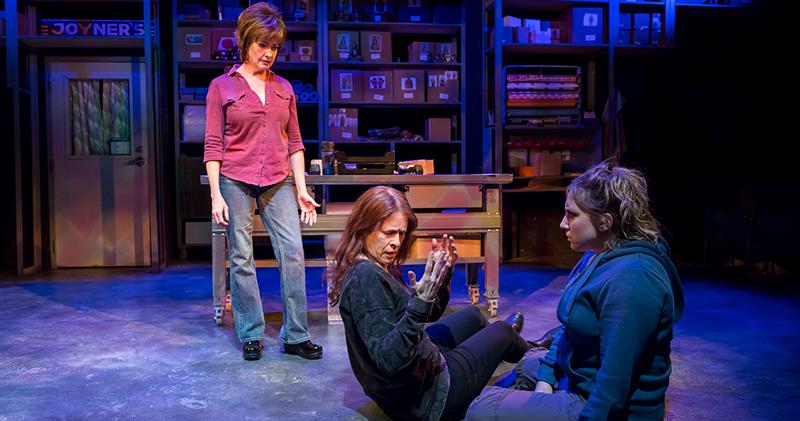 Michele Ragusa, Eva Kaminsky and Emily Kratter in Be Here Now; photo by Mikki Schaffner.

As a director, you mostly work with new plays and world premieres. Tell us about common themes in your work and the ways in which we may recognize them in Be Here Now.

I like to make audiences laugh — and if I can swing it — cry. I like theatre that is grounded in reality but lifts into something mysterious and ephemeral. I love when I get to tell stories about the kinds of characters we don't often hear about. Like the female misanthrope. The greatest common factor in my work is that the bulk of it is by women, and it's focused on women's stories. Be Here Now is no exception.

To learn more about the Playhouse's production Be Here Now, visit our production detail page.