The Work of Deborah Zoe Laufer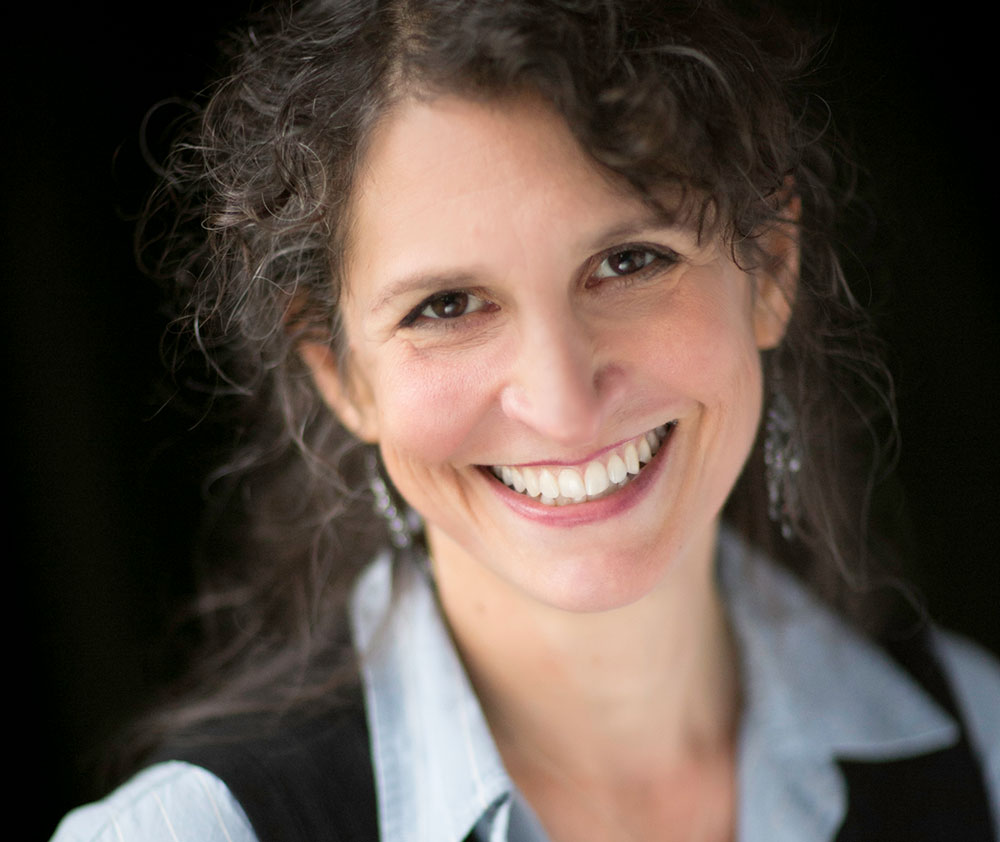 Deborah Zoe Laufer never really considered herself a playwright. She grew up as a voracious reader in a small town, and she spent her childhood performing one-woman shows with the desire to become a professional actor. Upon graduating from SUNY Purchase with her bachelor's degree, she headed to Los Angeles to pursue that dream. It wasn't until an unexpected and life-changing moment in Montana that she settled in to the profession that's garnered her laudable industry praise and a slew of awards and accolades.
On the advice of a friend, Laufer submitted a play she had written to The Missoula Colony in Montana — a weeklong residency of writers and theatre artists designed to hone their craft. She had submitted on a lark, but to her surprise, she was accepted. One of The Colony's co-founders is Marsha Norman, a Pulitzer Prize-winning playwright and author who is co-director of the Playwrights Program at Juilliard. Norman said to Laufer at her first Colony residency, "You know you're a playwright, don't you?" Laufer has described the interaction as a "lightning-rod moment" that propelled her into playwriting. She graduated from Juilliard in 2000 with a master's degree in playwriting, and she has been the recipient of such awards as the Helen Merrill Playwriting Award, the Lilly Award and the LeCompte du Nouy Award.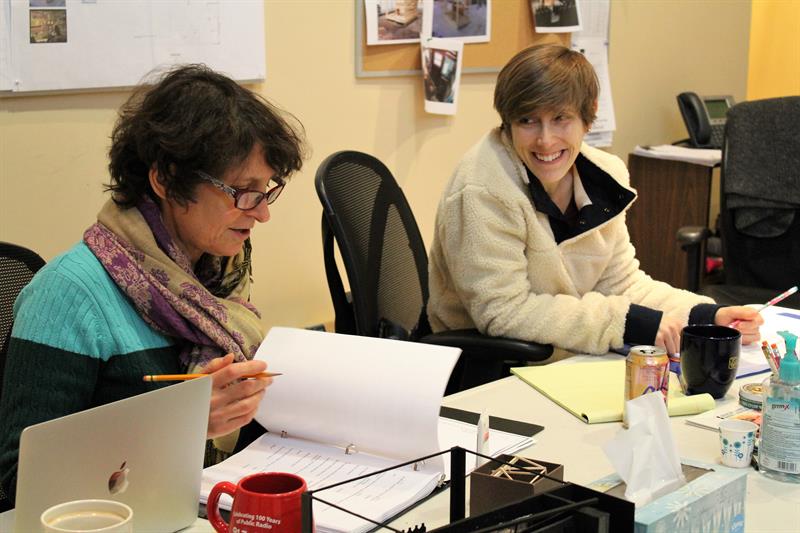 Laufer with director Portia Krieger in rehearsal for Be Here Now; photo by Aly Michaud.
Exploring Humanity
In a recent interview with The Missoulian, Laufer says, "All of my writing, really, asks a very broad question of, what does it mean to be human right now?" That's certainly true of Be Here Now, which explores the ways in which we manage happiness and fulfillment in a contemporary world. Much of her work also integrates technology and religion in the face of humanity. "A lot of my plays deal with where science and religion bump up against each other," she says in an interview with The Interval. "I'm just fascinated by what people believe."
Take a look at a few of Laufer's recent plays that tell complex stories with a cast of rich characters.
Informed Consent
With genomic breakthroughs happening at breakneck speed, we can learn more about what our futures may hold than ever before. But how much should we know? And who gets to decide? Inspired by a recent court case between a Native American tribe and an Arizona university,
Informed Consent
takes us into the personal and national debate about science v. belief, and whether our DNA is our destiny.
"A thoughtful and engrossing play" —
The New York Times
, Critic's Pick, 2015
End Days
Sixteen-year-old Rachel Stein is having a bad year. Her father hasn't changed out of his pajamas since 9/11. Her mother has begun a close, personal relationship with Jesus. Her new neighbor, a 16-year-old Elvis impersonator, has fallen for her hard. And the Apocalypse is coming Wednesday. Her only hope is that Stephen Hawking will save them all.
"A wonderful demonstration of writerly skill and compassion." —
Variety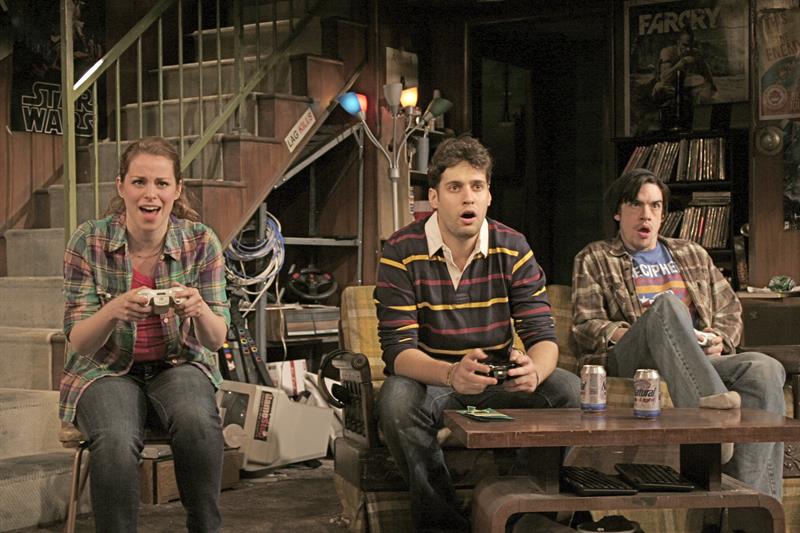 Ali Rose Dachis, Ben Morrow and Bobby Moreno in Leveling Up; photo by Sandy Underwood.

Leveling Up
Three twenty-something roommates are glued to their video games. They are masters of the virtual worlds behind the computer screens in their Las Vegas basement. When one of them uses his gaming skills to land a job with the National Security Agency launching actual drones and missiles, online battles begin to have real consequences. Leveling Up is a fresh, contemporary look at how we navigate the blurry line between worlds both virtual and real and what it means to grow up.
"Smart, funny, frightening, poignant and, ultimately, despite its focus on technology, very human." —
Chicago Stage Standard
Leveling Up
enjoyed its world premiere at Cincinnati Playhouse in the Park in 2013. It has since received 13 productions around the country, including Steppenwolf Theatre Company.
The Three Sisters of Weehawken
Olga, Masha and Irina have dreamt of returning to their childhood home of Manhattan all their lives. There it lies, gleaming, a mere ferry ride away from their provincial home in Weehawken, New Jersey. Though their sister-in-law, Natasha, tries to help them realize their dream with offers of work, tickets, maps, guidebooks, even anti-depressants, old patterns are hard to break. And that 15-minute ferry ride may as well be a mission to Mars. As they remain, decade after decade stretching into old age, the walls of their world move in tighter and tighter, until it becomes nearly impossible to move at all.
Borrowing as much from Beckett as Chekov,
The Three Sisters of Weehawken
wonders at the forces that keep us from following our dreams, and begs the question — how little can one live and still have lived "a life?"
"A killer script steeped in theatre history." —
Palm Beach Illustrated

In Her Own Words
"Part of what I love about theatre, and what it does for me, is that it makes me look at being human anew. I guess the thing I want least is to become complacent and have set ideas that I don't challenge. I really love to live — as corny as it sounds — the examined life." —
The Interval
"I think, at its best, theatre gets a whole lot of people together in a room to look at what it is to be human and to experience it together. It's as close as I come to a religious experience. Oh, and funny. My plays are funny. I really like funny." —
SamuelFrench.com
"A play is sort of your letter to the world. It's a very small world because not that many people see plays, but it's my change to tell a story and say to people, 'isn't this incredible? What do you think?' —
StageBuddy.com
To learn more about the Playhouse's world premiere of
Be Here Now
, visit our
production detail page
.