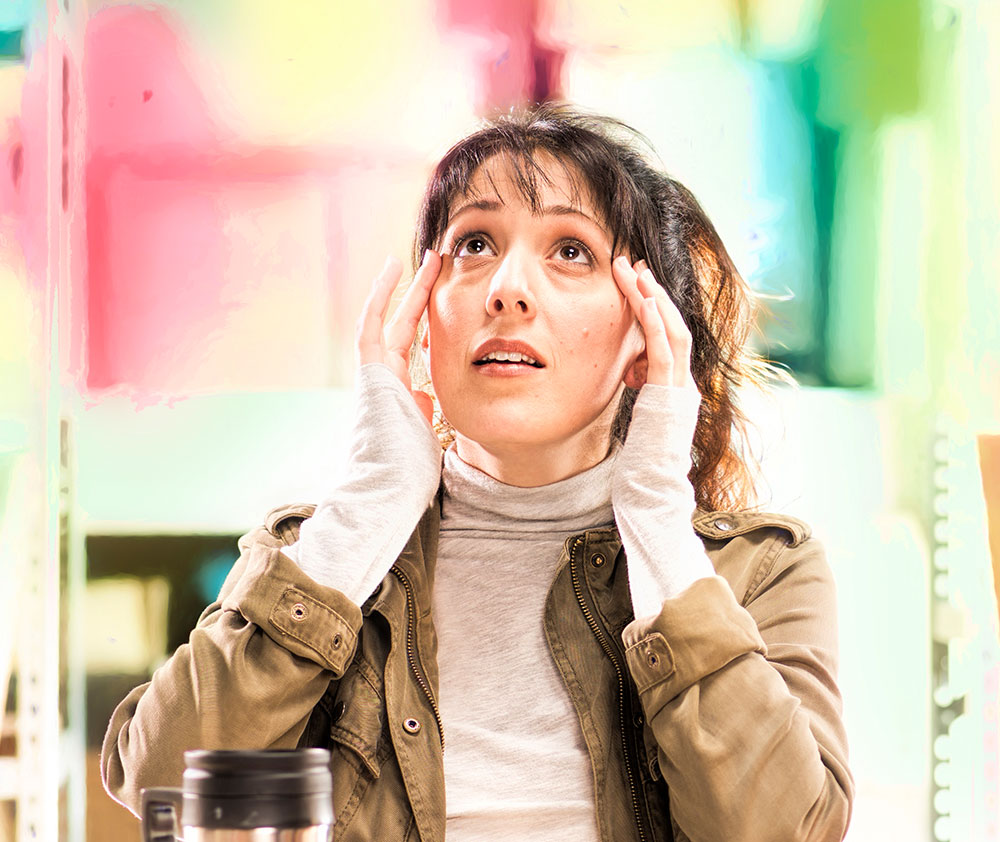 Playwright Deborah Zoe Laufer has been practicing yoga for years. She's always embraced the physicality of the exercise while turning a somewhat skeptical eye towards its spiritual aspect. During one session, however, she decided to take a different path. She let go of any cynicism and allowed herself to follow the instructor's every word without judgment.
"It was a profound experience," says Laufer. "The final shivasana, I was so emotional and so present and so aware of being there — in my body, in that room, in that moment. I left the class knowing that I'd want to write about that journey — from complete resistance to the beginnings of surrender."
Laufer's latest play,
Be Here Now
, examines the intricacy of that experience through the lens of a complex, original character. Protagonist Bari is a deeply cynical misanthrope with a dry sense of humor. She is woefully underemployed at a small-town fulfillment center and surrounded by co-workers who are determined to perk her up. She's A.B.D. (all but dissertation) in her doctoral work on nihilism (the belief that nothing really matters), and she's sorely lacking in the relationship department. But when Bari starts to experience sudden and intense bursts of psychic clarity and euphoria, she finds herself on an enlightening new path with an unexpected suitor, Mike, who battles demons of his own.
Playhouse audiences will be familiar with Laufer's work with the 2013 world premiere play
Leveling Up
, a humorous drama that explored the intersection of technology and modern relationships.
Be Here Now
also makes its world premiere in the Shelterhouse, marking the first of two premieres this season.
Similar to
Leveling Up
,
Be Here Now
poses questions about finding connection in today's world, and it's supported by a cast of highly memorable characters. Bari's chatty co-workers Patty and Luanne altogether echo the musings of self-help rhetoric. They insist that Bari's romantic happiness lies in the hands of astrological fate while also suggesting various pharmaceutical cocktails to counteract her pessimism, and they place their trust in the mysterious workings of the universe. Like a flock of mother hens, the women volley advice around through fast and snappy dialogue.
"I think that Deb has an ear for how people really speak," says Playhouse Artistic Director Blake Robison. "Hers is a fresh and insightful voice."
Bari rebuffs the women's pearls of wisdom and opts to explore her new path towards enlightenment with the help of Mike, an unwitting romantic connection. Unlike the hopeful women, Mike has more empathy for Bari's perspective, and it is in their awkward and unpredictable interactions that Laufer most deeply navigates the story's themes.
"In most of my plays, people are searching for something by looking outside of themselves and their family and loved ones and friends," says Laufer in a 2016 interview with
The Interval
. "And ultimately, the characters find what they're looking for in each other and the simple acts of being together, eating together, playing games, spending time with the people who actually matter."
Don't miss this charming and insightful world premiere about two lost souls who come together under the most unusual circumstances. To learn more
,
visit our
production detail page
.
Dive into the creative process with
Fundamentals of Playwriting with Deborah Zoe Laufer
. In this adult enrichment workshop, Laufer introduces the world of writing for the stage. Learn how to build the foundation of a story by creating memorable characters, writing memorable dialogue and crafting a compelling plot. This workshop costs $50 and will take place at the Playhouse on Saturday, Feb. 10 from 10 a.m. to noon. To register, visit our
classes page
.