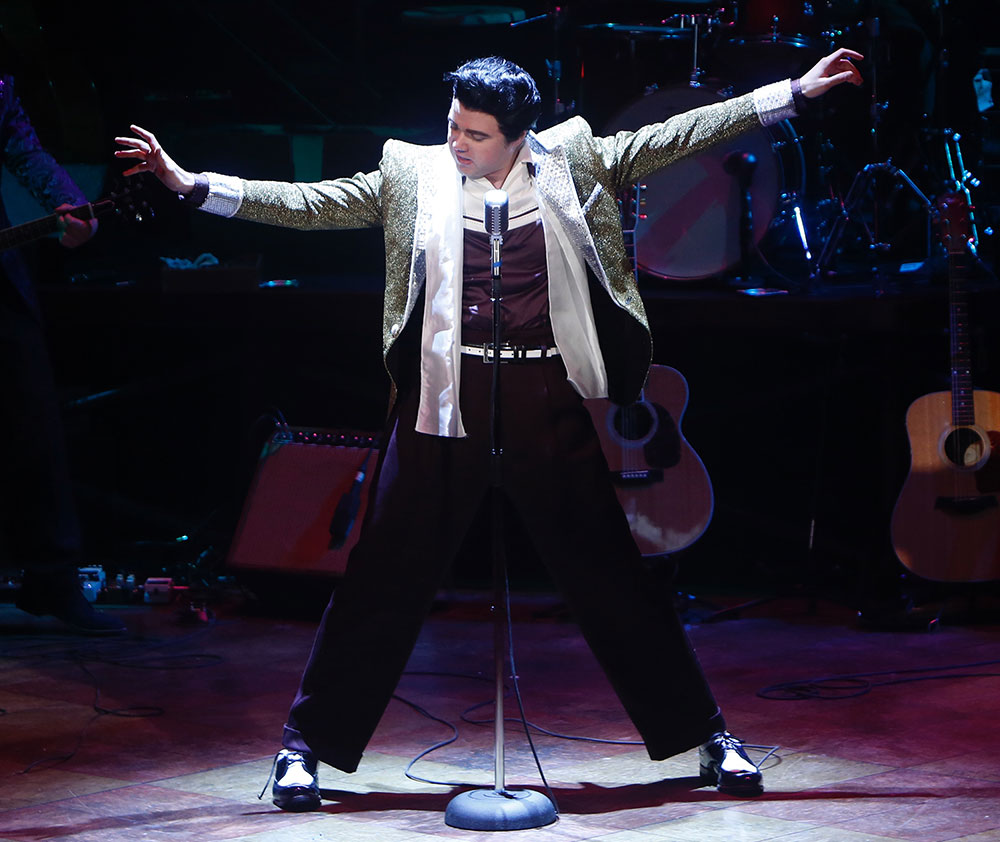 The year was 1956. Dwight D. Eisenhower had just secured a second term in the White House. That fall, IBM introduced the first computer hard drive, a machine measuring 16 square feet and weighing more than a ton. In November, the U.S. Supreme Court struck down race segregation on Alabama buses.
And, on Dec. 4, in a small storefront recording studio in Memphis, Tennessee, pop culture history was made as four singular musicians assembled for an impromptu jam session of epic proportions.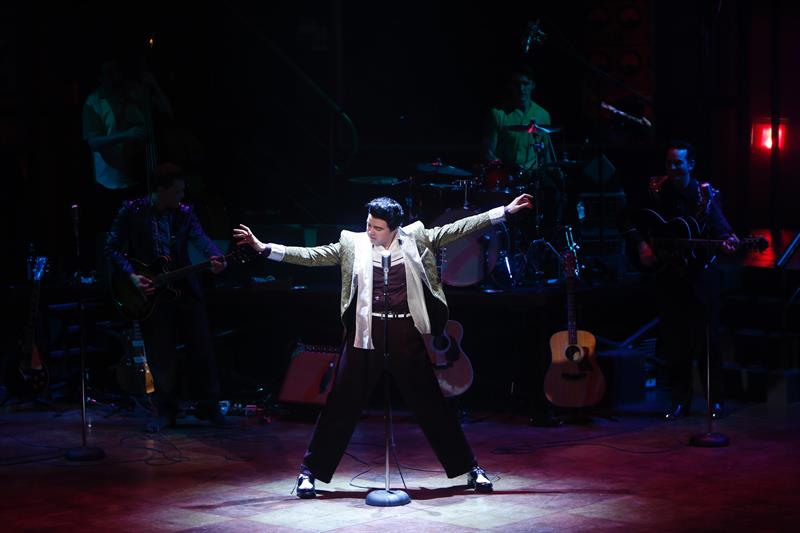 Ari McKay Wilford (Elvis Presley) and the cast of Million Dollar Quartet. Photo by Jerry Naunheim, Jr.
These men would come to define the new phenomenon known as rock 'n' roll, and their names now rank among the genre's most legendary: Elvis Presley, Johnny Cash, Jerry Lee Lewis and Carl Perkins. The place was Sun Records, where visionary producer Sam Phillips had discovered each of them and where he was creating a new sound that would change the course of popular music.
Ever the entrepreneur, Phillips called the local newspaper, the
Press-Scimita
r, and suggested a reporter stop by to eavesdrop on the gathering. Robert Johnson described the proceedings in his column the next day as "a barrel-house of fun."
"The joint was really rocking before they got thru," Johnson wrote. "If Sam Phillips had been on his toes, he'd have turned the recorder on … That quartet could sell a million."
This true story is the inspiration behind the hit musical
Million Dollar Quartet
, which heats up the Marx Theatre this winter in what the Chicago Sun-Times called "a breakneck hour and 45 minutes of rock 'n' roll heaven."
Million Dollar Quartet
ran for more than a year on Broadway, earning three Tony Award nominations, including one for best musical.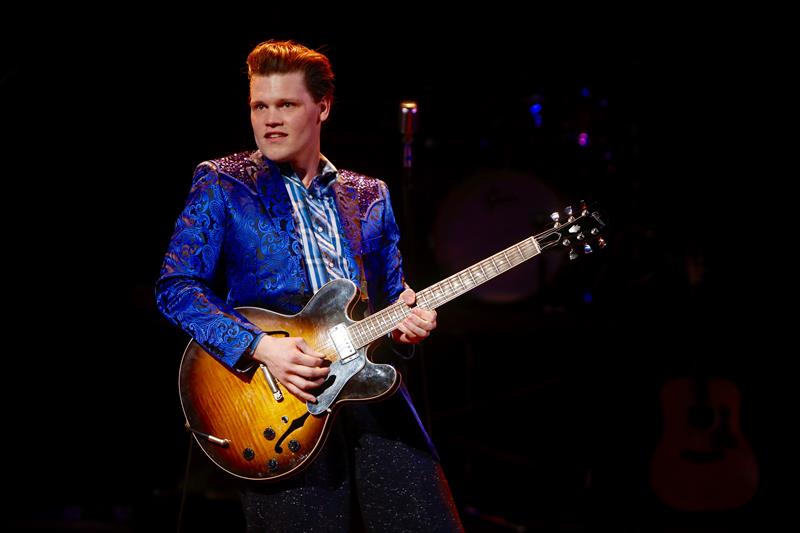 John Michael Presney (Carl Perkins) in Million Dollar Quartet. Photo by Jerry Naunheim, Jr.
Of course, we know now that Phillips did have his recording equipment running that day, though the tapes he made would not be released publicly for nearly 30 years. Carl Perkins was the quartet member scheduled for a session, an attempt to follow up his blockbuster single "Blue Suede Shoes," which that spring had become Sun Records' first national hit and certified million seller. Accompanying Perkins on piano was the newcomer of the bunch, a relative unknown by the name of Jerry Lee Lewis, whose own tune "Whole Lotta Shakin' Goin' On" would be released just a few weeks later.
Perkins and Johnny Cash were good friends, so Cash stopped by to lend support. He, too, was enjoying a breakthrough year, having leapt into the national spotlight with "I Walk the Line," which gave the singer his first crossover success after country hits such as "Folsom Prison Blues."
The last to arrive that day was the biggest star in the group, Elvis Presley, back in Memphis after a brief stint in Vegas. For Presley, 1956 was the year he, too, became a household name, thanks to three number one songs, no less than 11 national television appearances and the release of his debut feature film,
Love Me Tender
. Presley held another distinction: He was the only artist no longer recording on the Sun label, as Phillips had sold his contract to RCA the previous year.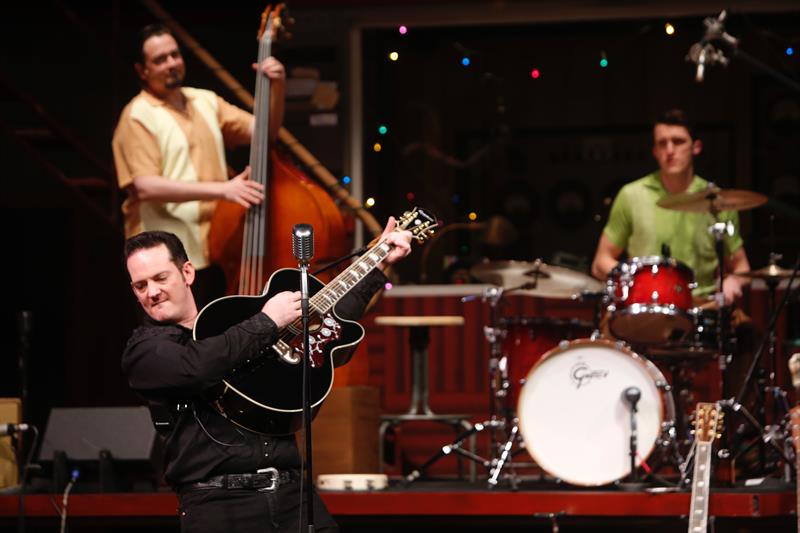 Eric Scott Anthony (Brother Jay), Sky Seals (Johnny Cash) and Zach Cossman (Fluke Holland) in Million Dollar Quartet. Photo by Jerry Naunheim, Jr.
Part of the fun in watching
Million Dollar Quartet
is seeing these iconic performers at the start of their fabled careers. The show examines the relationships among the men — friendships and even jealousies. But mostly it's the songs themselves that take center stage. These artists shared many musical influences, from gospel to blues, which can be felt in the breadth of songs they cover, ranging from spirituals such as "Down By the Riverside" and "Peace in the Valley" to highlights from each musician's own repertoire. In addition to those listed above,
Million Dollar Quarte
t's set list also features popular solo favorites "Hound Dog," "Ghost Riders in the Sky," "Matchbox" and "Great Balls of Fire."
In hindsight, we know that Elvis became the King; Johnny, the Man in Black; Jerry Lee, the Killer; and Carl, the Father of Rockabilly. But, in December 1956, they were just four young musicians letting down the guard of their still-developing public personas to relax and have fun playing songs they all loved.
In the words of Colin Escott, who co-authored the book for
Million Dollar Quartet
with Floyd Mutrux, "Dec. 4, 1956, was the first and only time that Elvis Presley, Johnny Cash, Jerry Lee Lewis and Carl Perkins made music together. They were in the studio where they got their start. Rock 'n' roll was so new it had barely been named, much less 'Hall of Famed.' It was a cultural flashpoint like no other, and it really was such a night."
To learn more about the Playhouse's production of
Million Dollar Quartet
, visit our
production detail page
.