5 Questions with Cupp and Sosser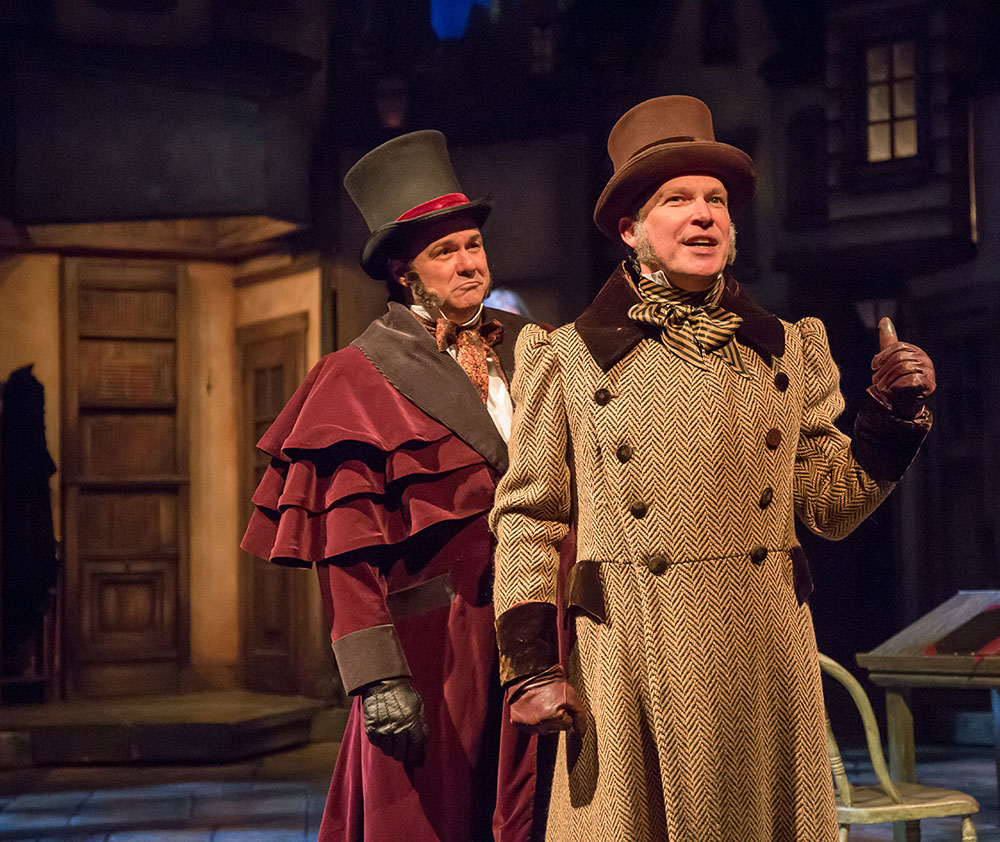 Cincinnati-based actors Nick Rose and Stephen Skiles — in their roles of Mr. Cupp and Mr. Sosser, respectively — serve as the quasi-narrators for the Playhouse's production of
A Christmas Carol
. They also perform various other roles in the show.
How long have you been acting, and where did you receive your training?
NICK:
I have been acting since fifth grade. I received my training at James Madison University and 22 years of growth with the Cincinnati Shakespeare Company, which I helped found in 1994.
STEPHEN:
I've been acting for over 25 years now (thank you — I just dated myself!!). I received my BA in Theatre from Hanover College and my MFA in Acting from the Professional Actor Training Program at Ohio University.
When did you know you wanted to be an actor, and what is your favorite part of the job?
NICK:
I pretty much knew the moment I saw my first movie and first play. I loved playing pretend as a kid and when I saw that people could do that all the time, I was hooked.
STEPHEN:
It's a bit embarrassing, but I dated a girl in high school who was involved in the drama program at her school. It seemed really fun. So I auditioned for the senior play at my high school (that was the only show we did — we didn't really have a drama program). I was cast and had a lot of fun. So I thought I wanted to be an actor because of a girl. I kept doing it because I loved to tell stories. I think that's my favorite part of the job — getting to tell somebody's story.
What is your favorite memory from A Christmas Carol?
NICK:
Getting to walk on as Scrooge for five performances. It's a marathon and a sprint all wrapped into one. And the morning after scene is by far one of the most exhilarating experiences of my life. To live the redemption is to feel the Christmas spirit fill you up completely.
STEPHEN:
My favorite memory from the show is still the final performance of Joneal Joplin as Scrooge. After the show, the entire cast and crew assembled in the dressing room area, and Jop gave a speech about his time playing Scrooge. It was very moving — he was an incredible Scrooge and just an outstanding individual. During that talk, he announced Bruce Cromer as the next Scrooge and actually gave Bruce a memento that he kept with him during this time as Scrooge in his dressing room. It was a very emotional moment; we felt great sadness losing Jop, but a sense of exhilaration to be around when Bruce took over the role. It was a special moment to be a part of.
What is your favorite scene/moment in the show?
NICK:
My favorite scene to watch from the wings every night is Christmas Present's reveal of Ignorance and Want to Scrooge. It provides, perhaps, some of the most powerful statements in the show and Doug Rees and Bruce Cromer play it beautifully every time.
STEPHEN:
I really love all the scenes that I get to be a part of, but I especially enjoy being a part of the opening narration and getting to set up the story. That's always very fun — it is full of energy and anticipation as we get the show started. My favorite moment of the play is when Scrooge thanks Marley when he wakes up on Christmas Day. Bruce physically gets down on his knees and thanks Jacob for opening his eyes. It gets me every time that I watch it — and Bruce plays that moment with such truth, vulnerability and humility. It's a cool moment.
What do you enjoy about reprising a role each year? How is it different from projects/roles that only happen once?
NICK:
What is perhaps the thing that always amazes me is just how much the show is in my bones from year to year. Stephen and I have been performing our narrator roles together for six years and the built-in chemistry is there each year when we come back. So, there is no worry of taking time to learning new blocking or lines, or developing a new chemistry with another actor.
STEPHEN:
I think this is different from other roles you do once because you already know the material and have a clear sense of the movement of the scenes and the play. You also understand the musicality and timing of the piece. That makes it easier in a sense. But that can be both freeing and intimidating when you come back to it each year — you want to try new things, but it is sometimes difficult to break out of old habits. I love the work. I love getting to try new ideas each year and getting to learn and adapt to the new people in the cast. But mostly, it just doesn't feel like the holidays until rehearsal starts. There just always seems to be a different feel in the air when you walk into the theatre on that first day. And that is exciting. I look forward to that every year, and to getting to spend the holidays with such a passionate, talented, warm and inviting group of people.
To learn more about the annual Playhouse production of
A Christmas Carol
, visit the
production detail page
.
Pictured above: Stephen Skiles and Nick Rose in A Christmas Carol. Photo by Mikki Schaffner.